Rain Chances Monday & Tuesday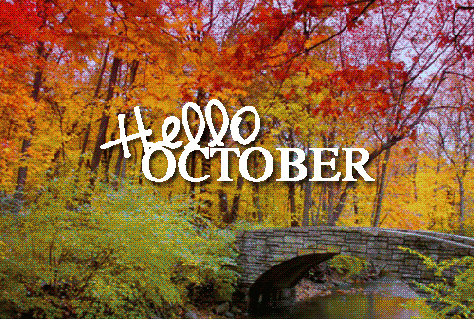 Someone should tell October it's October and kick out this humidity.
Dry weather ends today because the upper high dominating our atmosphere has shifted south. Rain is possible late this morning into the afternoon.
A morning run of the HRRR model shows only a few showers sparsely scattered around us today. Not everyone will see them, but those who do may see a brief heavy downpour.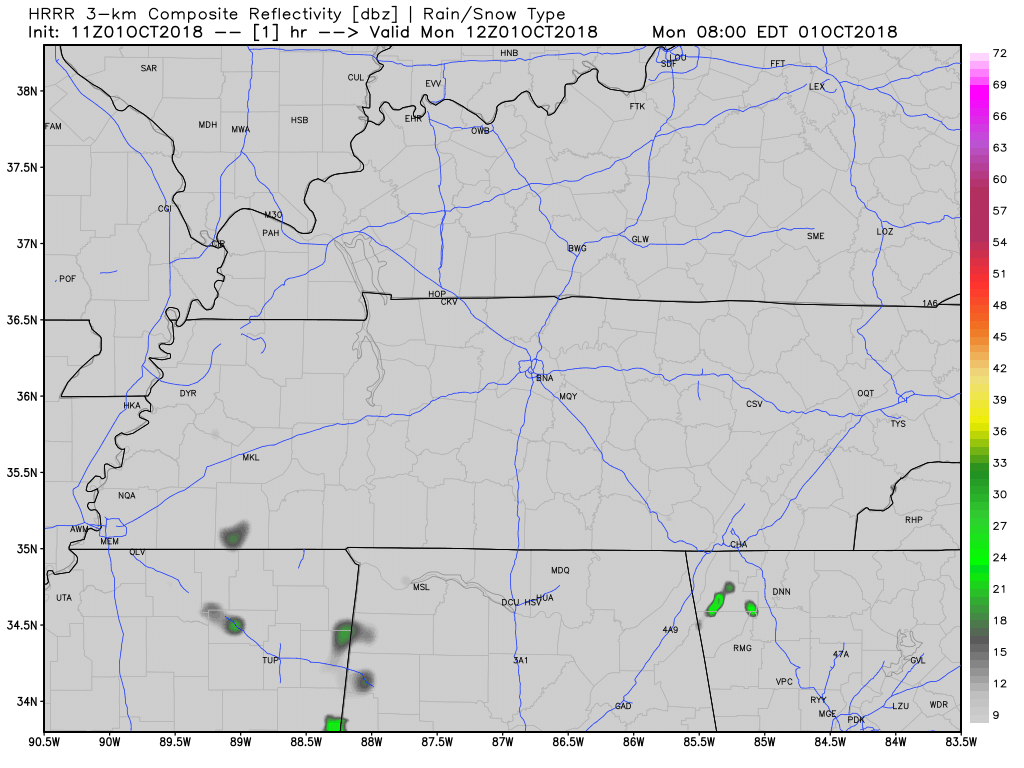 It's possible a few places may get drenched, as shown by the "total precip" view of the HRRR model, below. Ignore the exact location of the downpour because the model won't have it exactly right. The point is isolated heavy rainfall is possible and a few of us may get rained out. Most won't.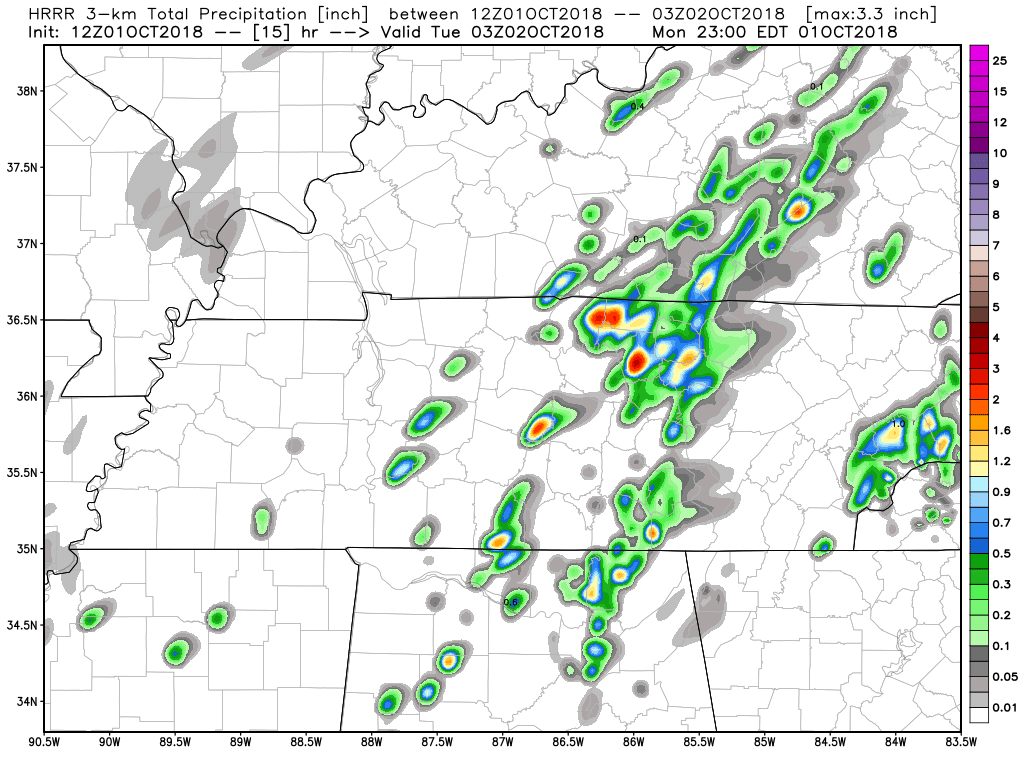 Tuesday will be much of the same. Isolated showers and storms, not everyone will see rain.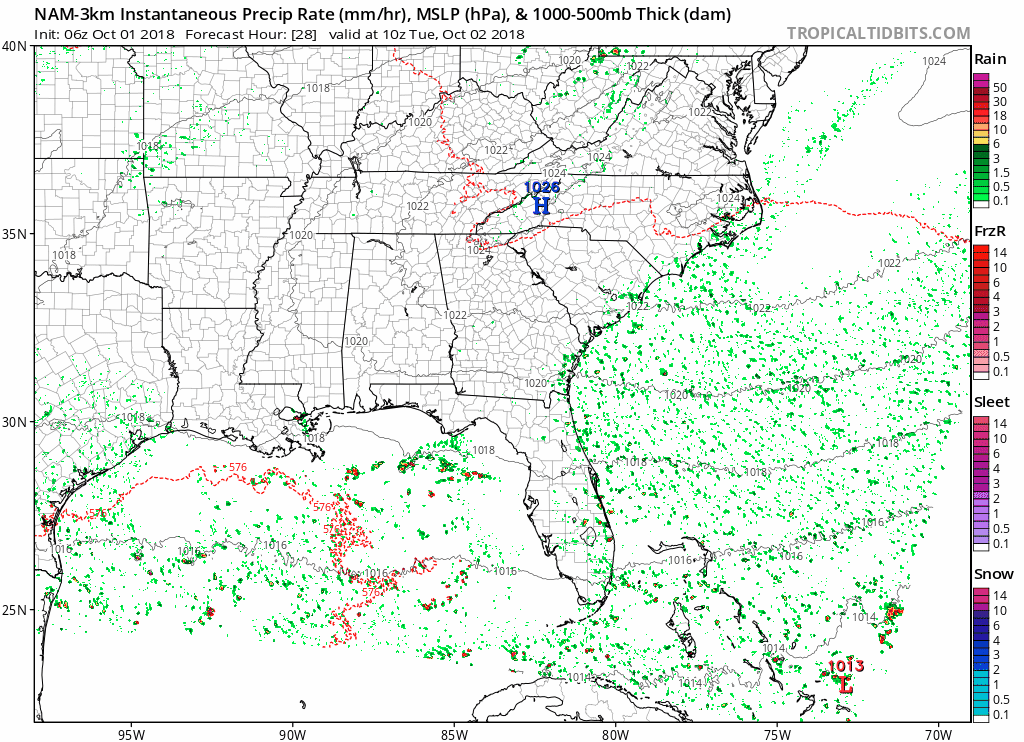 Temperatures today and Tuesday will reach the low to mid-80s in the afternoon, and the high 60s as morning lows.
Wednesday – Friday
A strong high-pressure system will begin building in Wednesday as dry weather returns through midday Friday. There remains a bit of uncertainty about Wednesday though. NWS Nashville talked about it this morning:
The [American model] is the most aggressive with the showers and thunderstorms, spreading across most of the area Wednesday afternoon with a small shortwave aloft, but the [European model] and Canadian are much drier Wednesday.
Overall, extremely low rain chances exist Wednesday. Check back tomorrow to see what the trend irons out to be regarding Wednesday.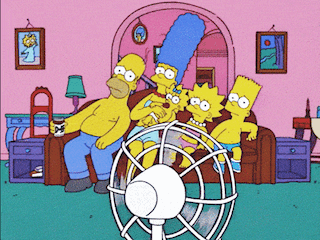 Temperatures will reach the upper 80s for highs during this time frame (yes… it's October). Morning lows will be in the upper-60s.
And it's still too humid for Fall.
Next Chance of Rain
Confidence remains low about next weekend but the overall picture is looking good. A low-pressure system will build to our northwest. The question is, will the strong high pressure to our east let the rain-making low impact our weather at all?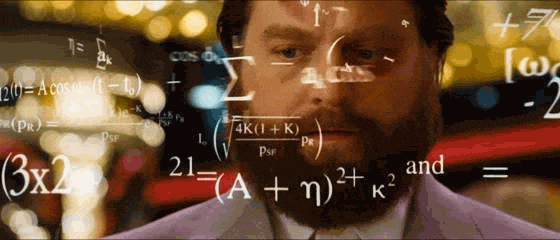 Right now we think "no rain." But, again, and as usual at this range, uncertainty remains.
---