Mid-level water vapor infrared imagery shows moisture streaming in from Arkansas and West Tennessee.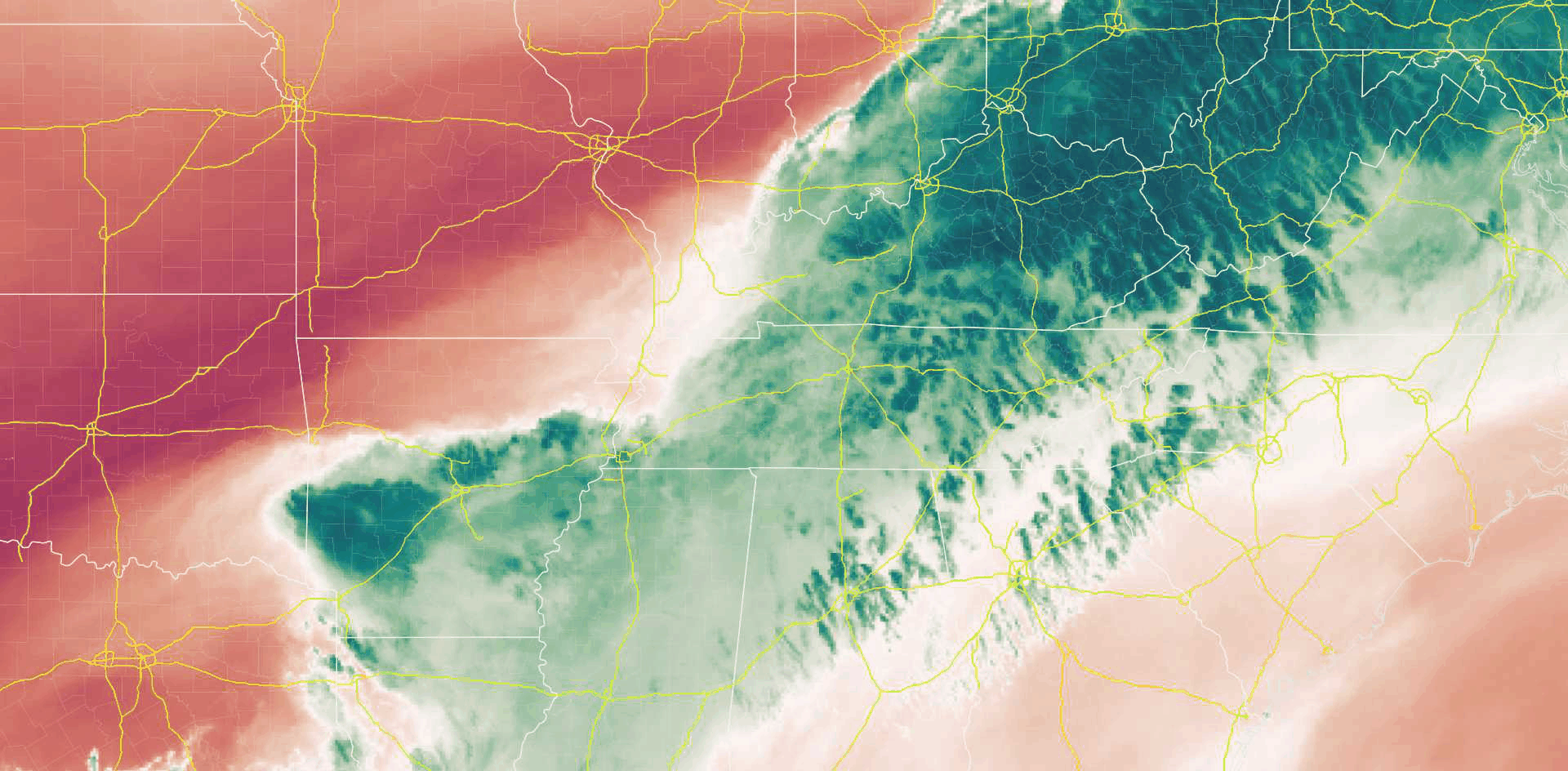 Radar looked like this as of 8:30 AM: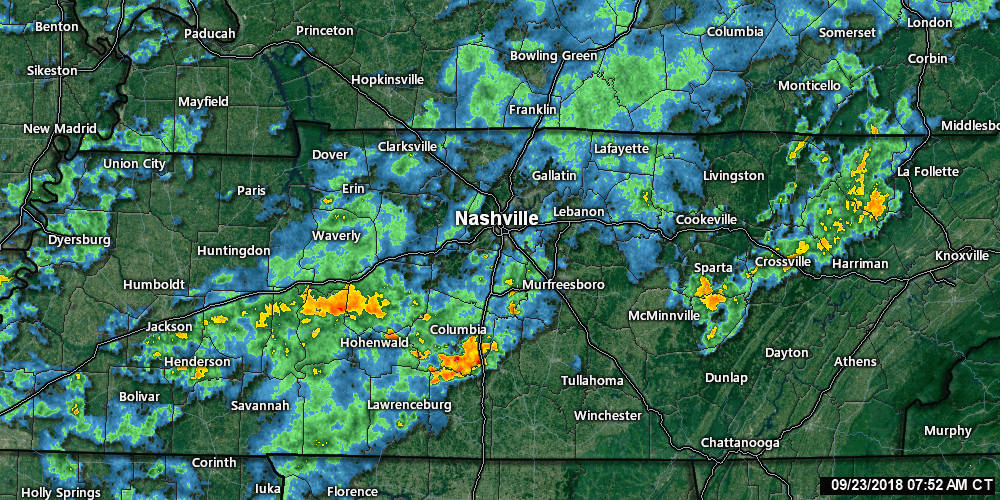 It's going to rain more today.
This morning, in its Hazardous Weather Outlook, NWS-Nashville wrote "there is low confidence on the exact location of the heaviest rain, [but] training storms will increase the flooding risk."
Models are unsure where the heaviest rain will fall in Middle Tennessee.
The HRRR model thinks the radar will look like this between 7 AM and midnight tonight: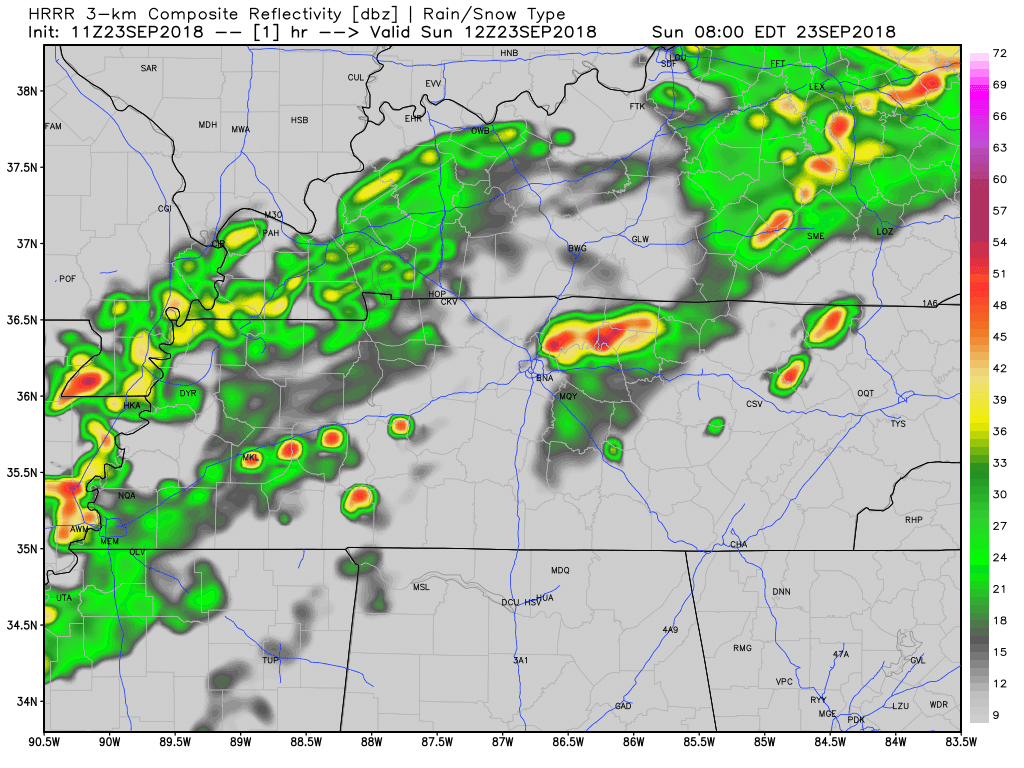 Notice the breaks in the rain this afternoon and tonight. Expect off and on rain today, more "on" than "off" this morning. Some models believe the heaviest rain will pass to our Northwest, which is what models have been telling us for a few days.
The line between light and heavy rain should fall somewhere close, or even bisect, us. A stationary front has parked in Middle Tennessee. A wiggle here or there will make the difference. The rain very well could set up further south than the models show, and soak all of us.
Between now and 7 PM, NWS-Nashville thinks Nashville will get 0.72″, Franklin, 0.78″, so about three-fourths of an inch, with an additional 1/3 inch of rain from 7 PM Sunday to 7 AM Monday. That may be too high; hence the low certainty.
Total rainfall from the HRRR model below shows most of the rain actually north and northeast of us, with less rain to our south. Thus the uncertainty and low confidence.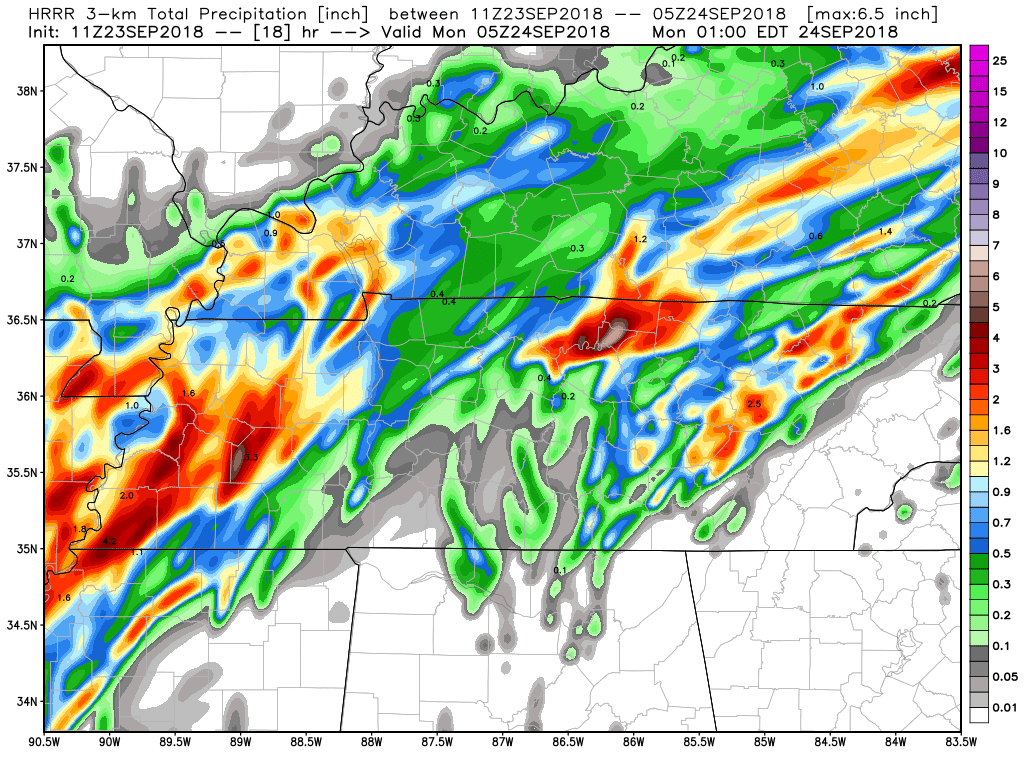 There is low probability of flash flooding. The Weather Prediction Center places our risk somewhere between 5% and 10%. If you're further to the northwest, that rises to 10% to 20%. This follows the belief that heaviest rain will set up to our Northwest.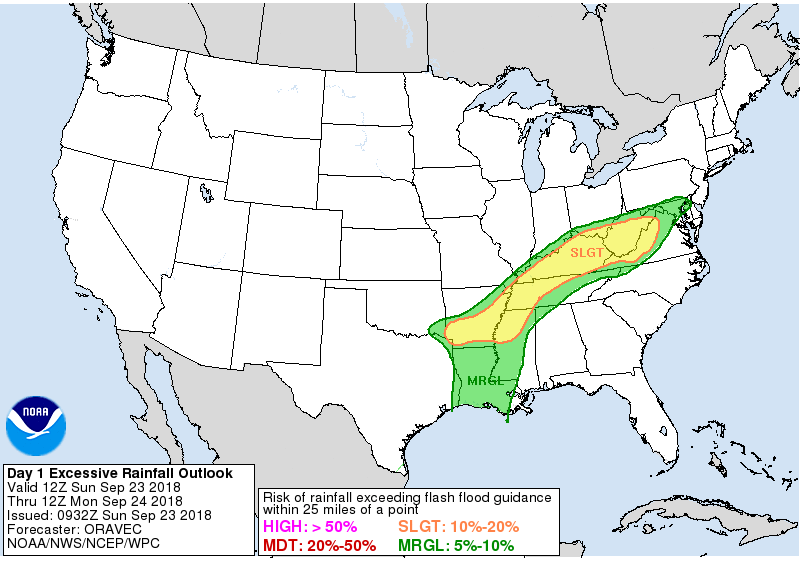 This morning, NWS-Nashville wrote that they are "not quite ready to issue a Flash Flood Watch." Winds should be strong enough to push any rain through which should limit the flash flood risk. Flash flooding is more likely when heavy rain moves too slowly.
Thunderstorms (lightning) embedded in the heavier rain are possible. The Storm Prediction Center (SPC) thinks there is a 40% chance a thunderstorm will develop between 11 AM and 3 PM south of I-40, but only 10% north of I-40: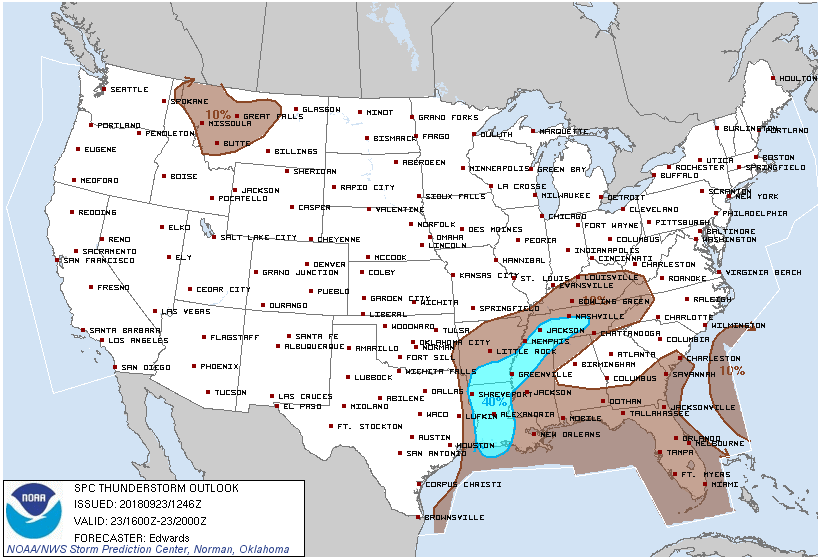 SPC estimates only a 10% chance of a thunderstorm for all other areas and times in Nashville and Williamson County.
SPC does not think storms will be severe. Note lightning is not a factor in classifying a storm as severe. (A storm is "severe" when it has winds in excess of 58 mph, hail 1 or more inch in diameter, or a tornado; we are not going to see any of that today).
Due to the unsafe conditions at the park & the threat of inclement weather, Deputy Fire Chief Todd Horton has declared that the 9/23 event has been cancelled. Safety is our first priority. Thank you for your support. Please continue to monitor the Pilgrimage app for more info.

— City of Franklin (@CityOfFranklin) September 23, 2018
We will update the forecast and discuss approaching rain/storms all day on Twitter @NashSevereWx, as usual. This forecast could become dated, so check back there for the latest.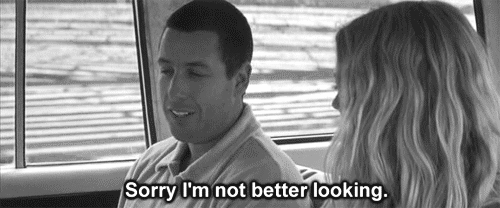 Titans! It will be hot and humid this afternoon in Jacksonville, but thunderstorm chances there are very low. We are not expecting a weather delay, but we will be watching, just in case.
Monday & Tuesday
The front lifts north, returning high humidity here. It'll feel like the tropics outside with precipitable water values over 2 inches, which is really high for this time of year. A series of shortwaves will spark off-and-on rain Monday and Tuesday. NWS-Nashville wrote:
There will be some breaks from time-to-time, but overall it`s going to be very wet.
Strong storms are also possible with rising wind shear. This will only create a marginal strong to severe storm threat. The bigger concern is additional shear enhancing the strength of downpours, adding frog-strangling rainfall to already saturated grounds, increasing the flash flooding threat. WPC thinks the risk of flash flooding is 5% to 10% both days.
High temps will be low beneath this cloud blanket, although it'll be very humid.

Relief Begins Wednesday, Nice Next Weekend
A secondary cold front will finally, but very slowly, begin to sweep through on Wednesday, which should also be rainy and maybe stormy. By late Thursday and Friday the humidity will get scoured out, the rain chances will drop, and it will start to feel like the beginning of fall.
This will be something to look forward to as both the GFS and the Euro [models] are suggesting next weekend will be dry with temperatures running in the low 80s.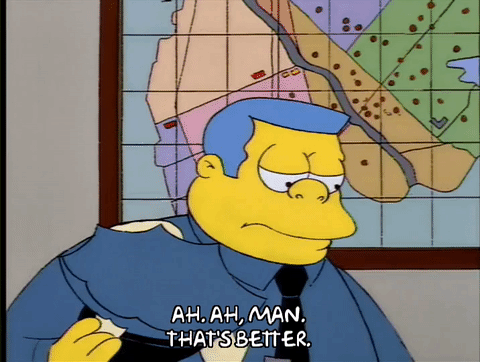 ---