Rojoice! Today is the last day temperatures will hit 90º in the foreseeable future.
Clouds and moisture are arriving ahead of a cold front. That front will show up late tonight or in the wee hours of Saturday morning, slow down and maybe stall out, all setting off a wet, unstable weather weekend where rain chances are definitely there, but there is no real good idea when they'll arrive, how long they'll stay, and where exactly they will be.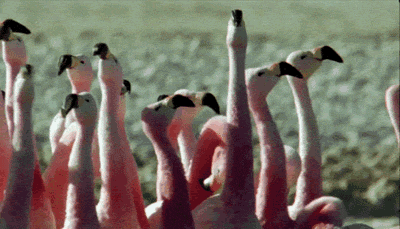 Friday, Friday Night, Wee Hours of Saturday Morning. The front arrives, making rain. You can kinda see the front in the HRRR model, below, with its SW to NE orientation, showers and a few weak thunderstorms embedded inside, pulsing off and on.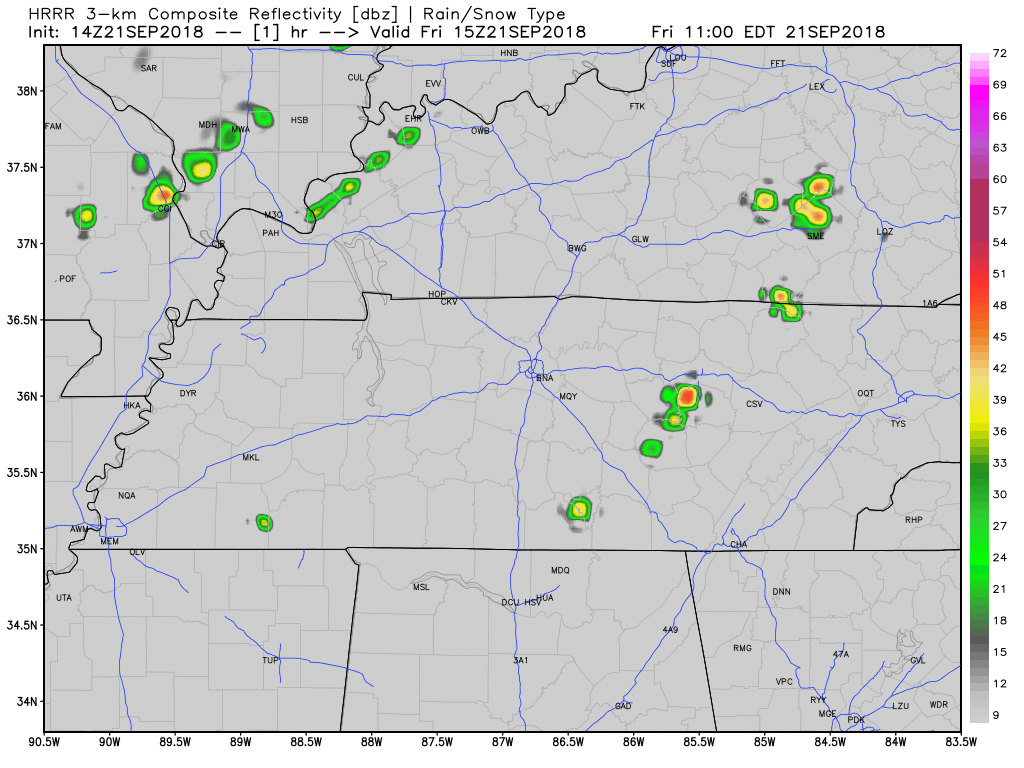 The HRRR model thinks rain could begin during high school football games. Lightning is also possible. The NAM3 model delays the rain until after the games end. I usually prefer the HRRR model, but both models usually are not exactly right.
These showers should stick around, off and on, Friday night through sunrise Saturday, and maybe even last into the early morning hours Saturday.
Rainouts are hard to determine. Some fields should get way more rain than others, and it seems models think your rain chances are better the further south you are. However, models only provide guidance, not Gospel, but they can be useful. Check out the last three runs of the HRRR and where they think the total rainfall will be as of 3 AM Saturday: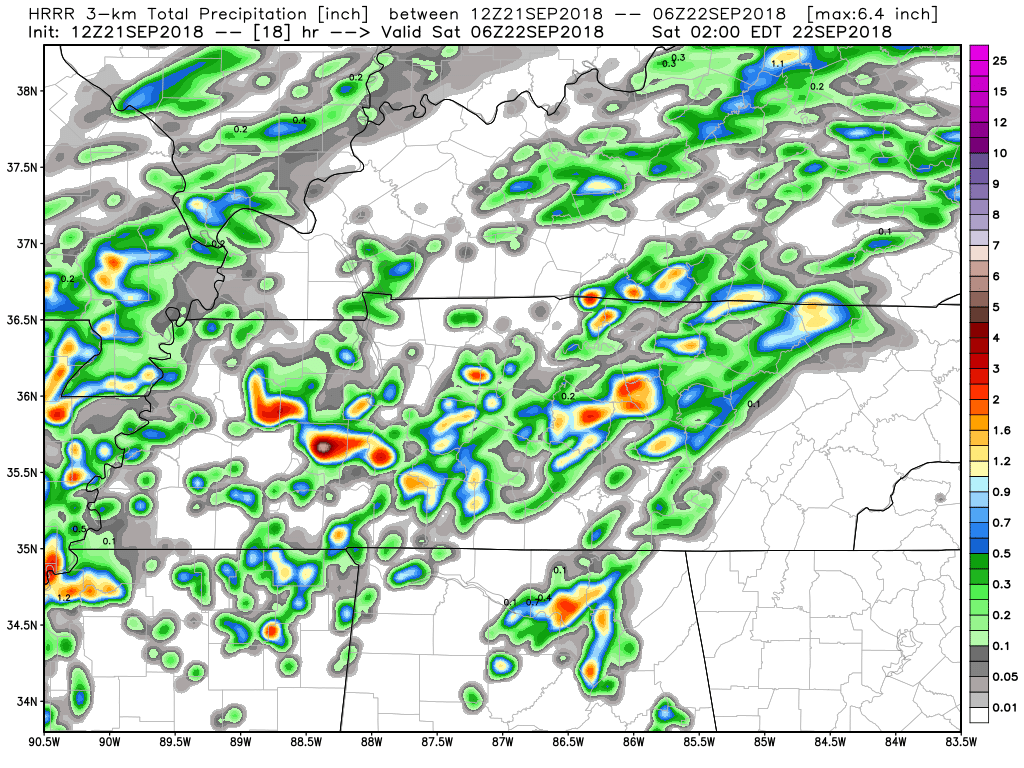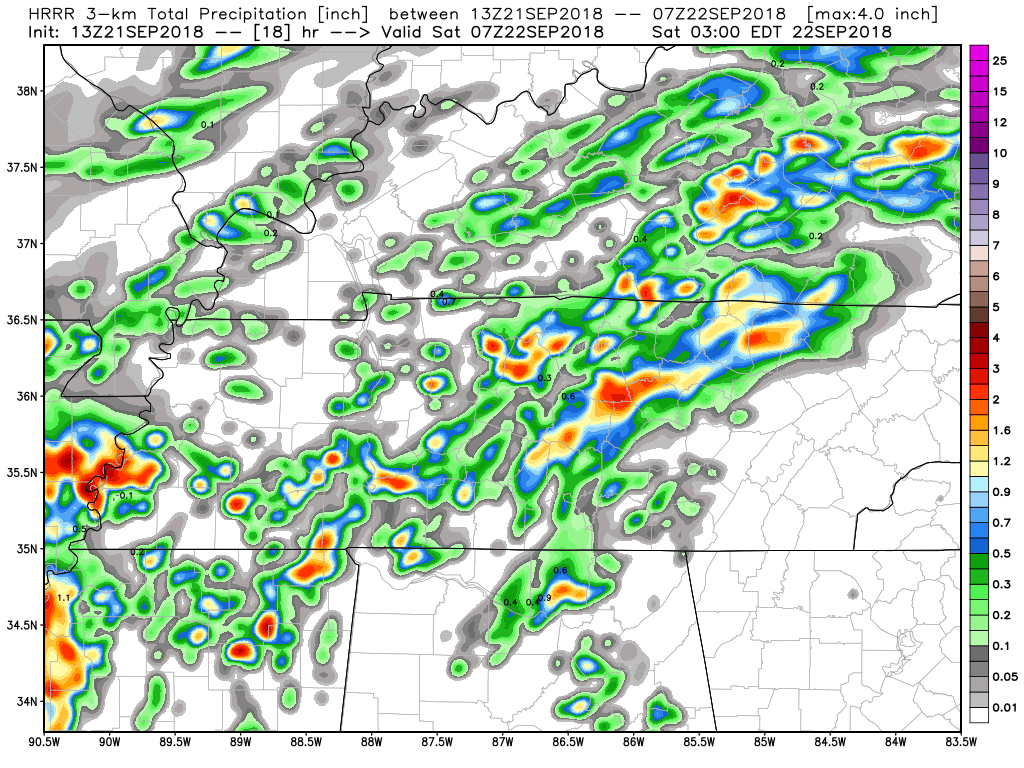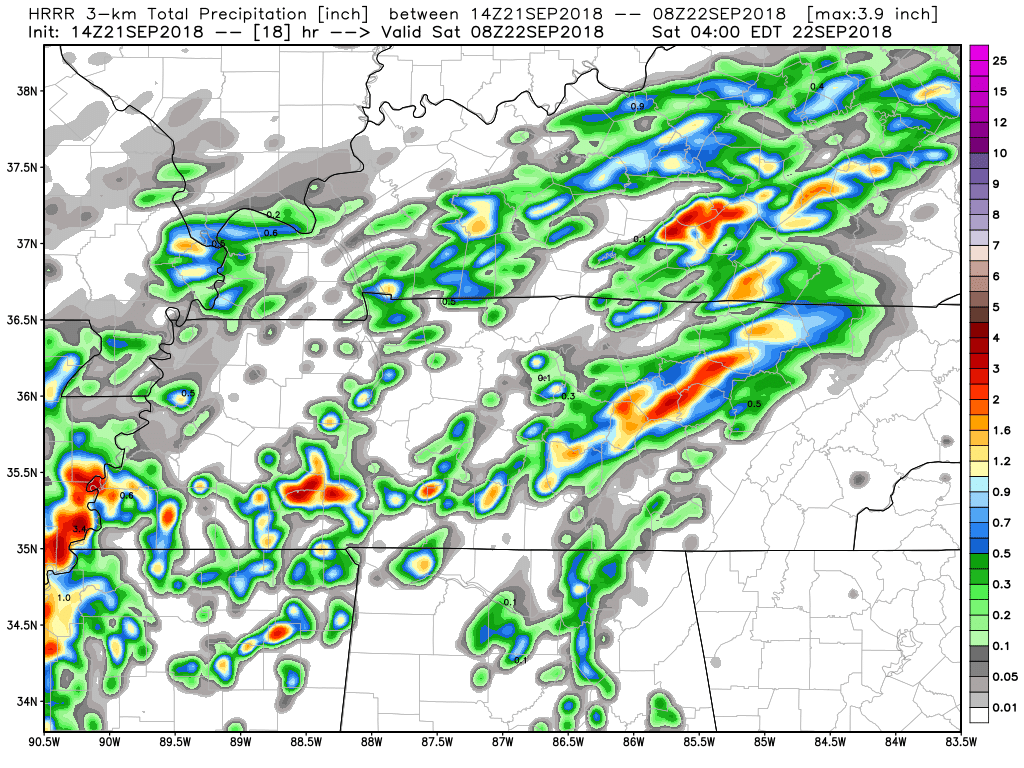 All very different solutions for your local ball field or party spot. Note this does not cover Saturday morning, because the HRRR is not yet in range for a comparison. I'll update that tonight on Twitter.
Backyard rain uncertainty is high.
During the day Saturday, Saturday Night. The NAM3 model thinks there will be a mid-day break in the rain Saturday afternoon. That break may last all day, with a hit or miss shower Saturday night.
Rain chances increase a bit late Saturday night as the front stalls in Northern Alabama and Southern Tennessee. Models are still disagreeing by a couple of hours on the timing, but note Saturday should not be a total loss, and there is no indication (right now) it will wash out.
Cloud cover will keep the temps low, but humidity will be high.

Sunday. As the front lifts back north and passes back over us, rain chances increase.
The current thinking is the heaviest rain will fall just to our north and northwest. That's what the Euro model thinks (and also reflected by the WPC data):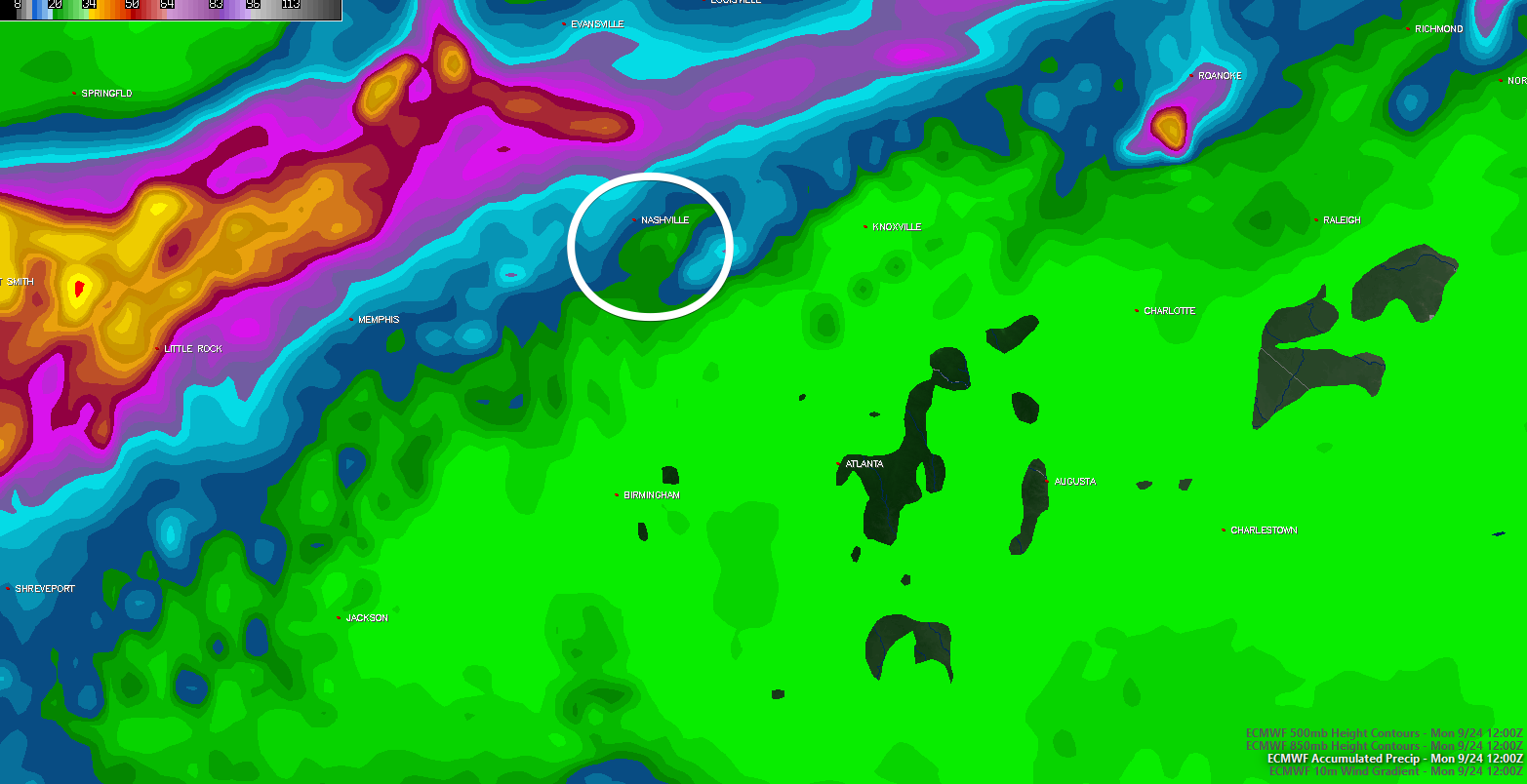 However, we should still see some rain Sunday, but not enough to wash out plans (except maybe ball fields).
Note, tho, if those models are just a little off, we could see a lot of rain Sunday. For now, all signs are encouraging.
There's also a chance of rain/storms in Jacksonville; hopefully you won't hear me talking on Titans Radio about a lightning delay.
Next Week. This wet, rainy pattern will persist through the early part of next week until we get a secondary cold front to clear out all the moisture and reduce temperatures further.
Stay up to date with @NashSevereWx on Twitter to keep an eye on the incoming rain potential and arrival of fall!
---