Widespread cloud cover continues to push temps high down into the upper 70s.
Dewpoints have fallen back into the low/mid 60s. It's not going to be overly pleasant outside today, but a break in the heat is always welcome!
Rain chances today? The HRRR is keeping us dry throughout the day. Should be a pleasant, quiet evening.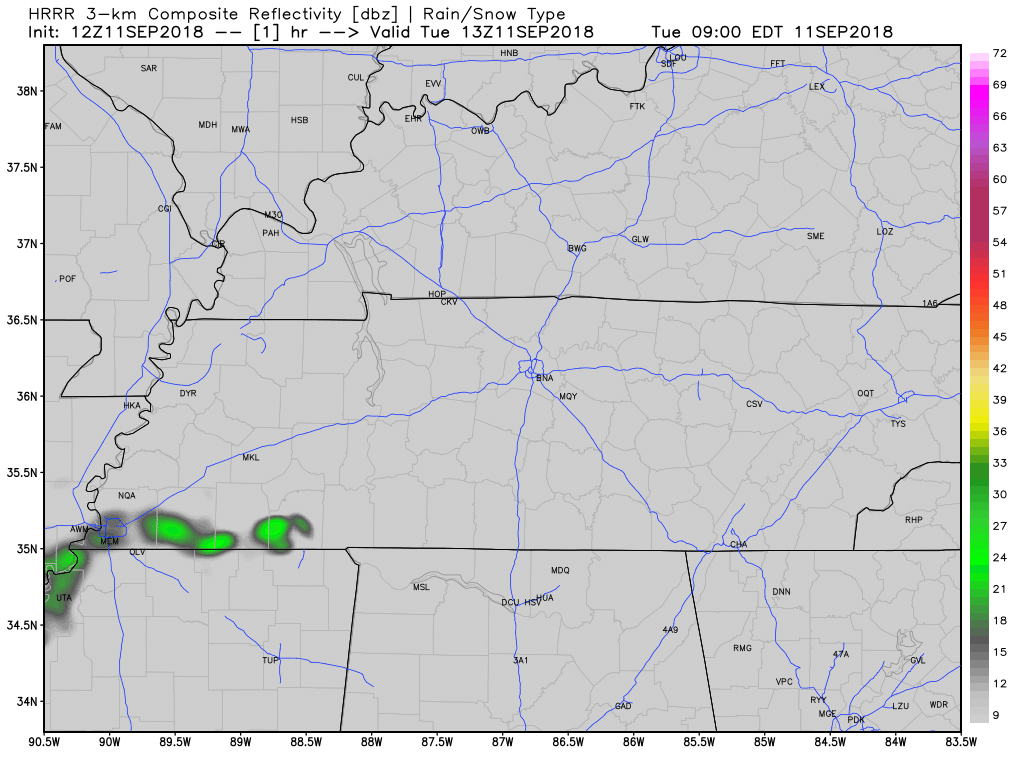 Warming on Wednesday
Look for high temps to jump back into the mid 80s. A funnel of southwest winds is bringing moisture back to Tennessee, as part of a very large upper trough-ridge. You can see it (below) spanning from the desert southwest, up through the Ohio Valley.
This moisture will bring dewpoints up, increasing the humidity.
A few afternoon storms could go up overhead, but we should remain mostly dry.
Same Story for Thursday
Thursday will be markedly warmer, but similar conditions with low(ish) humidity.
Update: Hurricane Florence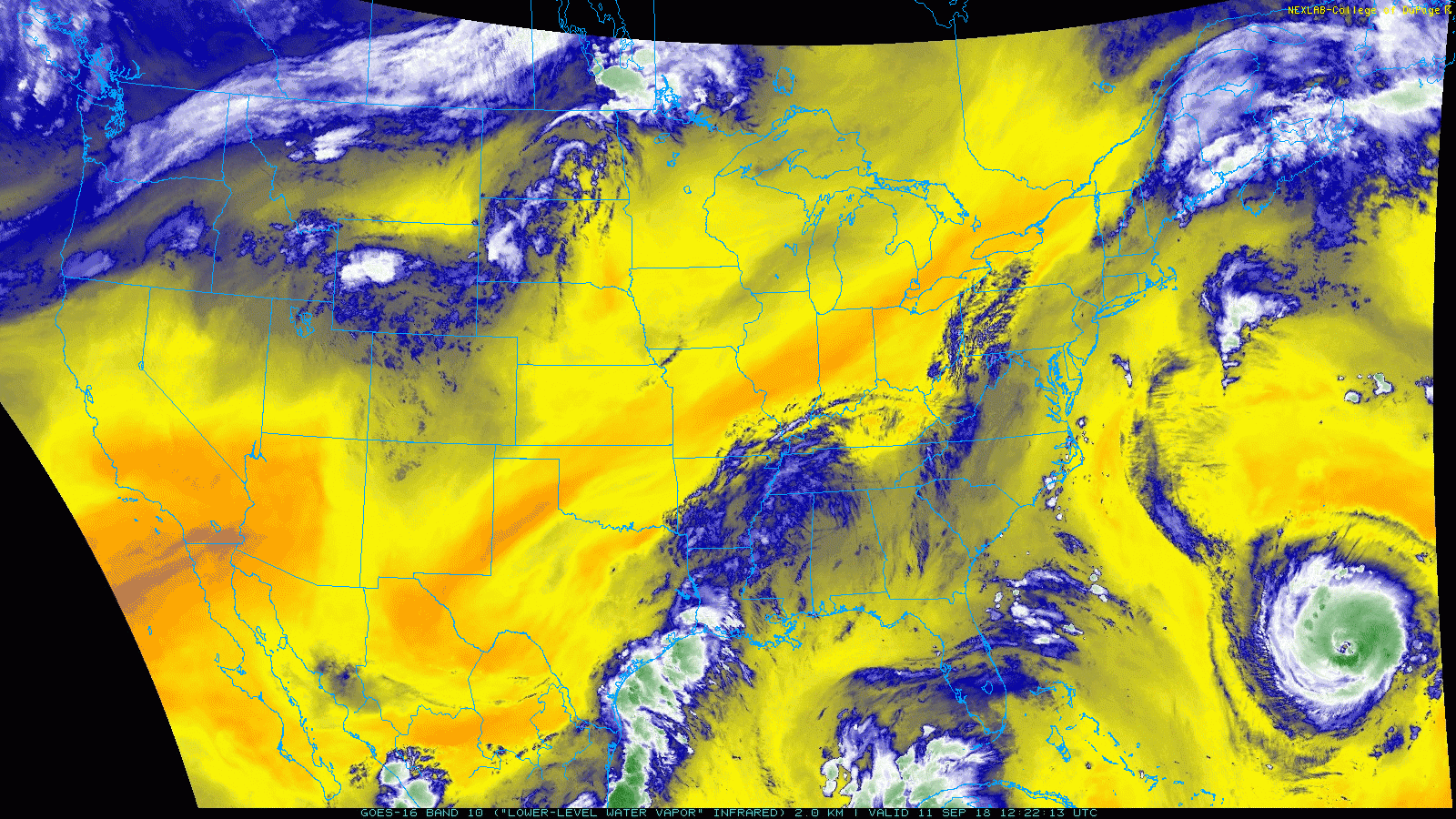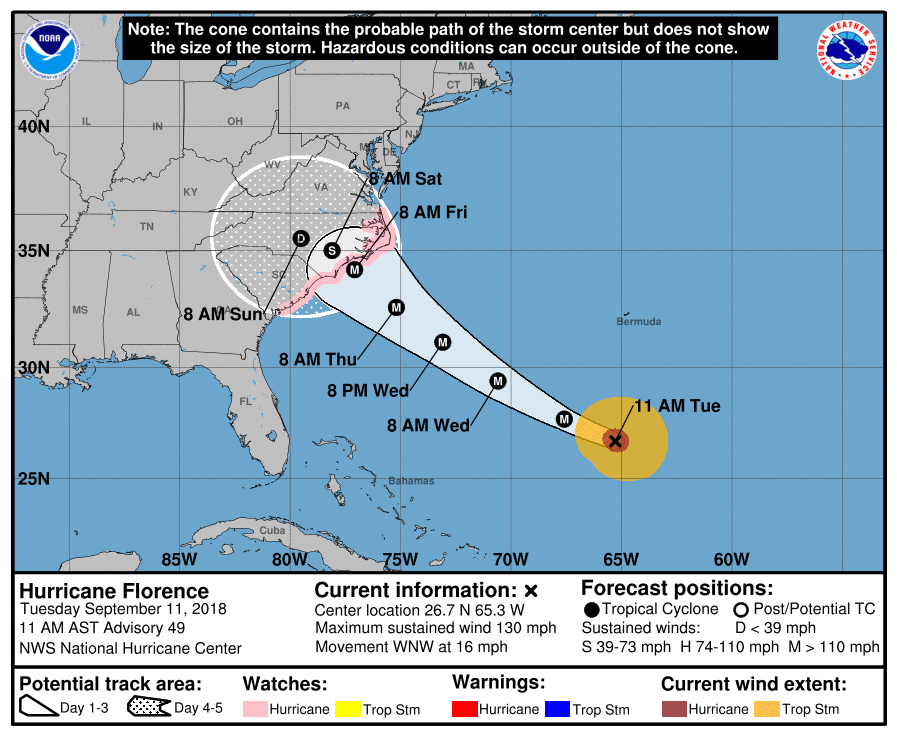 Hurricane Florence strengthened to Major Hurricane status early yesterday. Overnight, the storm weakened a bit, but as of this morning, it's a Category 4 hurricane – max sustained wind of 130 mph.
Projected landfall remains a bit fuzzy as models continue to nail down when they think it'll arrive – could be late Thursday to early Friday.
The GFS and Euro have aligned a tad overnight. Each are seeing the storm slow down upon arrival to the US. A slow storm means increased rainfall over a smaller area. The flooding threat continues to rise, along with hurricane and tropical storm-force winds. Nonetheless, the Carolinas and Virginia are in for a very hard impact from an incredibly dangerous hurricane.
Will we see impacts here?
Yes. What exactly will they be? We cannot say for certain.
I'll leave this bit from our NWS Nashville office regarding some expected impacts in Middle Tennessee:
"So, what does this simply mean for the mid state region? There
could be the potential for some breeze winds with gusts across
the Cumberland Plateau Region, especially the Upper Cumberland
Region Sun afternoon thru Mon evening."
Large uncertainties remain with this system, especially regarding impacts here in Nashville. As always, stay tuned for updated forecasts here and at @NashSevereWx on Twitter!
---