It's hot today but not sure it's a "scorcher."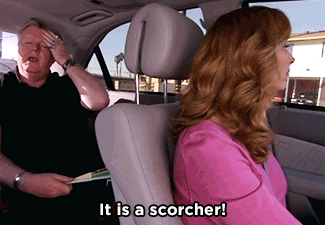 We wrote "Sweaty Not Wetty" last night only to wake up this morning to HRRR model runs popping off isolated late afternoon/early evening downpours and thunderstorms: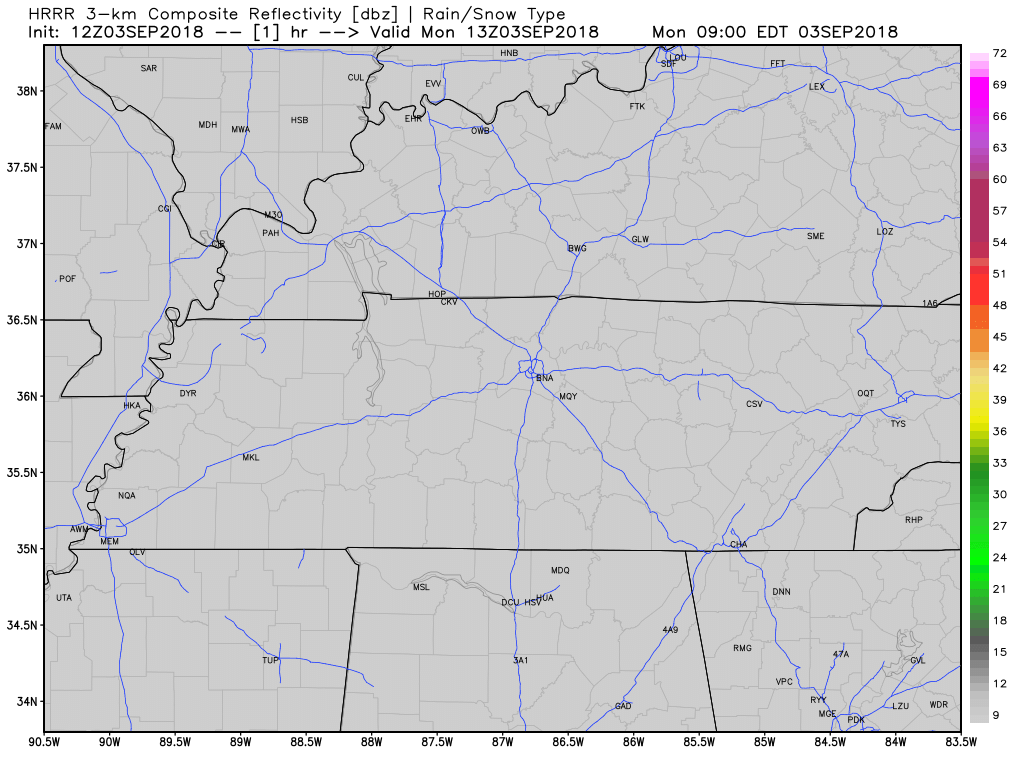 The HRRR is often wrong — especially in the summer — but I have a healthy respect for it. If it's right today, not everyone will see rain.
FWIW the NAM3 high res model keeps the rain/storm activity safely off to our east.
Gonna be hot with the heat index up to 97°.
Tuesday
Same as today.
Wednesday – Friday: Watching Gordon
Right now Gordon is a tropical storm entering the Gulf of Mexico.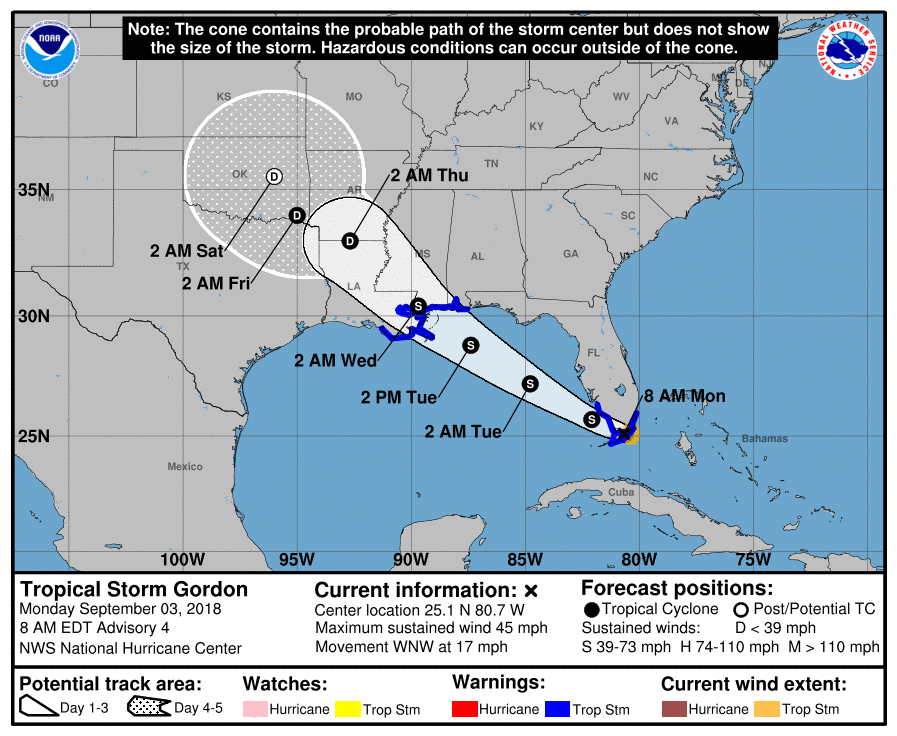 It is forecast to remain a tropical storm as it moves through the Gulf of Mexico. Its center should make landfall in the wee hours of Wednesday morning at the mouth of the Pearl River (which divides Mississippi from Louisiana).
It will weaken after landfall, delivering rain wherever it goes.
The question is where will it go?
The NHC official track takes it into Arkansas the Oklahoma. There what's left of it should be merge with a cold front that has very little interest coming into Middle Tennessee. This is what the Euro thinks: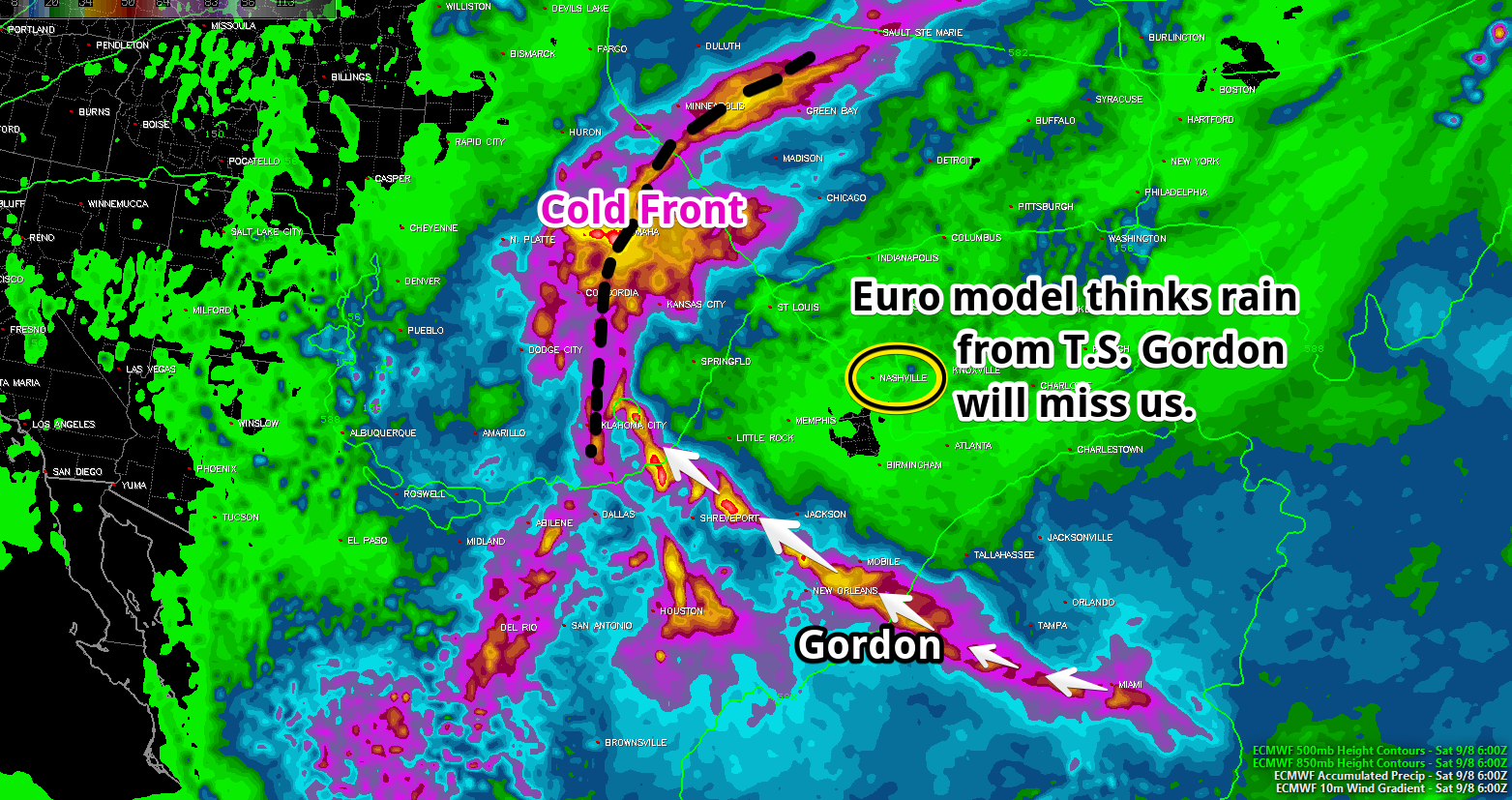 For us this is the rain-less western track.
The GFS model has a bit more of an eastern track which is more rain for us. If correct, this would bring us off and on showers and a few thunderstorms Wednesday through Friday: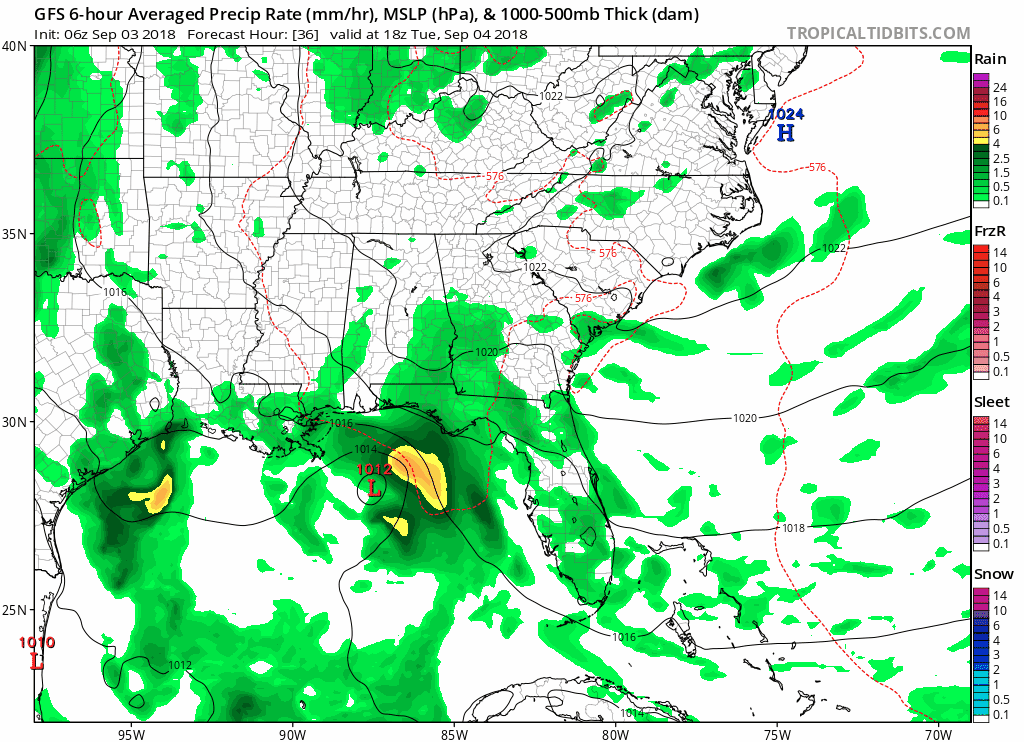 Bottom Line on Gordon:
1. For us it's no big deal. The center of Gordon is not hitting us. Even if it did, by the time it gets this far inland, it will be a "former tropical storm" and have some nerdy meteorological title like "tropical depression" or just "remnant low."
2. If Gordon keeps moving toward Oklahoma after landfall, it'll bring us either less rain or none at all. If it stays in Arkansas, our off and on shower chances increase. I favor the western track because the Weather Prediction Center thinks that's correct. The below map shows rain today through Saturday morning — it's waaay west of us: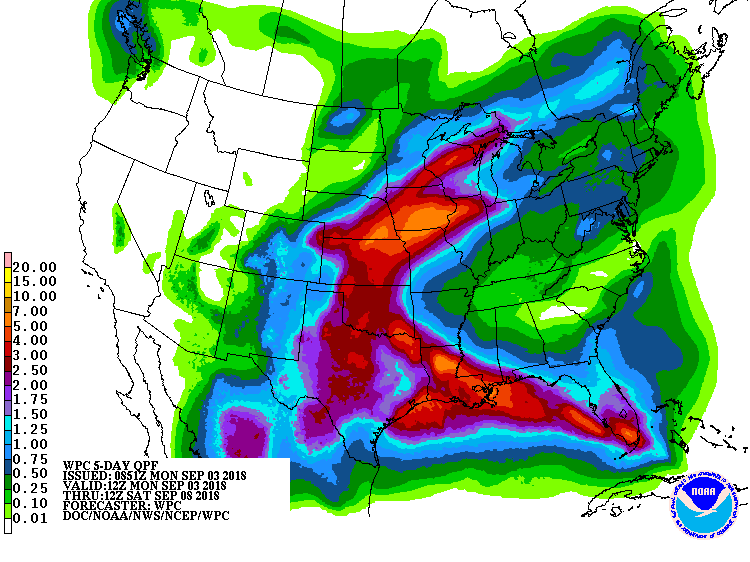 3. Crap apps hedge their bets on Gordon's track, going with "chance" probabilities of precip around 30% or so.
Even without Gordon, our humidity will be near oppressive, with temps in the low 90°s, where it will be possible to squeeze out normal afternoon/evening showers or storms.
Next Weekend
Expect scattered afternoon thunderstorms next weekend. Probably not a rolly ball washout, but man it's going to be hot and humid.
When's It Gonna Cool Off?
It's still summer for Three. More. Weeks. I join the summer fatigued but let's all take a deep breath and let summer be summer until it's supposed be over on September 22.
A look at the 3-4 week forecast from the Climate Prediction Center is not encouraging. It's more likely than not we will see "slightly above normal" late September temps.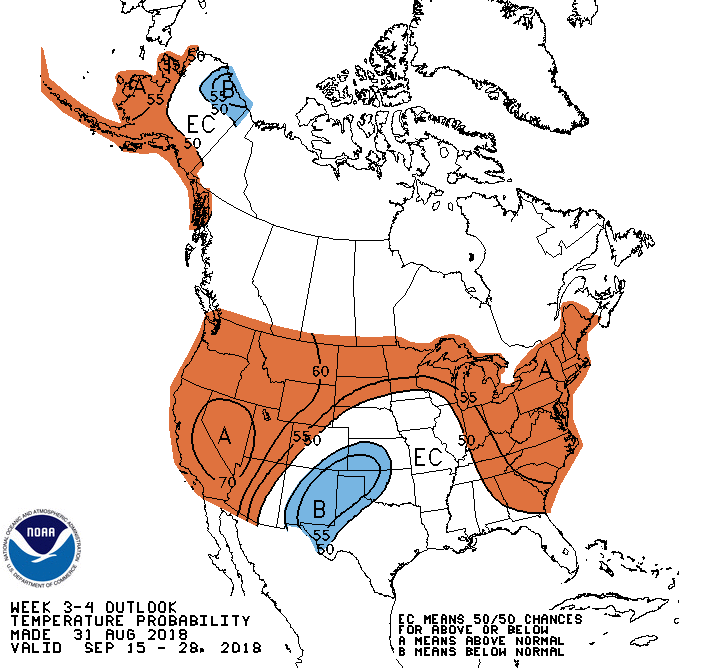 Hurry up, October!
---