Early this morning it's raining in Alabama and Mississippi. Just fog in usual spots for us. That fog should mix out by mid-morning. Enough cloud cover should keep temps under 90°.
Humidity remains oppressive with dewpoints around the low 70°s. Heat index will max out around 95°.
Rain isn't appearing on the HRRR or NAM3 models, but beware! Those models are having a bad week, as usual in August, unable to figure out this boiling, humid airmass.
/begin rant/
Hard to blame the models; our storms are being formed mostly due to very local conditions which form quickly, and the models are only fed data twice a day from regional sources.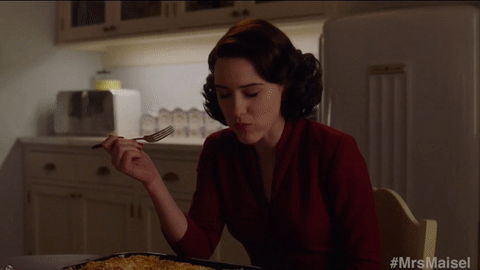 If we want better forecasts we need to feed our weather models more data and provide requisite computing power. Suppose you have a personal chef. You say provide me a month's worth of meals; however, you're limited to the ingredients from one aisle of a convenience store, one eye on the stove, and the microwave. I bet that chef can make a few good meals, but others not so much. Same bleh keeps recurring. But give your chef access to Publix and a full kitchen, you'll get better results.
/end rant/
Draw no conclusions about rain today. It's humid and the models are probably right that the K index will jump into the upper 30s this afternoon, so a shower or storm is possible. About that NWS-Nashville wrote:
scattered showers and thunderstorms will once again be possible this afternoon and into the evening hours. I don`t think everyone will see rain, and even if you do, it likely won`t be for long.
Monday – Early Tuesday
Give models a large meteorological feature to follow, and they can produce better information.
For example, Monday:
A well-formed, closed low will dig out of northern Plains Monday morning and spin up a surface low across the Mid-Mississippi Valley. While there could be some showers and plenty of cloud cover during the morning hours Monday, a cold front will push towards Middle TN, greatly increasing rain chances for everyone. Showers and thunderstorms will push through the mid-state during the late afternoon, evening and overnight hours Monday into early Tuesday morning.
The HRRR model shows the closed low centered in NW Missouri connected to a cold front making rain all the way down to Middle TN Monday late-morning/lunchtime.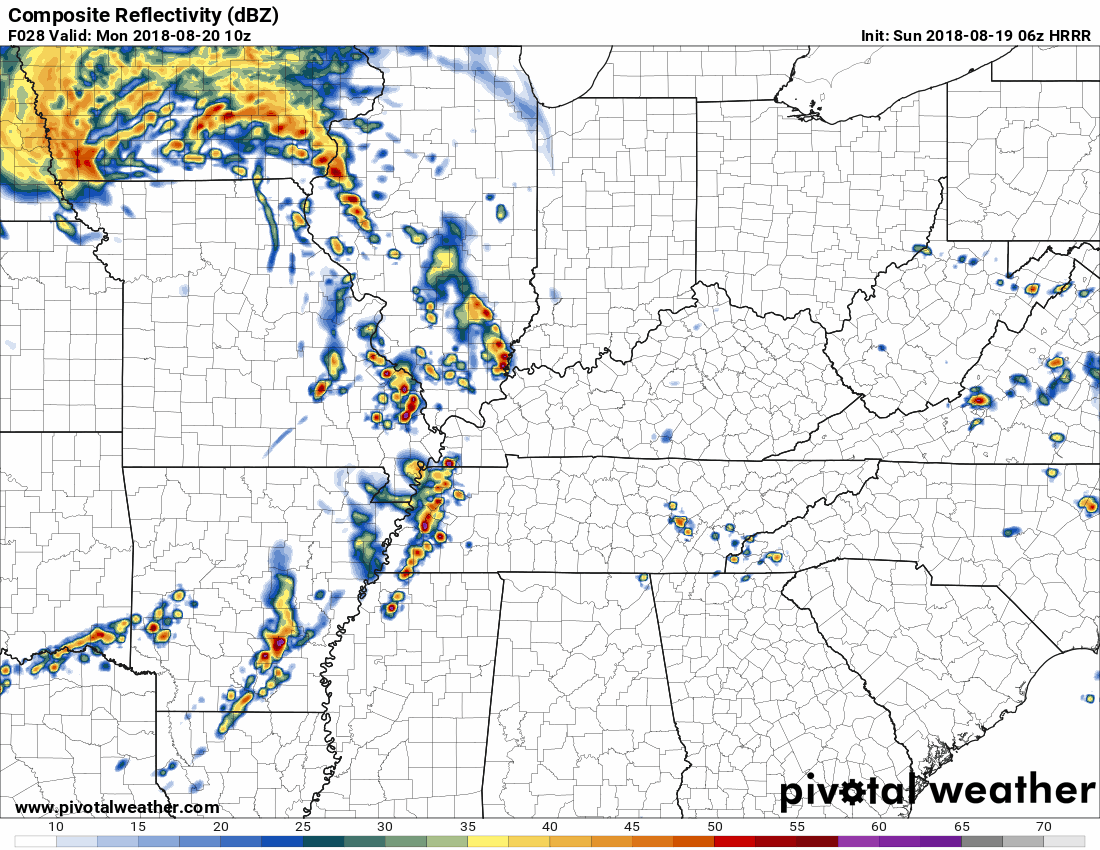 It makes one big apostrophe or comma.
The NAM3 model shows the same feature. A low to our NW with a cold front extending like a comma through IL, IN, KY, and TN. Yet the NAM3 model thinks the rain will come later in the afternoon with another wave of meh rain early Tuesday morning. This shows 10 AM Monday through Tuesday morning's rush hour, in three hour increments: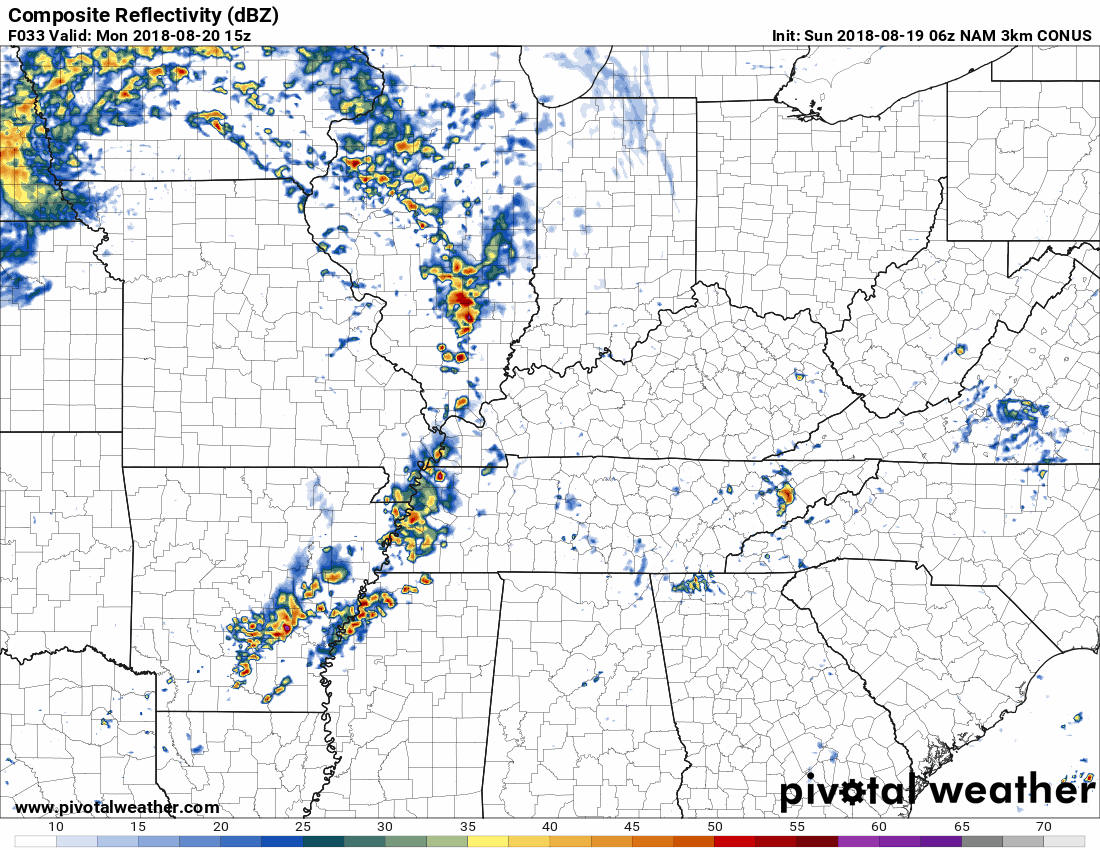 Bottom Line ETA Range: Rain is possible in the morning, but it's more likely after lunch until shortly past midnight, possibly extending into early Tuesday morning.
Storms are possible, but severe weather is unlikely. The Storm Prediction Center includes us in their 5% probability for a severe storm occurring within 25 miles of us Monday: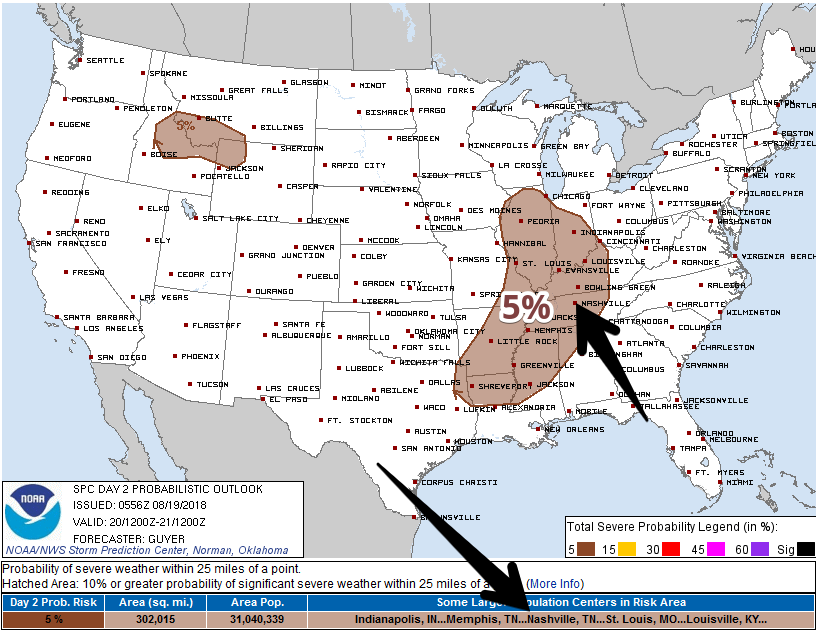 Reference to severe weather includes damaging winds and heavy rain. More from NWS-Nashville:
While I`m not crazy about the potential for severe weather, increasing wind fields will help raise the chances for isolated strong to severe storms, especially during the evening hours. Biggest concerns will be damaging straight line winds and very heavy rainfall. Storms should have enough movement to reduce the potential for flooding, but PWs [precipitable water values] on the order of 2 inches and increased low-level winds will make for very efficient rainfall. Totals will be around 1 inch on average, but a few spots could definitely see close to 2 inches.
Wednesday & Thursday: Cooler & Drier … Fall-Like?
Check out the temps, highs under 85°!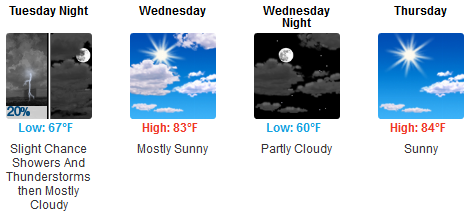 Cooler, drier air will filter in behind the cold front beginning late Tuesday. It'll take a while to scour away those humid dewpoints, but you'll notice a humidity drop with mid/low 60° dewpoints Wednesday, and upper 50°s dewpoints Thursday and Friday. YAAASSSSSS!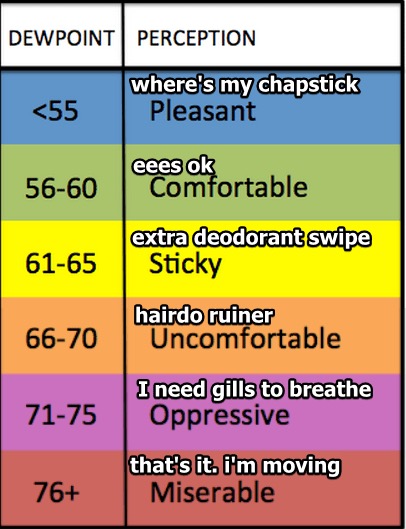 Not quite fall like, but closer than we've been in a while.
Heat & Humidity Return This Weekend
High pressure will build. Humidity will return to "uncomfortable." By Saturday expect an:
increase rain chances each afternoon and raise temperatures back into the 90s — maybe even mid-90s by the start of next week.
Sorry.
If I could summarize Wednesday to Sunday in one GIF, it's this one: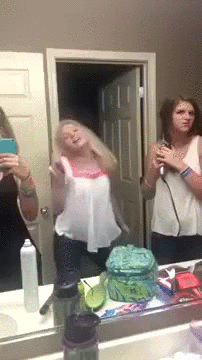 ---