Afternoon sunshine will help fuel development of more showers and thunderstorms later today and tonight. Both NAM3 and HRRR models have waffled back and forth on this, but now both agree rain and a few thunderstorms will develop to our west shortly after lunchtime, then become widespread in the late afternoon and early evening hours.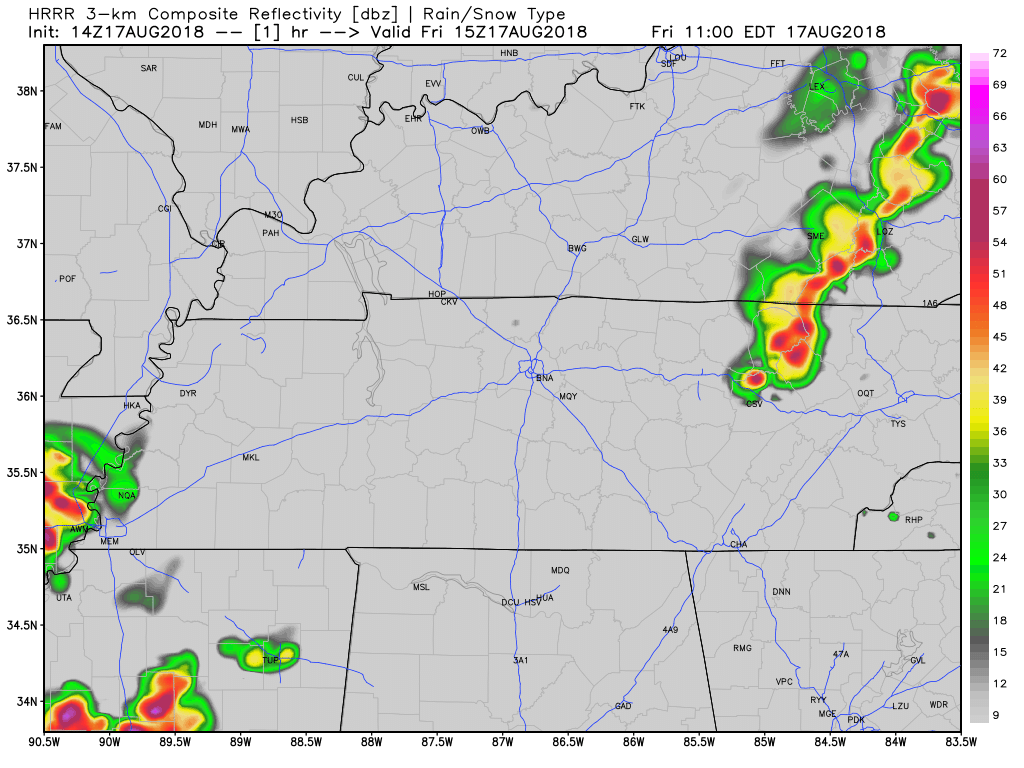 This run of the HRRR model is highlighting 3PM to 8PM for peak coverage. Friday evening football may be a challenge; however, there is hope.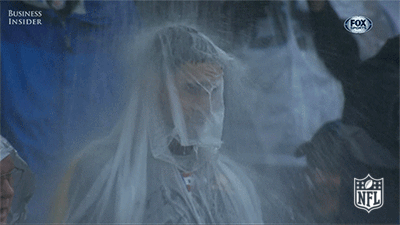 First, looks like the heaviest activity may pass southwest of us when it's time to be on the field for warmups. Not convinced about that, but it's possible.
Second, if HRRR and NAM3 are correct, rain should be over before halftime. Don't get burned by these models. Pack a poncho tonight if you don't want to be drenched in public.
Severe weather remains possible, but unlikely. The Storm Prediction Center has placed the entire area in a Marginal Risk (Level 1 of 5) for seeing severe weather within 25 miles of any given point.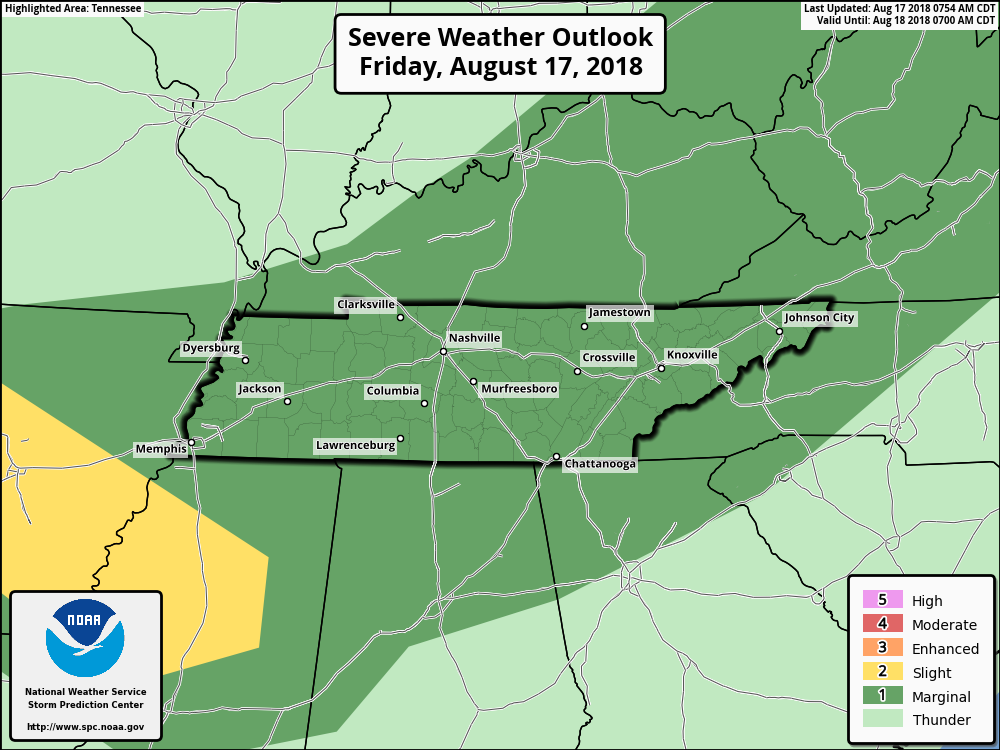 Here's what NWS Nashville had to say about today:
The best course of action for the afternoon and evening is to be prepared for lightning and downpours and have alternate plans.
Cloudy skies will drop the high temp into the upper 80s, but oppressive humidity remains with dewpoints in the mid-70s.
The Weekend
Your crap app probably has a bunch of rain clouds for Saturday, but if you look closely at the data it looks OK. The NAM3 model has very little rain coming through Saturday morning, noon, and night. The HRRR (below) is a little bit rainier, with maybe a few of us getting drenched, and off and on showers for everyone else.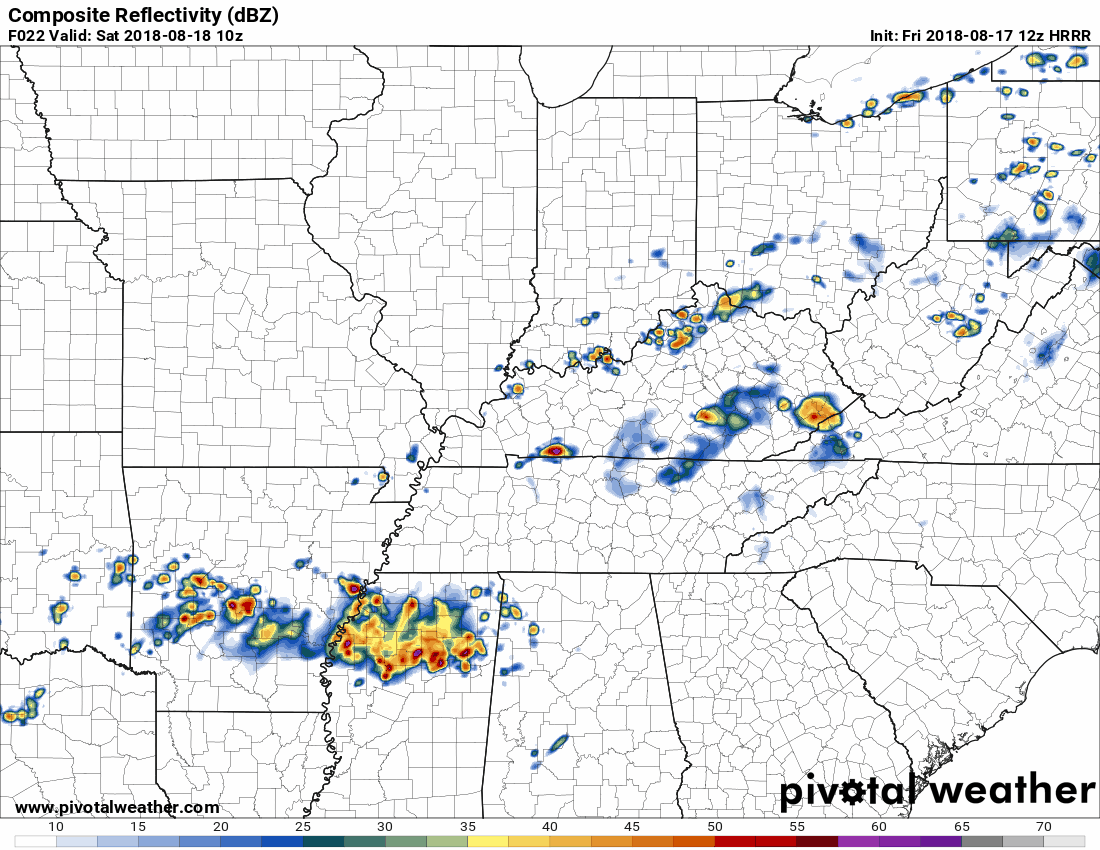 The biggest impact for those working and playing outside will be high humidity, hitting oppressive levels with dewps in the low 70s.
Sportsballing Saturday will be a matter of dodging those showers + how much water you'll already have on the field.
We may see a downpour or thunderstorm at the Titans game tomorrow, so Pack a Poncho, but I won't discourage any outdoor plans as long as you can stay connected to reliable weather info and you are close enough to a safe place in the event of lightning.
I think rain is even less likely (but not ruled out) on Sunday. Better rain chances return Monday night into Tuesday.
Stay clicked to NashSevereWx here and on Twitter as we keep you updated!
---