Here Comes Rain, Storms Also Possible
High temps today will push into the low 90s with dewpoints in the low 70s. Humidity is oppressive. Models think precipitable water totals between 2″ and 2.5″ (not that it'll rain that much) will arrive tonight, indicating arrival of a soupy, sweaty airmass.
Some showers and storms are already moving across Middle Tennessee this morning, mostly north of I-40. We've already been included in one significant weather advisory.
The HRRR model picks up where the current radar ends. The HRRR model thinks storms with a very low-end severe threat will arrive in this afternoon and last sometime into the evening. However, there may be a break in the action tonight during Live On The Green, but do not bet heavily on that. We're expecting some gusty winds, plenty of rain and some lightning with these storms.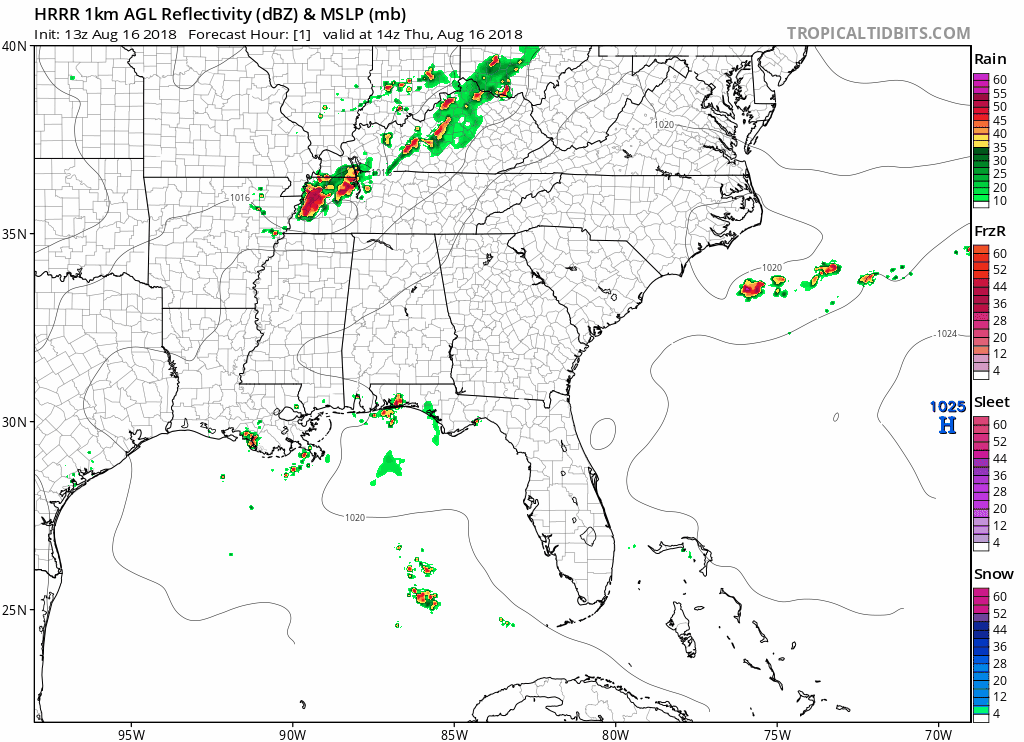 The Storm Prediction Center has placed us within the Marginal Risk (1 out of 5) of severe weather today.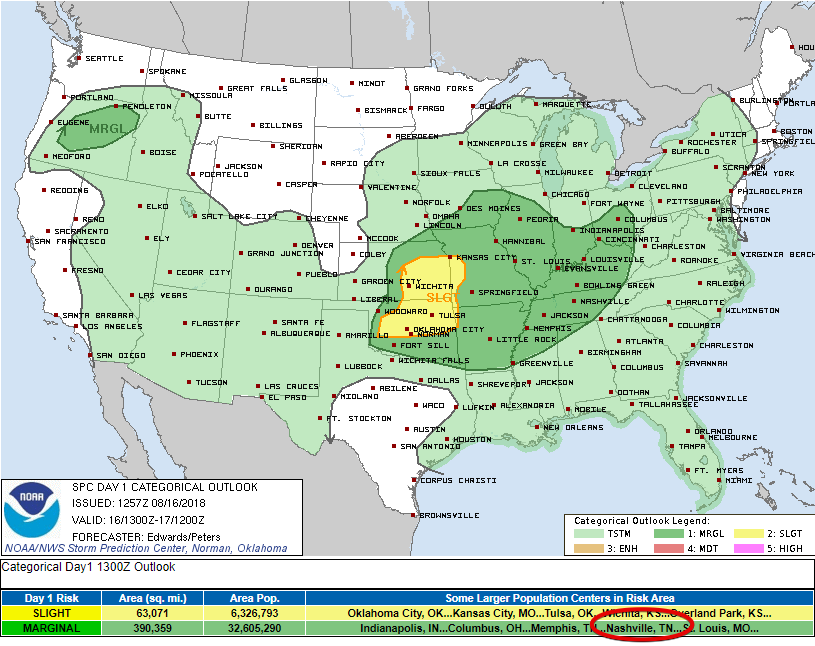 This means a 5% chance of seeing damaging, gusty winds within 25 miles of you.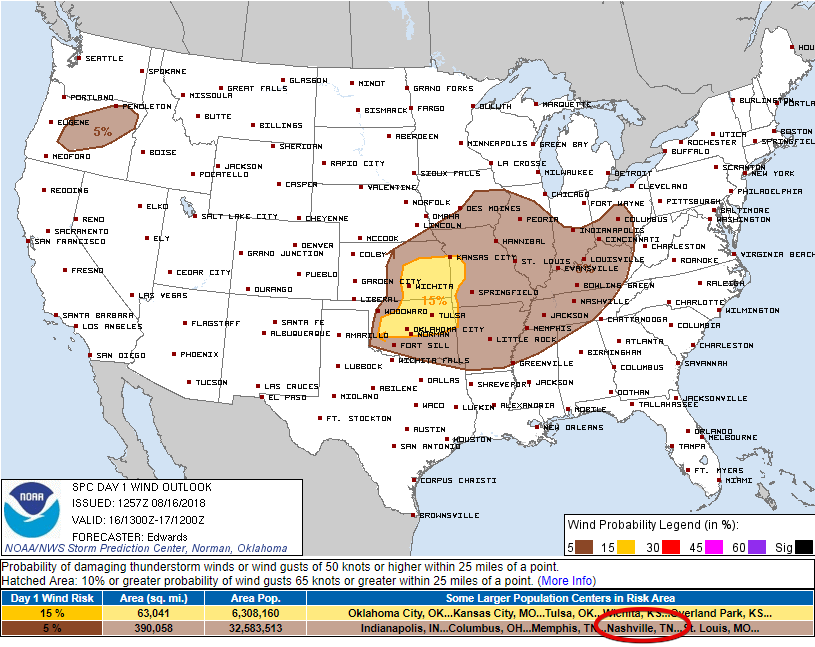 More of the Same Friday
Rain is likely again Friday, passing through in waves so not an all-day washout.
Timing varies by weather model. If the NAM3 model is correct (it's never exactly right), storms will pass by in the morning, then not much after that: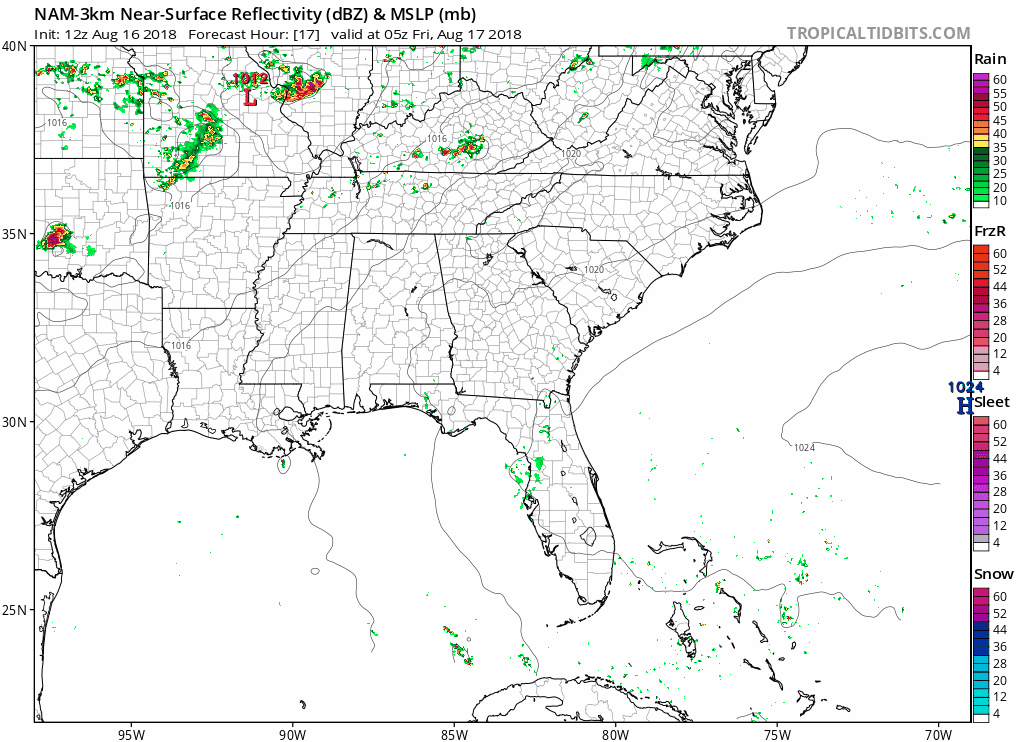 Other models reorganize showers and storms late Friday afternoon into the evening. Friday Night Lights may be played on a wet field, and it may even be raining at game time.
Severe weather is also possible. We remain in a Marginal Risk for it: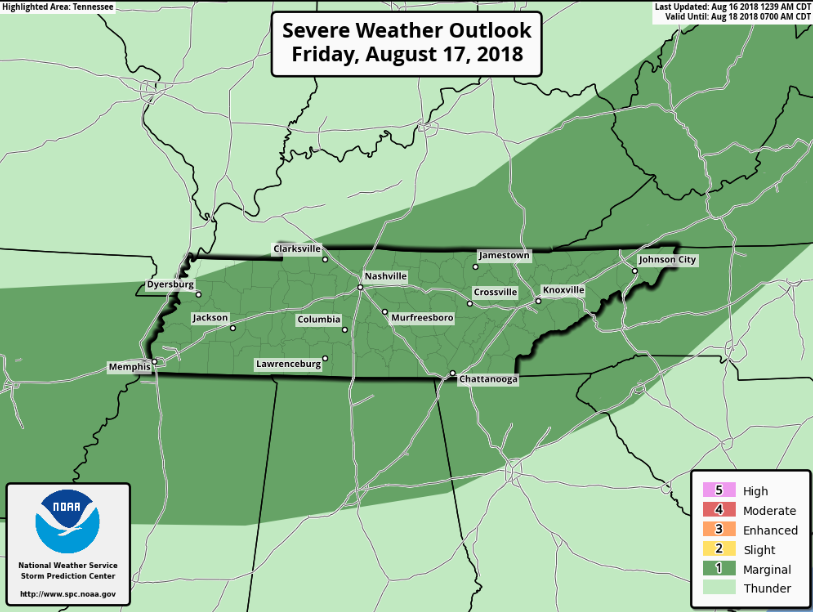 Here's what NWS Nashville had to say:
There is a marginal risk of severe storms again on Friday. Damaging straight-line winds and large hail are the primary threats.
Cloudy skies will drop the high temp into the upper 80s, but oppressive humidity remains with dewpoints in the mid 70s.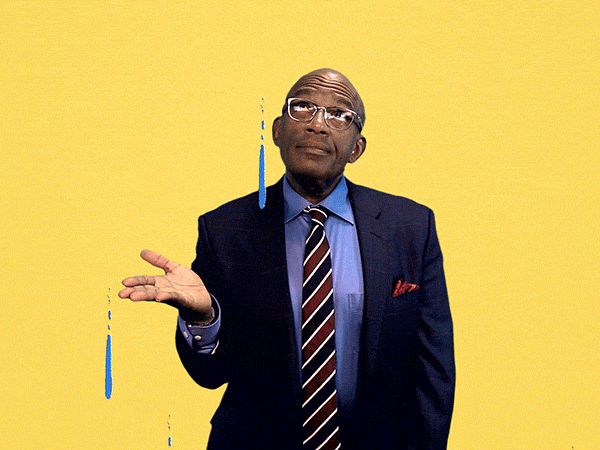 The Weekend
Rain chances linger into the weekend, but we think the best chances are tonight and Friday. Saturday morning soccer games may survive; it'll all depend on how lucky you are. I think we will see some additional rain Saturday and maybe also Sunday, but timing and impacts right now would only be speculation. Pack a poncho to the Titans game Saturday night.
Stay clicked to NashSevereWx here and on Twitter as we keep you updated!
---