This morning, a frontal boundary parked south of us. We're on the northern, dry side of it. Behold mid-level infrared satellite images this morning. The coral, orangy stuff is the drier air. Green is the rainy air.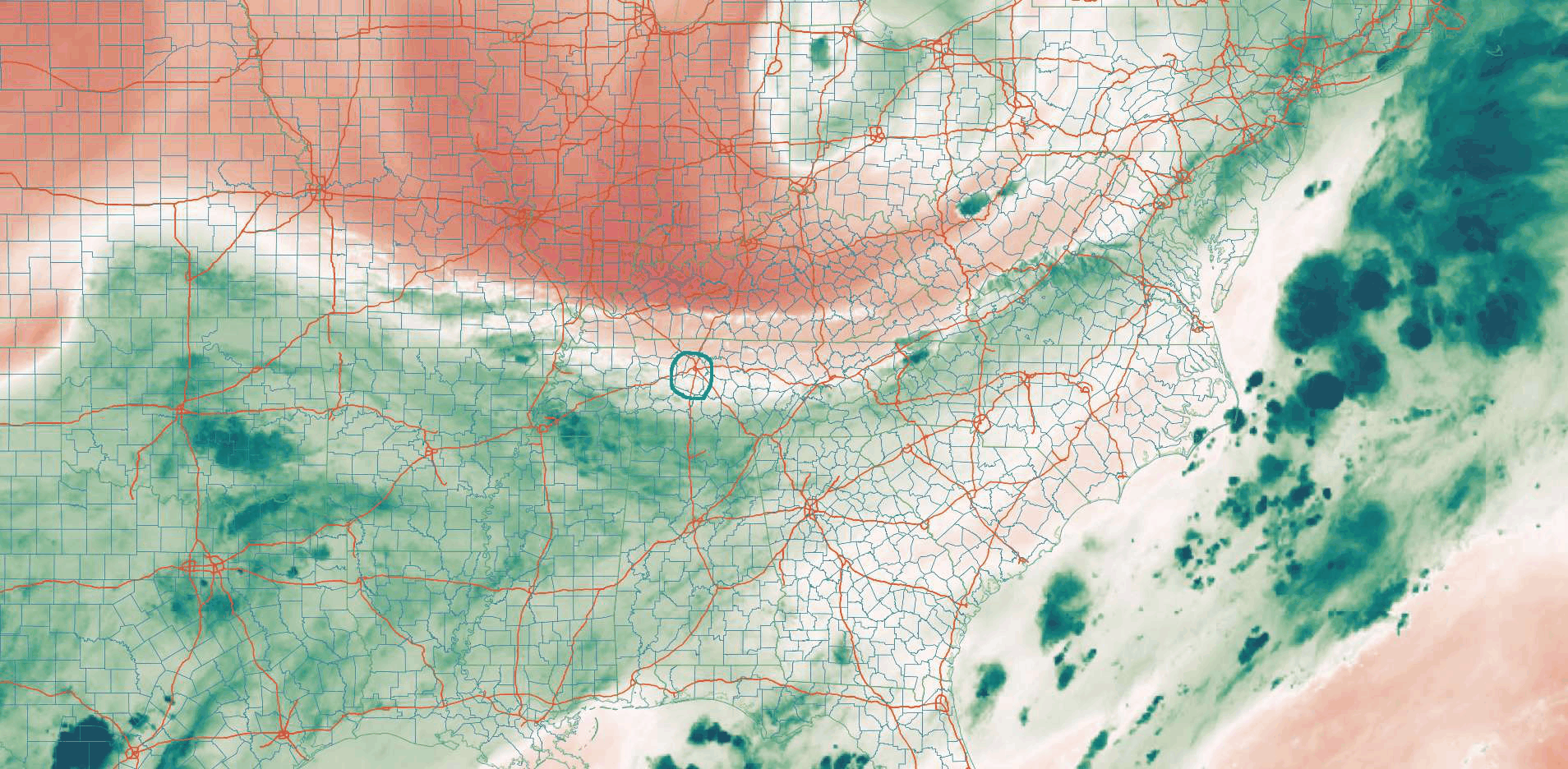 High pressure with drier air is taking over. So no rain chances until Wednesday night (at the earliest).

Lower humidity through Wednesday. Morning dewpoints in the mid 60°s, low 60°s in the afternoons.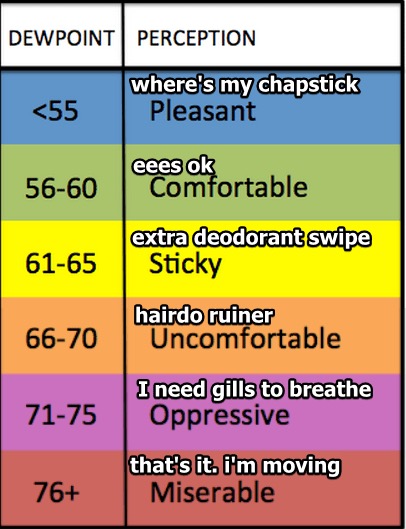 Look for early morning fog in the usual spots near bodies of water.
WeatherDome Conspiracy Theorists will enjoy the below total accumulated precip map: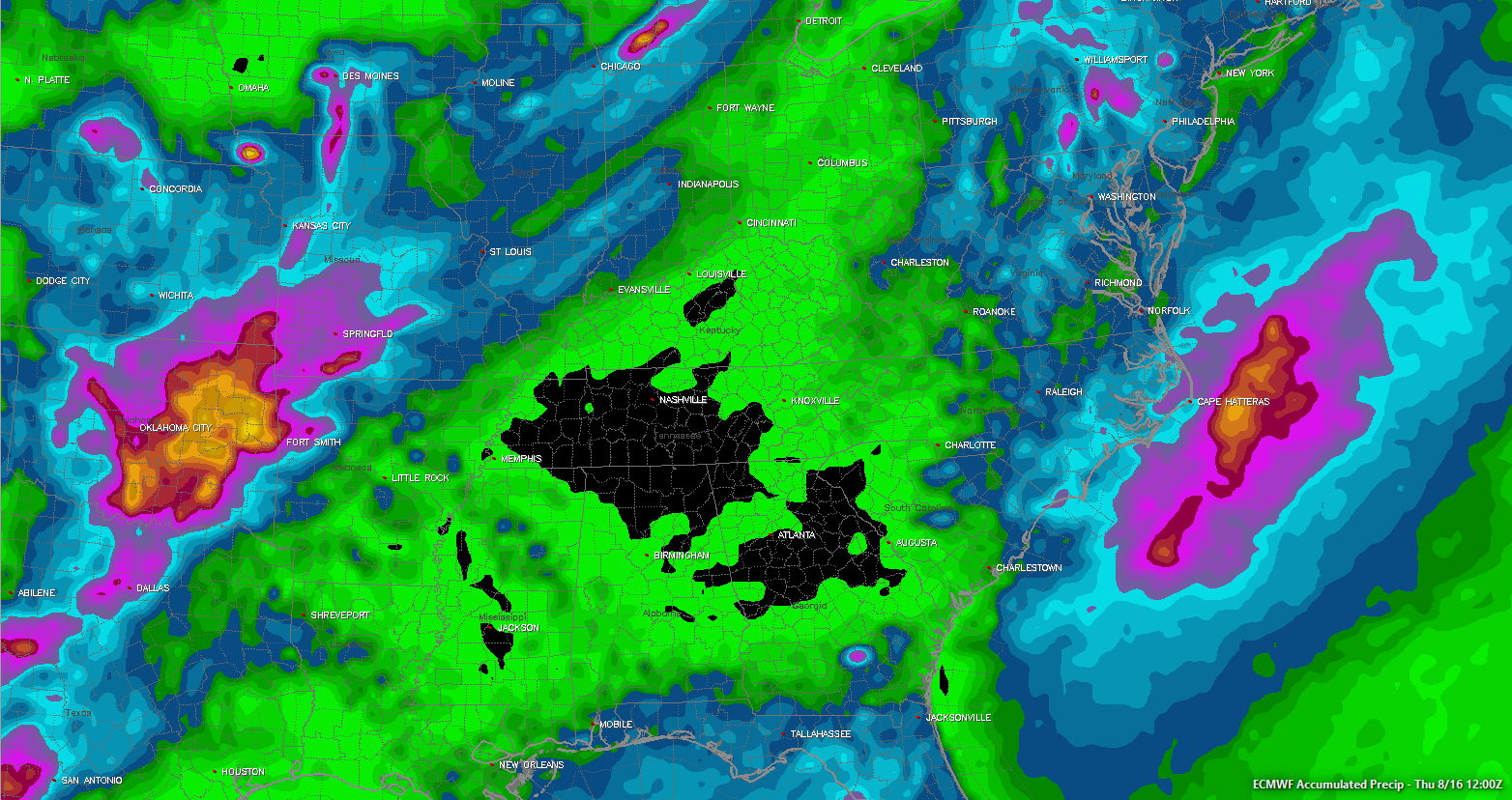 Ohhh noooeeeesss! The Euro model says we've been rain domed!
You know the expression about lies and statistics. Same goes for weather maps. You can make them tell the story you want, and if you're clever or especially lazy or your goal is to misunderstand science by boiling your conclusion down to personal experience and 44 seconds of thought, you can make a forecast weather map support nonsense like weather "domes." Full disclosure, Will & I had a hand in this hogwash by contributing to the dome concept in 2014. We needed a catchy title for the fact it hadn't snowed more than 1″ in a calendar day for over 4 years. #SnowDome was born.
It was a joke! Some thought it was real science.
You're reading this right now thinking "I didn't think that!" We know. You came here searching for jokes and science facts about weather!
Sometimes I want to yell people on Twitter: there isn't a "dome," y'all, seriously there isn't a magical force field over the city or your backyard that bounces away desired sky objects. There can be (and often are) meteorological explanations for some things, but I promise you the rain your garden needs isn't being obstructed by invisible force field and that's why the Euro model has no rain over us.
Others will get rain before we do, and it's because of high pressure and drier air. Repeat: not a force field.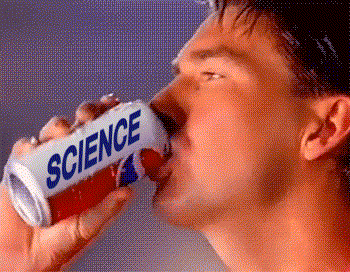 And though your backyard may be crunchy, BNA has above average rain this month (0.97″) and this year (6.20″).
Thursday through the Weekend
High pressure will break down, allowing a series of disturbances to scatter rain and thunderstorms into Middle Tennessee. From NWS-Nashville:
Showers and thunderstorms will be scattered across the area every day. There will be some "likely" periods of showers and storms late week, but those specific times area difficult to identify more than a day or 2 ahead.
Humidity will rise to "uncomfortable" and "oppressive" levels. More clouds will keep temps down. Muggy, rainy, typical August.
---