Evening Rain Chances
Sticky — but not oppressive — humidity and very low afternoon rain chances; keep all your rain-afraid afternoon plans.
That said, a few storms could go up this afternoon, but as the HRRR model below illustrates, most of that threat will be to the south and east of Williamson and Davidson counties.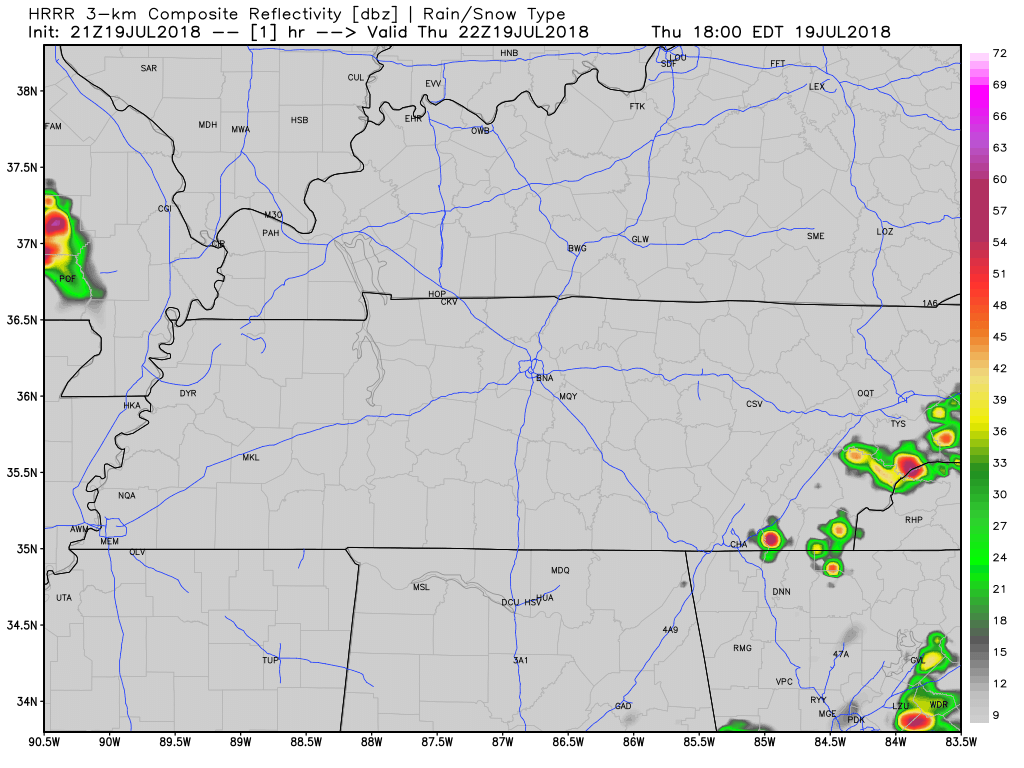 Severe Storms Friday
Now, for the severe threat on Friday.
The Storm Prediction Center has placed us within an Enhanced Risk (3 of 5) for severe weather.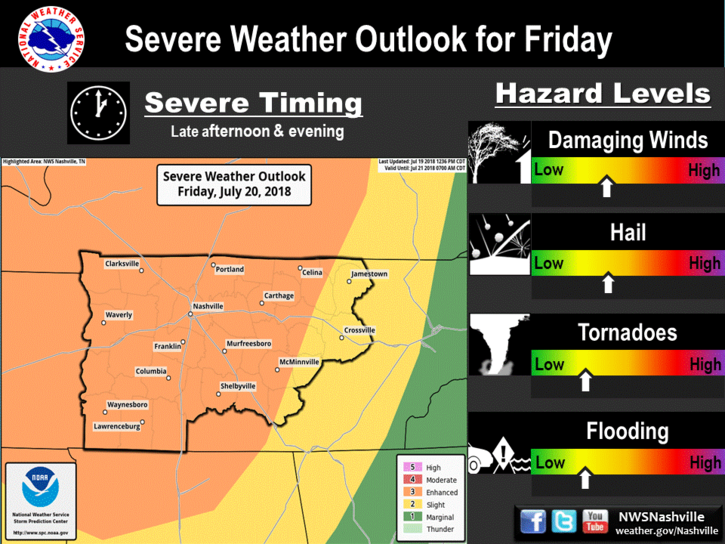 This map says: you have a 30% chance of seeing severe weather within 25 miles from you.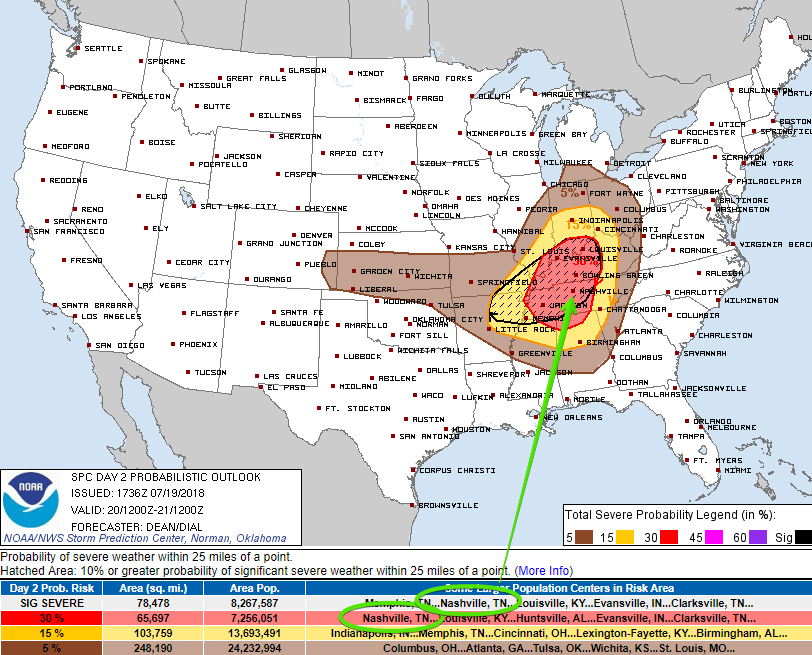 Timing and What to Expect
Timing remains fuzzy. Models do not agree. We could have a severe line pass through in the morning, and then again in the afternoon, or we could have an afternoon line then an evening line. It's also possible storms will bubble up in the morning ahead of a main event. We're leaning towards afternoon and early evening, but we don't know which outcome the weather will choose.
NWS Nashville had this to say about tomorrow:
Severe storms are possible across Middle Tennessee on Friday, mainly during the afternoon and evening. Damaging straight-line winds and large hail are the primary concerns, with tornadoes and brief localized flooding representing lesser threats.
These storms could pack some severity. We're keeping a close eye on the things.
Tornadoes
Both the Storm Prediction Center and our local NWS Nashville office have mentioned the 't-word' so I'll discuss that here.
The atmosphere tomorrow will have the ingredients for tornado formation – plenty of potential energy (CAPE), wind shear, and moisture. Though, these won't be likely.
Editor's Note: There remains substantial uncertainty about the tornado risk. A few models runs ago, the often overdramatic NAM3 model showed apocalyptic tornado storm stats, but contained a low level inversion which would strengthen damaging wind and hail risks, but limit the tornado threat. The latest NAM3 run then flipped the script, and passed one storm line NE of Davidson and Williamson Counties, followed by a small but strong storm by mid-evening tomorrow night, without predicting the end of the world. Other model runs have wildly different (and more sensible) solutions — so although it's reasonably certain Middle Tennessee will get some strong storms tomorrow, it's possible they won't arrive in our two counties, and/or their severity can vary here vs other places in Middle Tennessee.
Do not focus only on tornado potential. There's been discussion about a derecho forming. A derecho
is a widespread, long-lived wind storm. Derechos are associated with bands of rapidly moving showers or thunderstorms variously known as bow echoes, squall lines, or quasi-linear convective systems.

Although a derecho can produce destruction similar to that of a tornado, the damage typically occurs in one direction along a relatively straight path. As a result, the term "straight-line wind damage" sometimes is used to describe derecho damage. By definition, if the swath of wind damage extends for more than 250 miles (about 400 kilometers), includes wind gusts of at least 58 mph (93 km/h) along most of its length, and also includes several, well-separated 75 mph (121 km/h) or greater gusts, then the event may be classified as a derecho.
Source: and for more information, click here. I don't think it's responsible to say a derecho will (1) form and (2) arrive here, but you should know what it is. Severe thunderstorm winds have caused fatalities already in the US this year by blowing trees on cars, including one near Pickwick (in Tennessee), so please respect the wind damage potential and don't try and shelter yourself in a car next to a large tree. If we start tweeting wind damage reports in a storm line on the way, do not get caught outside in it. Tomorrow is not be a common, everyday, pop-up thunderstorm event. Show it respect.
Finally, please don't ask us if you should cancel X or Y activity unless you want a disappointing reply. ETAs vary wildly; I wish we had solid, actionable information. We'll have a better idea about timing tonight and certainly tomorrow. Regardless, your decision to do X or Y is a function of your risk tolerance and ability to respond timely and responsibly to an approaching storm.
If you've got afternoon or evening plans for Friday, make sure you have a backup plan and keep a radar handy.
Saturday
Models are pointing to more thunderstorms occurring on Saturday morning. Rain chances remain in the forecast through the weekend. No severe threat is expected; Friday appears to be the big day.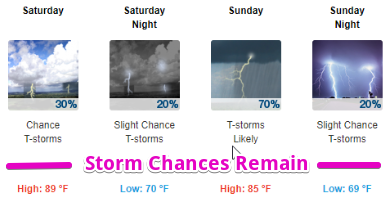 Stay clicked here or to NashSevereWx on Twitter for updates on Friday's severe weather.
---