Relief!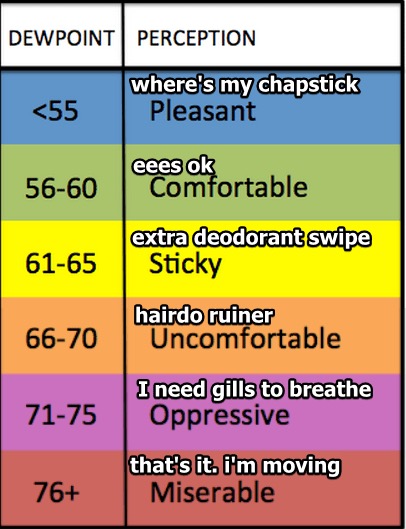 Humidity has dropped! We've endured Oppressive humidity for the past several weeks, but today, we are moving two places down the meter to the Sticky range. Even though still Sticky, it is all relative, the change is going to feel amazing.
HRRR model thinks rain will pass SW of us. So, no rain today. Dry air will suppress all activity.
Expect a high today of 90º and a morning low tomorrow morning of 67º.
Week Weekend Ahead
We will remain dry until Friday. Our winds will shift to more of a northwesterly flow as Oppressive humidity returns. Northwest winds aloft open the door to the potential for strong to severe storms with damaging winds, torrential rain, and maybe even tornadoes. Note this is only potential: the most likely result is rain and thunderstorms. The probability of a severe weather event actually happening to you is low. As always, severe weather forecasts for three days from now describe low probabilities of varying forms of high impact events.
The Storm Prediction Center has placed Williamson and Davidson Counties in a 'Marginal Chance' (1/5) for severe weather on Friday afternoon.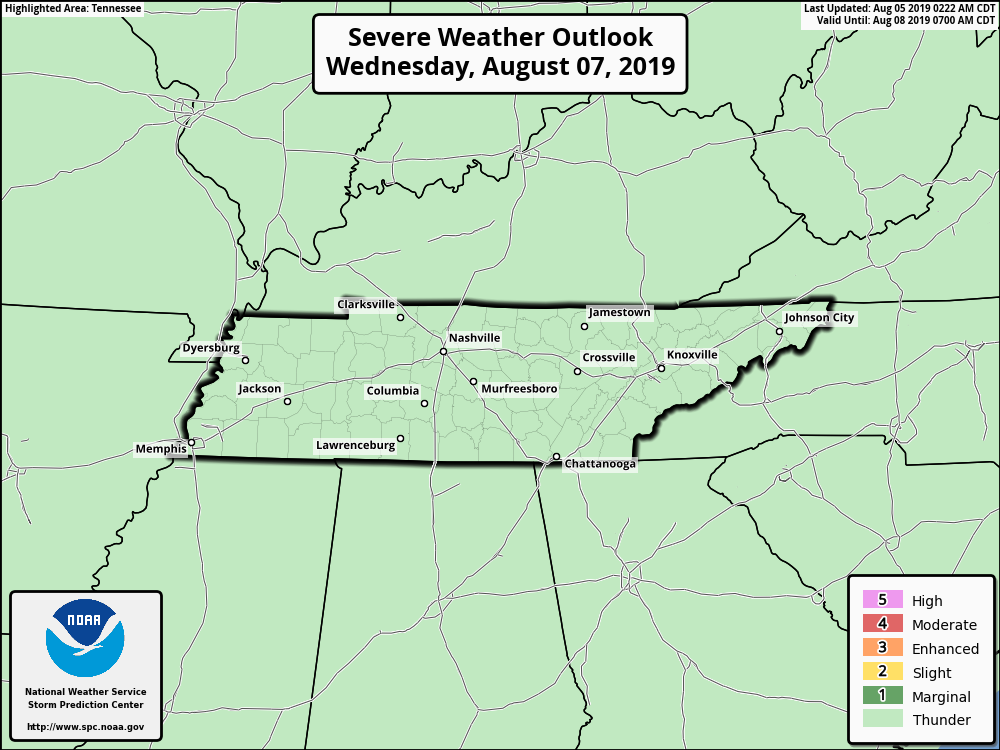 Here is the discussion from NWS Nashville this morning.
Obviously, a scenario like this carries with it damaging straight line winds, heavy rains (precipitable water values are running about 2 inches) and yes, the potential for July tornadoes. The Friday severe weather threat has been added into the Hazardous Weather Outlook.
Specifics, including ETAs, are too fuzzy to determine right now. Here is an incomplete set of potential outcomes from the lower resolution models (the higher res models aren't yet in range):
The NAM12 model shows early Friday morning showers, but without the higher dewpoints, that's not concerning.
The GFS model disagrees on timing. It predicts a mountain of potential storm energy to tap — 5,000 j/kg of CAPE (whoa!) — but very little shear Friday, producing a legit frog-strangler trucking down I-24 Friday night with maybe some damaging wind potential, but not much else.
The Euro model likes both ideas: heavy rain and storms Friday morning and Saturday morning.
All models are wrong; some are useful. A deeper dive into the data shows potential for strong shear, which would rotate storm updrafts and increase storm severity concerns. ETAs, details, storm modes, "is morning or afternoon or evening better to be outside," all remain too unclear to provide you planning guidance. If you want a guess, find a crap app pretending it can quantify this uncertainty and prepare to be lied to.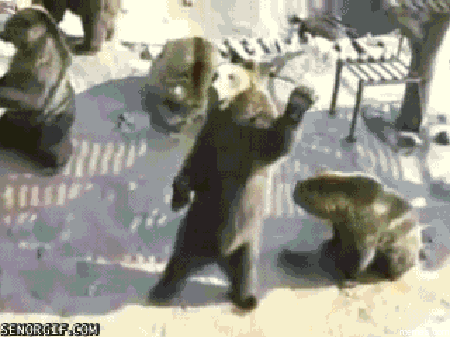 Friday is like the bear above, it has our attention.
Stay tuned for the evolving forecast on this potential severe weather threat.
Stay clicked to NashSevereWx on Twitter!
---