Flash Flood Warnings are ongoing this morning in the counties immediately west of us.
Radar estimates through 9 AM show where the heaviest rain has fallen:
There was also 2″ of rain down I-24 in SE Davidson County, near/around Cane Ridge.
What About the Rest of the Day?
This forecast will be complicated because when this morning's weather balloon was launched, it was ingested by that thunderstorm and returned pretty much useless information. Weather models need good information to produce decent predictions, and, yeah, it did not get that info from today's weather balloon.
But, all is not lost. We're going to take a run at this.
Still Hot & Humid. Sometimes morning rain clears out humidity, but that didn't happen. The dewpoint after the rain was 72° at BNA. Temps should climb near/over 90°. Expect a heat index around or over 100°.
More Rain? I don't see a repeat of this morning's large thunderstorm in the models, but another small, isolated, heavy downpour with lightning is possible late this afternoon and tonight. The HRRR model illustrates low coverage of these heavier downpours in Middle Tennessee, with most of them arriving tonight: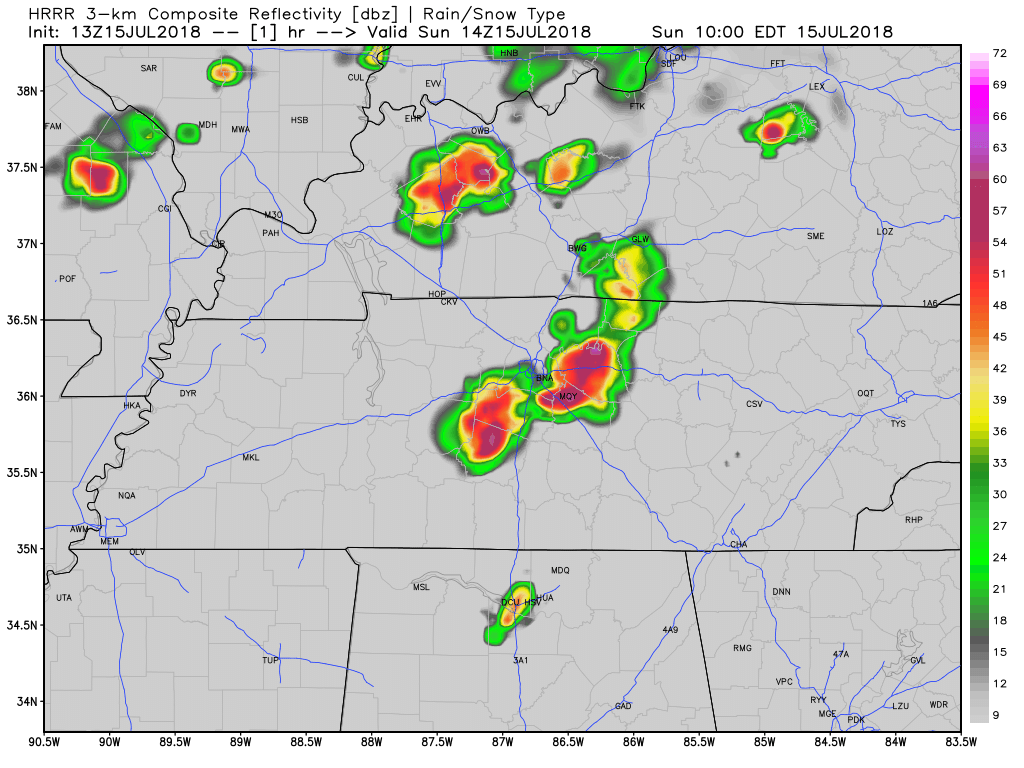 I don't think the HRRR model is a great Go/NoGo tool, but it can inform your decision because it initialized well. (Meaning, it began with the correct solution, so it is more likely to predict accurately. Were it to start in the wrong place, a correct prediction would be unlikely).
Remember, your decision to proceed with outdoor plans is mostly a function of
your desire to subject yourself and others to the elements,
your risk tolerance,
the amount of rain your activity can handle, and
the speed at which you can respond to lightning and seek safety.
We do not know the answer to these questions when you ask us on Twitter. They are personal and unique to you. So we can only try to predict the future about the risk of rain and storms.
Today, I think the rain/storm risk is real but it'll impact various locations differently, so depending on the answers to your questions, above, you may or may not be able to be outside today.
Remember, summer storms do not frequently announce themselves on radar 60 miles away and give you 90 minutes to respond, but because this storm activity is coming in from the W/NW, you might be able to see them advance.
We'll be active @NashSevereWx on Twitter this morning, this afternoon, and tonight, as usual.
Rain chances look a bit higher tomorrow and Tuesday. More on this tonight.

---