Oppressive Humidity This Week
Dewpoints will be in the low 70s all week.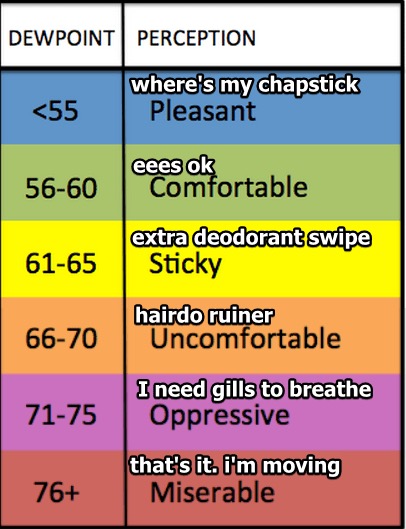 On cloudy days, expect highs in the low 90s. Sunnier days, expect mid 90s.
This will produce the most oppressive heat and humidity combination of the year.
Tonight
Models, like the HRRR model below, think we will see a few potential rounds of storms overnight tonight. All models are wrong. Some are useful. Is this one useful? Maybe not. It hasn't had a good couple of days. Nonetheless, we can expect storms to be somewhere nearby….or on top of us.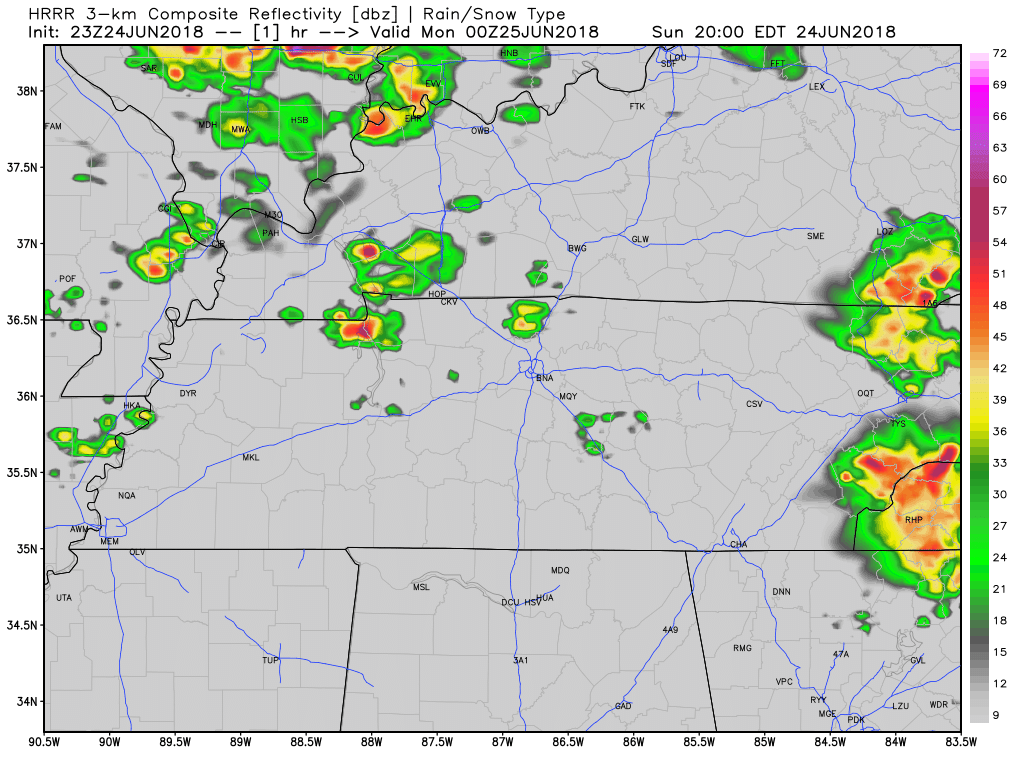 Storms could be strong. There will be plenty of shear and instability to create heavy rain, lightning, and damaging straight-line winds. The question is whether they'll develop at all: if they do, they'll be capable of packing a punch.
SPC believes, within 25 miles of you, there is a 5% chance of damaging straight line winds and also a 5% chance of 1″+ diameter hail. The tornado risk is less than 2%. This is indicated by including us in the 1 out of 5 (marginal) risk area.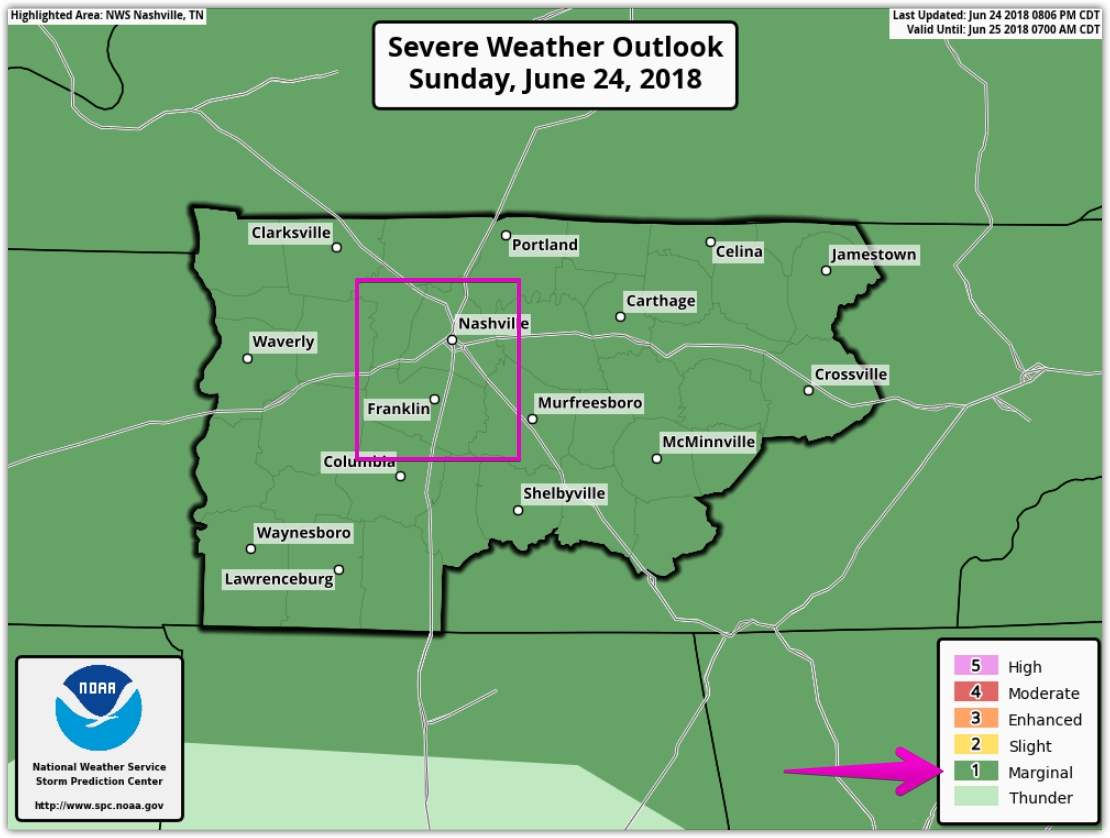 Monday
More rain is possible Monday morning, but, again, currently models aren't so sure. The NAM3, below, shows a thunderstorm complex in Kentucky firing off a line of showers and storms and sending it across the border into Tennessee, but those may just miss us to the east. This too will be watched closely.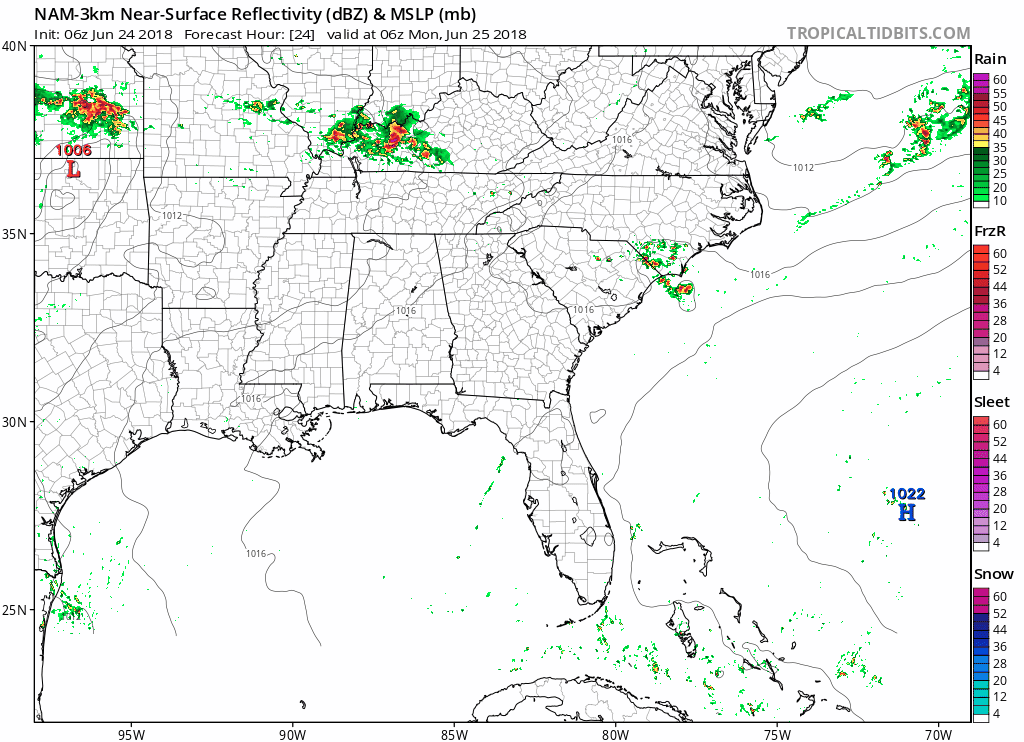 After that, the day appears quiet.
Outdoor plans Monday are most threatened during the morning. The evening looks OK.
Tuesday
Another storm system NW of us will be ongoing, which may bring us showers and thunderstorms. Just general thunderstorms, though. There is no ETA for this activity; we're unsure it will even develop.
Got plans? Rain and storms are possible, but there's too much uncertainty to say whether, when, or where.
Wednesday Into the Weekend
More showers and storms may develop Wednesday afternoon and evening as a weak front slides through. These could be noisy.
Confidence level on timing and severity is low, but
After Thursday, heat of the day pop-up storms are possible.
We will update the forecast as needed @NashSevereWx on Twitter. Not on Twitter? We have you covered.
---