Yesterday's Microburst
Large hail was the big hazard yesterday, from Nashville to East Nashville, and Franklin to Thompson's Station.
And I think we had a microburst.
Southwest of Franklin, winds likely 60+ MPH resulted when a tremendous amount of water dropped quickly from the sky. Residents said it wasn't raining, then suddenly a massive amount of water and wind came all at once. The water flooded a garage as strong winds swept through in a straight line, dropping these very large branches on cars (note this was after the bigger trees limbs had been removed)…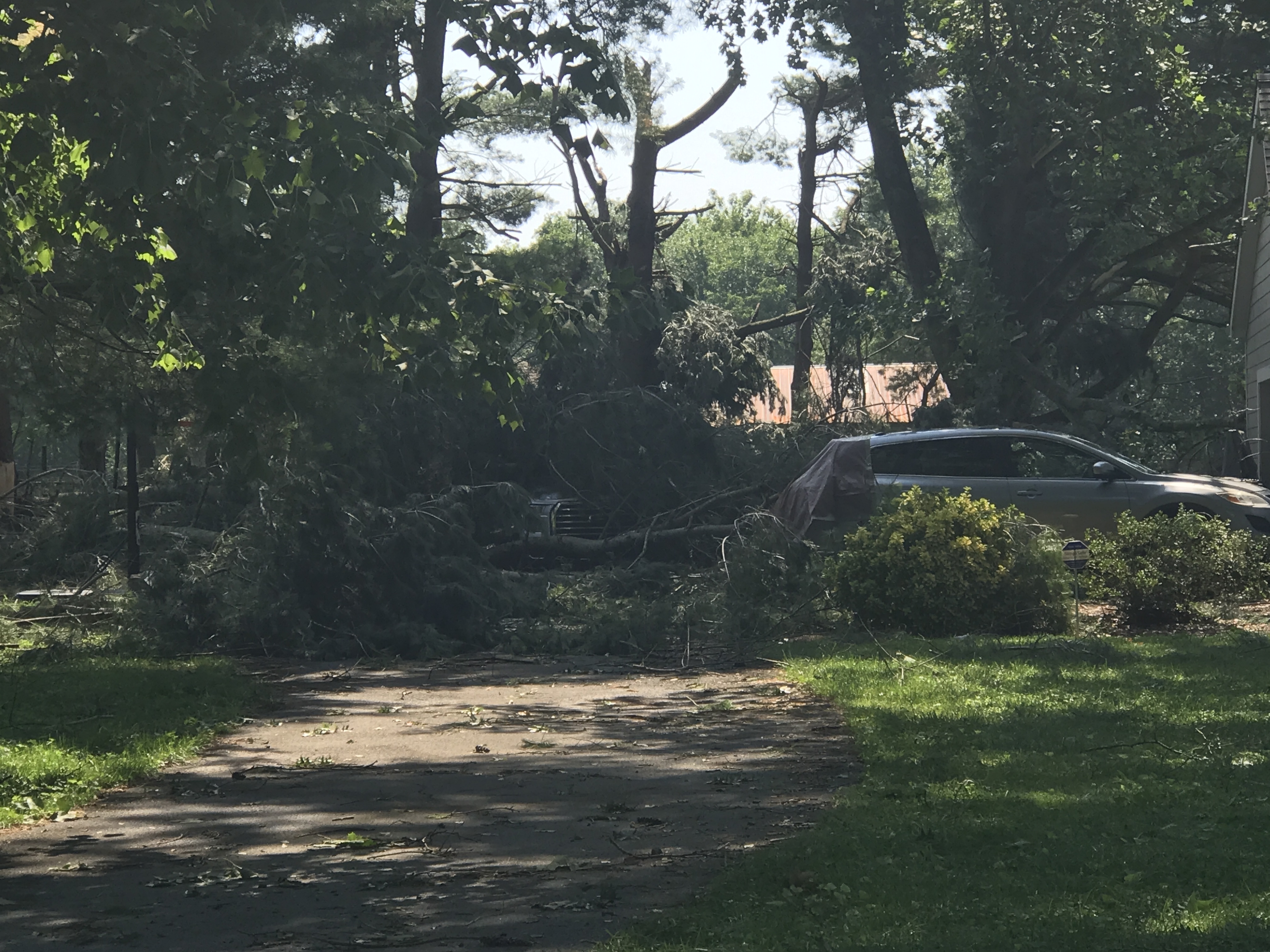 …snapping them off really close to the ground…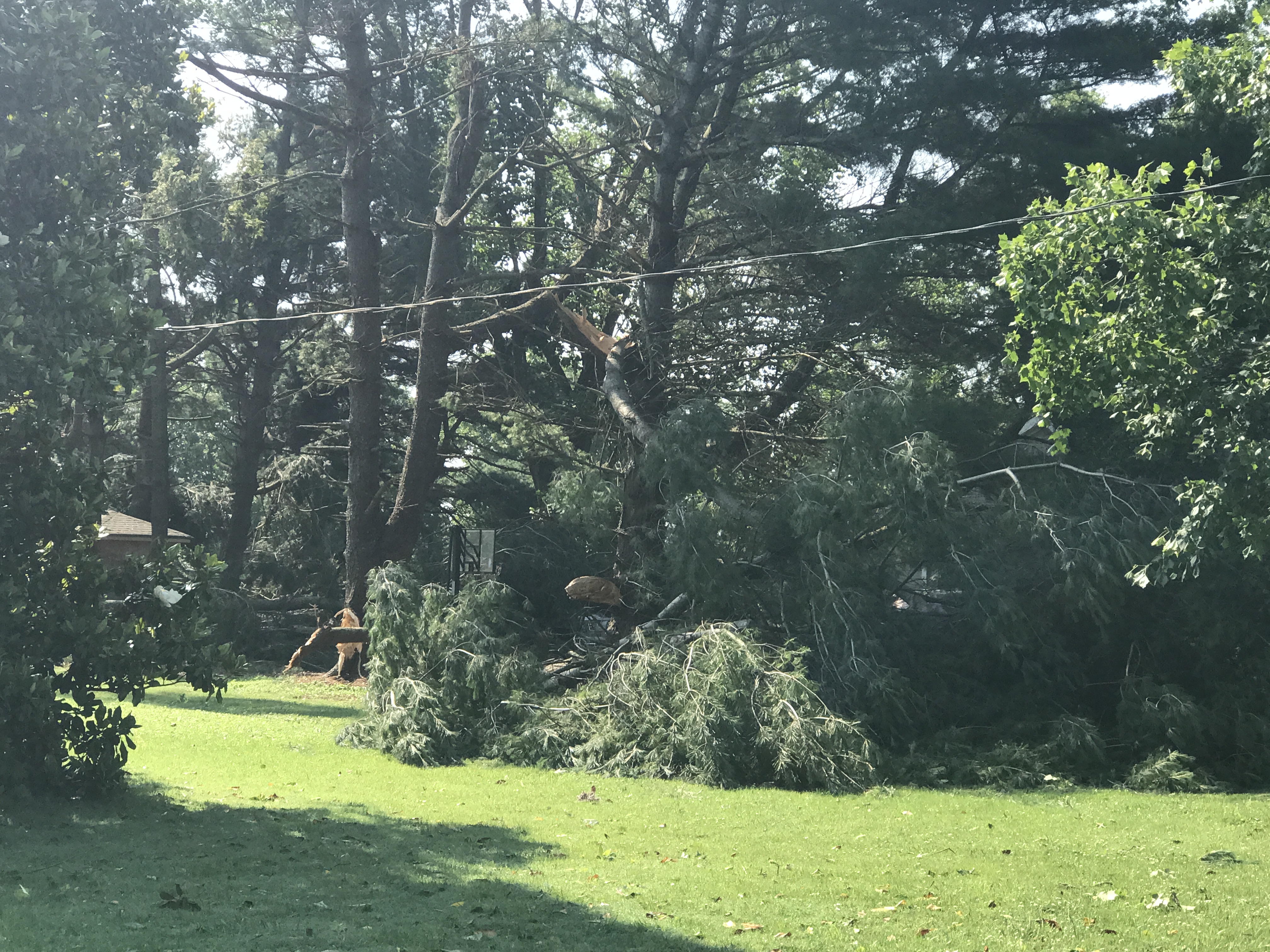 …depositing this trampoline 200 yards from where it started…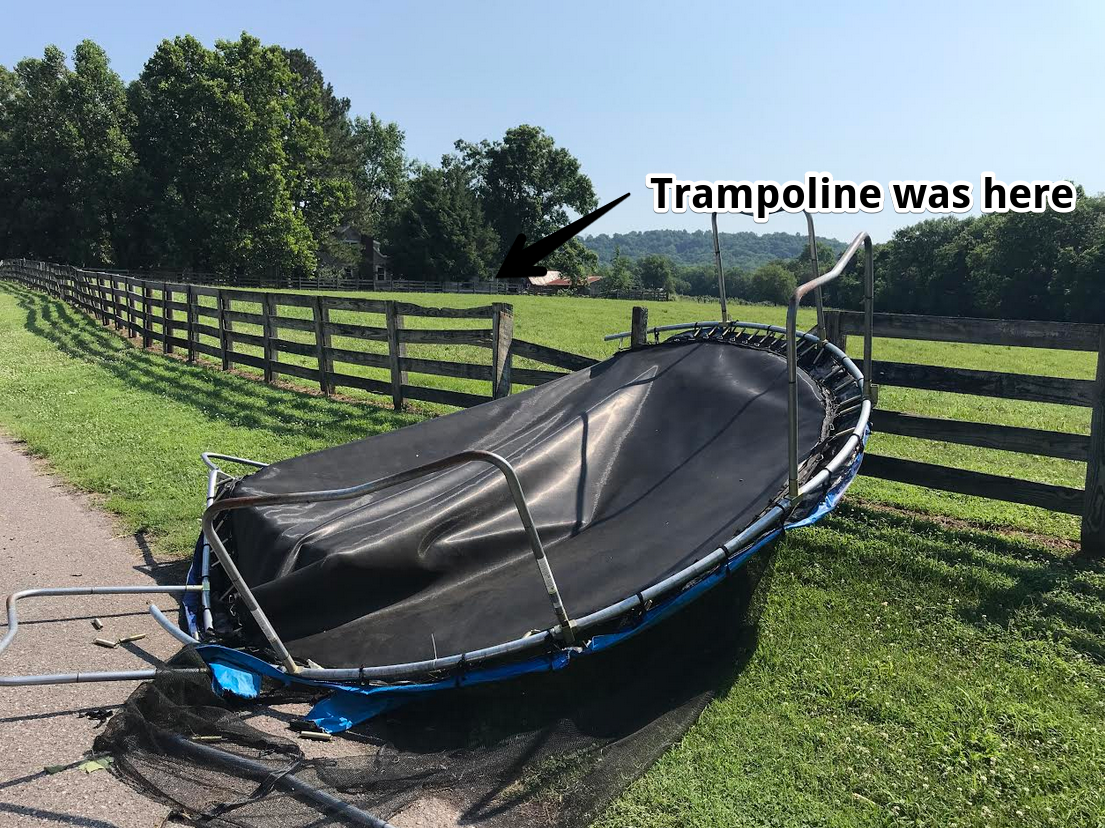 …and laying down a large area of corn in an adjoining farm.
No one was hurt.
Severe thunderstorms mean 1″ hail (a property damage concern) and 60+ MPH winds. Those winds are my biggest concern, because they blow over very heavy trees onto cars not designed to handle them, and onto houses where trees can fall through a roof.  Never ride out a severe thunderstorm next to a large tree.
Saturday
The big story today is the heat. Cloudless skies and south winds will allow for surface heating to push our high into the mid 90°s. Dewpoints in the high 60°s will make our heat index crawl close to 98° today.
Chances of rain for today remain low, but they're certainly not zero. If air can get enough lift for storms to fire, they could reach severe criteria. The threat could be gusty winds and hail. Where and when this could happen today is hard to say.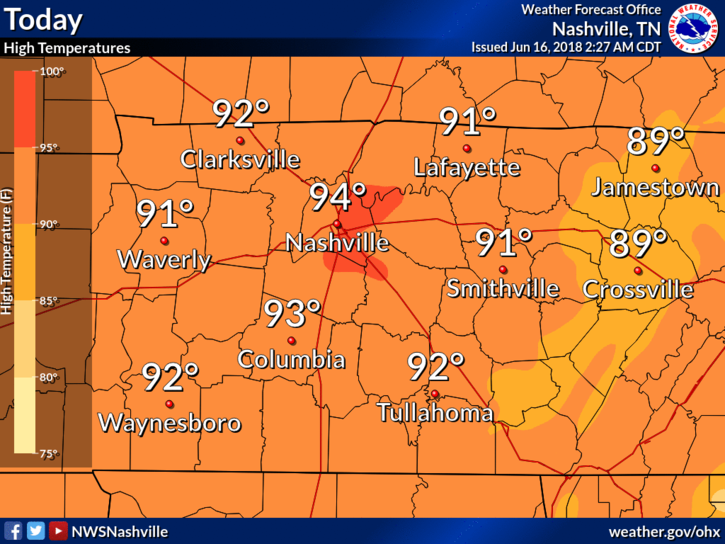 National maps think high pressure located over the southeast is killing lift, making it hard for storms to get going.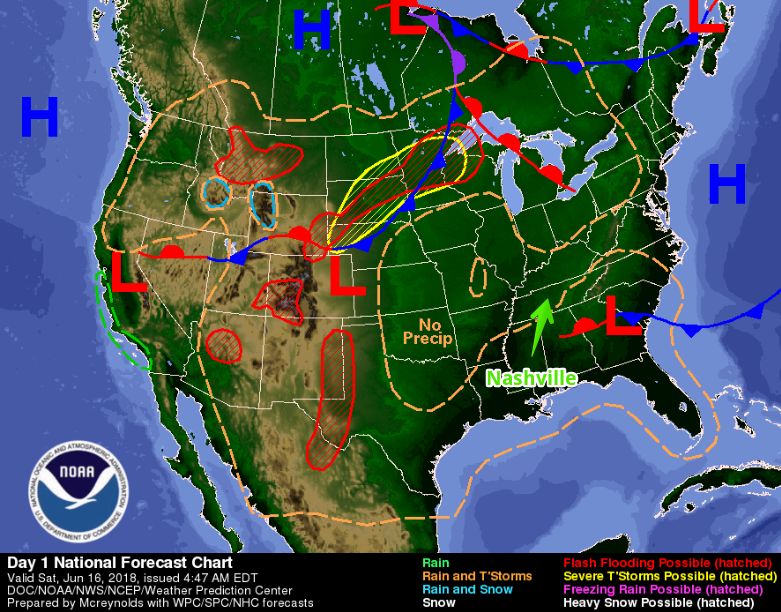 But, I don't believe that, and neither should you. The 10:27 AM forecast discussion from NWS-Nashville said so:
We should start to see some isolated storms develop early this afternoon. CAPE [potential storm energy] values are between 2000 and 3000 j/kg [that's a lot!] for areas mainly along and west of the I-65 corridor. There`s still practically no shear, so storms should be short lived, but will likely become strong. Similar to yesterday there is the potential for some storms to produce nickel to quarter sized hail and there could be isolated damaging winds as storms collapse.
The HRRR model predicts isolated showers and storms this afternoon. If you get one (like yesterday, not everyone will), it won't be an all-day washout.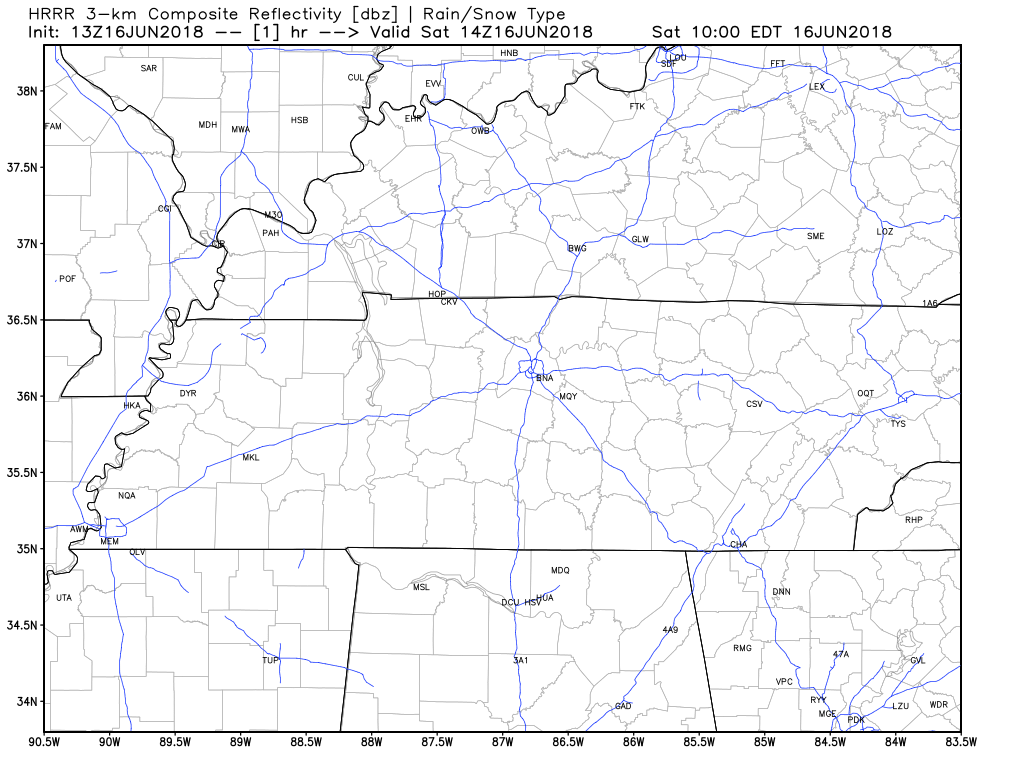 Sunday
We expect a shift toward higher rain and storm chances Sunday. Expect more moisture and humidity, therefore, more cloud cover, so not quite as hot as today. Still, in the 90°s tho. The heat index will reach upwards of 100°.
I expect more showers and thunderstorms to develop in the afternoon. They will be more numerous than today's more isolated storms. They should last a bit longer. And no, we don't know whether they'll hit your activity or not: no one can predict that with a planner's accuracy. Outdoor go/nogo activity with dad should be decided more on your risk tolerance and ability to shelter quickly than on a nebulous percentage chance of rain or storms.
If forced to guess: the NAM and Euro models suggest the storm activity will be further south of I-40, but I don't think you should plan around that as I don't think we can say those models are that accurate. But I have slightly more confidence in activities staying rain free and storm free north of I-40 than south of I-40.
Forecasting summertime airmass thunderstorms is not as good as forecasts for other types of storms. We just need to be honest about it. Yesterday is a great example of that.
Back to the Summer Storms Pattern
Hot, muggy, with a risk of afternoon storms.

---