Slow moving rain is here with a few thunderstorms about to crawl through both our counties as I write this after 6 AM.
The Bad News: Raining and Storming this Morning
Lightning, obviously, is bad news. It's cloud to ground and frequent in Ashland City and likely to move into Nashville and the most populated area in Middle Tennessee as you're reading this. Probably many of you are reading this and it's already happened, you slept through it, congrats!
Other bad news: rainouts of baseball tournaments, tee times, and dry weather festivals are possible if not likely. All depends on how well your field or course drains. Not all areas will see the same rain amounts, so you might not get washed out. Rain is moving very slowly; I think most areas should see 90-120 minutes of rain, with some spots getting an all out downpour.
To the 5 of you thinking of at-ing me at @NashSevereWx with "Rain is good! How dare you say it's bad!" To you I say while smiling: "Good morning fine sir or madam. Yes, rain is good. It waters things. We don't disagree. We love rain! What makes us American is that we think the same about everything!" Or something like that. I've not finished my coffee.
The Good News: Probably Won't Rain or Storm Later Today
This morning rain "should stymie any afternoon/evening development" of rain or thunderstorms. That's a quote from NWS-Nashville not taken out of context. Stated another way, the rain this morning will take away all the energy which would otherwise be used to make it rain later today.
The HRRR model agrees, shows no rain after this morning event comes through: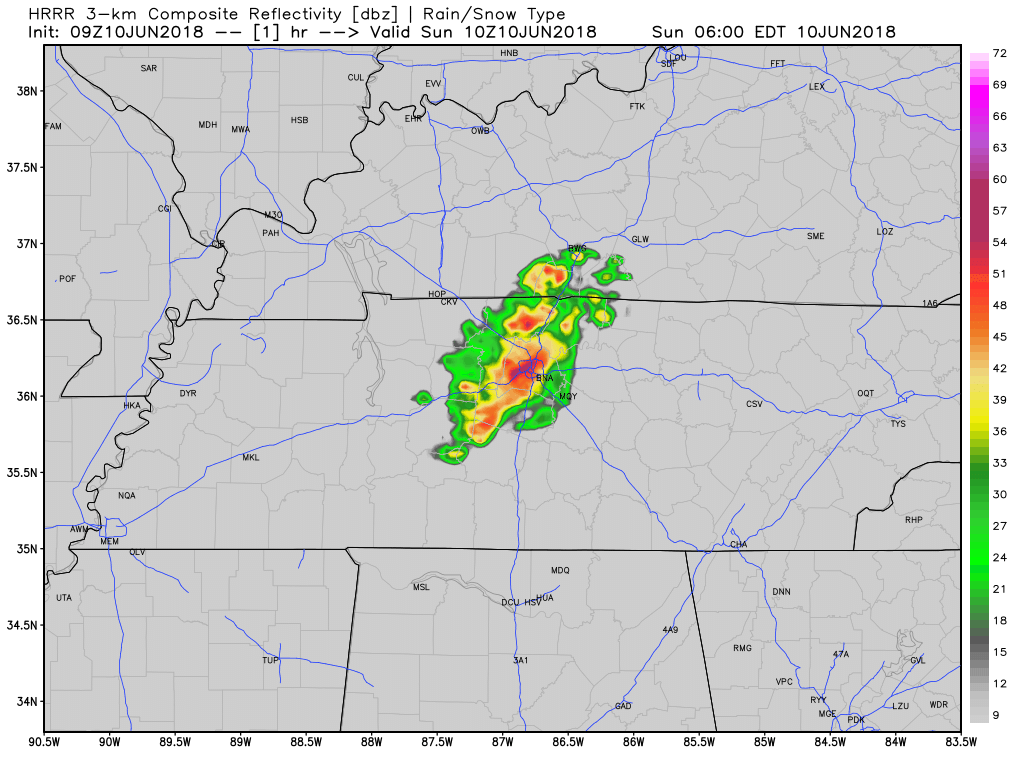 If Good News, More Bad News: No Clouds & No Rain This Afternoon = Very Hot and Humid
If the AM rain stops the PM rain from happening, it's gonna be gross.
From NWS-Nashville:
[T]emperatures are expected to climb into the upper 80s to around 90 and with dew points in the upper 60°s to 70°, Heat Index values will likely be in the mid-90°s and the air will be swampy. If you have outdoor plans, please be aware of the potential for easy-onset heat related illnesses. Drink plenty of water and get some shade when you can.
In my imagination the guy who thinks his monster truck can handle an ice storm is the same guy who doesn't drink water at a festival (I'm tough!) and many times both situations end sub-optimally.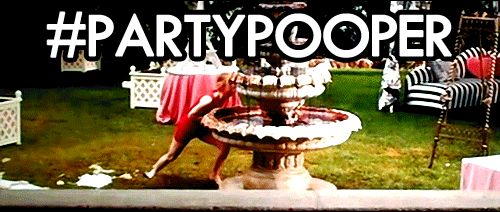 Monday & Beyond
Again, from NWS-Nashville, about how weather models are of no real help:
Models are really all over the place regarding this entire week`s forecast.
That was kind, really.
Forget about smart ETAs or solid percentage whatever chances of rain. Steering winds bringing storms you can time out from the NW are weak. Sinking air stops storm formation, but that sinking air will be weak too. As usual, it's going to be really hot and humid which, unless you're one of the 100,000 people who moved here yesterday, you know makes pop up showers and sometimes thunderstorms.
So, I think we have to go with a very summertime like probability of precipitation-pattern for this whole forecast.
A storm may pop up in the heat of the day. It's not helpful, but it's the truth.
Embrace the uncertainty when uncertainty is the truth.
We save our lies for things like "I sank a birdie putt, yeah it was a 60 footer" and "I do not watch reruns of 90210" and "our kids are IN BED by 8:30 PM."

---