The forecast this morning was, um, well, yeah it wasn't great. We thought the AM rain would sap all the water out of the atmosphere and prevent PM rain and storms from forming.
Wrong. (In our defense, we wrote it "should stymie any afternoon/evening development," not that it "would," but whatever, let's call that what is was: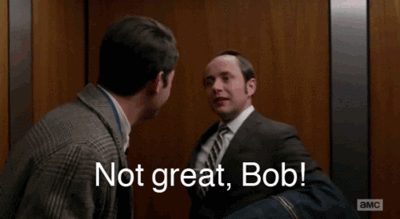 …love that GIF).
The big storm system that came through this morning left an impressive outflow boundary, which then interacted with other boundaries blowing in from KY which went further south than the models thought, and yeah, all that stormy stuff happened.
Predicting the future remains difficult, especially with something as complex and undersampled as the massive yet thin layer of atmosphere separating land from space.
Today is the reason we embrace uncertainty. Especially in the summer when the difference between sun and storms is so little and our forecast tools (weather models) end up bleeeehhhhh.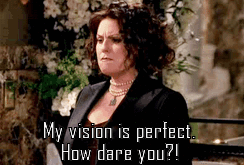 OK, Well Do Better This Week
Ummmm.
If you want certainty, do your taxes.
Not that there isn't science in this. There is.
South winds are going to dominate, bringing in hot and humid air. Pressure won't be high enough to press down on the cloud making upward motion of heat and moisture, but like a pot of boiling water, it's anyone's guess where the first bubbles will surface. Best chances are when the temp is hottest. Rain is more likely in the late afternoon/early evening hours. Where exactly? Ummm yes.

Let's say what we know and not what we don't know.
Oh the Humidity
Dewpoints will be steady in the Uncomfortable range this week.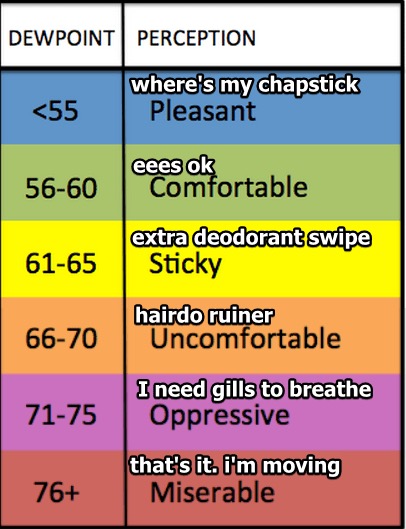 Sorry about that, hairdos.
A Note about Tuesday
Speaking generally about this week, NWS-Nashville wrote:
The severe potential looks low, but as usual, a couple of storms could be briefly, locally severe each day.
The Storm Prediction Center outlooked for a marginal (pretty low) risk for severe thunderstorms Tuesday:
This is because a cold front is expected to show up Tuesday. SPC wrote:
A few strong multicells with damaging wind may develop during the afternoon with cold front and outflow boundaries helping to focus storms within the moderately unstable, but weakly sheared environment.
Kinda a meh outlook. Mostly a damaging wind event, if anything. Tornado season is never really gone, but yeah, the main tornado season ended when the strong shear moved north, as it usually does in June.
Summer is here.
---