Waking up to a dewpoint of 71° is what you sign up for in Atlanta or B'ham or Florida or Gulfport Mississippi (gooooo mighty Admirals!) but here in Nashville that's not cool.  Upper 60°s dewpoints are fine, that was part of the contract we signed when we moved here, but I draw the line at 70°. I looked outside this morning and sweat formed on half my eyelashes and no one thought that was attractive.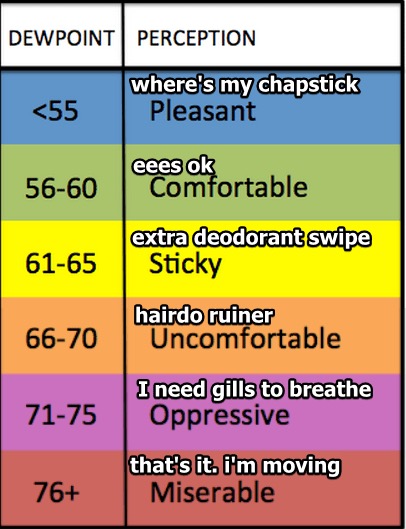 We should not need gills to breathe unless there's a large body of water nearby with sand and a seabreeze.
Fear not! A cold front is coming and it'll be here today and you're going to love it.
This cold front is bringing sweet relief but it might cost us a little something: a little bit of rain around lunchtime. However the latest HRRR model run …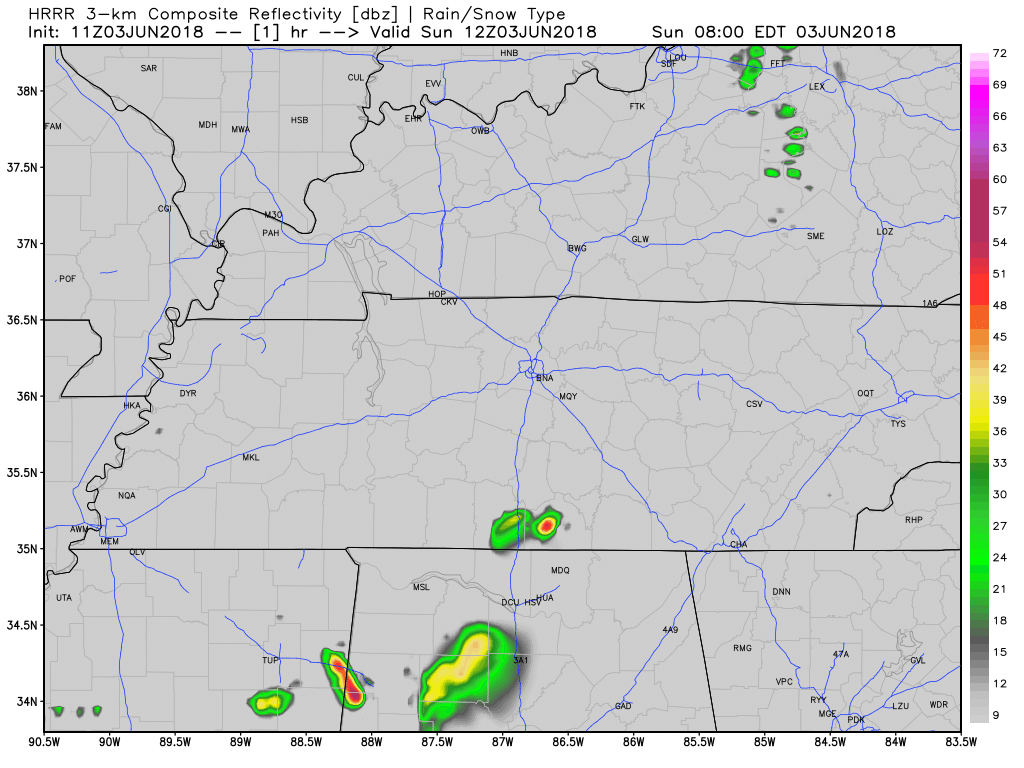 … thinks the rain will develop east of of us and miss us completely. Even if we do get some rain, the HRRR model doesn't think there will be any storms with it.
The NAM3 model disagrees about rain. It thinks we will see rain and maybe a storm around lunchtime, but only briefly and not for everyone. Keep all outdoor plans. If you're out golfing or sunning or boating don't leave your phone in your car or give it to your child to play Fortnite until the battery is drained or they drop in the lake. You may need it to check Facebook text Ned where are you if under 25 look at Insta or Snapchat read a few @NashSevereWx tweets take photos, although, if I'm being honest, God paired lightning with thunder as an all-natural Whole Foodsy way of saying "a storm is nearby, maybe do something about that."
The below hard to read NAM3 model run shows dewpoints dropping from the low 70°s into the upper then mid 60°s this afternoon (while still daytime!) and into the 50°s (yaaaasssssss) tonight.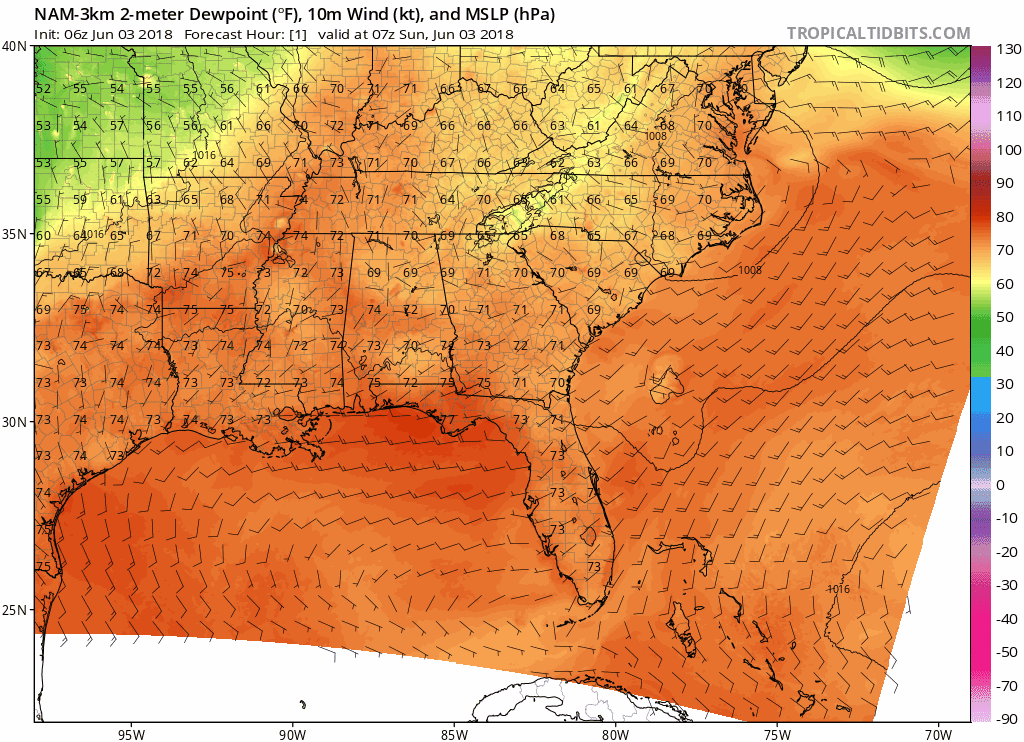 Just for my personal enjoyment here's the HRRR model scouring away the dewpoint like an orthodontist to my savings account when he says "yeah, it's time for your kid to have braces."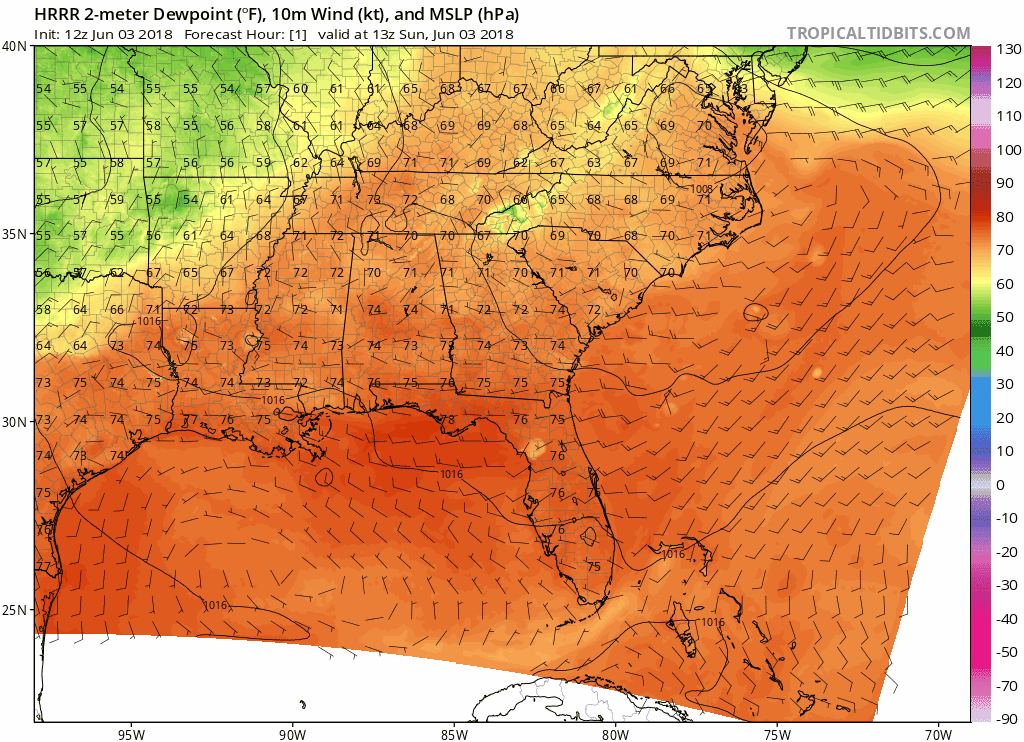 So, yeah, tonight's weather is going to be so great, millions more will decide to move to Nashville. Someone please invent flying cars and start educating an army of air traffic controllers.
I will now belabor the point.
Here's the list of dewpoints every three hours beginning today at 4 PM through Thursday at 7 PM:
60 57 57 57 55 55 55 52 53 53 57 57 56 57 56 55 55 57 59 59 63 62 61 61 62 63
This is June, y'all. June! It's gonna be awesome.
Maybe some of you are thinking: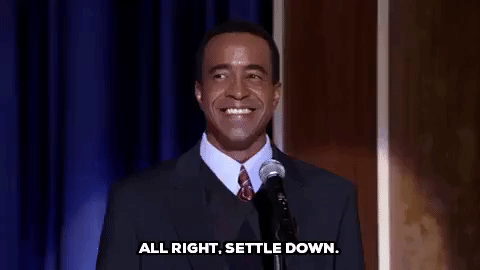 And that's fair, but as far as June weather goes this is pretty much the best we can get around here and I have to admit my excitement meter is set to:
So yeah, sure it's still gonna be a little hot …

… but, it's also June, it gets hot in June, so don't at me with irrationally superimposing October or early April "crisp" weather expectations on June.
Five Days from Now
My beautiful and lovely wife suggested for our anniversary we go see Seinfeld last night which we did and that was awesome of her. There was a moment when Jerry pivoted to weather and his only point was we don't know what the weather will be in five days and if there had not been security there and not two dozen people to step over I would have hugged him because among the things I'm most interested in and passionate about (I hate that phrase) That Man Gets It. It's as if he understands me. I admit when he started to talk about weather forecasting I was briefly terrified because what if he had a whole dumb rant about how weather people can't get the forecast right? That would have ruined Seinfeld and Comedians in Cars Getting Coffee for me, but instead he nailed it. He also spoke truth about the circus which resonated with me.*
So let's call it what it is.:
A Guess About Five Days From Now
Here's the official forecast discussion from NWS-Nashville:
A warming trend will follow for Wednesday through the end of the week. Humidity will increase as well. Continued northwest winds aloft will bring some disturbances, resulting in gradually increasing chances for scattered showers and thunderstorms, perhaps some MCSs for next weekend.
"MCS" is a "Mesoscale Convective System," a/k/a a thunderstorm complex. In the summer, these usually come in from the northwest. We call them "I-24 Specials." They usually contain heavy rain, a lot of lightning, and with the big ones a damaging straight line wind threat.
I leave you with a GIF of Jerry in a Mets hat. I have no love for the NY Mets but I soften that opinion by lying to myself that Mets means meteorologists.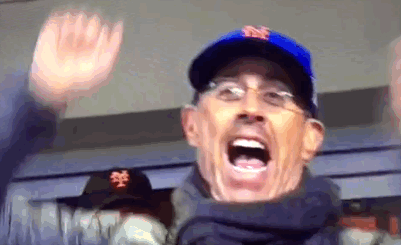 (* he did make one comment about how women dress when doing the weather that was not funny and not cool and I did not like and neither did one of you who was there who I saw who shall not be named. That joke was a swing and a miss. But he hit lots of other homers last night).
---