Back to the Typical Summertime Pattern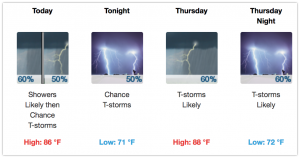 Alberto is finally on the way out of Tennessee. Thus, the Flash Flood Watch has been discontinued for Williamson and Davidson Counties.
Super Humid
Alberto has left exceptionally humid air behind, with dew points in the low 70s expected through Saturday. That's low-end oppressive: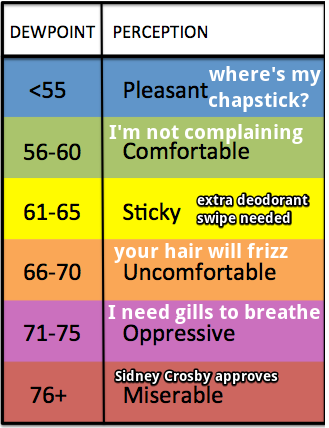 Even though clouds will keep temps out of the 90s, this is unusually humid air. Be ready to sweat by just looking outside.
More Rain/Storms
The lingering superhumid airmass will contain plenty of storm fuel. It only needs a spark to get storms going.
Today, that spark may be just good ole daytime heating. The HRRR model develops and passes an early evening shower/storm complex south of I-40 by early evening: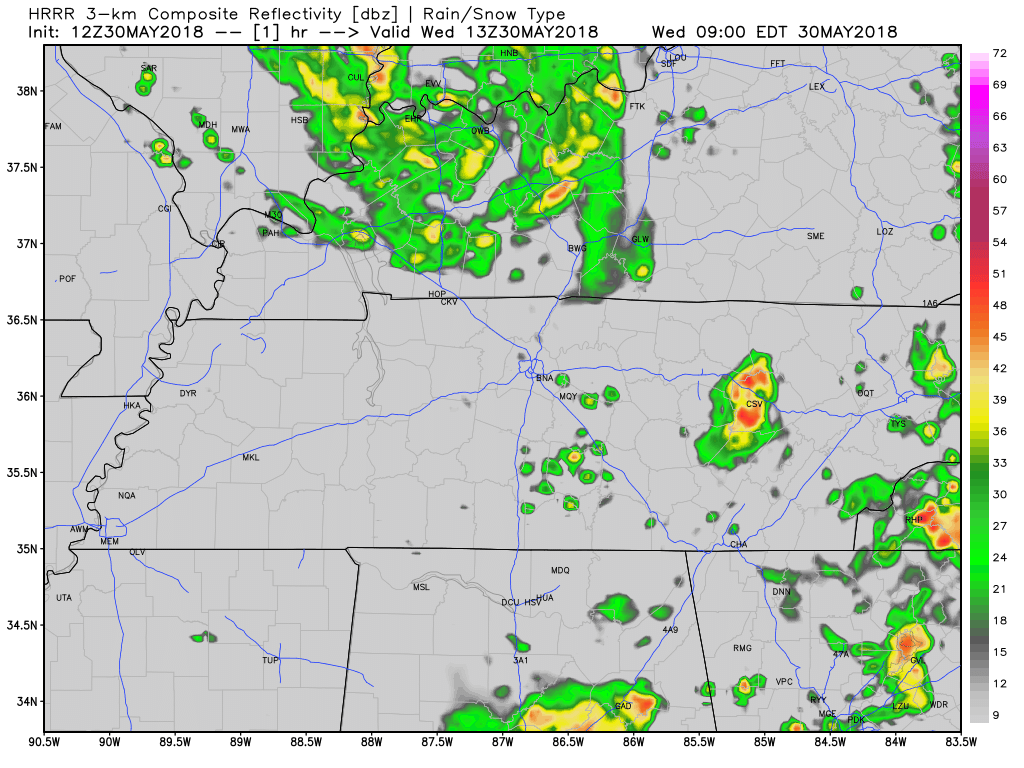 There's nothing severe expected, but lightning is possible.
Thursday, we may see strong to severe thunderstorms by late afternoon through the evening hours. The Storm Prediction Center has already "outlooked" us for damaging wind and hail potential.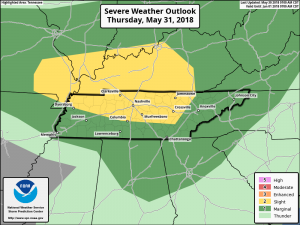 The National Weather Service in Nashville discussed this severe weather threat for Thursday in their forecast discussion this morning:
SPC Day two convective outlook (Thu) has placed most of the mid state in a slight risk (15% chance) for severe thunderstorms. Damaging winds and large hail will be the primary threats as this unstable weather pattern gains increasingly more instability and associated lifting mechanisms.
So, what does all of that mean? A cluster of storms should form to our west then race into our area later during the day Thursday. The biggest concern is for heavy rain and strong winds to blow down trees. Already this spring I've read two stories of people getting killed when a tree fell on their car; one involved an 11 year old girl, the other two journalists (just this week). The ground is still saturated from Alberto's rain, making it easy for those trees to come down, and winds in the storm clusters should be strong.
The probability of a damaging wind and/or hail event within 25 miles of you tomorrow is 15%.
Tornadoes are not mentioned in any forecast. This should be a lightning and heavy rain event with a chance of damaging winds or hail.
ETAs will be introduced @NashSevereWx on Twitter once the models sort it out. Currently the best ETA window is "late afternoon / early evening."
This Weekend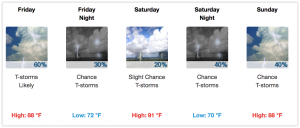 By Friday, all eyes will be on an upper-level ridging feature building into the mid-state Friday afternoon and evening, suppressing a majority of the shower and storm development for the time being. There will still be a few showers and storms trying to pop up, but they'll be few and far between.
A cold front is expected to arrive sometime this weekend, bringing with it some rain and maybe another cluster of storms running down I-24 from Kentucky. The weekend won't be a washout — actually Saturday looks pretty decent weatherwise — but some rain is expected, more likely Sunday.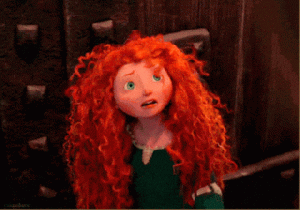 For the entire forecast period, temperatures will stay in the mid-upper 80s, and we may break 90 on Saturday if we can get some clouds to part. Lows in the 70s. But the Humidity, uggghhhh, humidity. A Hair Frizz Alert is in effect until Monday when the winds will shift and blow in slightly drier (but still humid) air.
---