Tropical Depression Alberto is near Birmingham at 9 AM Tuesday (see below).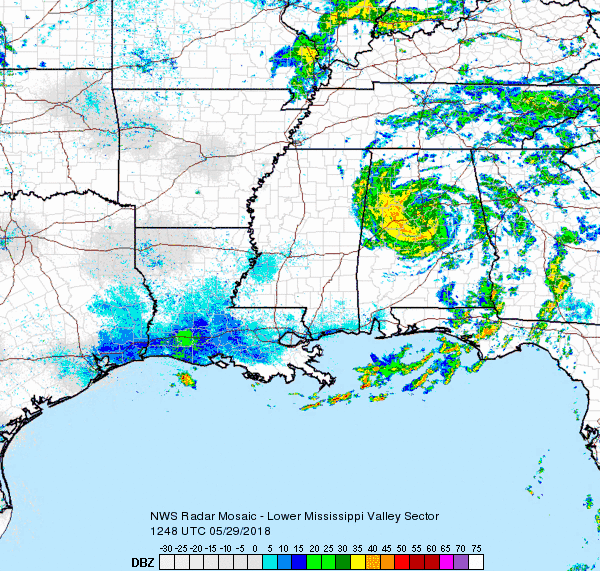 Alberto is moving toward Middle Tennessee.
Its center will pass west of us tonight.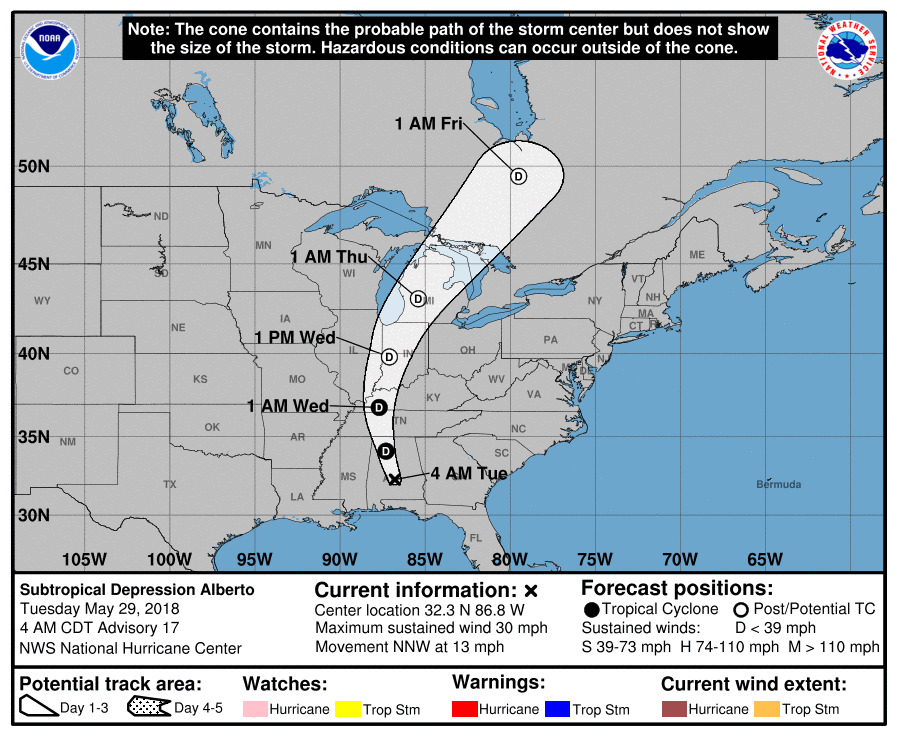 Off & On Rain Today
Expect off and on rain today as rain bands from Alberto's north, northeast, and east sides rotate through.
The HRRR model illustrates: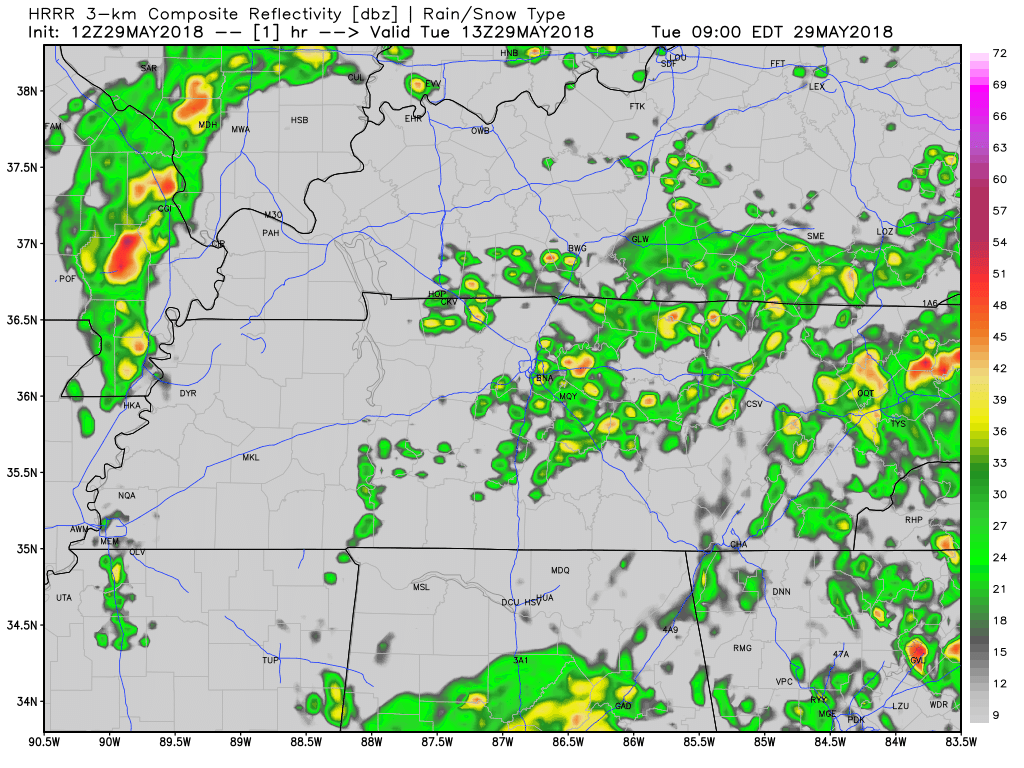 Rain later this afternoon and tonight will be heaviest. 1″ to 2″ is expected. 2″ of rain should not produce flash flooding; however, the potential exists to get more, so we are under a Flash Flood Watch throughout Tuesday into Wednesday morning.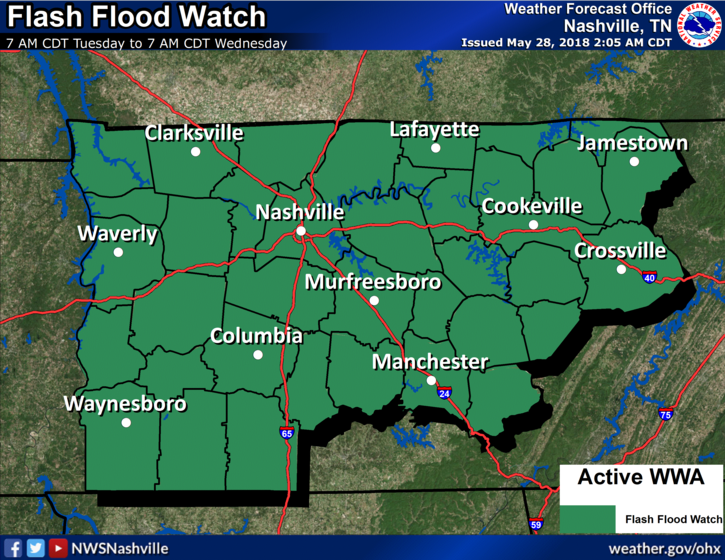 Downburst, Tornado Concerns
Downburst winds could accompany the heaviest rain. Downbursts are not tornadoes but often produce damage similar to weak tornadoes.
Below is an example. Downburst winds happen when a lot of water slams into the ground like a massive, dropped water balloon. This creates a lot of wind very quickly, moving out at 60+ MPH, depending on the amount of water being dropped: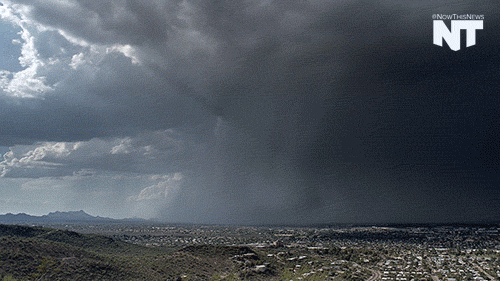 The wind spreads out in all directions. We've had downbursts here before, knocking out windows and trees, and causing some roof damage.
The probability of this happening within 25 miles is 5%.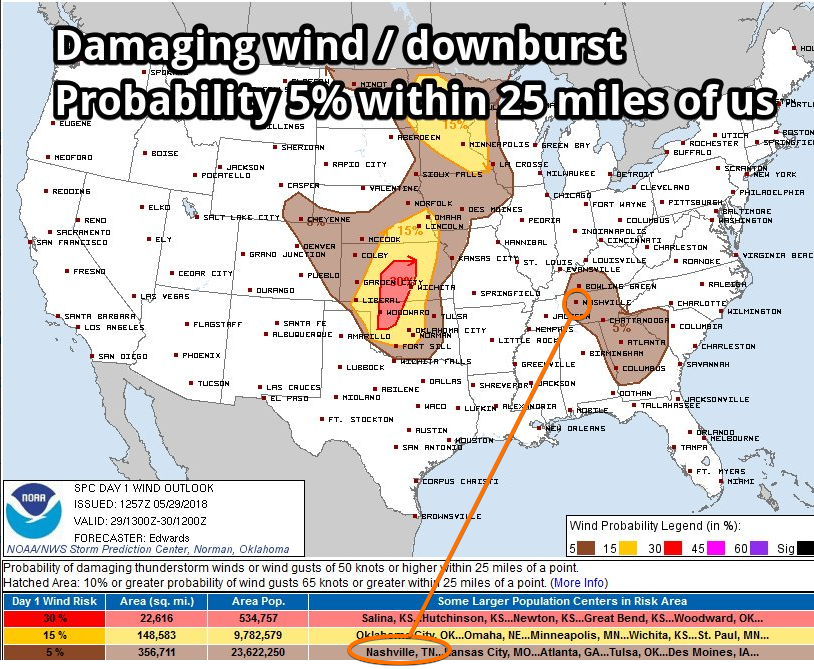 Tornadoes are also possible later this afternoon and tonight.
Alberto's center should move west of us, putting us on the northeast side where tornadoes can happen. You may remember we were on the east side of what was left of Hurricane Harvey when we got a few EF-0 and EF-1 tornadoes; note, however, Harvey was much stronger than what Alberto will be when it arrives.
Here is the technical discussion from NWS-Nashville talking about tornado potential:
Additionally, pockets of diurnal heating may contribute to locally enhanced instability and the potential for isolated updrafts organized enough to support a brief tornado. Model soundings showing DCAPE values in the 1500 J/KG to 2000 J/KG range after 29/18Z (1 PM CDT today) thru 30/06Z (1 AM CDT Wed) supporting the reasoning of stronger downdrafts with BRN shear values around 26 m2/s2 around 29/21Z (4 PM CDT today). It is important to continue to remember, as stated in yesterday afternoon discussion, that tropical system[s] produce the above mentioned brief tornadoes that develop and dissipate quickly and, as a result, sometimes occur with little advance warning.
Usually these tornadoes are very difficult to warn. Even when the "main radar" near Old Hickory is spinning fast scanning the skies (there is no such thing as "live" radar), these tornadoes can drop then dissipate in the 70-80 seconds it takes to scan the sky, and may not be seen by radar at all. So, if we do have a tornado today (and we might not) and we can see it on radar, you probably won't have much time to react to take shelter, so factor that in your plans today.
The probability of a tornado happening within 25 miles of you is only 2%.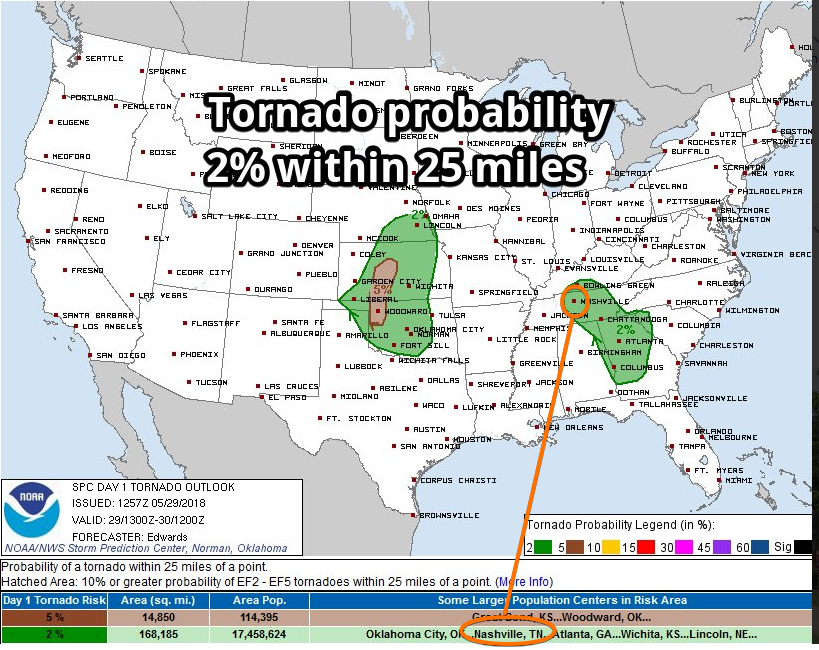 Strong Winds? From NWS-Nashville:
[T]here could be some gusts to 30 to 35 mph at times late this afternoon into the evening hours, but sustained winds should at most be in the 15 to 20 mph range. Both of these categories are below wind advisory thresholds. Thus, as of this time, no wind advisory products will be issued.
We'll be covering this event closely on Twitter @NashSevereWx. Not on Twitter? No problem. This page is for you.
Rest of the Week: Unsettled; Off and On Rain/Storms
Alberto-associated rain should end Wednesday morning as that system departs. However, an upper level trough is expected Wednesday night, which could set off more showers, followed by a series of disturbances all day Thursday which will also be capable of producing off and on rain and thunderstorms.
As for the weekend, NWS-Nashville wrote a terrific summary:
At least a couple of shortwave troughs will come in from the northwest through the weekend. It may be too soon to pinpoint the exact timing and coverage, but the latest models show the greatest shower/storm chances daytime Friday and Saturday night, with possible thunderstorm complexes rolling across the area. Outside the showers/storms, the weekend will bring some rain free times with very warm and humid conditions. Lows will be in the 60s to around 70. Highs will reach the 80s to around 90. A break from rain chances may start by late Monday with a shot of drier and more stable air.
Stay connected to weather today. I'm not alarmed, but don't write off Alberto.
---