As Alberto passes by tonight, we should see light rain and briefly strong winds, but the main tornado concern should end by 8 PM.
Here's the last good look at Alberto before the sun goes down: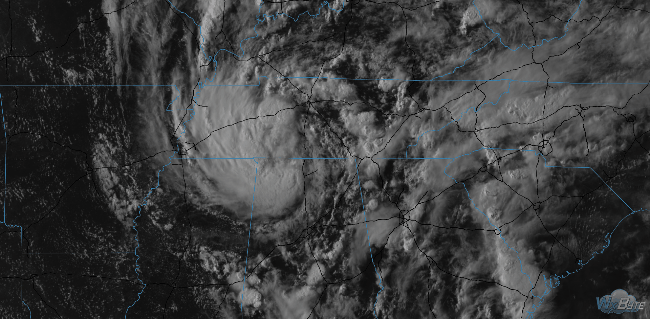 For Wednesday, we still could see rain; NWS-Nashville says that:
Our tropical air mass will remain in place even into the daylight hours on Wednesday, allowing for a regeneration of scattered to numerous showers and thunderstorms. The chance for rain, however, should diminish, at least temporarily, on Wednesday night, as Alberto's deepest moisture finally pushes more toward the central Appalachians.

Rest of the Week: Unsettled; Off and On Rain/Storms
Alberto-associated rain should end Wednesday morning as that system departs. However, an upper level trough is expected Wednesday night, which could set off more showers, followed by a series of disturbances all day Thursday which will also be capable of producing off and on rain and thunderstorms.
More from NWS-Nashville:
It still looks like our weather pattern will remain unsettled as we head through late week, with an upper level disturbance tracking across the Tennessee and Ohio River Valley on Thursday, bringing us a continued likelihood for showers and thunderstorms. Another upper level disturbance tracks over our area on Thursday night and Friday, bringing yet another round of showers and storms.
About the Weekend
Storms are expected to form in Missouri then move down I-24, arriving here Saturday night. Details on this are unknown, so expect timing to be adjusted, and maybe even the forecast itself.
---