Any showers and storms are drifting to the NW thanks to Tropical Storm Alberto. Satellite as of 4:05 PM: pic.twitter.com/fMWk7eA0Wa

— NashSevereWx (@NashSevereWx) May 27, 2018
All eyes are on Alberto, which is currently a subtropical storm in the Gulf of Mexico. Soon it will formally become Tropical Storm Alberto, which will move north and begin impacting our weather Monday. Check out the track: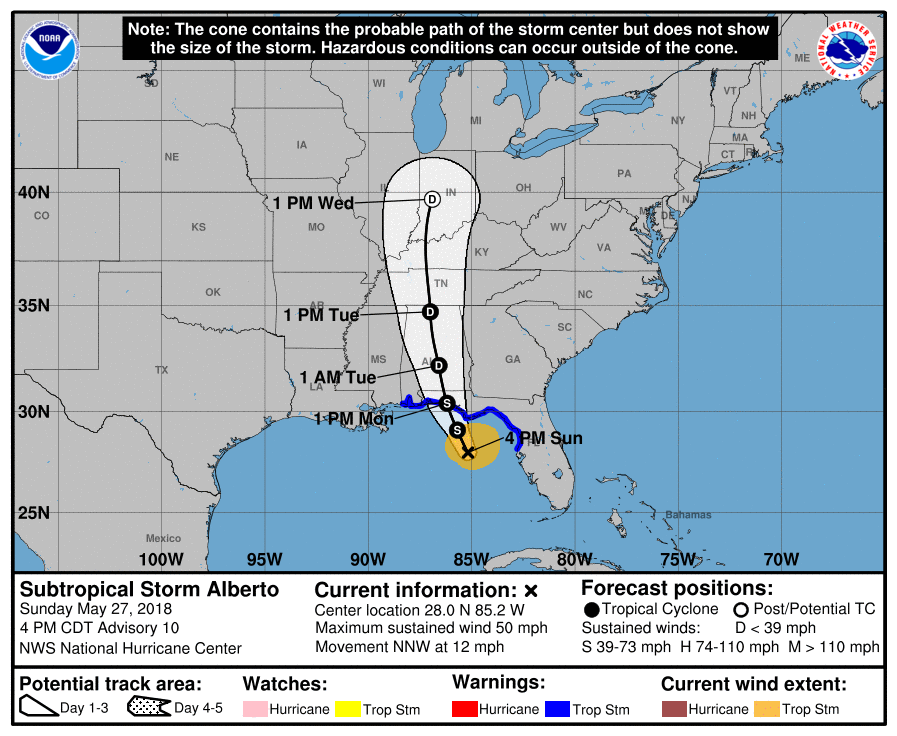 Memorial Day
This should be a typical summertime day, with daytime heating causing air to rise and storms to form by mid-to-late afternoon. The approach of Tropical Storm Alberto will pump in additional moisture to help fuel rain chances.
Here's the NAM3 model for Monday afternoon and evening, showing a few showers passing through, with maybe a thunderstorm or two: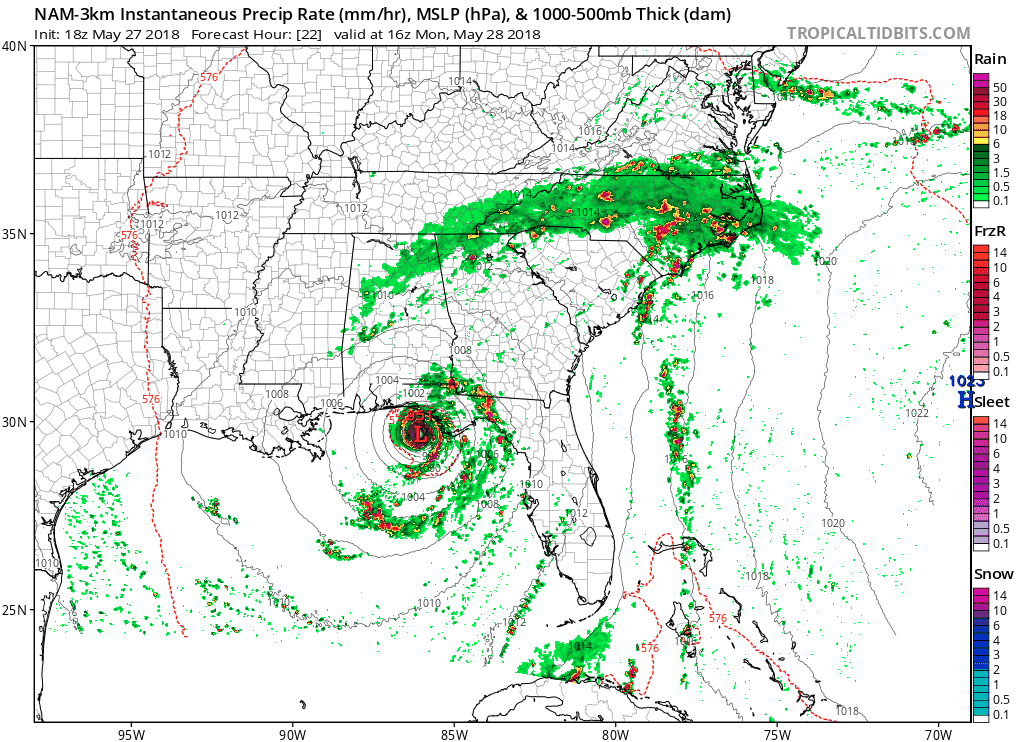 The GFS model also thinks we will see rain Monday: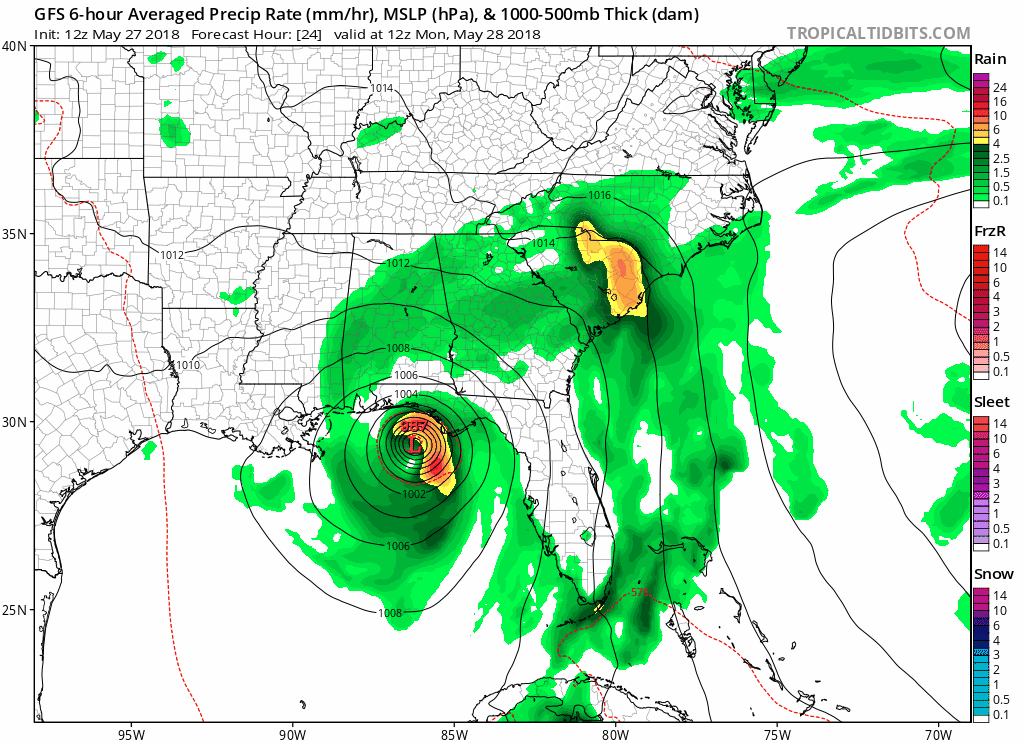 So, as usual, this will be a hit or miss rain summertime event Monday.
Alberto Arrives Tuesday
Alberto will be much closer Tuesday; rain is likely Tuesday morning and very likely Tuesday afternoon and evening. Tuesday will likely wash out. Below, the NAM3 model shows what should be tropical depression Alberto trucking into Middle Tennessee up I-65 from Alabama: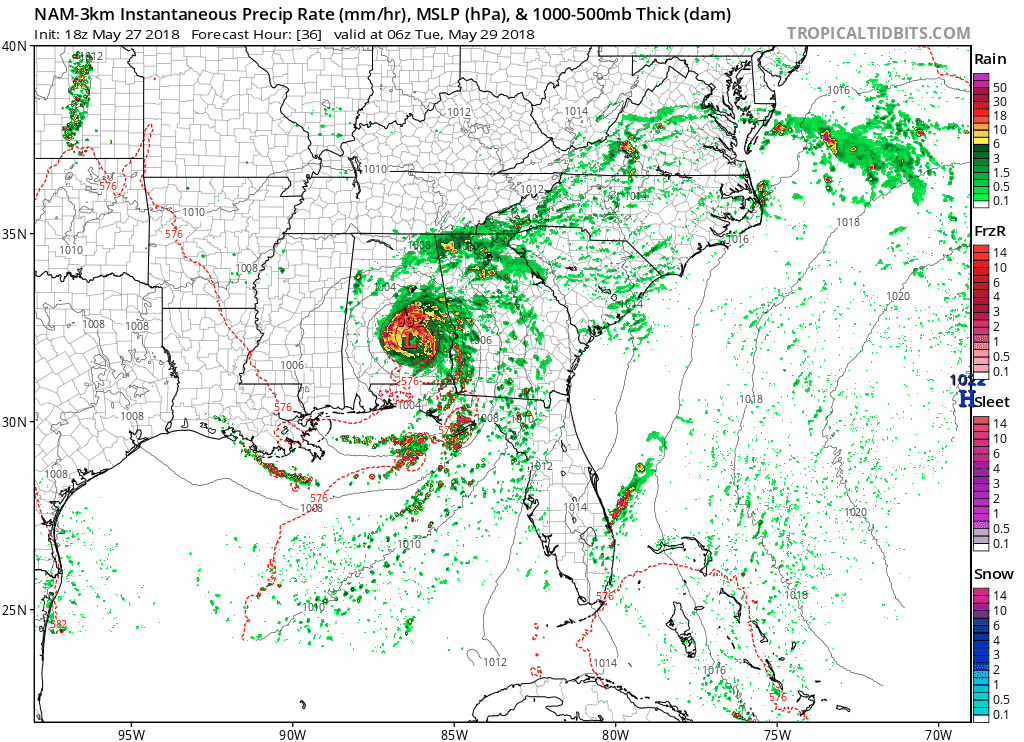 The Euro model thinks we'll see just under 2″ of rain Tuesday from Alberto: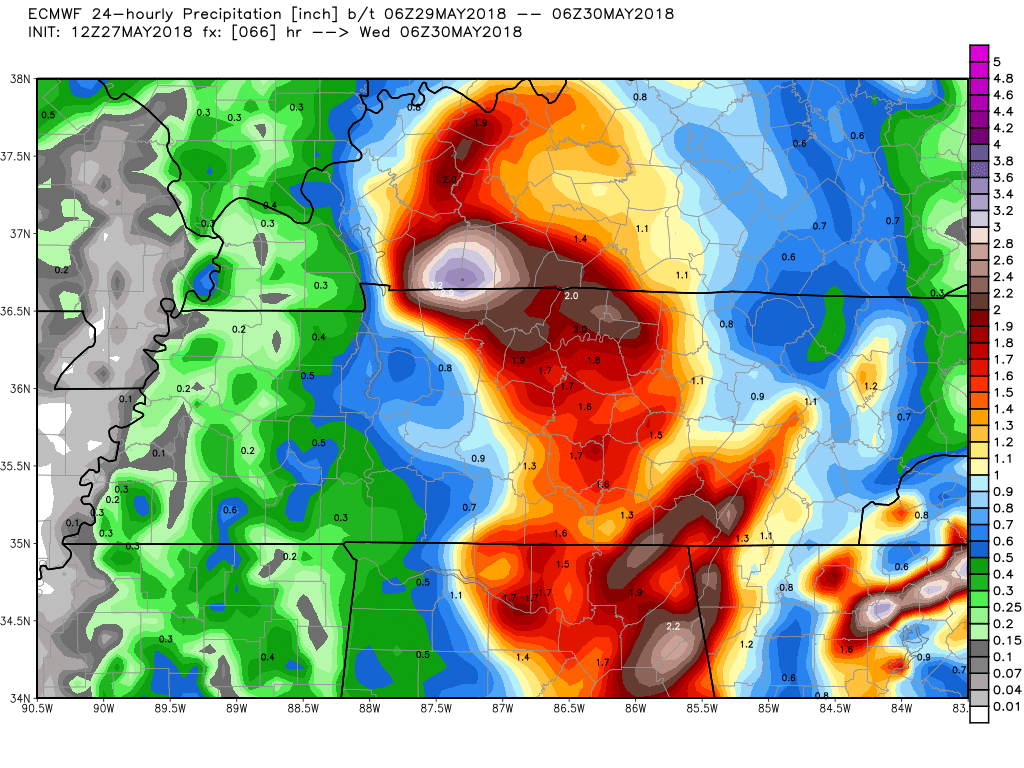 This rainfall total is consistent with the forecast. Hazards include:
1. Flooding: Alberto could drop 1″ to 2″ quickly Tuesday. Rainfall totals to 3″ to 4″ are possible, but not likely, through Tuesday night. The Weather Prediction Center has already highlighted our area for a slight chance of excessive rainfall leading to flash flooding Tuesday: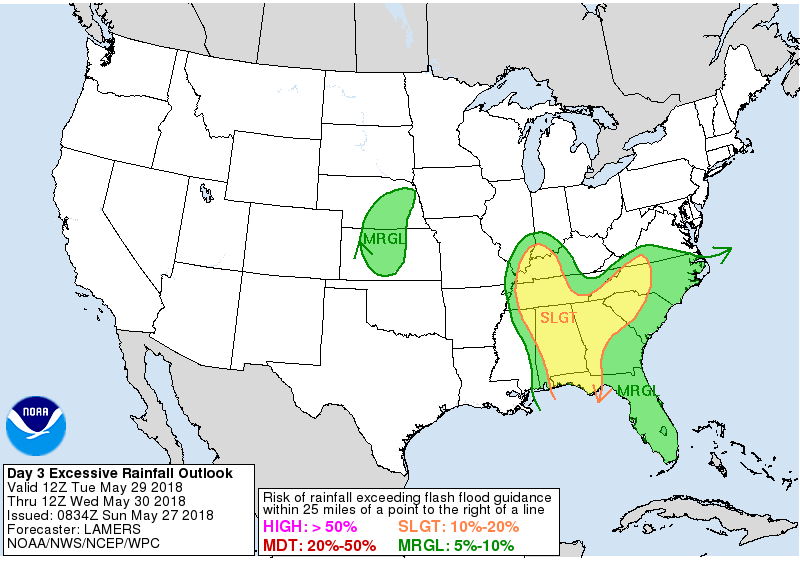 2. Severe Weather is possible if the center of Alberto passes to our west and we get the east side of the storm. Alberto's east side will have plenty of helicity (shear) and may be favorable to the development of a weak tornado or two. Currently the track is for the center of the storm to pass directly overhead of Davidson and Williamson Counties, keeping us away from Alberto's eastern side. It's close enough, though, that track of the storm will be closely watched. If Alberto wobbles to our west, we'll end up on the east side of the storm and will need to be on the lookout for a tornado or two.
Wednesday & Beyond
After Alberto pulls out, the summer, humid, pop up afternoon/early evening shower chances return. This timeframe looks especially rainy, especially Thursday, when showers and storms appear likely.
Total rainfall today through Friday night should be around 3″; most of this will be Tuesday's Alberto-related rain: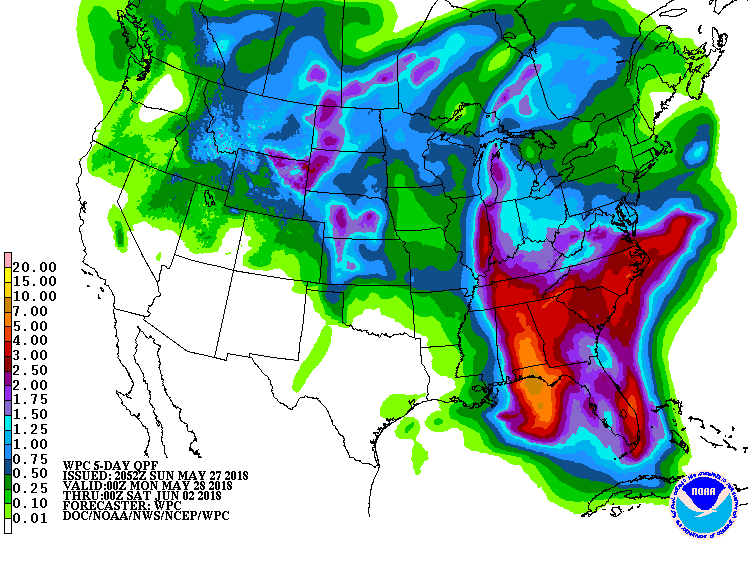 ---