The rain lottery returns this afternoon: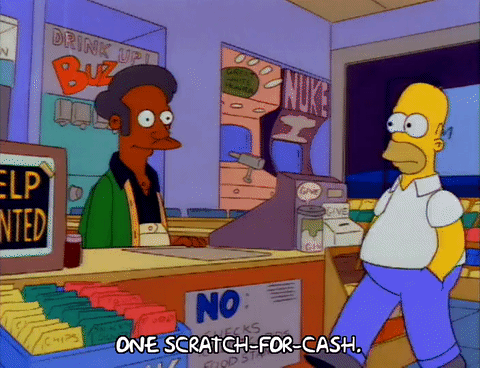 Rain and storms are expected to randomly pop up around mid-afternoon. Exactly when and where is unknown. Once they pop up, they won't move much. They should end by early evening. Here's the HRRR model's illustration through 11 PM tonight: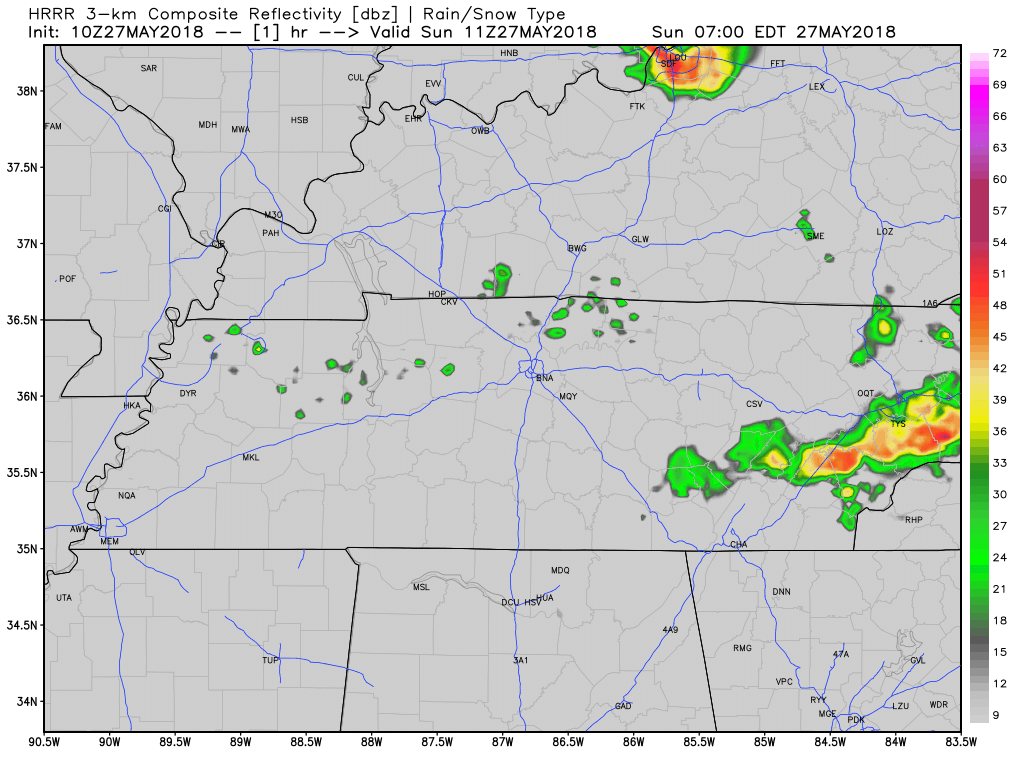 Watching Tropical Storm Alberto

All eyes are on Alberto, which is currently a tropical storm in the Gulf of Mexico. Alberto should move north and begin impacting our weather tomorrow. In fact, rain from Alberto will show up Tuesday. Alberto's center should arrive in Nashville around 2 AM Wednesday morning, but by then it should be downgraded from a tropical storm to a tropical depression. Check out the track: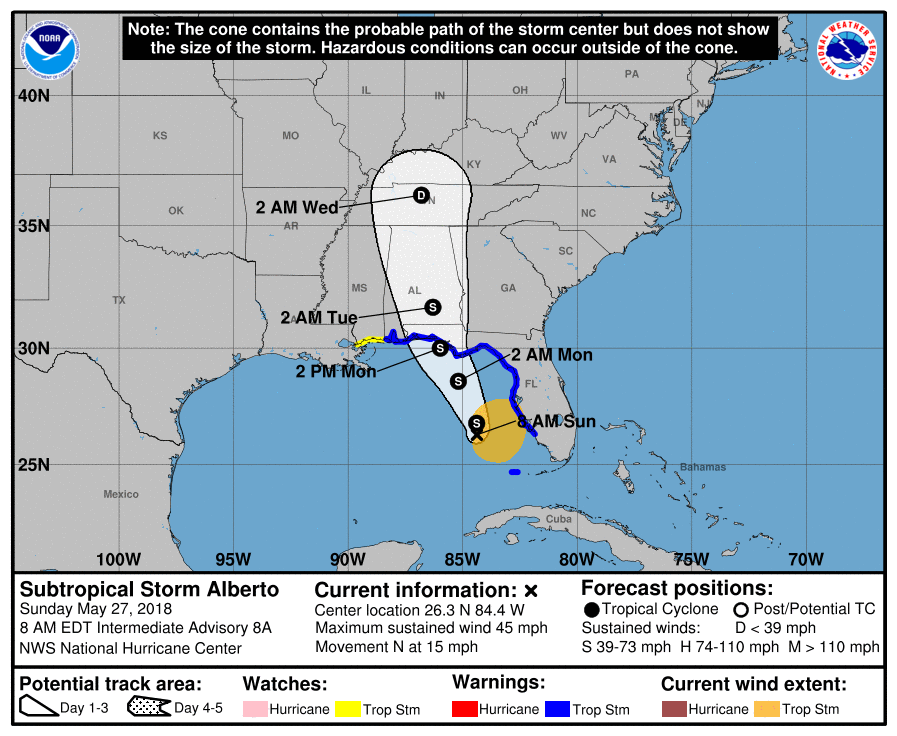 Memorial Day
Models disagree how much Alberto will influence our weather Monday. Some think the afternoon will wash out, others (like the below model) hold off the heavy rain. NWS-Nashville estimates our rain chance at 40% to 50%. Below, the NAM3 model shows Alberto moving north into Alabama through midnight Monday night. So while it's certainly possible there will be rain around for us Monday, this model doesn't put Middle Tennessee in a favorable spot for Monday rain: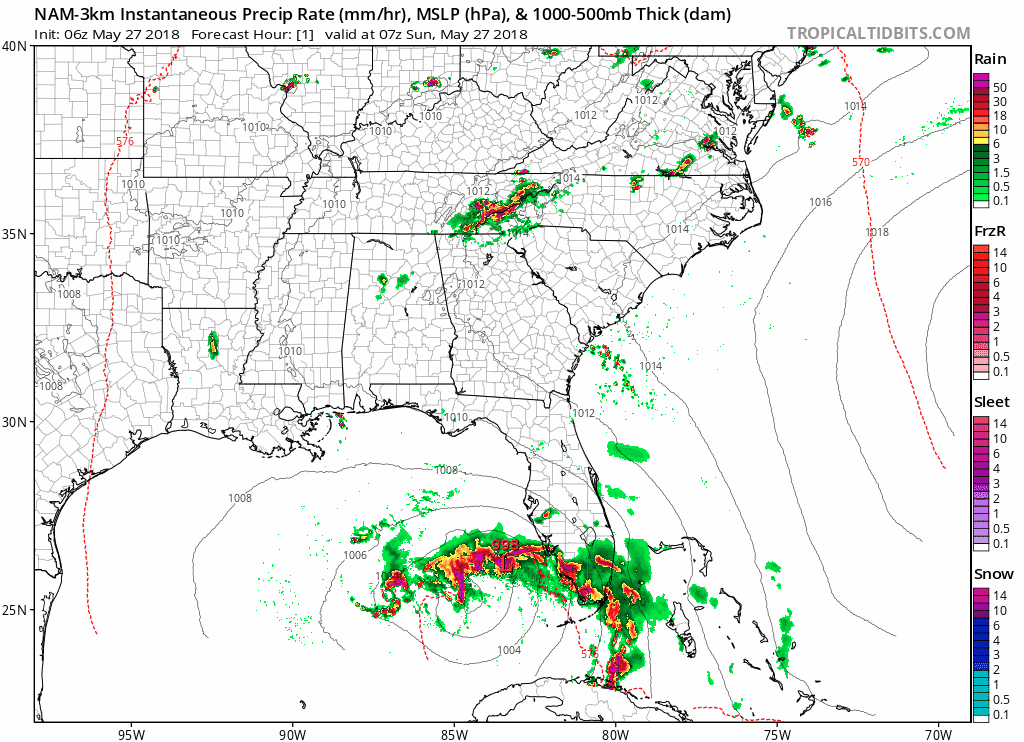 However, the GFS model thinks we will see rain Monday: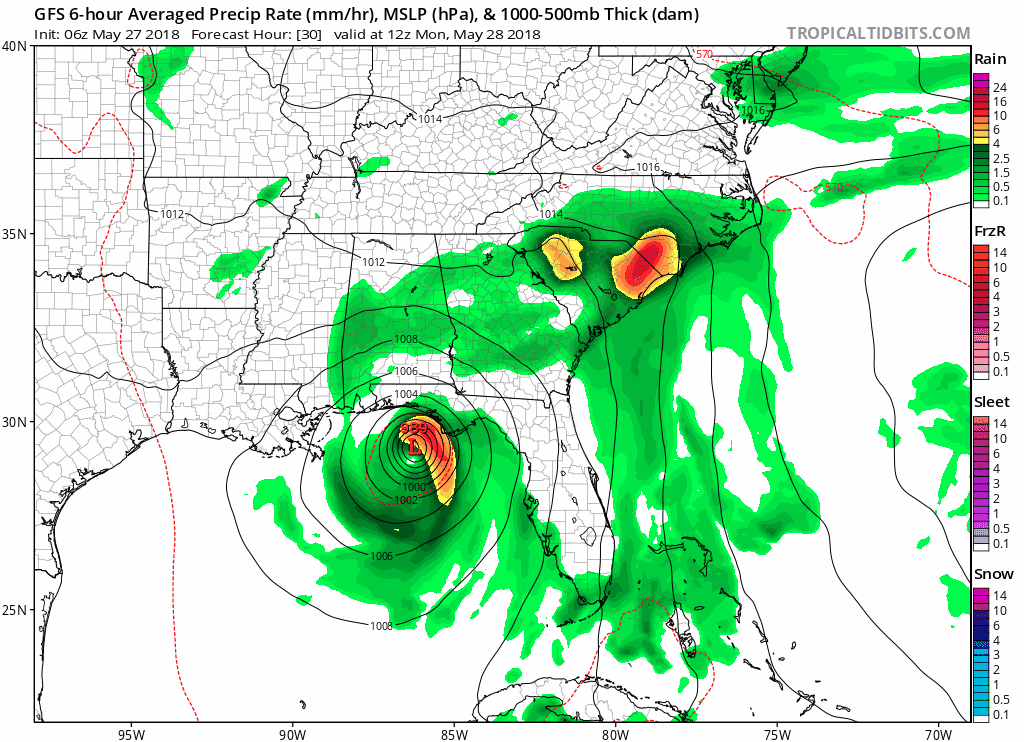 With all the uncertainty of "will it or won't it rain" in the summer, we should be used to this. I think the rain chance Monday is decent and I would plan for rain without canceling plans.
Alberto Arrives Tuesday
Alberto will be much closer Tuesday; rain is likely Tuesday morning and very likely Tuesday afternoon and evening. Tuesday will likely wash out. Below, the Euro model shows the arrival of what should be tropical depression Alberto: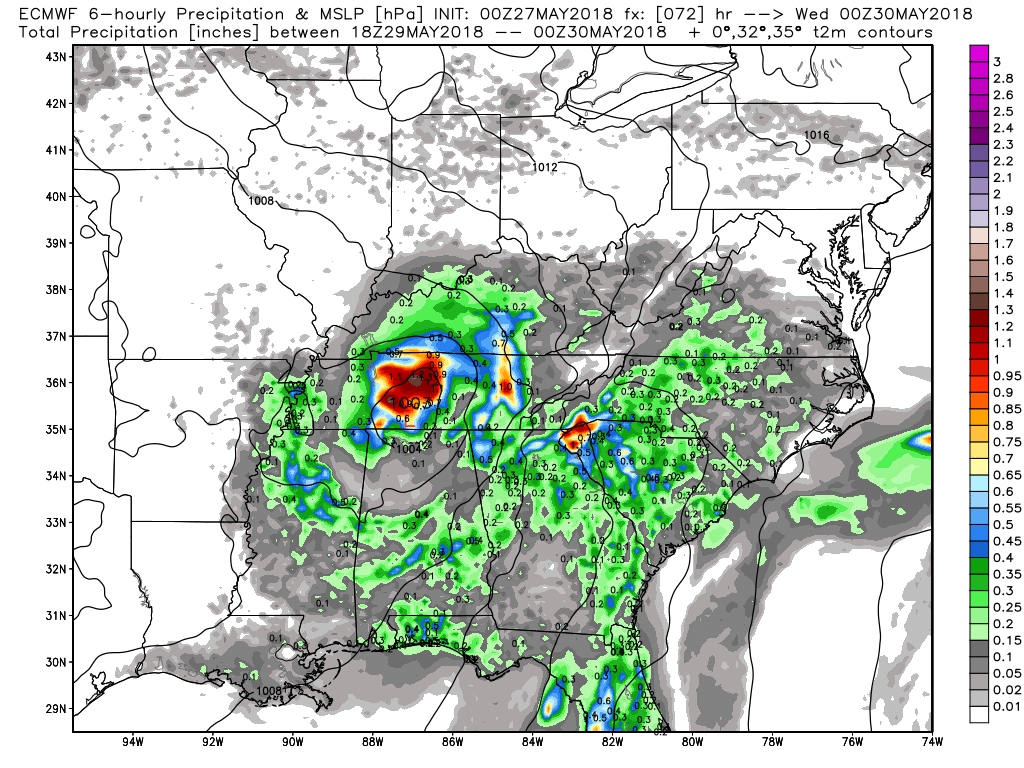 Hazards include:
1. Flooding: Alberto could drop 1″ to 2″ quickly Tuesday. Rainfall totals to 3″ to 4″ are possible through Tuesday night. The Weather Prediction Center has already highlighted our area for a chance of excessive rainfall leading to flash flooding Tuesday: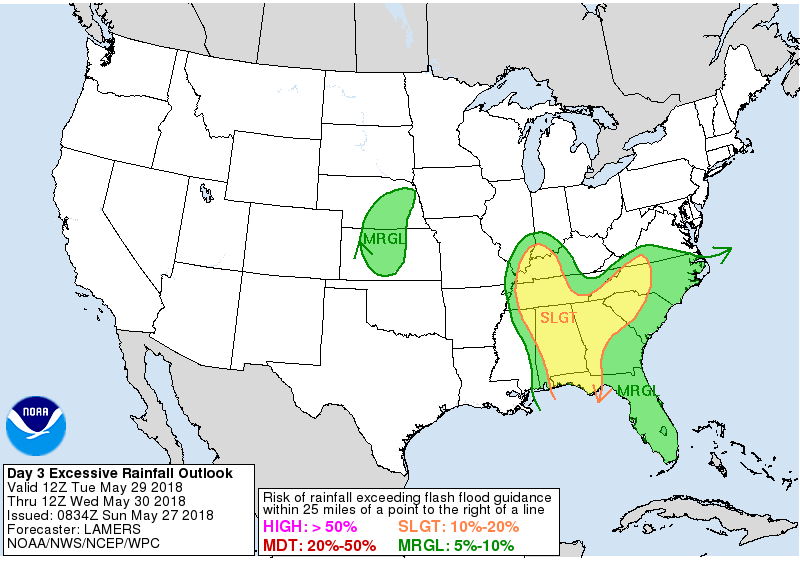 2. Severe Weather is possible if the center of Alberto passes to our west and we get the east side of the storm. Alberto's east side will have plenty of helicity (shear) and may be favorable to the development of a weak tornado or two. Currently the track is for the center of the storm to pass directly overhead of Davidson and Williamson Counties, keeping us away from Alberto's eastern side. It's close enough, though, that track of the storm will be closely watched. If Alberto wobbles to our west, we'll end up on the east side of the storm and will need to be on the lookout for a tornado or two.
3.  Windy, but not too bad. From NWS-Nashville:
On Tuesday, the wind forecast for our area looks something like east winds of generally 10-20 mph with perhaps some gusts of 30 mph across southern areas. The elevated winds will begin to decrease on Tuesday evening.
Not that big of a deal, really. The only wind concern is a small one — with heavy rain, if we catch a decent wind gust a tree may go over, but this is not expected to be a big wind event here.
Wednesday & Beyond
After Alberto pulls out, the summer, humid, pop up afternoon/early evening shower chances return. This timeframe looks especially rainy, especially Thursday, when showers and storms appear likely.
---