Sunny Thursday
High pressure has built into Tennessee, keeping the clouds away.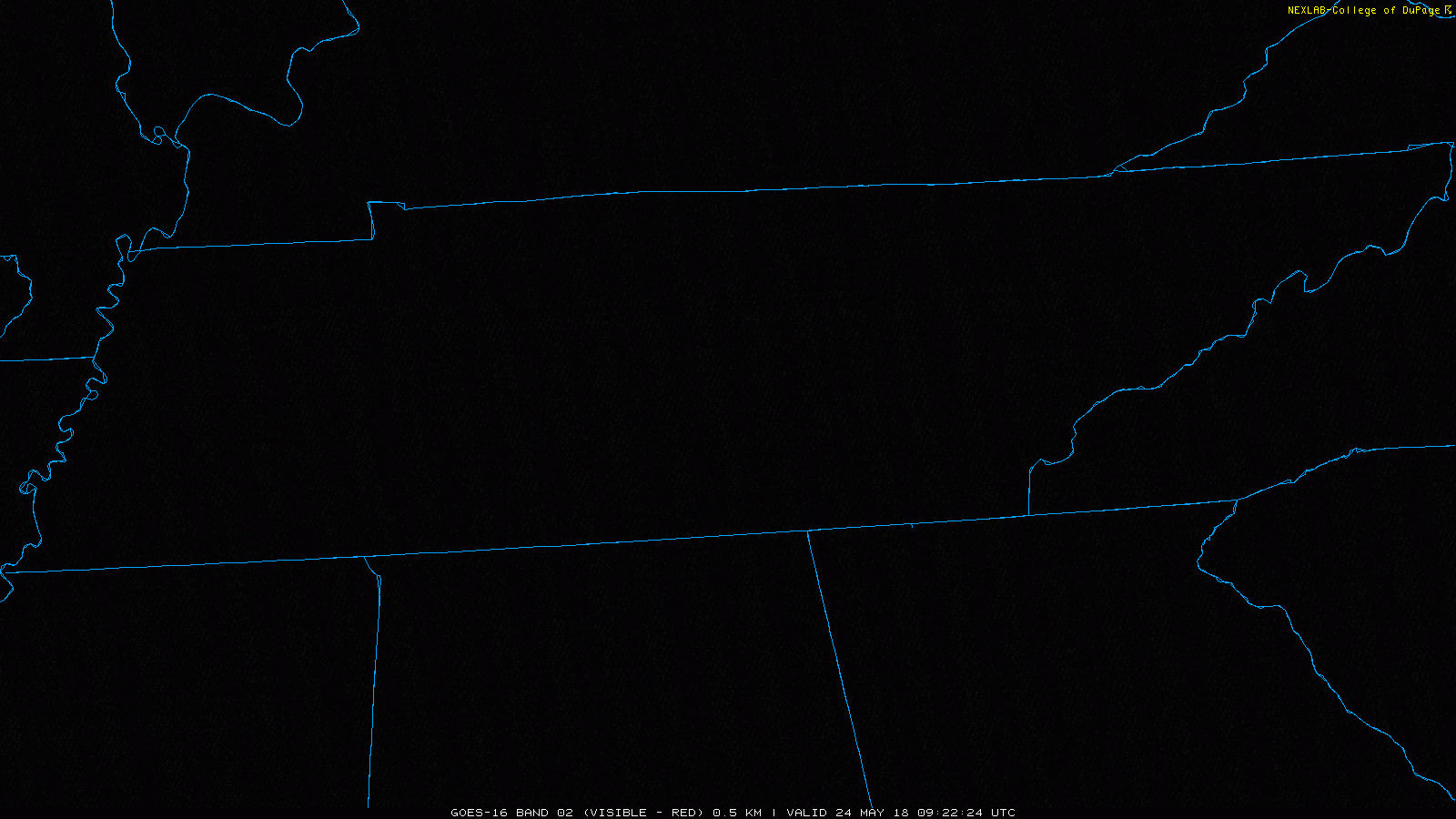 The HRRR model, below, shows some rain forming all around us, but nothing in Davidson or Williamson Counties.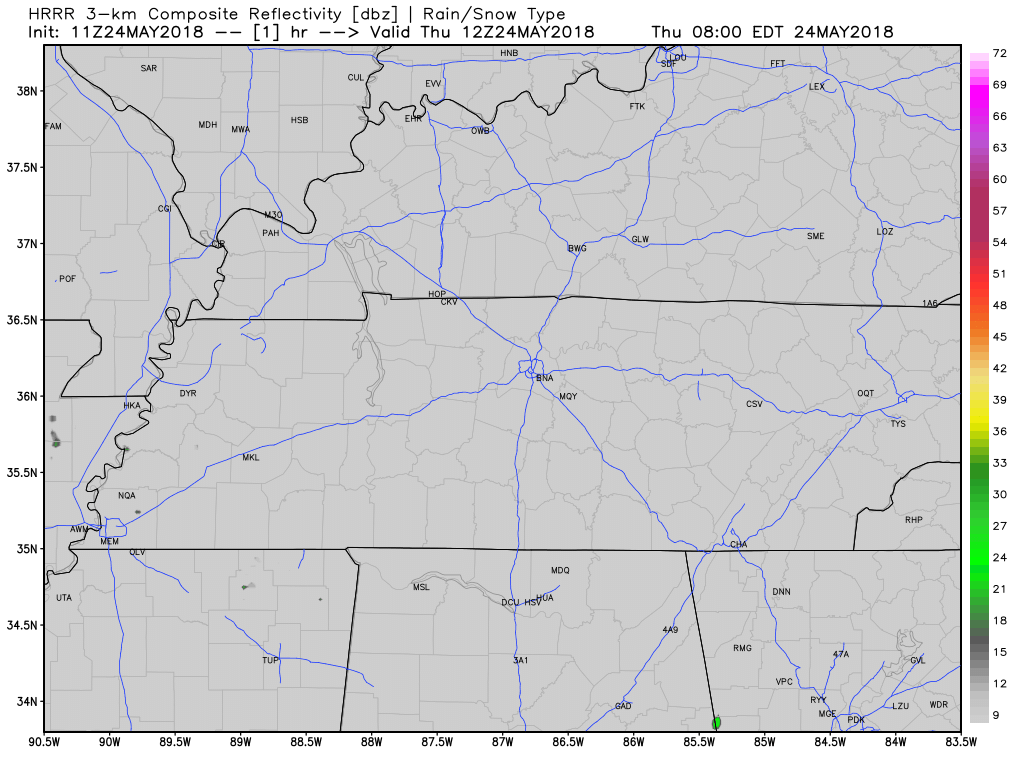 Without clouds to shade us, temps are going to hang around in the 80s for much of the day, topping around 90, and although it'll still be humid, it won't be as humid as it was yesterday.
Weekend Rain Chances
Looking forward into the weekend, the high pressure keeping rain and storms away on Thursday is going to continue to march east and out of our area. This will allow a small low pressure center to move in and bring rain and storms back into our forecast in a more typical summertime weather pattern. Below is the NAM3 model taking us through Thursday and Friday; notice a bit of moisture getting pulled closer to us Friday into Saturday morning.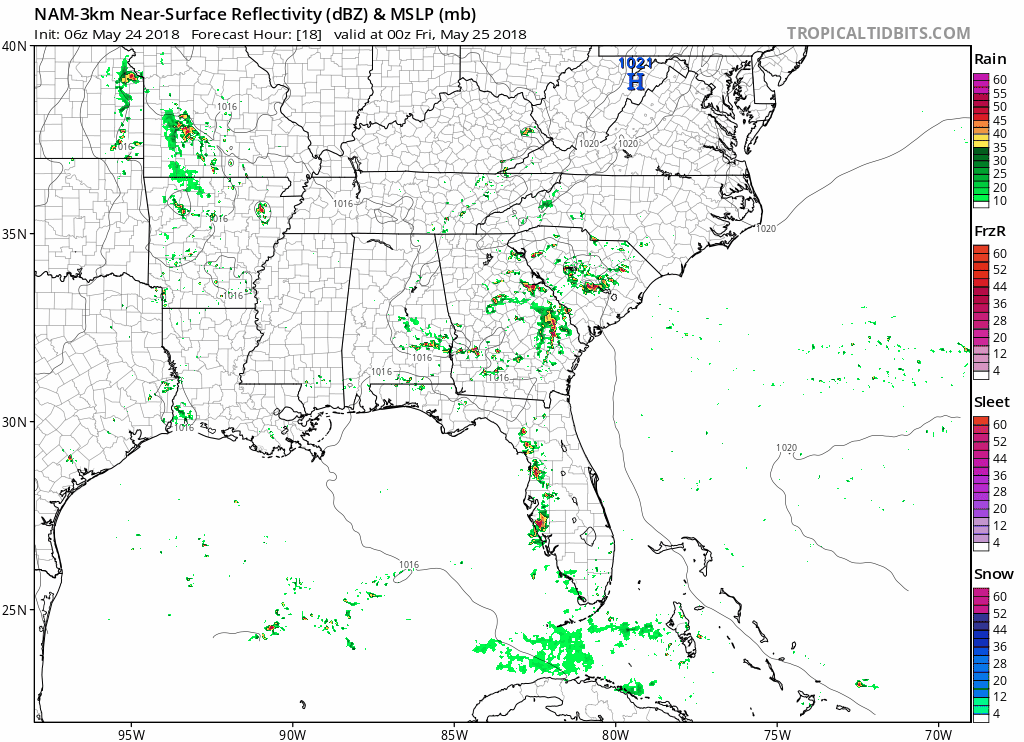 The weekend presents a challenging forecast. Moisture will be on the rise. Rain will be possible by mid-morning Saturday, and rain chances will increase during the day, running through Saturday night. The same will be true Sunday. When and where rain will be, exactly, is difficult to determine right now; it's possible some will get washed out and others mostly dry. It's a summertime pattern; we are playing the rain lottery Friday, Saturday, and Sunday.
Take another look at the NAM3 model above. It actually runs through lunchtime Saturday, and it doesn't have any rain here Saturday morning. Takes some comfort in that, but not too much comfort — the end of the NAM3 is often wrong.
Any afternoon rain or storms that form could develop into thunderstorms with a threat for lightning, wind, rain, and hail. When and where rain and storms are expected to occur is tough to say, but we will keep you updated as they happen!
Tropical Weather Here Next Week?
Tropical system 90L has an 80% chance of development within the next 5 days. Will it impact our weather?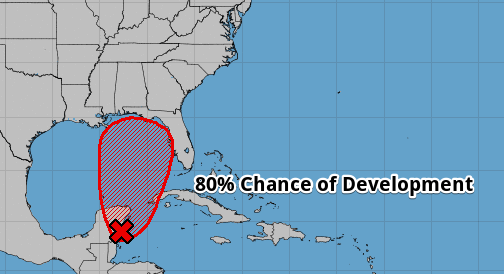 Most models think it will stay stuck in the northern Gulf of Mexico as a weak tropical system. By Monday, it should move onto land, and by then, maybe the northern end of it will extend into Middle Tennessee. Whether it will remains unclear. In fact, models aren't entirely sure about the intensity or track that the storm will move, but the environment it will be moving in to is not favorable for development. It should only be a rain event here, most likely Monday, Tuesday, and Wednesday. There are no current concerns about flooding.
---