Drier Today, Still Humid
A high-pressure system has moved into the Ohio River Valley. It's working to suppress our rain chances. We suppose a shower or two today is remotely possible, but we think that's really unlikely. We remain hot, with temperatures in the upper 80s, and humid, with dewpoints in the mid to upper 60s.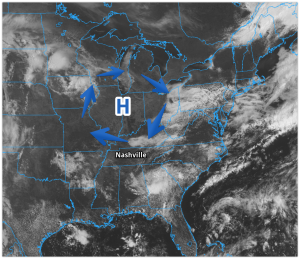 Above is a GOES-16 scan of the area from this morning. That H is high pressure causing sinking air, which limits cloud development. In this GIF, Chewbacca is high pressure, the chair represents our clouds.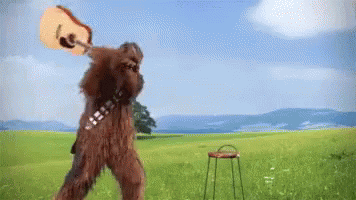 (Editor's Note: to complete the analogy, ignore the clouds in the background).
The same high pressure will limit, and probably eliminate, rain and shower development on Thursday.
Rain Returns for the Holiday Weekend
The chance of isolated, pop up showers and storms returns Friday and Saturday afternoon and evening. These will be heat-of-the-day, random pop up showers and storms.
Eye on the Tropics -> We are watching the Gulf of Mexico later this weekend for potential tropical development (and it's not even hurricane season yet!). This system has a chance of bringing us showers, more so than storms, Sunday and Monday.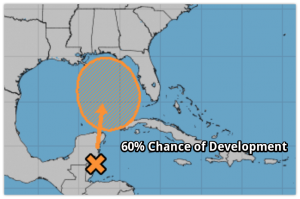 About this, the Storm Prediction Center notes:
there is considerable discrepancy among late evening [weather models] regarding the evolution of a Gulf low pressure system that will struggle to be drawn north due to weak steering currents.
Translation: we aren't really sure whether that system will bring the rain far enough north to get us, so let's pump the brakes on a "oh no! Memorial Day will definitely wash out!" forecast. We're watching! Stay clicked to @NashSevereWx for updates.
---