More Rain Possible Again Monday & Tuesday
Showers and storms are possible again today, but they will be hit or miss for us in Williamson and Davidson Counties.
If we get a shower, rainfall could be as high as an inch again today because the PWAT (precipitable water) values are expected around 1.6″ to 1.7″.
A severe storm is not likely, but it is possible. If one happens, be on the lookout for strong winds and small hail.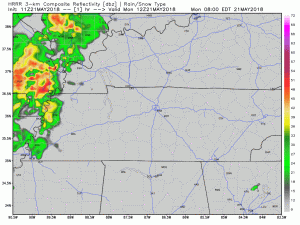 Above is this morning's run of the HRRR model. It is not an exact replica of what exactly will happen, but it gives us a good idea of what to expect trend-wise. Notice how it keeps most of the rain west of us, which is good news for those hoping to play outside tonight. We'll keep putting updated runs of the HRRR on Twitter @NashSevereWx.
Here's what NWS-Nashville wrote about the forecast for this afternoon and early evening:
There will be plenty of outflow boundaries laying around later today for storms to develop. The deep tropical moisture is still in place with a weak upper level trough centered over southern AL this afternoon. Soundings for today look very similar to Sunday with 2000-2500 J/kg of SBCAPE and weak shear. PWAT values will still be 1.6-1.7 inches. I expect a few storms to reach strong to possibly severe limits with gusty winds and hail that will mostly remain below severe criteria. Torrential downpours will accompany these storms and will pose a localized flooding threat once again.
NWS-Nashville expects this it-may-storm-and-if-it-does-it-may-be-strong trend to continue on Tuesday:
Tuesday looks like more of the same. Scattered storms will mainly develop in the afternoon with a couple of them striving towards severe limits. Gusty winds, some small hail, and localized flooding will be the threats.
High temperatures will be in the mid to upper 80s today and Tuesday. Dewpoints in the upper 60s. Ugh!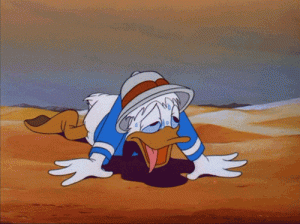 Drier Wednesday & Thursday
High pressure will relieve us of showers and storms for the most part on Wednesday and Thursday. Rain isn't entirely out of the question, just less likely. Temps Wednesday and Thursday will approach 90º.
Friday & Next Weekend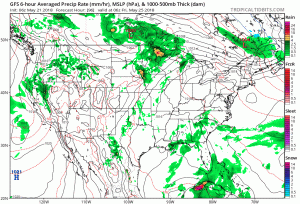 Watching the tropics! We are watching our first formidable tropical threat of the season. Whether it be a trough (elongated low-pressure system) or a stronger system in the form of a closed low, we are looking at a lot of rain Friday and next weekend. Stay tuned for that forecast.
---