Afternoon-Early Evening Showers/Storms
Today will be another typical southern summer afternoon with temperatures in the low to mid-80s, clouds, humidity through the roof, and the expectation showers will break out by mid-afternoon and freckle the radar.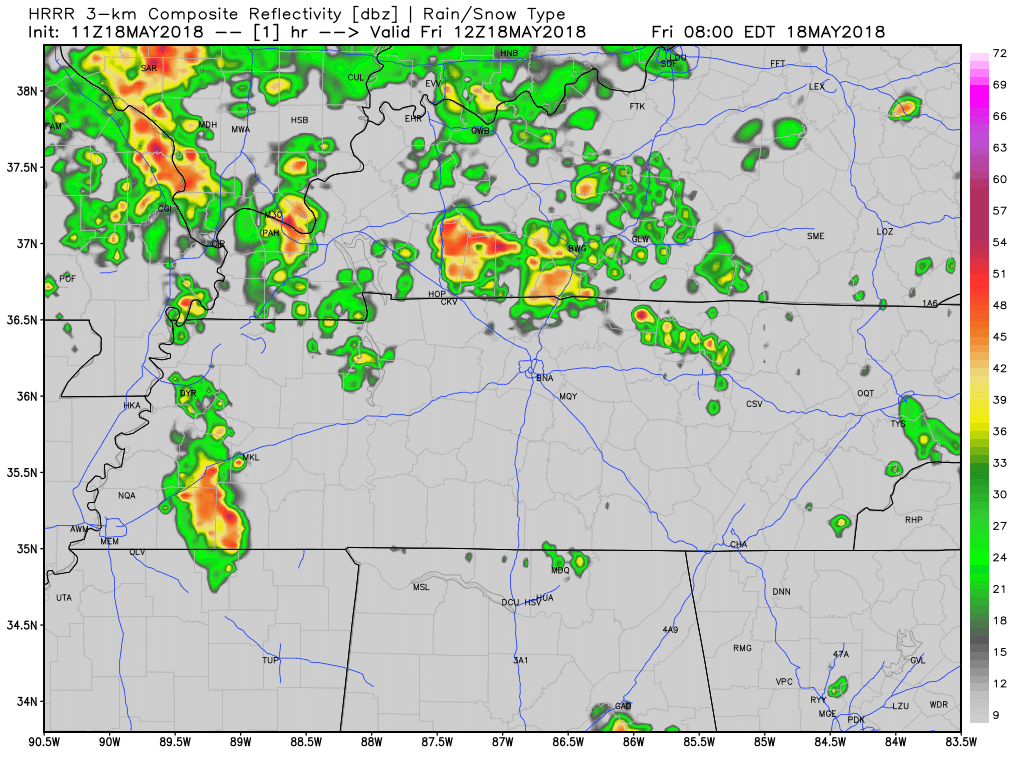 Like yesterday, predicting pinpoint times and locations of these storms over your backyard, field, or graduation ceremony is not possible. The above run of the HRRR model most of Williamson and Davidson County getting wet, and maybe a downpour, by mid to late afternoon through the early evening hours. High temperature: 82º.
Flooding? Storms will move north faster today than they did yesterday (north around 25-30 mph). Slow storms raise small flooding concerns, but if these move 25-30 MPH, only those in unlucky spots should see temporary street flooding.
Hail? Simple answer: very unlikely.
Lightning: Yeah, sure, for some of these storms. Be ready to find an enclosed structure. Tents and pavilions offer no protection.
We'll update these storms on Twitter through the day and night @NashSevereWx.
Saturday and Sunday
A weak ridge of high pressure will be over the area this weekend. It will squash most rain and storm development, but not completely obliterate it.
Showers can still appear in the afternoon — especially Saturday afternoon — but they won't be as widespread as we have seen this week, and we may not see any at all.
Below is the overall rainfall forecast for the weekend; only a half of an inch in total for Saturday and Sunday.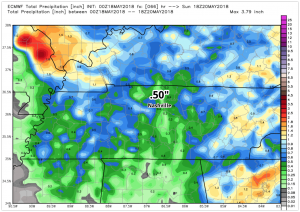 Next week, the high pressure will move out and the pop-up showers and storms will remain in the area through the work week. Temperatures will still run above average with today being the "coolest" (despite it being 82) day in the forecast. Expecting 90s by Sunday.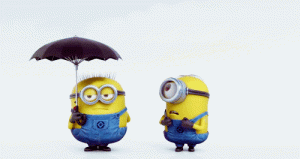 Bottom line: Typical summertime weather, keep the umbrella handy.
---