Our short streak of 90 degree days continues today: 92º. If we get there, it will tie the May 14 record set in 1881.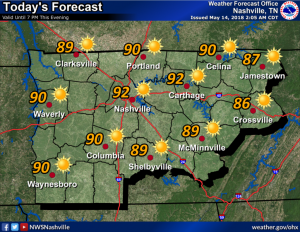 Humidity remains high with dew points be in the mid-to-upper 60s. Keep an eye on the little ones — their bodies don't regulate heat well, and they're not yet acclimated to this summertime airmass.
Have you seen the tropics recently? Check out what's happening in Florida this morning: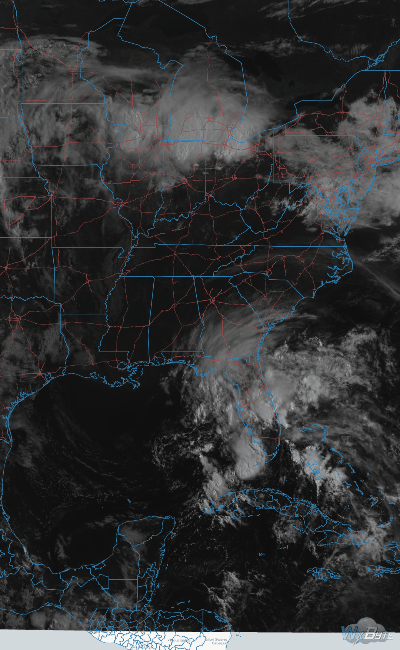 That's a disorganized tropical system. I hope you're not reading this from the beach.
As you can see above, the National Hurricane Center thinks this tropical system has a 40% (medium) chance of developing into an official tropical storm.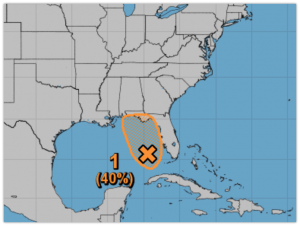 If it does, it won't be a tropical storm when it arrives here mid-week. Instead, it'll just be a rain maker, beginning Tuesday and continuing through the weekend. Rain will be scattered all day Tuesday and Wednesday, then become more widespread by Thursday and Friday.
Thunderstorms are possible, but no organized severe weather is expected.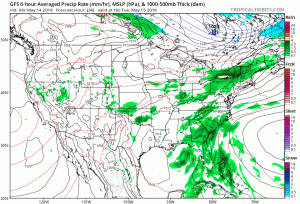 Above is this morning's run of the GFS model. The Euro and GFS models are in pretty good agreement rain will be present in the area through the weekend, switching off and on. High temperatures will drop closer to average in the mid-80s.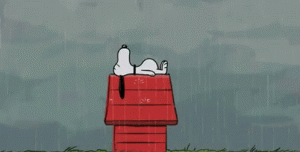 Those with outdoor plans hoping for a definitive "inside or outside" forecast are going to be frustrated. The rain will come in waves, but timing them even a day in advance is difficult, and it's unlikely anyone will be able to give you a guarantee. There will be periods of rain and periods of no-rain.
Generally, expect better chances of rain in the afternoon and early evening hours, but really, it's possible anytime. Those grappling with graduation ceremony decisions should have an indoor plan. Consider how quickly you can move your ceremony indoors and think about your risk tolerance: can you risk grandma scrambling to a rain shelter in her 1″ heels?
This wet pattern will continue through the weekend and probably into next week.
---