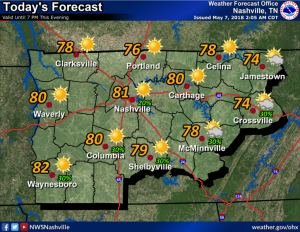 The models think today will be sun-filled, less humid, with a high temperature at 81º and falling dew points in the 50º range.
However, our atmosphere remains the same as it was yesterday. We remain on the back side of the system that brought us gusty winds, heavy rain, lightning, and small hail yesterday and last night. This afternoon and tonight, most storm ingredients will be there. Plenty of instability. Dry air aloft and "cold pools" sitting atop us, both help storm development.
It will just need a spark — something to get it going. Currently, models don't think that spark will happen. Even NWS-Nashville says it is "going out on a limb" to introduce rain and storm chances tonight (only the GFS model thinks there may be something and it's not got the best reputation).
So, don't write off the chance of a shower or thunderstorm this afternoon or tonight. Don't bet on it, either.
Tuesday will be relatively the same, perhaps a tad cooler than today, nothing noticeable, however. And there's no reason to think we'll see rain Tuesday.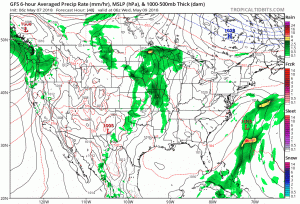 Our next good chance of rain comes Wednesday and Thursday. Coverage is expected to be scattered in Middle Tennessee, so it's possible it'll "scatter" around us, or scatter on us.
Overall, the forecast is for scattered storms on both Thursday and Friday, some could be strong to severe. There are no tornado worries.

After Thursday, summer returns in full-force. We will begin to dry out after another slight rain chance on Friday. High temperatures will begin to approach the 90s by Friday and through the weekend. Rain chances return on Monday with a weak front rolling through the area, but overall a dry weekend.