Rain Tonight
Therefore, those with plans outside tonight should have a rain plan, and keep an eye on the radar (and our Twitter feed). Most models have some rain sweeping by at various times tonight, but it looks pretty weak.
Saturday
There are all sorts of sporty tournaments, concerts, Preds game, and of course it'll be Cinco de Mayo. Seems everyone's got something outside.
Plan for rain.
Updated HRRR model predicts big rain tomorrow morning into the early afternoon. Rainout alert! pic.twitter.com/8IJYhQ7teS

— NashSevereWx (@NashSevereWx) May 4, 2018
The Weather Prediction Center still has Nashville seeing around 1″ of rain for Saturday, on top of whatever any given location receives today. But, we don't think it'll rain all day, and some backyards will see less than others.
That said, we think everyone will see at least some rain Saturday, possibly raining out some outdoor activities.
The question is when?
That's the big argument. Right now we think this is a Saturday morning and Saturday afternoon rain event.
The Euro model turns the rain on Saturday morning and runs it through Saturday afternoon, then tapers it off Saturday night.
The NSSL-WRF model agrees, beginning rain (with some heavy rain) as the sun comes up: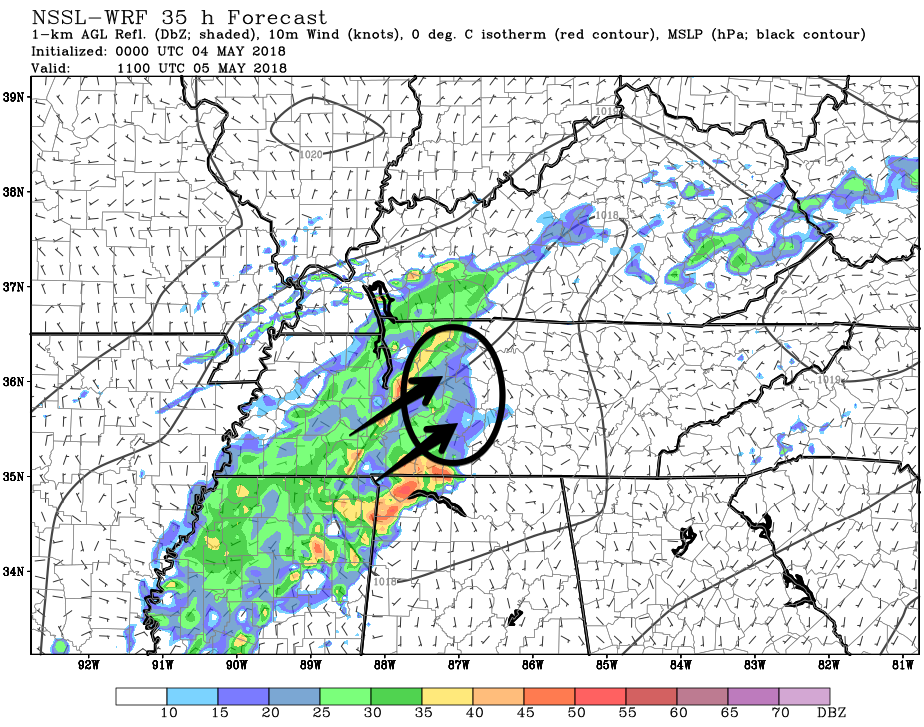 The NAM3 has the same idea in the brand new run that's just come out. The below GIF covers all 24 hours Saturday. Notice that morning/early afternoon rain clears out late Saturday afternoon/early evening: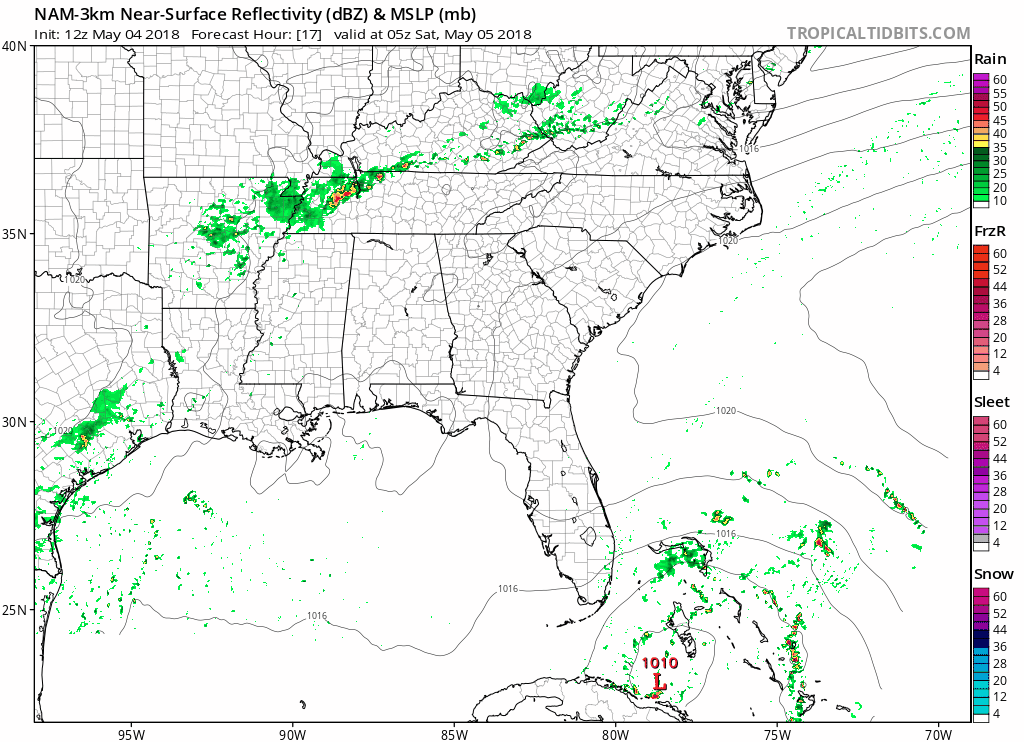 This data coincides with what NWS-Nashville is thinking. I'd really like the HRRR model to get on board with this idea before attaching much confidence to the forecast. Also I think models tend to over-dramatize the amount of rain at this range. So be prepared, but be flexible, tomorrow.
Rainouts are possible, especially for baseball games and other rolly ball sports played on fields with poor drainage.
Severe weather is not expected this weekend, but lighting is possible.

Overall, looking for the rain event to conclude by or before early Sunday morning, dropping our high temperatures back into the 70s.
Clearing Out
A shower or two will be possible Sunday morning as the back end of the system sweeps through the area. Temperatures will climb steadily throughout the day to 79º. 
Early next week
Early indications are depicting scattered showers in the region for much of next week with a defined system by Wednesday. Keep your umbrella handy and we will keep updating the forecast here at NashSevereWx.