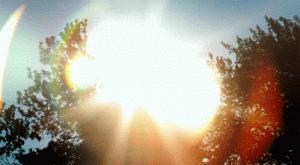 Good morning Nashville! Relative to April, we are starting May on a warm note. Expecting a high of 84º with dew points in the low 50s. So, if you enjoy the sun with no humidity, get outside today!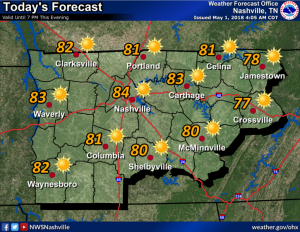 Tomorrow will be almost a carbon copy of today. A high of 86 is expected after a morning low in the lower 60s. But, dew points will be on the increase tomorrow through Friday as temperatures remain in the upper 80s. So, getting a bit humid and sweaty.

Rain Chances Friday through Sunday
If you have kept up with the national news, you may notice a strong frontal system will begin making its way across the plains today, setting off severe weather concerns for the "traditional" tornado alley.
That same frontal system will be what provides us a rain and storm chance Friday afternoon through Sunday.
Although severe weather is not expected here, we should get rain and maybe non-severe thunderstorms.
Here's NWS-Nashville on the timing and rain totals:
First off, even though rain chances will linger from Friday morning into Sunday, amounts are expected to be relatively light, averaging mainly between .2″ and .3″. So, even though periods of showers and thunderstorms will exist for several days, rain totals should be modest.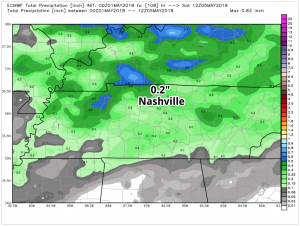 The GFS model is still sticking to less rain when compared to the European model. Both agree on a Friday morning arrival with a complete exit by Sunday morning at the latest.
The rain will drop our temperatures back into the 70s by the time the weekend rolls around. We will stay in the 70s through early next week.
---