Good morning Nashville! An unsettled weather pattern looks to continue thru at least the afternoon hours on Friday. For today though, not expecting any rain until the late evening hours, after a high of 68º for the day.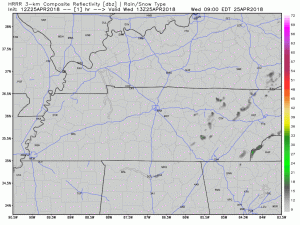 This morning's run of the HRRR model shows today as a dry day ahead of rain moving into the area tomorrow.
Rest of the Work Week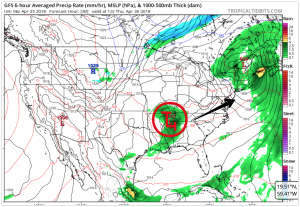 The GFS and NAM bring a low-pressure system close to the area late tonight and tomorrow. Plan for scattered rain showers beginning overnight tonight and all day tomorrow. The rain will move in just as fast as it will move out. This should only be a 1-day event. Overall, expecting rainfall totals less than 0.5″ of rain.
This Weekend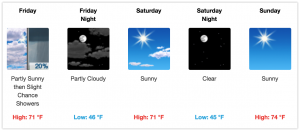 We are still a few days out, but models are continuing to trend more towards a dry weekend once rain chances move out on Friday. Temperatures in the afternoon will hit at least 70º each day. Morning low temperatures will remain in the mid to upper 40s each morning.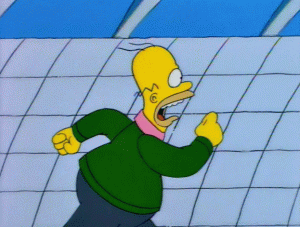 Those participating in the marathon will want to continue to monitor the weather for this weekend closely. A light popup shower cannot be discounted for Friday and Saturday morning, but overall the forecast for the marathon Saturday morning looks to be shaping up nicely. Expect temps in the mid 40s at race time, with a slow rise to the low/mid 60s by afternoon.
Warmer/Drier Next Week
Next week is still on track for seeing the possibility of warmer weather and clearer skies! There are even a couple of models hinting at 80º in the early-mid part of the week. As noted yesterday, clear skies means that the sunlight will shine through and temperatures will be warmer and closer to what we expect to see this time of year.
Our next chance of rain is Tuesday.
---