Radar thru 6:32 AM shows rain inching closer to us.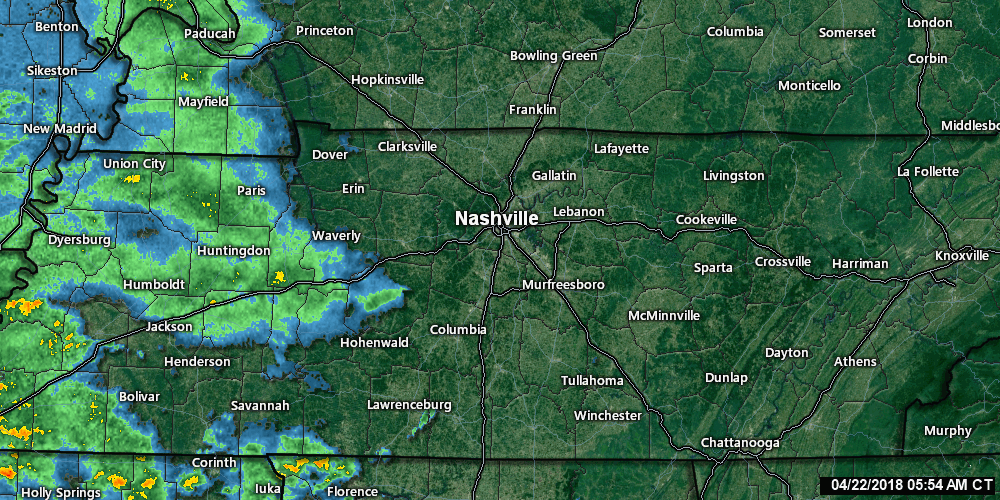 You can update this radar on our radar/camera/tweets page here.
Washout Rain Today
All models predict rain to work east and wash us out today.
The HRRR model thinks it'll rain from mid-morning until 10 PM (and likely longer; this model only runs thru 10 PM):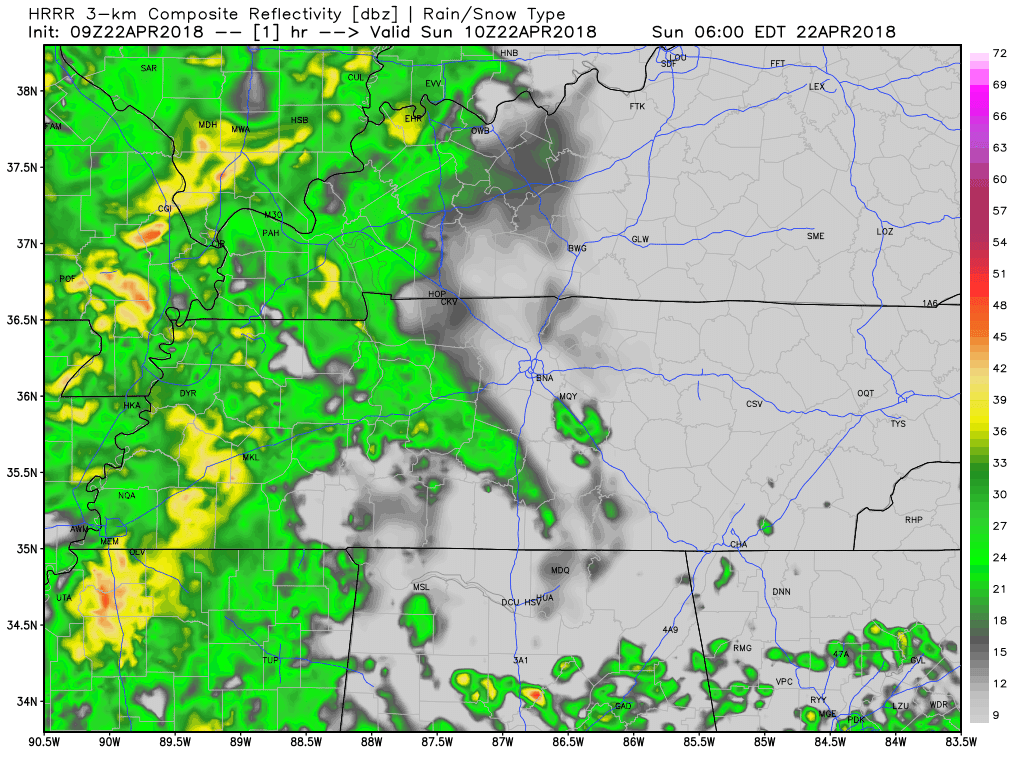 The NAM3 model thinks rain will begin later this morning and continue through Monday at 3 AM, with a few breaks along the way: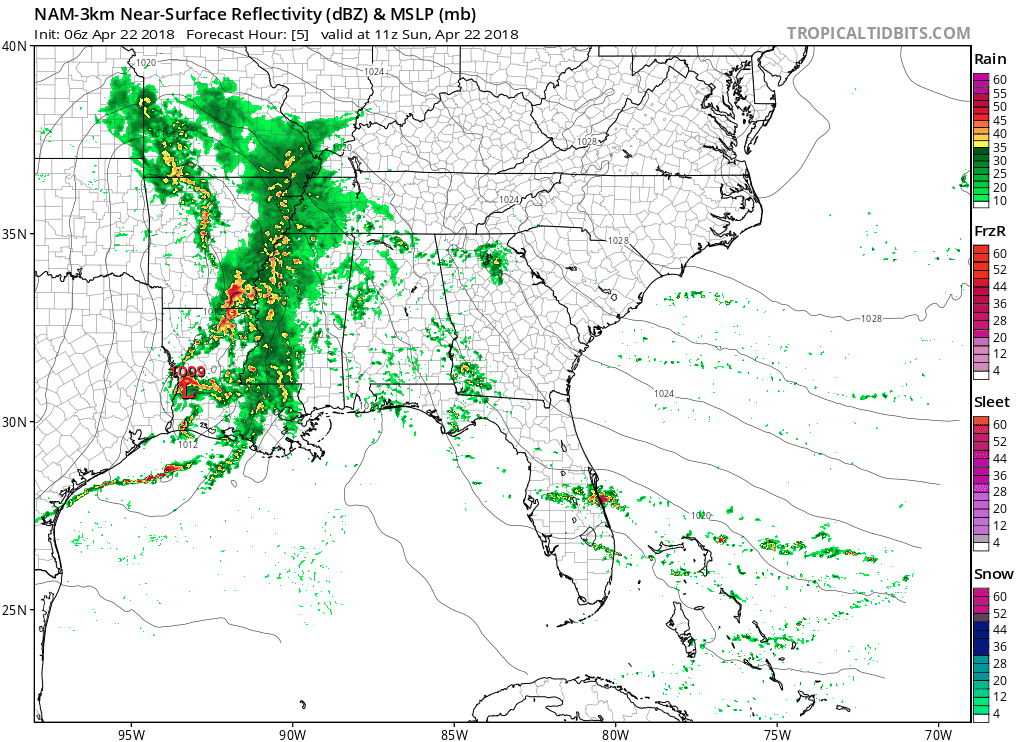 NWS-Nashville forecasts rain totals around 1″ through 7 PM, and then just under an additional inch from 7 PM tonight to Monday at 7 AM.
High temps hovering in the low 60°s today, upper 60°s Monday.
Windy Late Sunday Afternoon & Night
Tonight, winds at 5,000 feet will be blowing 65-70 MPH.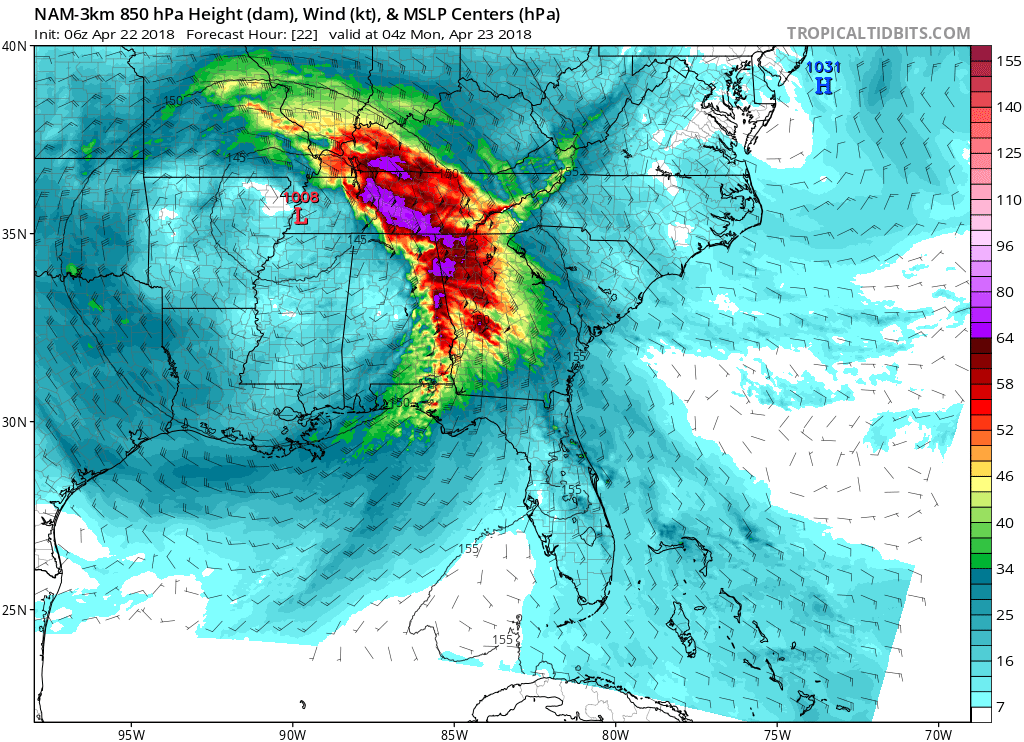 Some of those winds will be directed toward the surface. We won't see 65 MPH winds down here on the ground. Expect about half that. NWS-Nashville has issued a Special Weather Statement for 30-35 MPH winds late this afternoon and tonight: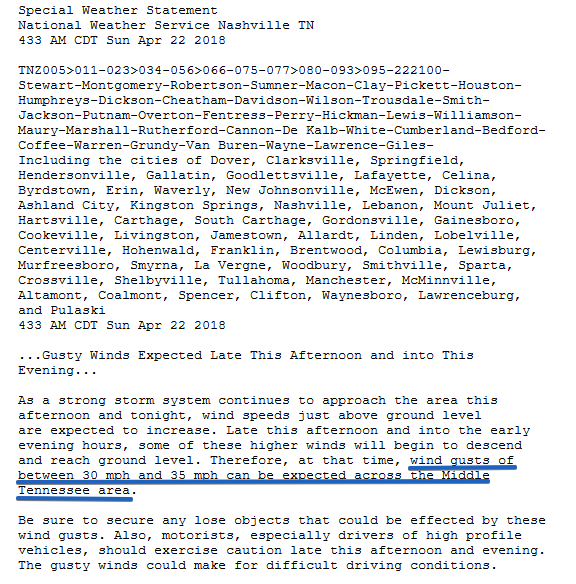 Thunderstorms Possible, but No Big Deal
No severe weather is expected, but there is a low chance we may get a few lightning strikes. Wind energy is bonkers crazy high, but there will be very little "CAPE" (convective available potential energy) so we aren't really concerned.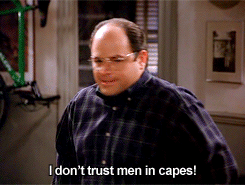 That said, we'll be watching this little system. It's pretty unusual for this time of year. But my anxiety level is very low.
More Rain Monday…Maybe
Low pressure will camp over Middle Tennessee Monday, but it should only spin in a few off and on (mostly "off") showers. The NAM3 model illustrates: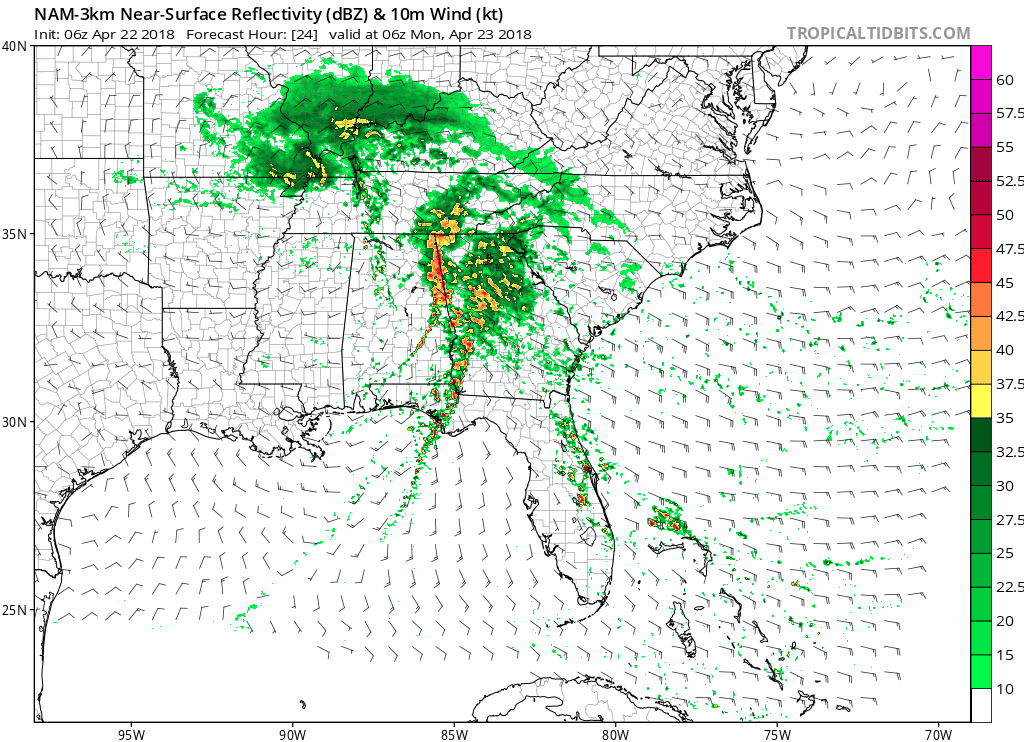 I think we will see very little rain Monday; however, given all the rain expected today, the few showers we see Monday may still ruin plans, especially if we lose the storm lottery and get a downpour.
Tuesday Through Friday

We are not expecting a rainout Tuesday through Friday. As usual, timing is iffy at this range due to model disagreement. NWS-Nashville prefers the Euro model's take, which includes rain chances Monday ending early Tuesday morning, drying up Tuesday, then isolated/scattered showers Wednesday into Thursday morning, then a break from rain chances Thursday night and Friday. Again, none of this by itself should rain us out.
Next Weekend
NWS-Nashville delivers the good outlook:
It looks like next weekend will be dry with temps a few degrees below seasonal normal values on Saturday, with a warm up to around seasonal normal values expected by Sunday, i.e. great late April weather for those participating in outdoor activities.
40°s in the AM, upper 60°s and 70°s in the afternoon?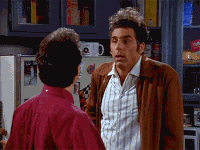 Marathoners should check back frequently; this forecast has been yo-yoing a bit, but that's usual 6 days away. The Euro model still has clouds overhead during race time, and as long as it does I don't think we should completely rule out rain. However, there is no indication of a downpour, and no reason to think it'll be scorcher. All in all, a pretty good outlook.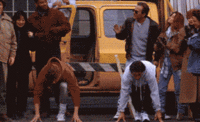 ---