Editor's Note: Brendan's Last Day
Today we say goodbye to one of our interns, Brendan Schaper. As you probably know, interns draft all blog content Monday through Saturday (Will, Andrew, and I have full time jobs and fuller time families). Our internts are meteorology students at Mississippi State University. They volunteer their time and work very hard to produce good information for you. Along the way they get better at communicating weather information; after all, writing is a muscle, it strengthens with use. Most of what you read from our interns is edited by me, Will, or Andrew, but I have not had to edit anything Brendan has done for more than a year. He is outstanding. He's graduating this Spring and has a coveted job for the National Weather Service waiting for him. We are going to miss him. Thanks for the work, Brendan. We consider you a friend and look forward to seeing what you do down the road.
Cooler Today, Clouds Return Quickly
NWS Temperature Trend
[av_textblock av_uid='av-ohcj00′]
[cjtoolbox name='Treg DONT DELETE']
[/av_textblock]
With high pressure sinking southward into Illinois overnight, we expect some clearing to take place. Depending on how much clearing occurs will have an impact on how low tonight's temperatures sink; however, there is enough confidence in 30ºF temperatures that a Frost Advisory has been issued.
Frost Advisory 1AM-8AM Friday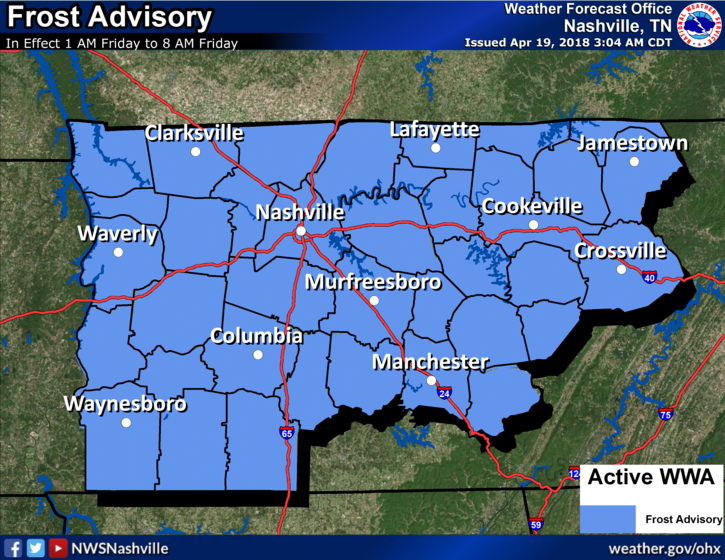 Clear and calm conditions will begin tomorrow, including a nice temperature rebound! Afternoon highs for your Friday will soar into the upper 60, with a few spots reaching 70ºF. Saturday will be the pick day of the weekend, with everyone seeing 70s during the afternoon.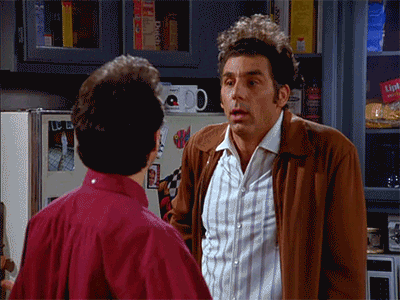 Rain Returns Sunday, On-and-Off Through Tuesday
GFS Model Sunday-Tuesday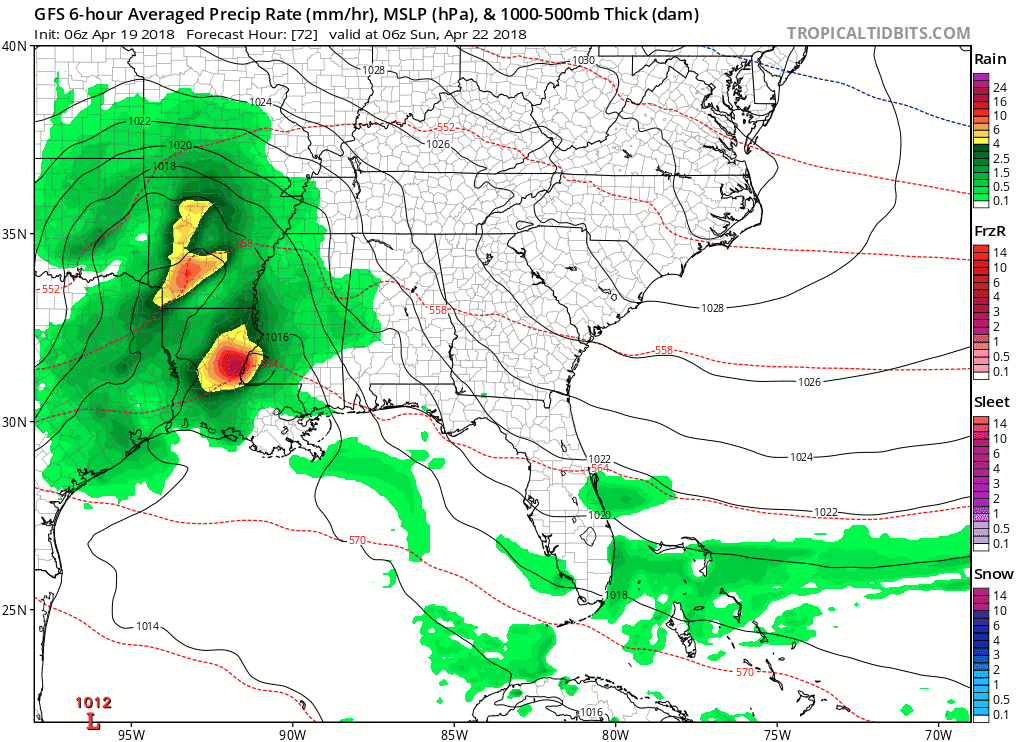 A relatively weak, but slow-moving/efficient low pressure system is expected to develop over the Lower Mississippi River Valley this weekend. As it slides to the east, we will remain on its northern edge, but close enough to receive some appreciable rainfall. 1-2″ is possible Sunday through late Tuesday, with rain becoming more isolated in nature during the day on Tuesday.
---