Few Meaningless Sprinklers/Snow Showers Overnight & Early Tomorrow
We may see light rain or a few tiny snowflakes sprinkle windshields tonight, overnight, and early in the morning. Here's the HRRR model: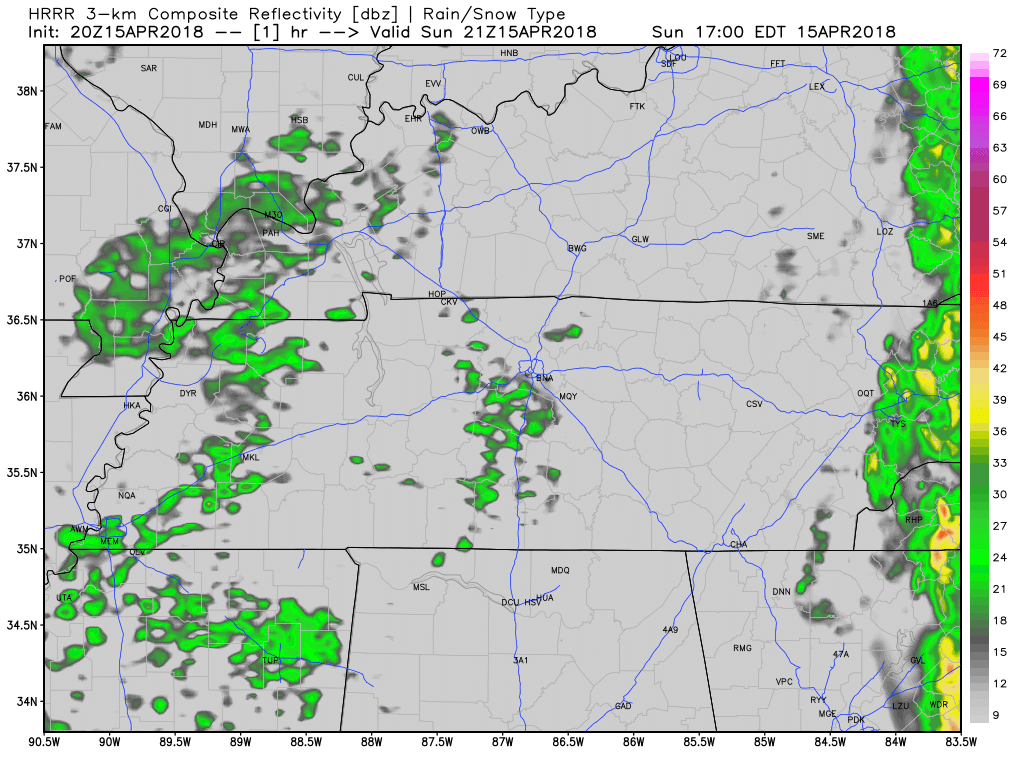 Neither accumulation nor impacts expected.
Monday Morning Freeze Warning
This warning is effective from 3 AM to 8 AM Monday.
A Freeze Warning means sub-freezing temperatures are imminent or highly likely. These conditions will kill crops and other sensitive vegetation.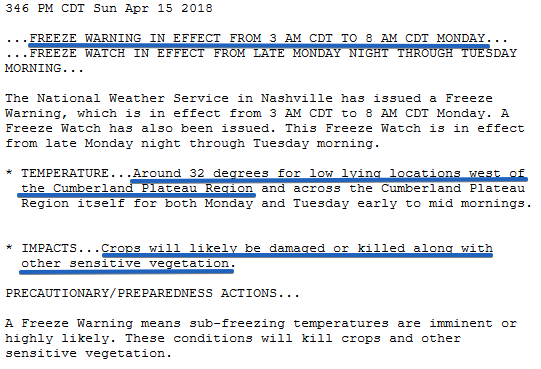 Monday is the 20 year anniversary of the F3 tornado that hit downtown Nashville. Here's the path: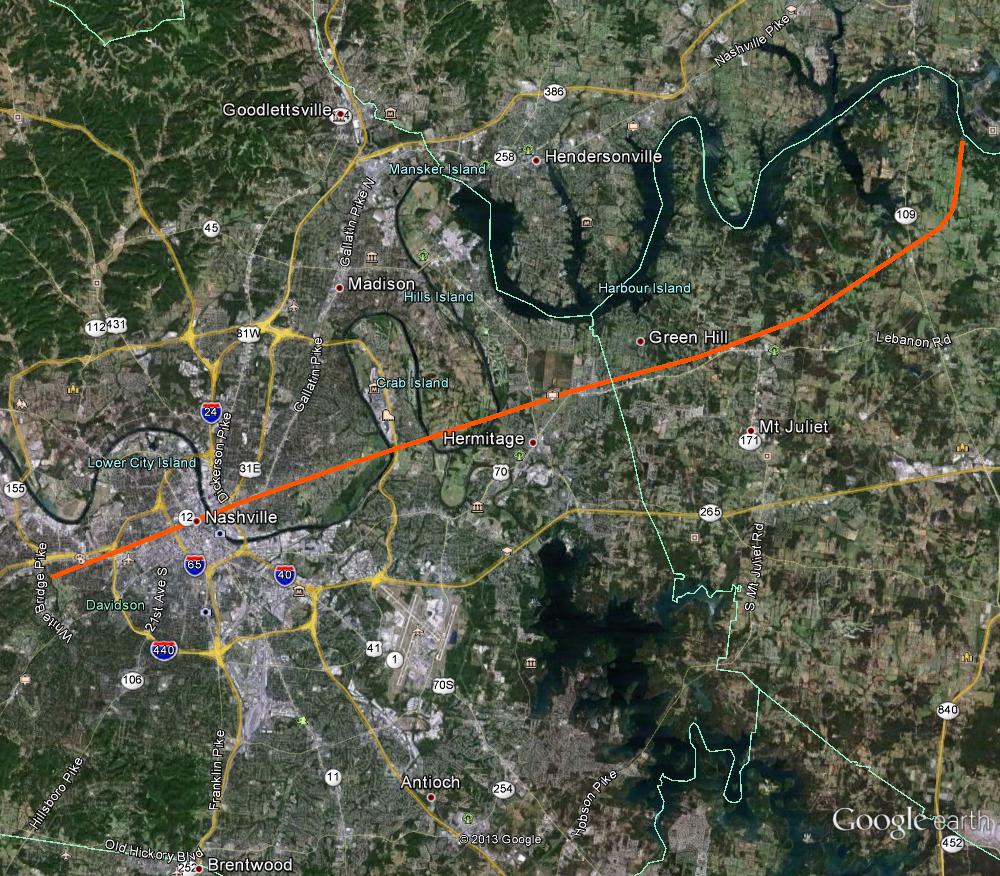 It was one of several strong tornadoes that day, including Tennessee's only F5, in Wayne and Lawrence Counties.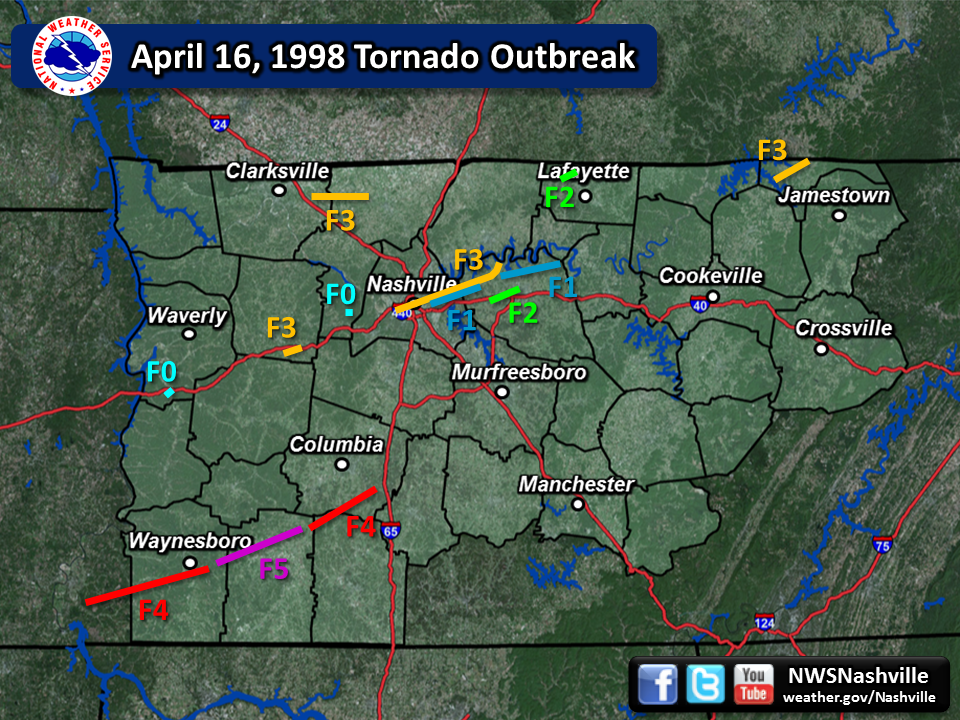 For more on this outbreak, visit this page.
Freeze Watch Early Tuesday Morning
We may freeze again early Tuesday morning, but NWS-Nashville isn't sure, so they issued a Freeze Watch.
Although it looks presently like freezing temperatures will be experienced late Monday night into the mid morning hours on Tuesday, some uncertainty in what actual low temperatures remains. Thus, presently, only a freeze watch issued.
Mid-Week Warm Up

Maybe Some Rain Wednesday or Thursday
A weak surface cold front will bring with it isolated to scattered light showers Wednesday into Wednesday night. Another weak disturbance might bring some additional cloud coverage during the afternoon hours on Thursday, but conditions will remain dry.
Even though there may be light rain around Middle Tennessee, it may stay north and east of us. There is no reason to think it will wash anything out.
Saturday May Actually Be Dry!
Quoting NWS-Nashville:
Conditions look like they will remain dry thru at least the first part of the upcoming weekend.
Next Big Rain Chance: Sunday
A low is expected to approach Sunday night, pulling rain in from the south and into Middle Tennessee sometime during the day Sunday.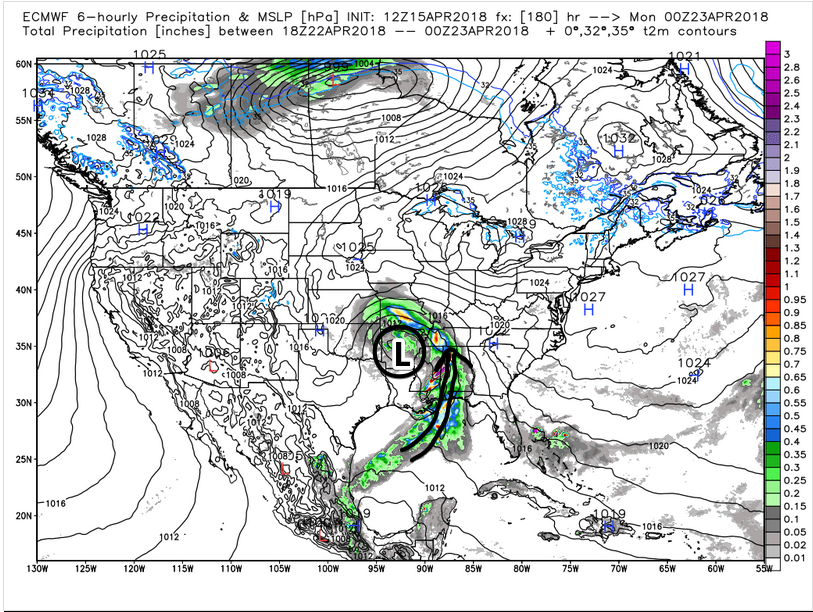 Expect the timing on this system to change, but for now the best information has a Sunday ETA.
Storms are possible, but it's way too soon to say. To quote the Storm Prediction Center:
While some severe threat may be noted next weekend, too much uncertainty exists to include severe probabilities.
Ugh.
---