Rain is likely Saturday morning, afternoon, and evening. How much and when remains uncertain. Let's get to it.
ETA
Depends on the model you believe. But we think the storms will arrive early Saturday morning.
NWS-Nashville is going with the HRRR model. It's also our fave for timing, but that doesn't mean it's right. It has an ETA of 6 AM to 7 AM:
The HREF kinda agrees with this early ETA, between 5 AM and 6 AM: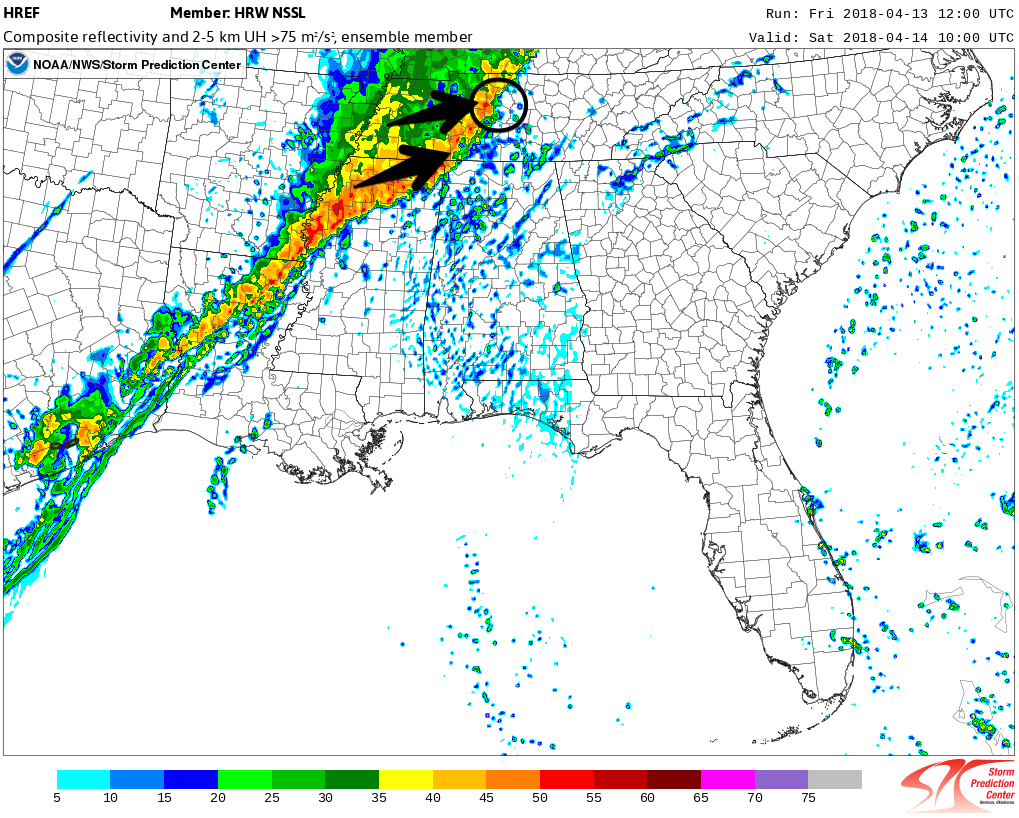 The NAM3 has the later ETA, 9-10 AM, and it's not that much rain when it arrives.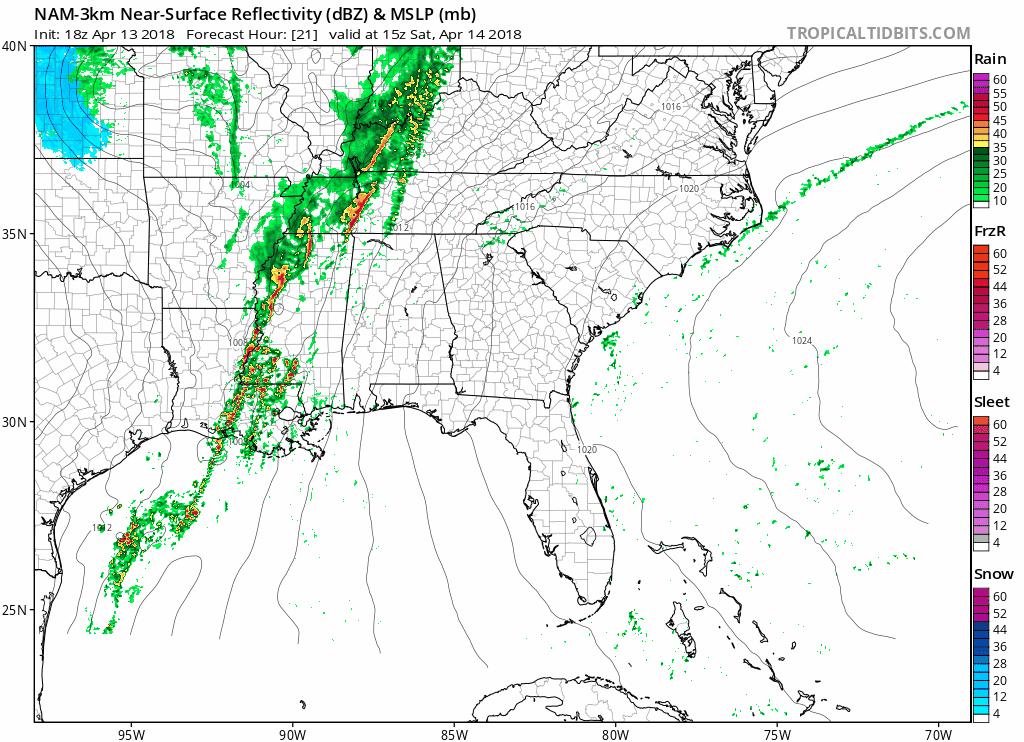 Off & On Rain and Storms Thru the Day & Night
There are two ideas — one involves rain all day, the other thinks there will be off and on rain of various intensity (with potentially a mid-day break) — either way, there is no guaranteed dry period Saturday to look forward to.
Here's the NAM3's idea, with off and on storms during the day, and that mid-day break.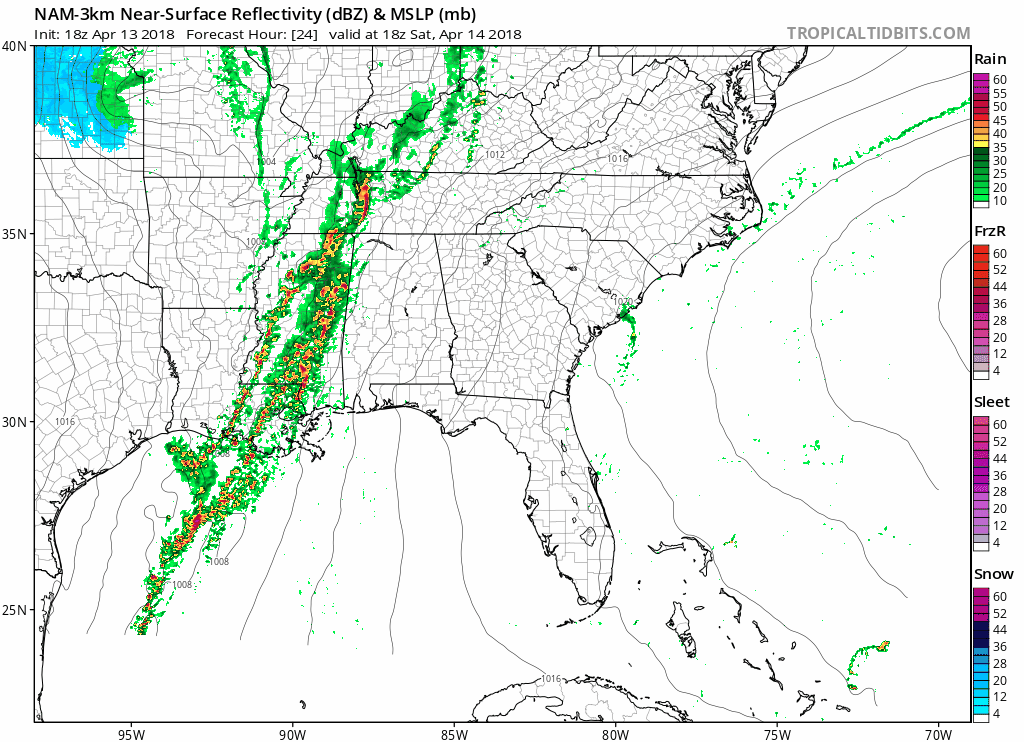 Wherever you're going tomorrow, you need a rain/storm plan.
Strong/Severe Storms Possible
The window for strong to severe storm potential opens mid afternoon, and runs into the evening hours as a cold front shoves heavier precip at us. Here's what NWS-Nashville had to say about it:
All of these indicators point to the potential for some strong to severe cells embedded within a line of storms that could put out some damaging winds. With 0-1km shear at 30 knots, and even 0-3km helicity around 300-400 m2/s2, isolated tornadoes can not be ruled out, but main focus for any stronger cells will be damaging wind gusts.
According to the Storm Prediction Center, the probability of a severe storm within 25 miles of us is 15%.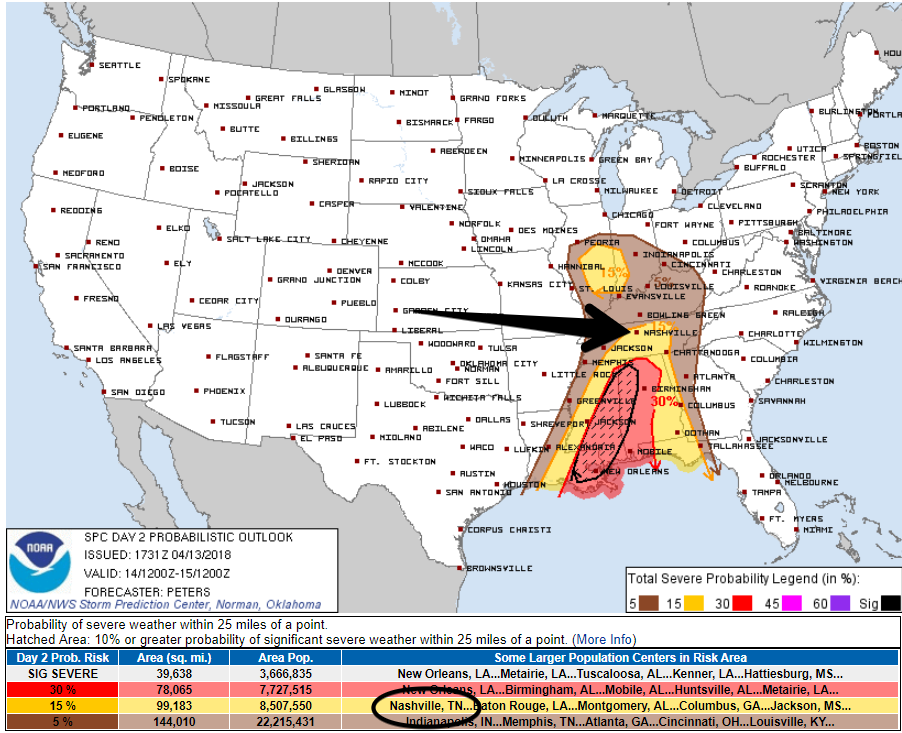 We will send updates out @NashSevereWx on Twitter tonight and through the day tomorrow.  We will also live-cover any storm on Twitter, and any warnings on Periscope. The key to the puzzle will be revealed before sunrise tomorrow morning when we have a look at actual radar returns instead of model data.
When Will It End
Early Sunday morning. Rainfall totals may reach 3″ in spots, but the safest bet is 2″+ for the entire event.
Colder Sunday & Monday Morning
High 58° Sunday, lows Monday morning 39° with wind chills near freezing.

Then a warm up next week.
---