The Severe Thunderstorm Watch has been cancelled for Davidson County and Williamson County.
Storms are moving out!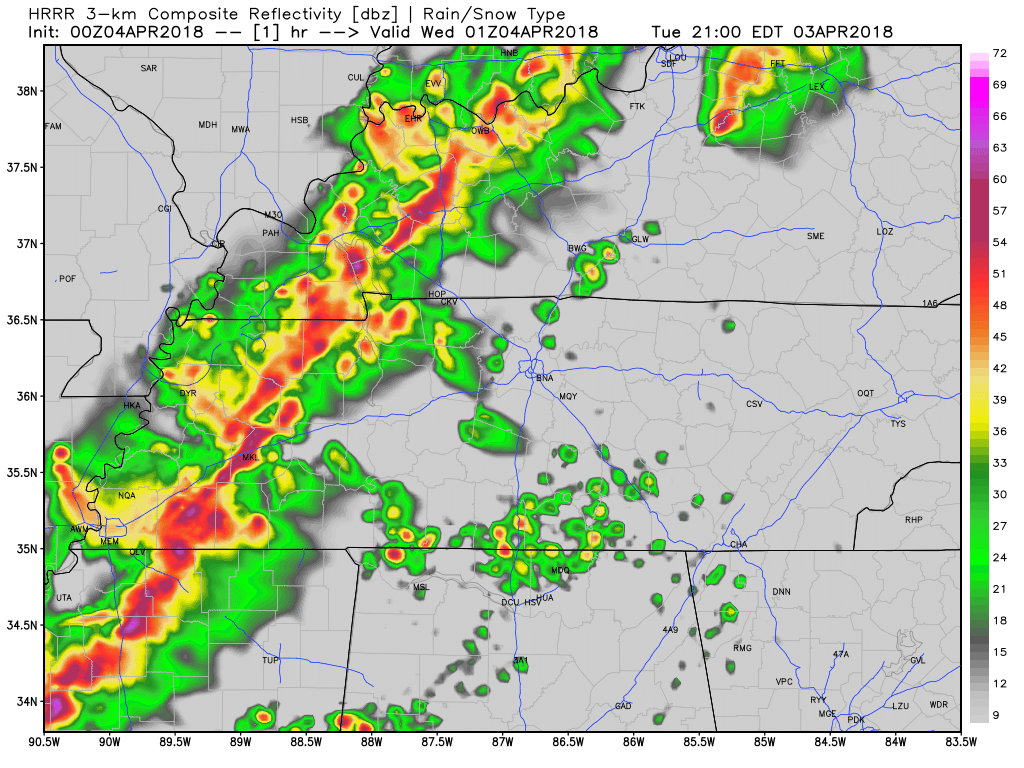 There is still some rain around. The HRRR model has all of the rain moving out of our area at about 2 AM. After that, we are seeing that cold, dry air move in.
Temperatures are expected to drop to near 40° during the overnight ours as clouds continue to clear out. Wind speeds are also expected to drop, especially in comparison to what we experienced today, but wind chills when we wake up will still near freezing.
Clearer skies for Wednesday…but Colder!
The NAM3 model shows us clearing out Wednesday, Thursday, and partly into Friday. High pressure is building in to the area, causing clouds to break up and allow for some sunshine to break through.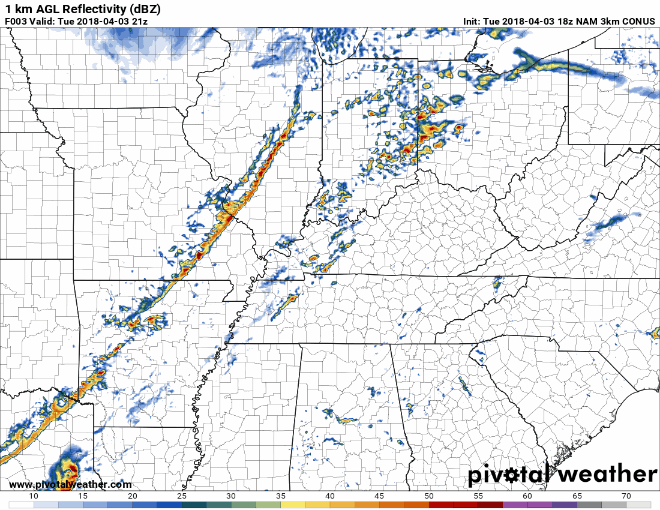 But, it's going to be cold! We'll be close to freezing early Thursday morning. Cover beloved plants!
What was that about snow chances Friday Night?
Some of the models have been showing snow moving in Friday night, but even if that happened nothing would stick.
Here is what NWS-Nashville wrote about it:
[A] cold front pushes into our area Friday night and Saturday morning and brings along the likelihood for a wintry mix late Friday night and early Saturday morning. The rain will likely become mixed with sleet and then change briefly to a snow and sleet mix over northern areas–mainly near the Kentucky border–before tapering off late in the morning. Surface temperatures will be marginal, so impacts are expected to be modest, with any light accumulations of snow confined mainly to roof tops and grassy areas.
We may be too far south to see any of it.
Nothing will stick to anything important. More on this tomorrow.
Cold Saturday
Highs in the 40°s! That's twenty degrees below normal for this time of year.
Finally, from NWS-Nashville:
Another night freezing temperatures is likely Saturday night, as a cold Canadian high pressure area builds over the Mid-State.
Ugh.
---