Mesoscale Discussion In Effect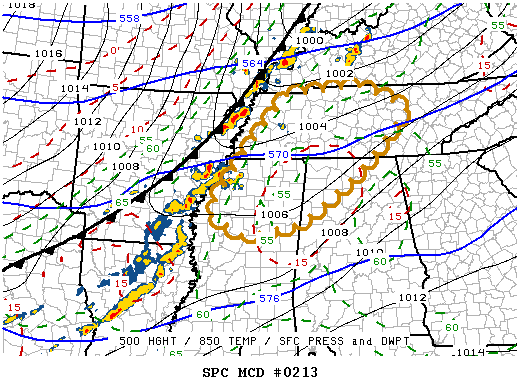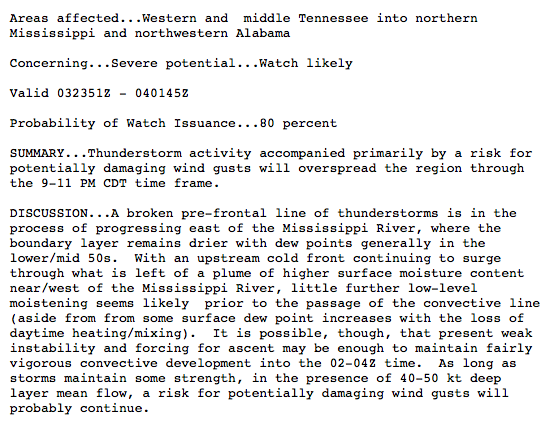 Dewpoints are already over 60° in Middle Tennessee. Temps are rising above 70°. A strong cold front sits out west with its eye on us tonight. The coming collision of cold, dry air slamming into our warm, moist airmass will happen overhead tonight.
That'll mean strong and severe thunderstorms.
A squall line will move through Arkansas and Missouri this afternoon, then into Middle Tennessee tonight.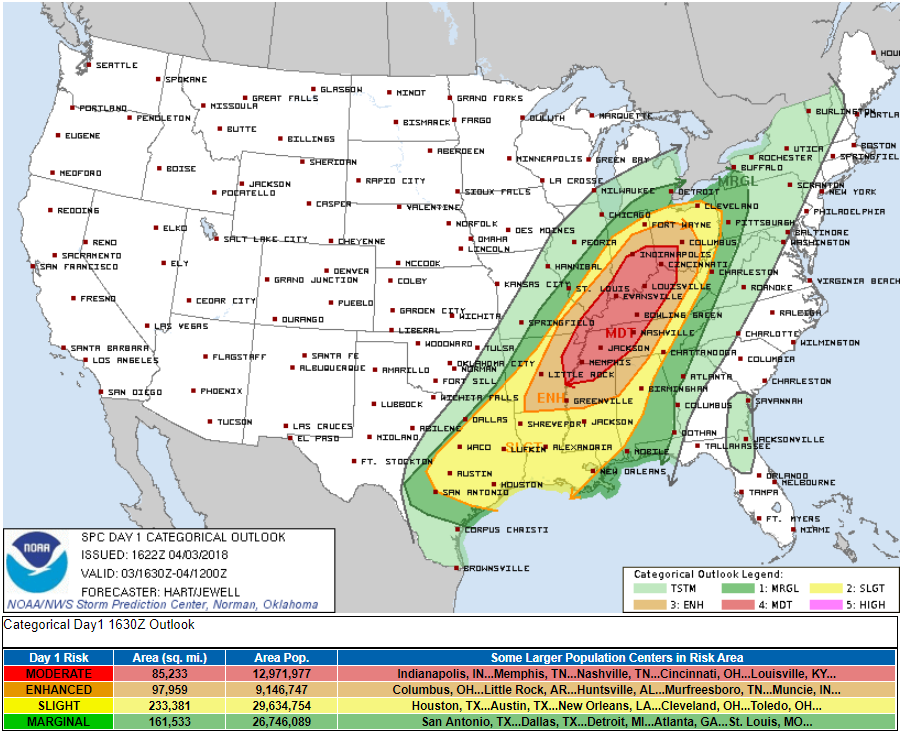 WIND ADVISORY BEFORE THE STORMS
South winds will increase this afternoon to between 15 and 25 MPH, with occasional gusts between 35 and 45 MPH. These are winds before the storms arrive tonight.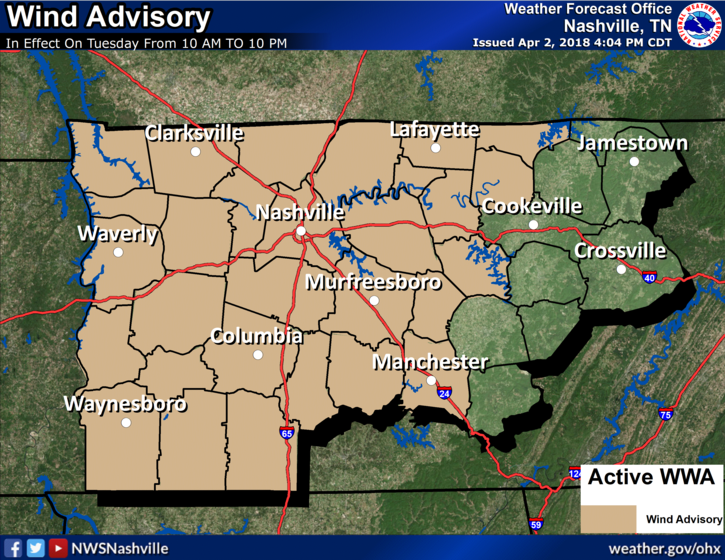 STRONG/SEVERE THUNDERSTORM ETA 8 PM to 10 PM
Remember, we cover Davidson & Williamson Counties only. The 8-10 PM ETA applies for the areas in blue.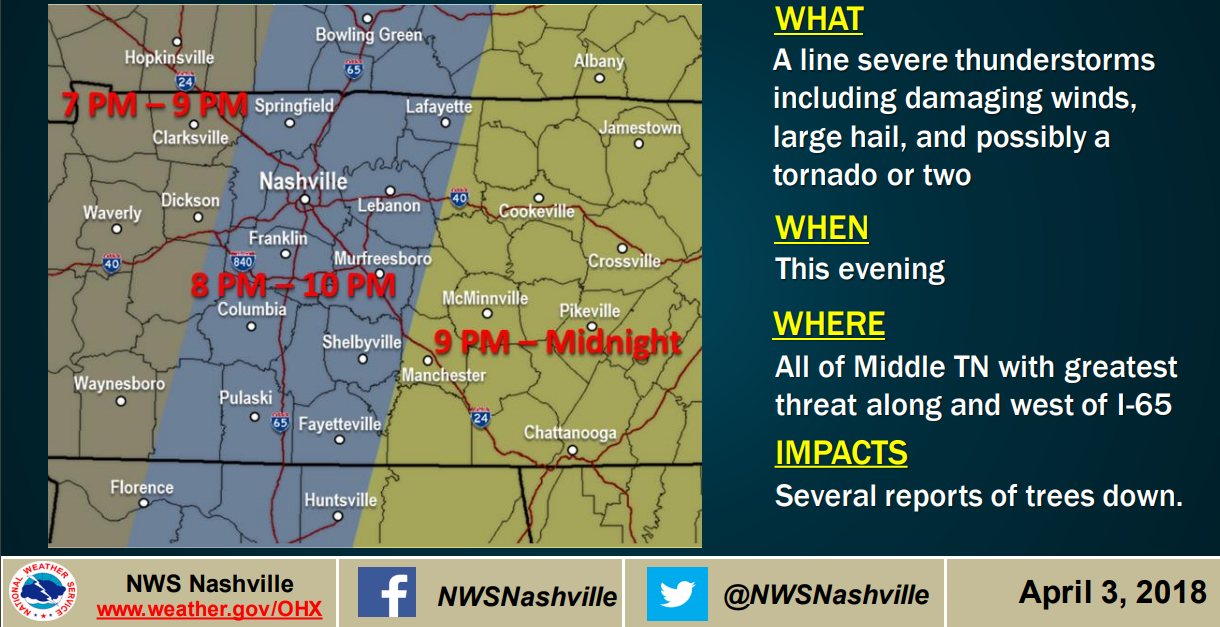 Stay connected to us on Twitter and other reliable sources of weather information for updates and revisions to this ETA.
The HRRR model and other models remain pretty consistent with this ETA.
60-70 MPH DAMAGING WINDS MAIN THREAT
Confidence has grown in the size of this risk. This morning, the Storm Prediction Center (SPC) put the probability of a damaging wind event happening within 25 miles of you at 30%. The SPC 11:30 AM update increased that risk to 45% and they "hatched" it, meaning they shaded in the risk area, which means there is a "10% or greater probability of wind gusts 74 MPH or greater" happening within 25 miles of us.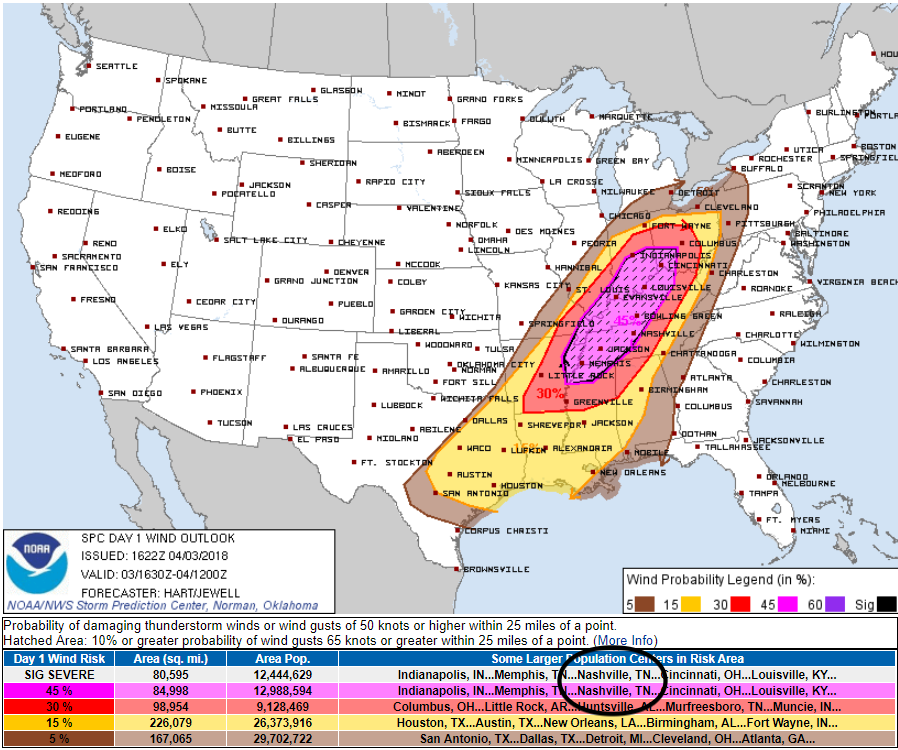 74 MPH winds are Cat 1 hurricane strength.
There's also low potential for a microburst, where very strong winds come flying straight down from a storm, hit the ground, and downburst winds spread out in all directions like a rock hitting a pond. Microburst winds may hit 80 MPH and cause damage similar to a low strength tornado. Microbursts are uncommon here, and if one was to happen it would impact only a small area, but they do real damage. I saw one not far my house several years ago and it took off part of a roof and broke windows.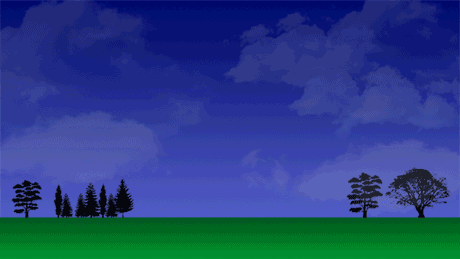 HAIL PEA SIZED, SOME UP TO QUARTER SIZED
The SPC puts the probability of hail to the size of a quarter happening within 25 miles of you at 15%.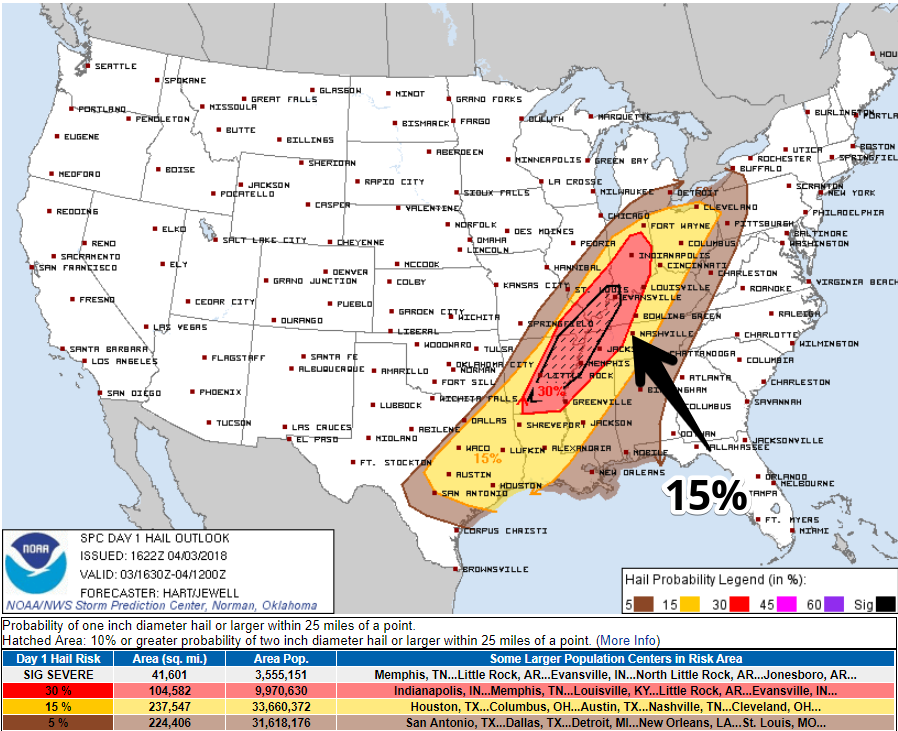 Where we see hail, most of it will be the size of a pea, Sonic ice, or similar small sizes. Some hail may be the size a quarter, which qualifies it as severe. We are not expecting golf balls flying off the angels' fairway, but quarter-sized hail can dimple the hood of your car, so if you love your car and are risk averse, park it under shelter (but not under a massive tree that can be dropped by strong winds).
TORNADO THREAT IS LOW, BUT NOT ZERO
A brief spin-up tornado or two embedded in the squall line is possible. These tornadoes are often short-lived and rain-wrapped. They can elude radar scans, meaning they can form, touch down, and lift back up in the 70-80 seconds it takes for the radar to scan the skies. Others can last much longer and do EF-1 to EF-2 and in some cases worse damage, but the majority of them are weak. Mobile homes and vehicles are bad places to be in these storms. A tornado is a tornado so respect the warning polygon and shelter up if you're included in a warning.
The Storm Prediction Center (SPC) puts the probability of a tornado happening within 25 miles of you at 5%. Therefore, it is a low probability, high impact event requiring your attention should a tornado warning be issued.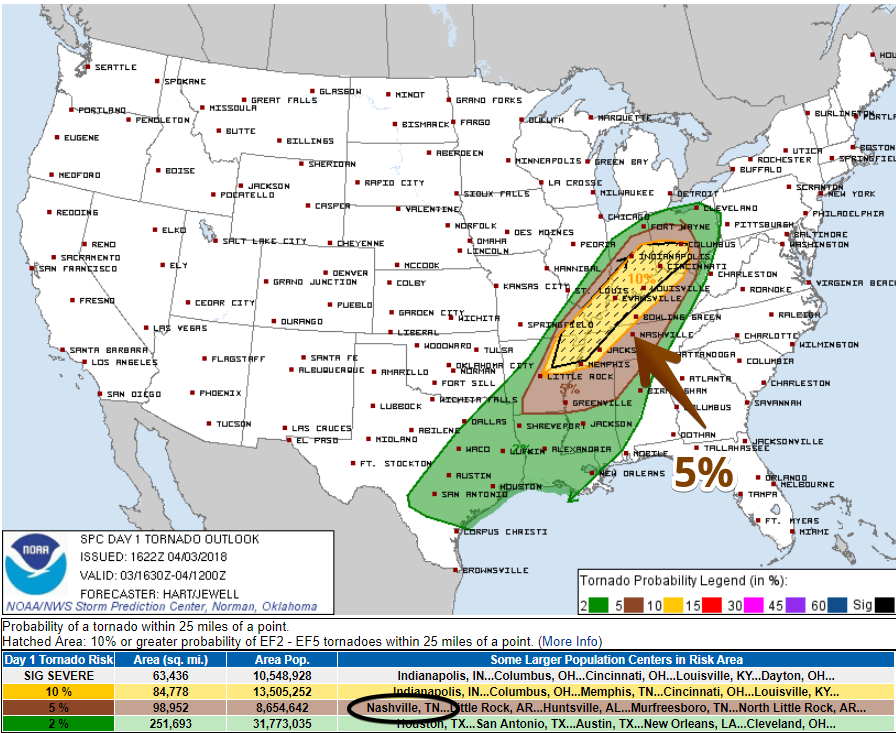 MOBILE HOMES
A gust to 80 MPH is possible, but even 60-70 MPH winds render mobile homes unsafe. Even a weak tornado can destroy a mobile home. A disproportionate share of tornado deaths occur in mobile homes. Identify, and leave yourself time to get to, a site built structure before this line arrives.
FLOODING ISN'T A CONCERN, BUT DON'T PLAN TO DRIVE IN THIS
The line will move too fast to cause flash flooding, but the rain will be heaviest when the winds arrive, making driving at best perilous even for the most rugged vehicles. Very strong winds plus brief ponding plus other cars plus that guy who shouldn't be reading tweets while driving = no thanks. Let the line come through then go about your day.
It'll be dark. You won't be able to see anything.
The storms should last less than an hour.
WILL THEY ISSUE SEVERE THUNDERSTORM OR TORNADO WATCH?
Storms are expected to be stronger NW of us, but all areas of Middle TN should see some short of watch. Some parts may get a Tornado Watch, others a Severe Thunderstorm Watch. Or, we may get one and not the other. The SPC will make that decision later today.
OTHER THOUGHTS
Lightning is expected. These storms won't blow over. Be sheltered before they arrive.
There's hope the storms will race away from the cold front itself and weaken as they reach I-65. Currently the weakening is expected to occur after they pass us, but I'm holding out hope it happens sooner and we chill out.
New to severe weather? Some definitions and things you can do are here.
Warnings will not be posted here, but we will be on Twitter here or here. Also, Andrew will live-broadcast any warnings tonight on Periscope.
VERY COLD TOMORROW MORNING
Tonight's cold front is legit. Wind chills in the morning will be near freezing.
Let's discuss Friday night tomorrow (right now we don't think there will be accumulating snow). For now, let's be ready for tonight. Be safe, y'all.

---