Today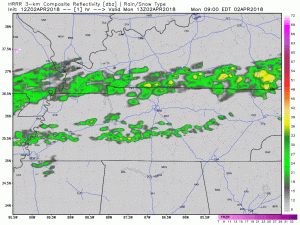 It may rain this afternoon as a front moves back and forth over Middle Tennessee today. We may see a few showers pass by (as the above model illustrates), but Williamson and Davidson Counties should be rain-free by sunset. High today: 63º. Low tomorrow morning: 57º.
Windy Tuesday, Squall Line with Severe Potential Arriving Later in the Day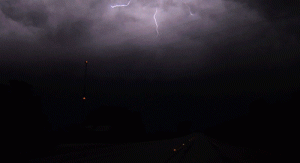 Tuesday is a different story, however. Temperatures will skyrocket in to near 80º with winds sustained around 20-25 mph, out of the south. Gusts could reach as high as 35 mph. On top of all of that, we will see some sun on Tuesday before the storm threat arrives.
ETA for a squall line of strong to severe storms remains late-afternoon/early evening, but it could come later than that. The NAM3 model has more of a 9-10 PM ETA: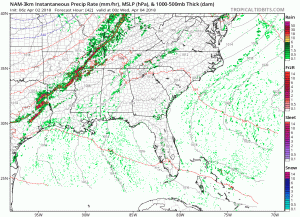 Stay tuned on the ETA.
Heavy rain, lightning, and damaging winds are the main threats.
Tornadoes do not appear to have a favorable environment for the time being due to low-level winds blowing from the southwest; however, some models think surface winds may come from the south or even the southeast, and if that happens our low-level environment will be more favorable for tornadoes. We'll have to watch that closely tomorrow.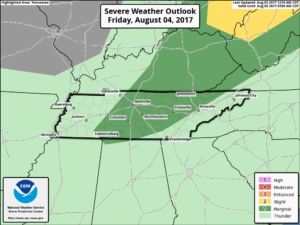 The Storm Prediction Center upped our severe weather threat in the new outlook put out this morning. We now have a 15% chance of seeing severe weather within 25 miles of a given spot in Williamson and Davidson Counties. We were in a 5% area yesterday.
Frost Potential/Cold Spell Ahead
Once the storms and cold front make it through, temperatures are going to plummet. After a high of 80º on Tuesday, the bottom will fall out Wednesday morning and drop us by 40º, into the upper 40ºs. We will only get up to the mid-50ºs on Wednesday afternoon with light winds. Thursday morning will have the potential for frost as our low gets to right around the freezing mark. At this time, still expecting that low to be slightly above freezing.
Extended Forecast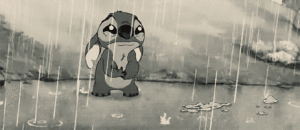 Another weak front will pass through the area late Friday, providing a brief chance of a shower. NWS-Nashville says they're still working on the timing and trajectory on that front and will have more information later in the week. After that, our eyes turn to Sunday night and Monday for more rain. Bottom line, the wet pattern continues…
---