Nice Saturday, Then Clouds; Rain Late Tonight
Today, skies over Davidson and Williamson counties will become increasingly cloudy as another cold front approaches.
High pressure moved into our area yesterday, breaking up the clouds, but now that is moving on to the east. The advancing clouds are west of us, as seen via satellite thru 11 AM: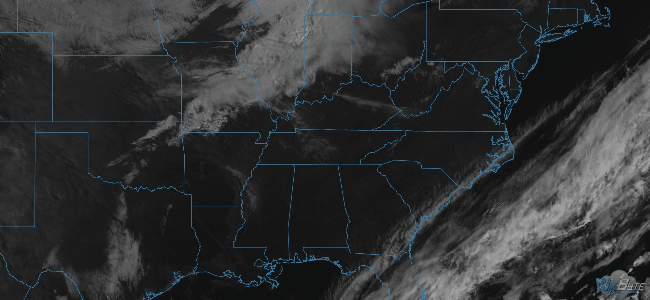 It'll be breezy today, even windy at times, with temperatures slowly warming throughout the day to near 70°.
As soon as this front begins to organize, it's going to usher in those thicker clouds starting late this evening after the sun has gone down.
Rain is coming down from Kentucky, but it looks to stall around midnight, reluctant to cross far into Tennessee.
Easter Sunday
The HRRR model predicts rain staying in Kentucky until the end of its run around 3 AM, when rain crosses into NW Middle TN and approaches us: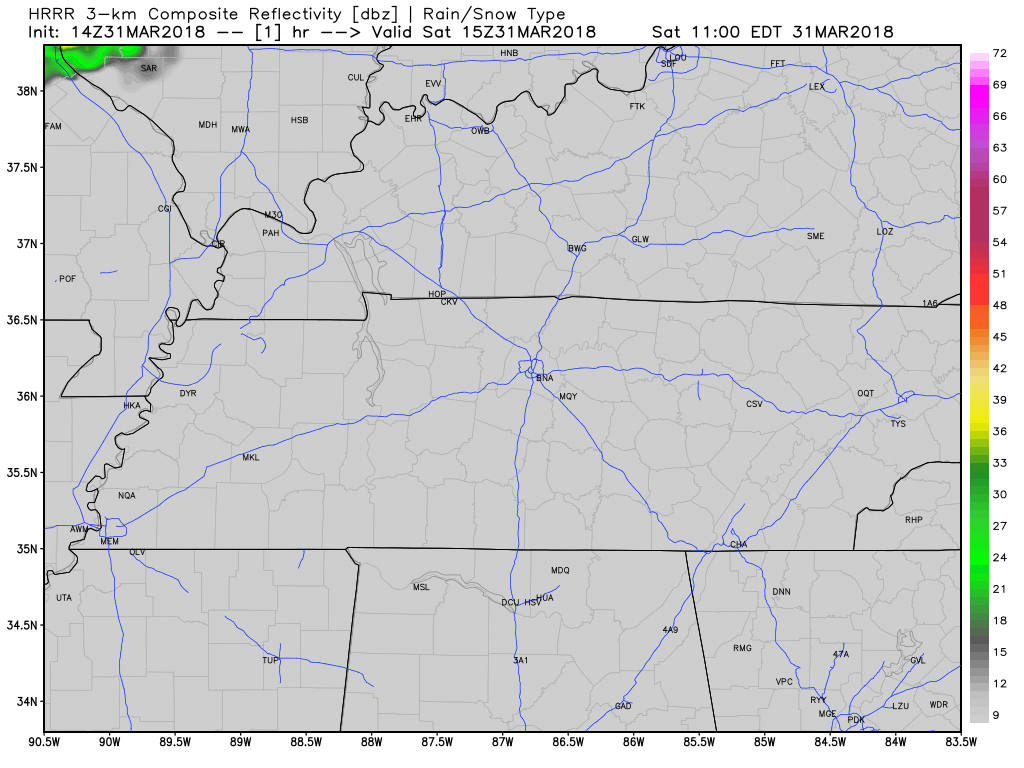 The NAM3 model pushes in a broken smattering of showers, so expect off and on showers Easter morning and most of the day.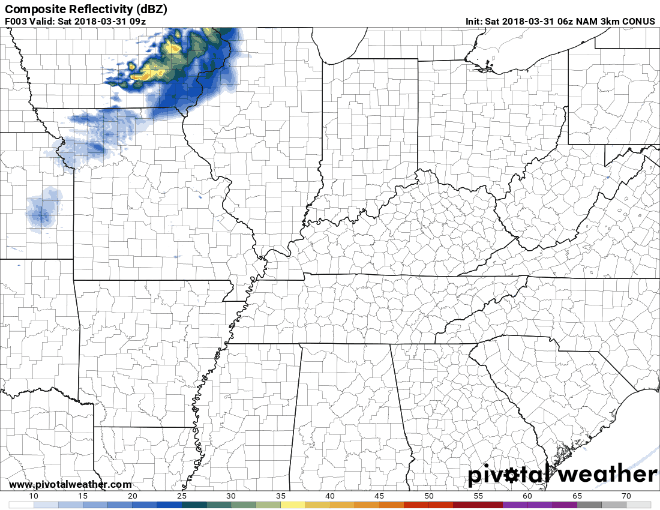 It does not look like much rain. A few areas will see more than others, some may not see any; who and where exactly is impossible to say. Easter will not washout, but some sunrise services and egg hunts may be wet, or even rainy. Stay tuned tonight for an update on this as the models get closer to the forecasted time.
The Weather Prediction Center issues graphics to express expected rainfall totals. For us, over the next 48 hours, we can expect less than 0.5″ inch of rain from this event. It looks as though a majority of the rain will fall to the west of us.

There is no severe weather concern.
The cold front sparking the rain is going to bring us cooler temperatures of upper to mid 50's for the day. Cloud cover will also act to keep those high temperatures low for Easter Sunday.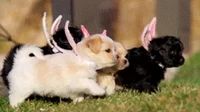 Monday & Beyond
The front moving in late Saturday looks to be a relatively slow one, which will allow for a secondary cold front to move in behind it early Monday morning.
The next good chance of rain with thunderstorms will be late Tuesday night/early Wednesday morning. Dewpoints look too low to cause severe storm concerns. Stay tuned on this.

Stay tuned for further updates.
---