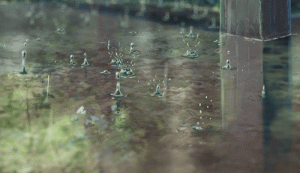 We woke up to rain in northern Davidson County, with only a little rain for the rest of us. Most of the rain has been moving NW of us. Models remain inconsistent, but we think, eventually, the rain will shift south and east through both our counties as a cold front approaches from the northwest, but before that happens we may see a break this afternoon. The front will then stall overhead tonight, sending us several rounds of rain overnight into Thursday. Thus rain chances will increase tonight and continue into Thursday. High Today: 69º. Early Tomorrow: 59º.
Flood Watch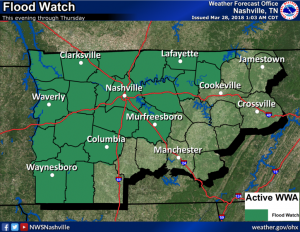 An Areal Flood Watch has been issued for Davidson and Williamson Counties, beginning this evening and running through Thursday evening. Heavy rainfall between 2 and 4 inches will occur mostly tonight and Thursday. Some flash flooding is possible. In addition, you can expect rises to occur on area creeks and streams, and possibly along larger rivers as well.
Below is the HRRR model's rain predictions through 1 AM Thursday. Note the HRRR has been very inconsistent hour by hour, but it does reflect the general of idea of heavier rain arriving tonight.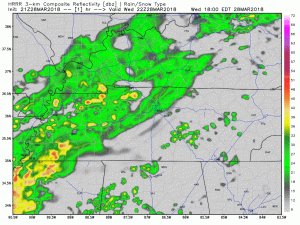 The 7 AM run of the HRRR is hinting at some thunderstorms being possible during the daytime hours today and maybe tonight. That chance is pretty low, but if you have nervous pets, you should monitor @NashSevereWx today on Twitter.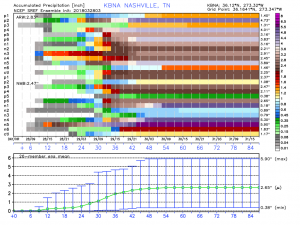 The SREF Ensemble models are fairly consistent on an average of a little over 2 and a half inches of rain over the next three to four days. Thus the reason for the 2 to 4 inch forecast. A few locations may see a little more.
While the rain is around, we will see very little change in the temperatures. It won't be until the secondary cold front sweeps through Thursday afternoon and evening that will drop us into the 40s.
Friday will be the day to get outside. Clouds will break to scattered sky cover with a high temperature of 54º after a early temperature of 45º. Saturday will also have a few clouds with and early temperature of 35º and a high of 62º.
Weekend Ahead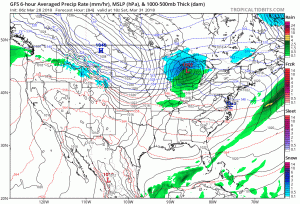 Chance of scattered showers returns Saturday night as a shortwave approaches from the northwest. The chance of rain sticks around through Monday.
Easter
It looks like we are still on track for a cool Easter with a chance of rain in the morning hours. The Euro model thinks there will be rain Easter morning, clearing in the afternoon. I'd have a plan for rain if sunrise services or egg hunting is planned. Also, that would be a cold rain, gross! Early temp: 43º. Daytime high: 55º.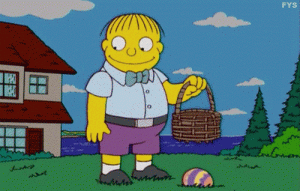 ---