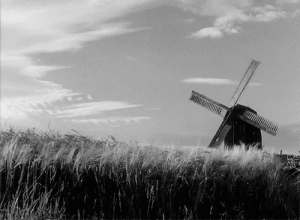 Today
A windy day with mild temperatures is in store for us with a cold front approaching from the northwest. Nashville will stay dry and mostly cloudy with a high temperature of 68º. Winds will be sustained between 15-20 mph, with gusts to 30 mph.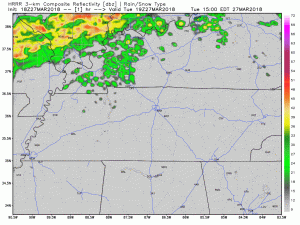 As you can see in this morning's HRRR run, showers will stay to our northwest during the day. However, as we approach sunset, the cold front will progress further towards Nashville, introducing a chance of rain by 7 PM. Once the rain fully moves in by midnight, we will stay wet through Thursday night.
Wednesday – Thursday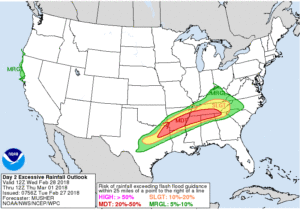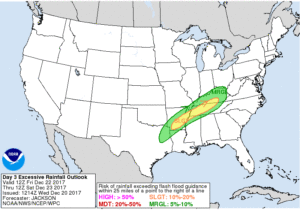 The Weather Prediction Center has us within a 10% to 20% probability of a flash flood occurring within 25 miles of us on Wednesday and on Thursday. To get flash flooding, we would have to average roughly 2″ of rain an hour for a flash flood, or about 2.5″ over 6 hours, and quite frankly I do not see that happening.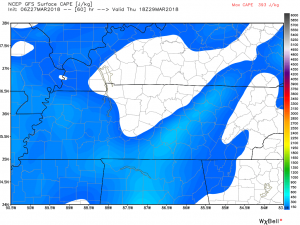 Are we getting thunderstorms? There may not be enough CAPE to fuel them. Above is a recent GFS model run of the CAPE values Thursday afternoon. This is the point in time where the values are highest, and really, even then, they are not significant. So although there is a chance for thunderstorms through the day Wednesday and into Thursday, it's pretty low.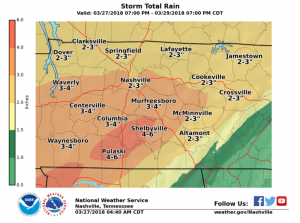 Overall in terms of rainfall, we are looking at 2-3″ between Wednesday and Friday. Higher amounts will be to our south and west; so Williamson County may expect to see a bit more than Nashville, but that's hard to determine right now.
The SREF forecast takes a bunch of short range models and averages them out. The mean prediction for rain is 2.73″, with the outliers as much as 5.64″ or as low as 0.66″. Go with the mean and expect just under 3″.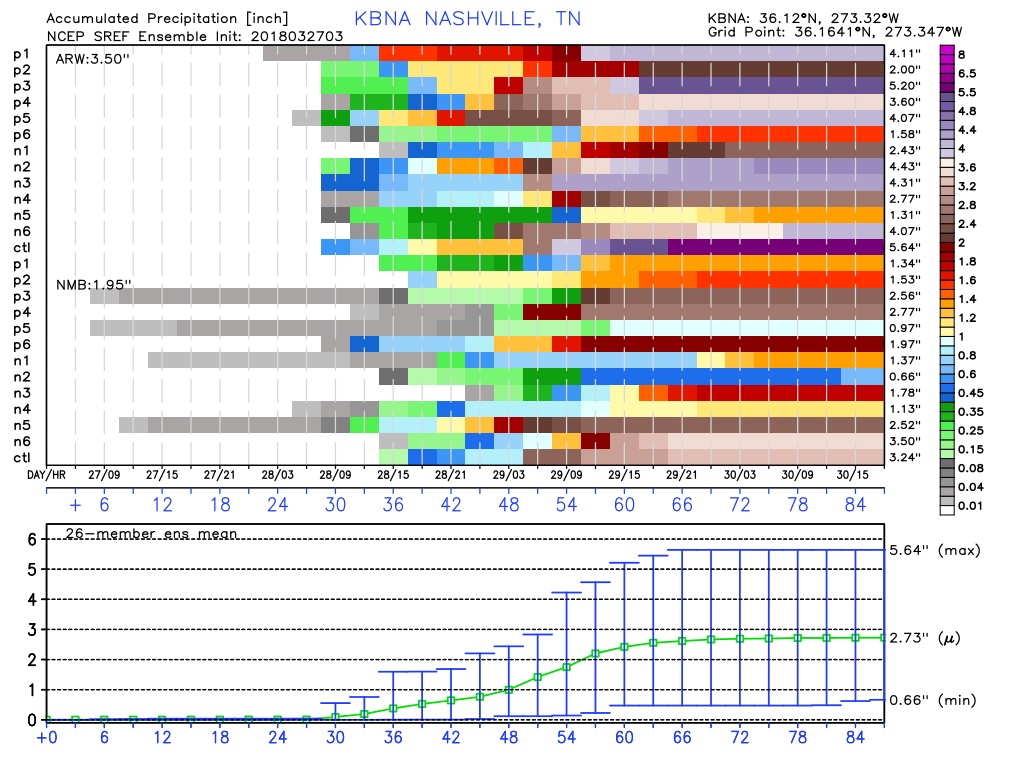 Temperatures during this time period will stay very mild when compared to what we usually see for this time of year and what we have seen recently. High temperatures will stay in the mid-upper 60s, lows in the high 50s-low60s.
Friday & The Weekend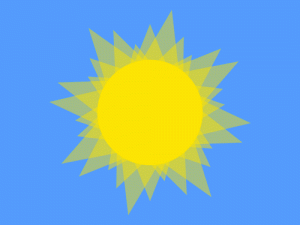 SUN! The sun returns to the forecast by Friday as our series of disturbances finally make their way out of our area. Overcast skies Friday morning will give way to scattered clouds in the afternoon with a high in the mid-60s.
But, Saturday? We could break 70º with only a few clouds. (It's about time, right?) Dew points will be low and it will feel awesome outside.
Easter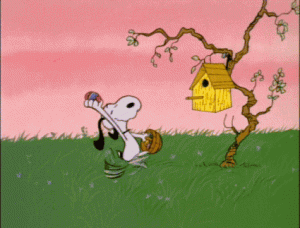 An early look at Easter shows a risk for rain with wake-up temperatures in the mid-40s and a high in the mid-60s.
–
We are going to be watching the rain as it moves in and will let you know if anything changes. Follow @NashSevereWx on Twitter to get those updates!
---