Waking up to a few peeks of the sky this morning! Don't get used to it though, we are looking at a cloudy and rainy pattern all week.
Today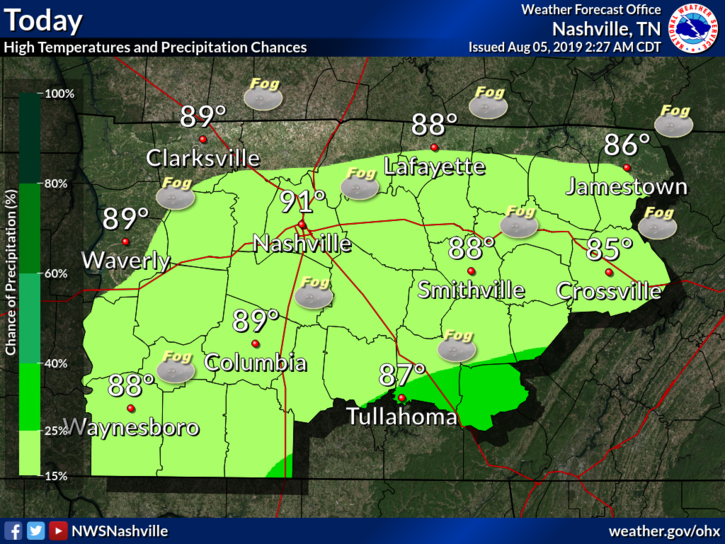 Conditions will deteriorate today as a chance of showers are introduced to the forecast after lunchtime. Williamson and Davidson Counties are looking at a high temperature this afternoon of around 61º. The winds will also be noticeable today as they will be sustained between 10-15 mph, gusts to 25 mph.
The HRRR model thinks rain will scoot by around 6-8 PM tonight. We'll be watching on Twitter @NashSevereWx.
Tuesday
After a low of 51º Tuesday morning, we will be entering the time period with the lowest rain potential. Expecting overcast skies to be the predominant condition with a high of 70º. Winds will also accelerate to 15-20 mph, gusts to 30 mph, as a cold front approaches from the northwest.
Rainy Week
Tuesday night through Thursday will bring a lot of rain across a large portion of the mid-south. We will be on the northern edge of the heaviest amounts, somewhere in the range of 2-4″, with heavier amounts south of I-40.
Temperatures will run above average in the upper 60s to low 70s. Low temperatures will stay in the upper 50s. Winds will not be as strong as the days leading up to the heavy rain event.
→ Why? The clouds act as a blanket for the atmosphere at night. They trap the heat that was gained during the day, close to the surface. This principle is only valid at night. During the day, clouds can have the opposite effect and act as a "heat shield."
Flood Threat
2″ to 4″ will rise area streams and rivers. A flash flooding concern will develop if we end up getting about 2″ to 2.5″ all in a 60 to 180 minute time frame. Thus we need to be alert for the heavier downpours.
All of the models are in consensus that the majority of showers will be tapering off by Thursday evening. A few scattered showers are possible on Friday. No rain in the forecast on Saturday.
Easter
Easter is looking dry for the most part, expecting temperatures in the mid-60s for now. Check back though, forecast will adjust accordingly.