Overnight's Freeze Warning Has Expired
The freeze warning we've been under has expired as of 9 AM this morning.
Last Day of Sunshine Before the Weekend
Your Thursday will start off clear and crisp with temperatures in the mid 40's. A quick warm up to 55 degrees will have you really feeling like Spring has Sprung!
It'll feel very comfortable outside, but soak up that sunshine while it lasts! You'll notice clouds begin to move back into the area in the late afternoon and into the evening. Don't be dismayed, we won't be seeing any precipitation in the Nashville area today. The rain will be here soon enough.
Heading into the Weekend
Yet again the weekend will have some chances of rain. Overcast skies are expected to arrive as early as 7 AM Friday morning as the chance of precipitation begins to increase. A scattered shower or two can't be ruled out. Clouds will trap the heat, keeping temps mild with a low of 39 in the early morning hours warming to a high of 55.
Beginning around 7 AM Saturday morning the chance of rain increases to 60% and it looks like it will stick around all day; however, if you review the NAM3 model, most that rain may hold off until the afternoon: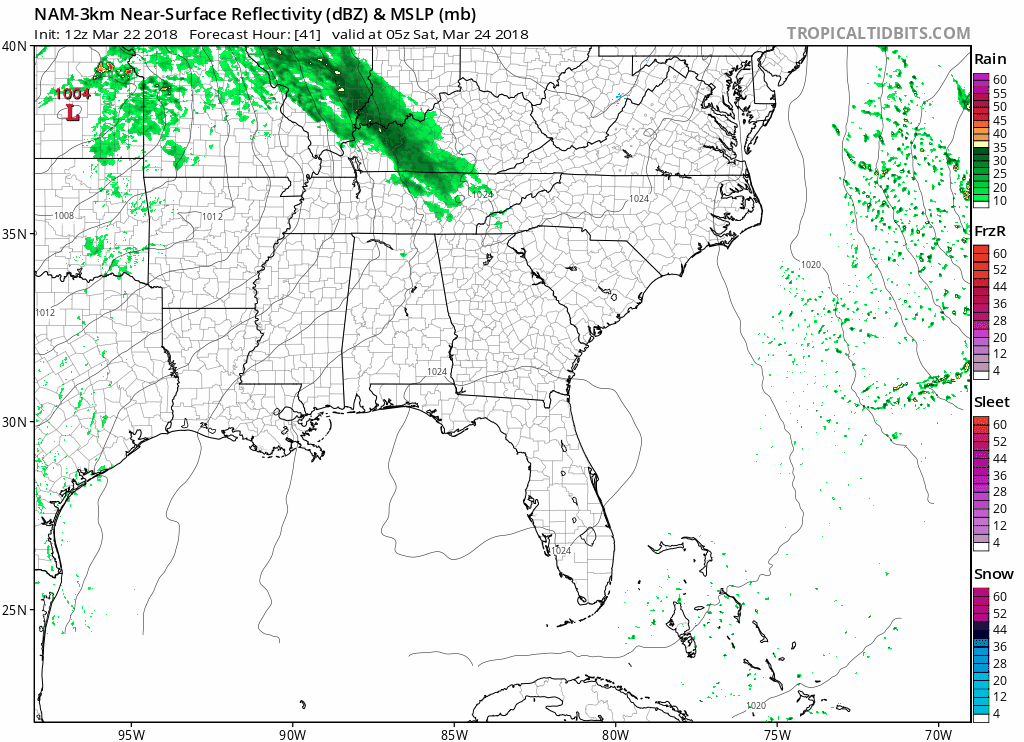 A rumble of thunder here and there is possible, but nothing will be organized. It'll be an off and on rain, muggy and mild.
Sunday may prove to be a bit more dry as the last of the rain looks to be wrapping up early Sunday morning. Temperatures will fall back on Sunday as as the cool air from the north makes its way south after the rain.
Stay tuned for further updates into the weekend!
---