Quickly, about today, we're not expecting rain. We may see light rain show up late tonight. Here's the HRRR model's prediction thru 11 PM:
Monday's Severe Weather Concerns
The Storm Prediction Center issues outlooks for severe weather. Six categories for severe weather are used, beginning at general, non-severe thunderstorms, and running all the way from 1 through 5, with five being the "worst."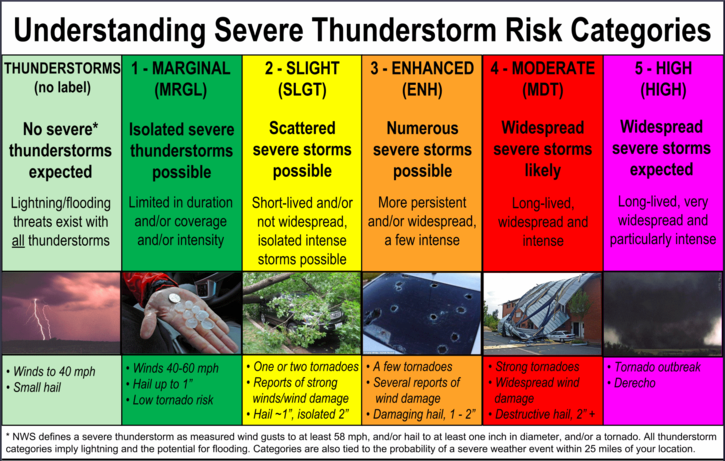 They usually reserve the worst (5) for the day of an event. For Monday, for us, we're at a 3, an "Enhanced Risk" of severe thunderstorms. This does not always mean tornadoes!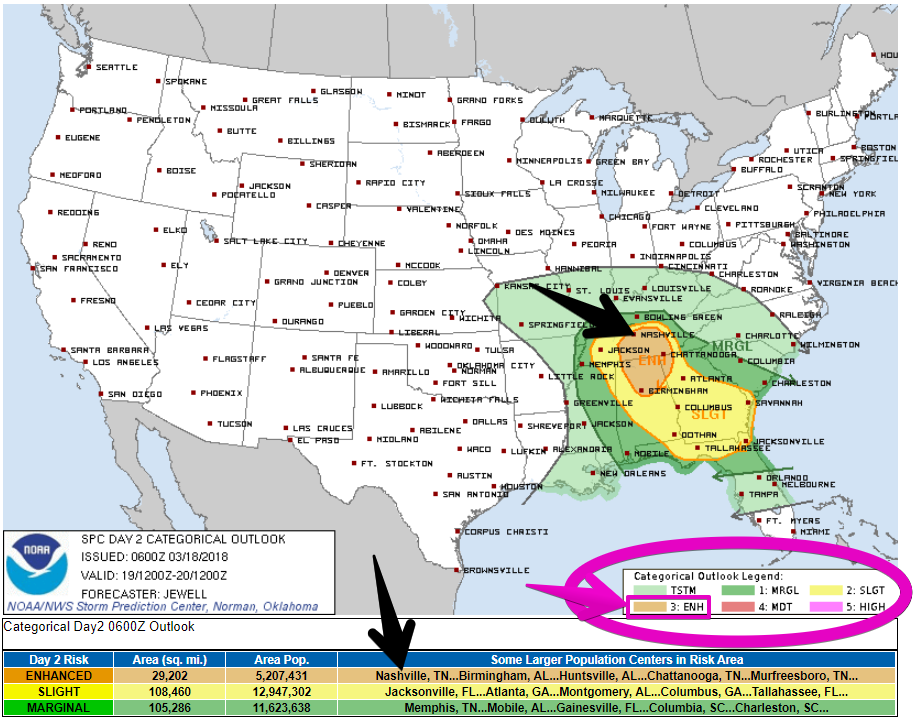 This "Enhanced Risk" is an attention-grabbing category, especially for areas that are "hatched," meaning, they've shaded it in: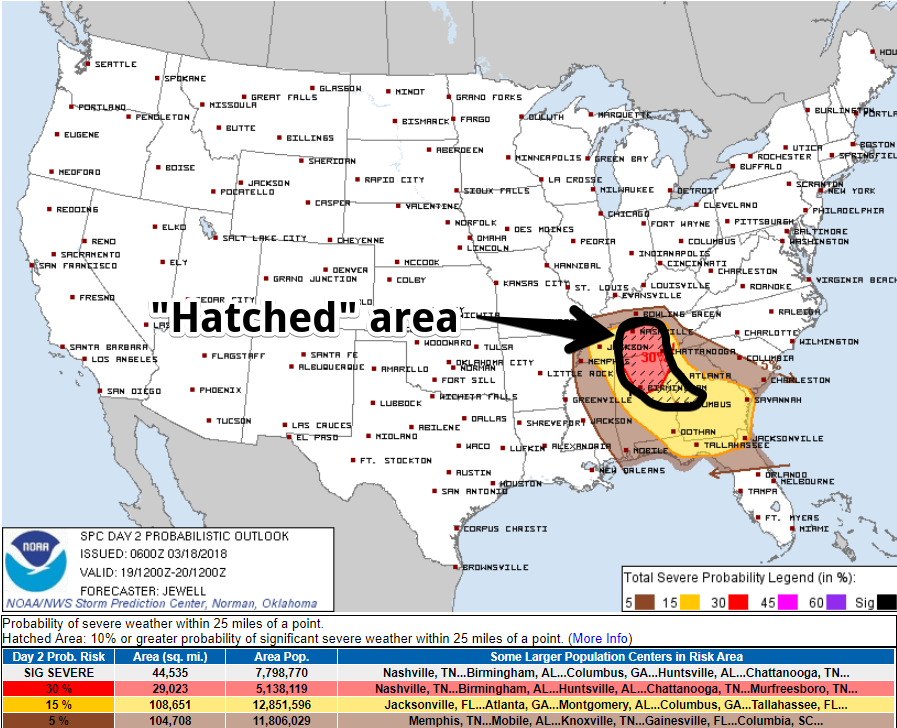 This means our probability of a severe weather event (hail and/or damaging winds and/or tornado) happening within 25 miles of you tomorrow is 30%. The fact it's "hatched" means the hail could be especially large, the damaging winds especially strong, or the tornadoes especially large and damaging. It doesn't mean all three will happen. Sometimes nothing happens!
Low Probability, High Impact Event
There are several technical details about the forecast you can read from the SPC's website, but I'm going to leave those out and try to explain this like a normal person. I've pulled out, below, one sentence from the SPC discussion because I think it best informs you of the risk without climbing aboard the hype train.
The area of strongest lift, shear and instability will exist over a relatively limited area, but supercells that do occur will have significant tornado potential, along with large hail.
Unlike most of the bad storms we've had here over the past few years, supercell thunderstorms don't form a line. They're about the size of a small county, and they are beasts. They don't always produce tornadoes, but the tornadoes they do produce can be exceptionally strong in the right environment. They don't always produce hail, but they can produce much larger hail than the Sonic ice we are used to. They don't always produce huge wind, but instead of turning your deck umbrella into a flag, they can send your trampoline through your neighbor's fence. And, of course, sometimes something goes wrong, the supercell malfunctions, and there's just rain and lightning.
The main question is exactly where will that "relatively limited area" where supercells thrive actually show up tomorrow? Right now, the SPC thinks somewhere in Middle Tennessee, but this could change with future outlooks today and tomorrow morning. For now, this is forecast to come to Middle Tennessee, and even if it does, it may not impact you, but if it materializes here, it'll impact someone not too far away.
Consider garaging loved vehicles. Shelter your pets. Review your tornado plan today. Have a way to get alerts (we like this app, made in Tennessee, by our friend in Memphis). If you are new to tornadoes or need a quick refresher, we've made this page that has the basics. We think your health and safety is worth interrupting your day to shelter from a storm, so if you end up in a warning, take action.
Those in mobile homes should not plan to ride out a storm at home. Your car is also a bad place to be. Be able to be in a safe place before the storm gets to you.
Severe Weather ETA 1 PM to 4 PM Monday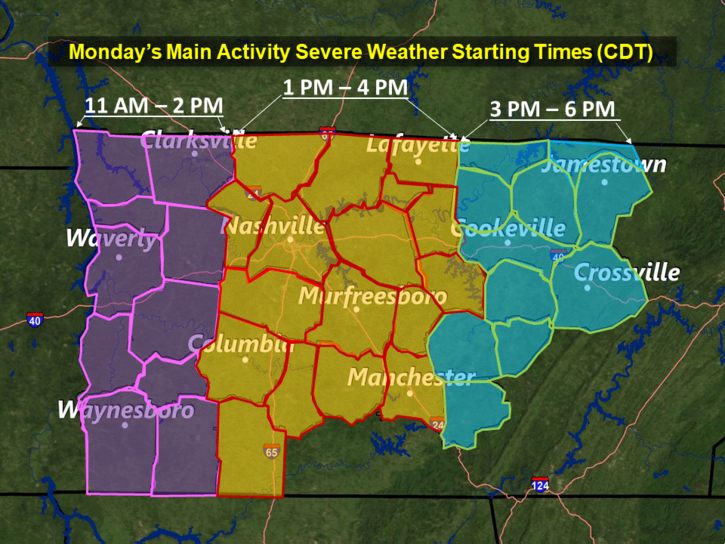 Encouraging Things
This may end up only being a large hail and damaging wind threat, and not much of a tornado threat. Tornado days occur when several things come together. One thing needed is a strong center of low pressure. To get in the "tornado zone" (that's not really a phrase, but you understand), that low should be north of you. Tomorrow, it looks like the low should track right over our heads, which would take us out of the "limited area" where the tornado zone would be. From NWS-Nashville:
The better helicity, and thus, tornadic potential looks as though it will be south of middle TN. However, the associated upper low will move across northern areas of the mid state. Given the apparent SWEAT and TT indices, large hail will be a definitive threat as well as damaging straight line winds. The timeframe for the beginning of the severe weather looks like 11am to 2 pm west, 1 pm to 4 pm central, and 3 pm to 6 pm east.
All of this is Subject to Change
SPC will update its outlook around lunch today. They will move the threat area if they think it's needed. NWS-Nashville will update its forecasts through the day today and tomorrow. Weather models will have a better idea with each model run. Stay tuned. Follow multiple reliable weather sources.
You can find updates to this space on Twitter @NashSevereWx. Not on Twitter? You can still get our Tweets here.
Snow Potential Tuesday Night
From NWS-Nashville:
….[Tuesday afternoon]…rain showers will again be likely, and will continue into Tuesday night. Freezing levels will drop sufficiently for some snowfall late Tues night across northern Middle TN. Will therefore include a transition from rain to a rain and snow mix. Amounts look very light and minimum surface temps will be near or just above freezing. So, no problems anticipated at this point in time.
On the last frame of the NAM3 model, snow is seen developing to our NW Tuesday afternoon: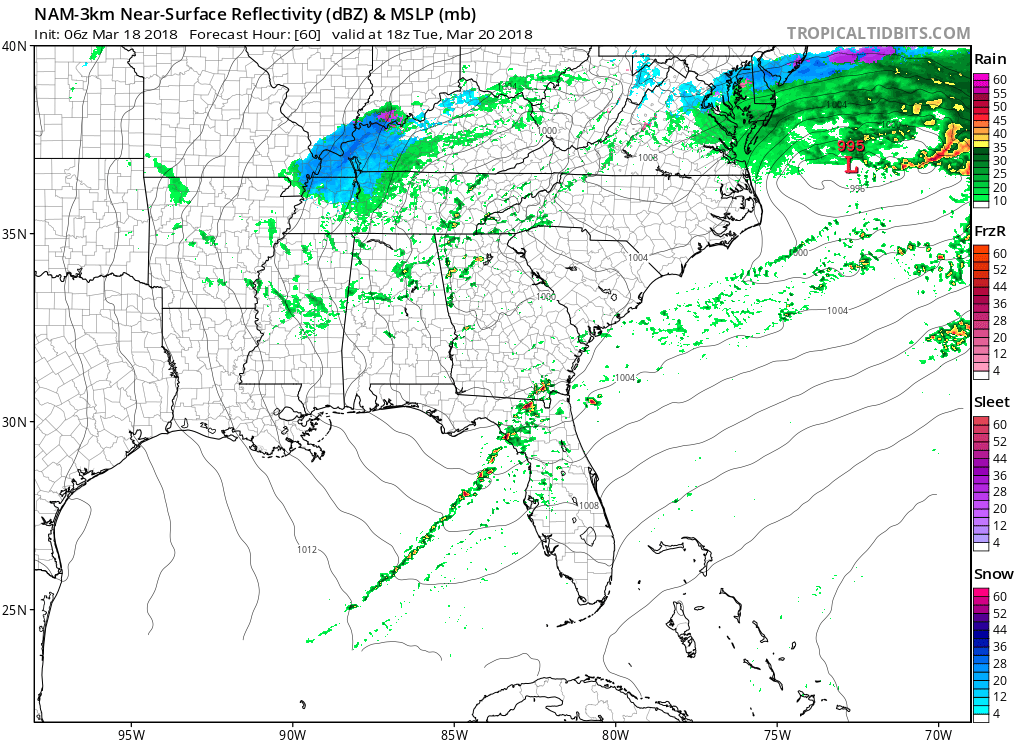 The GFS model swings the kinda important 540 line through here Tuesday night: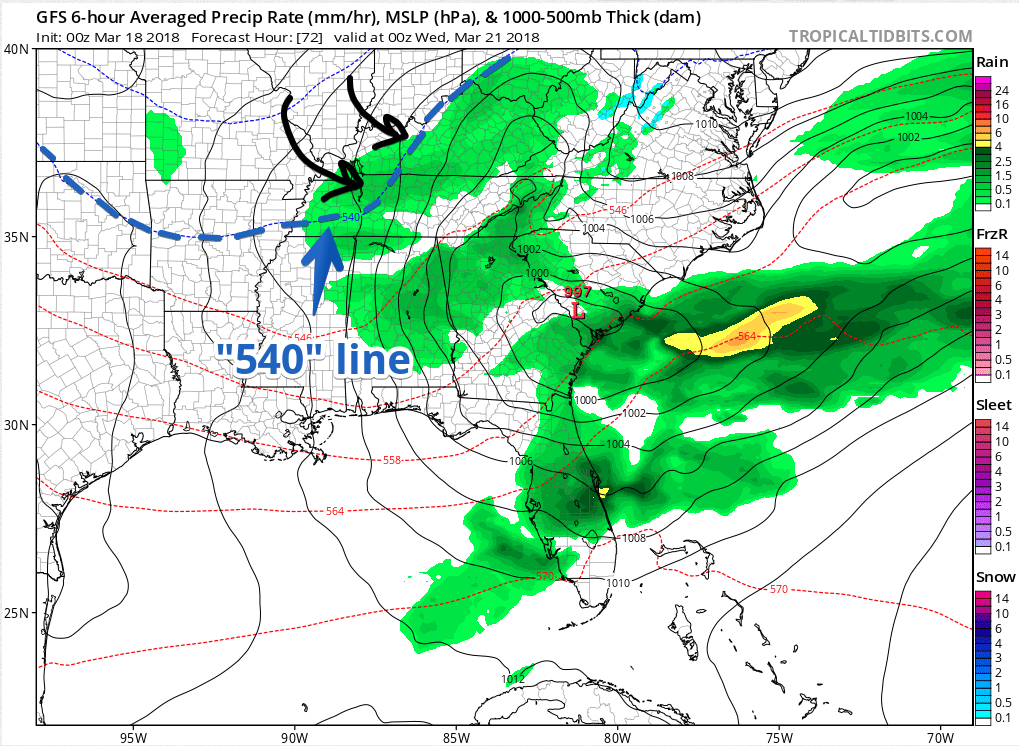 Even the Euro flies some flakes due to very cold temps aloft: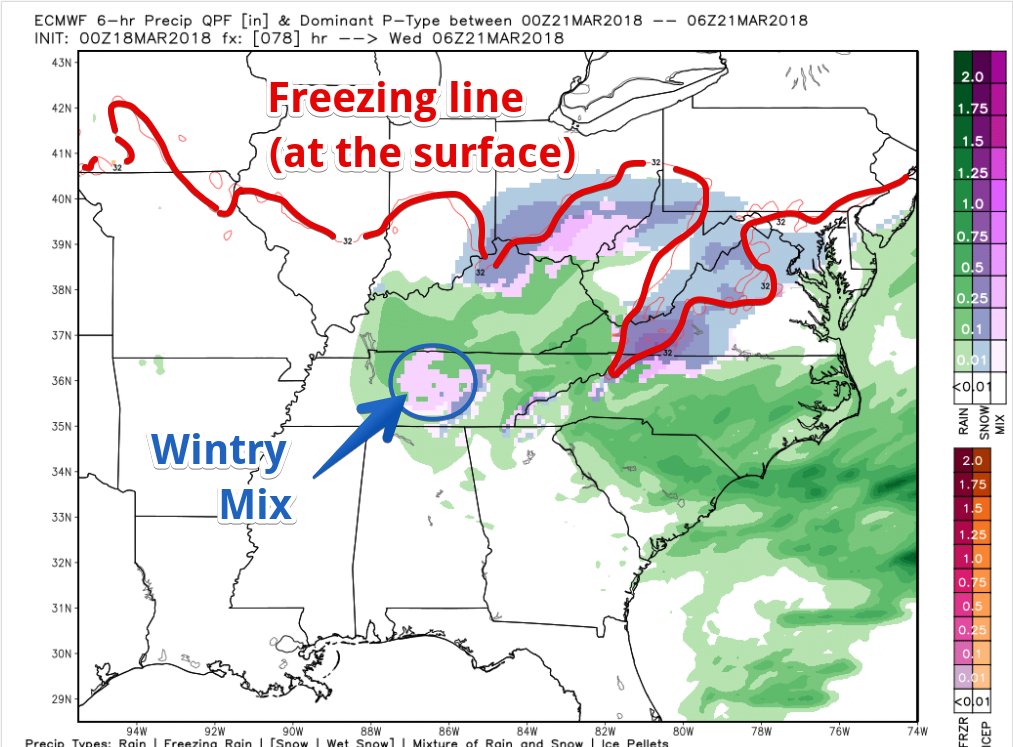 However, like our last "snow" event, the ground will likely be WAY TOO WARM to cause impacts. Notice how far north freezing temps are in the above model.
To review: Tornadoes/Hail/Wind with a decent chance of No Stick Snow in 48 hours.

Be safe, y'all.
---