When
1 PM to 5 PM Monday.
Obviously, this risk will occur during school dismissal and the evening commute.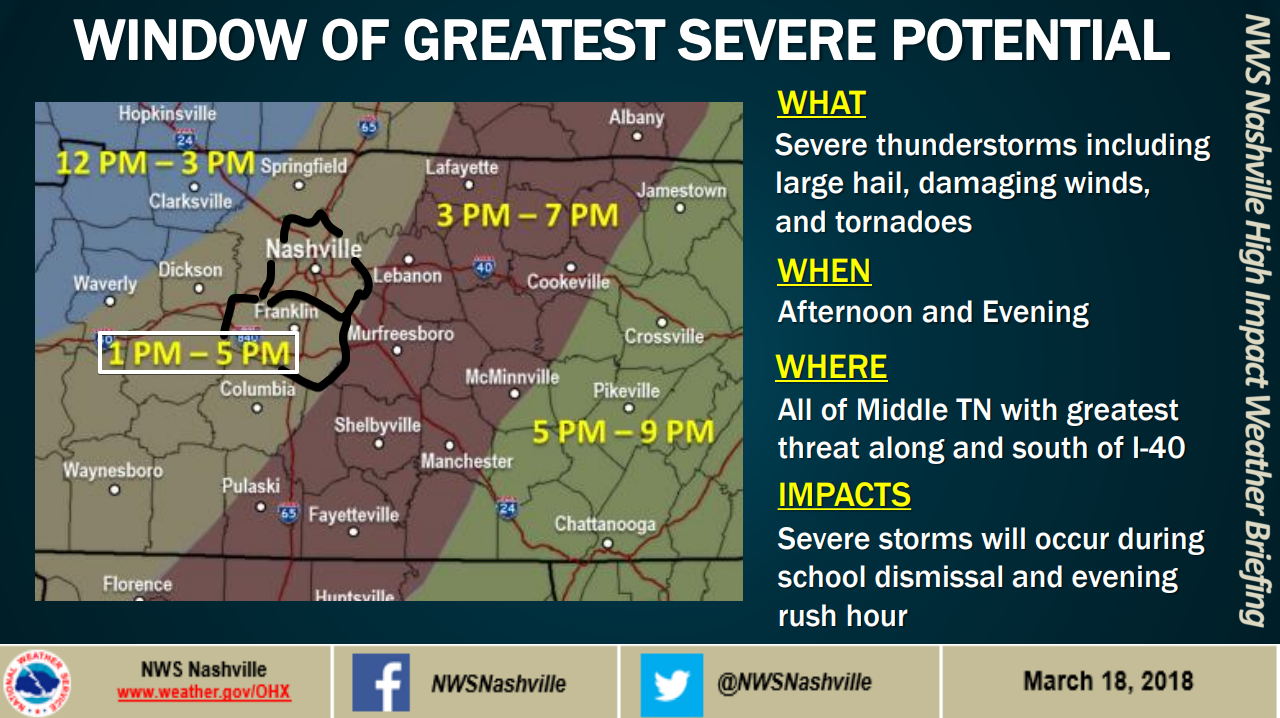 What
Hail, and/or damaging thunderstorm winds, and/or tornadoes.
In the order of likelihood, assuming we get a storm: (1) Hail–most likely. (2) Damaging thunderstorm winds–next most likely. (3) Tornadoes–third most likely. Hail is not that much more likely than tornadoes, though. Consult the below chart from NWS-Nashville: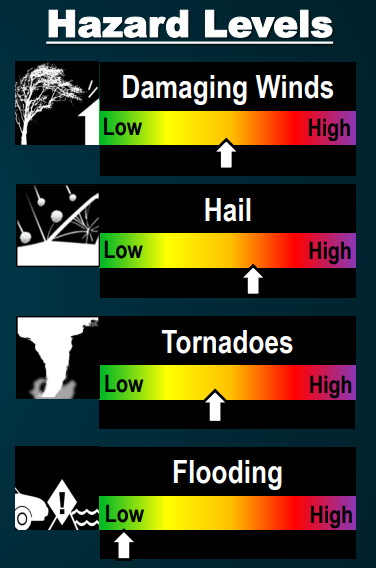 As far as Storm Prediction Center severe weather categories go, tomorrow is in a 3: Enhanced.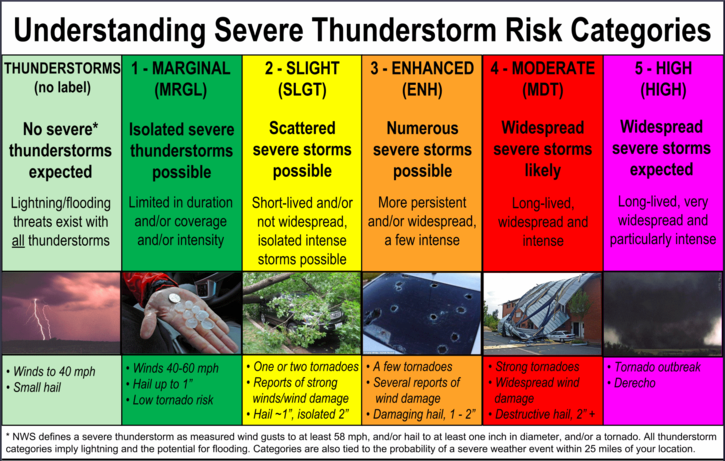 This "Enhanced Risk" includes us in a "hatched" shading: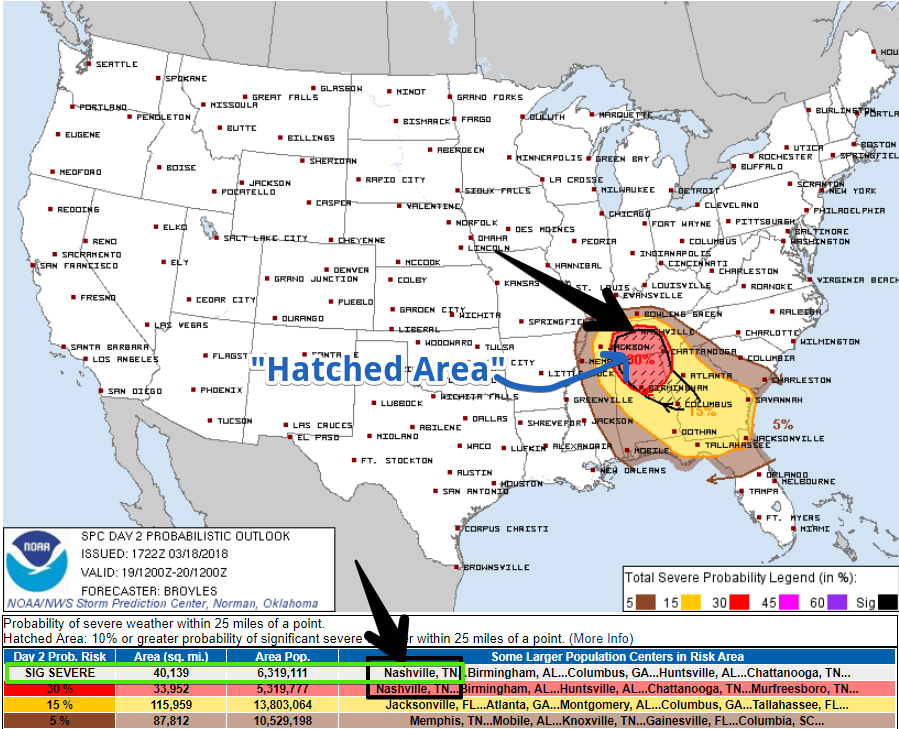 This means the probability of a severe weather event (hail and/or damaging winds and/or tornado) happening within 25 miles of you tomorrow is 30%. The fact it's "hatched" means the hail could be especially large, the damaging winds especially strong, or the tornadoes especially large and damaging. It doesn't mean all three will happen. Sometimes nothing happens!
Any storms that form should take the form of supercells.
Supercells are storms about the size of a small county, and they are beasts. They don't always produce tornadoes, but the tornadoes they do produce can be exceptionally strong in the right environment. They don't always produce hail, but they can produce much larger hail than the Sonic ice we are used to. They don't always produce huge wind, but instead of turning your deck umbrella into a flag, they can send your trampoline through your neighbor's fence. And, of course, sometimes something goes wrong, the supercell malfunctions, and there's just rain and lightning.
Tornado Threat is Mainly Along and South of I-40
That's the opinion of the Storm Prediction Center and NWS-Nashville.
Why?
It is possible the energy supercells need to drop tornadoes may not make it north of I-40. The furthest north the Short Range Ensemble Forecast model brings that energy is I-40: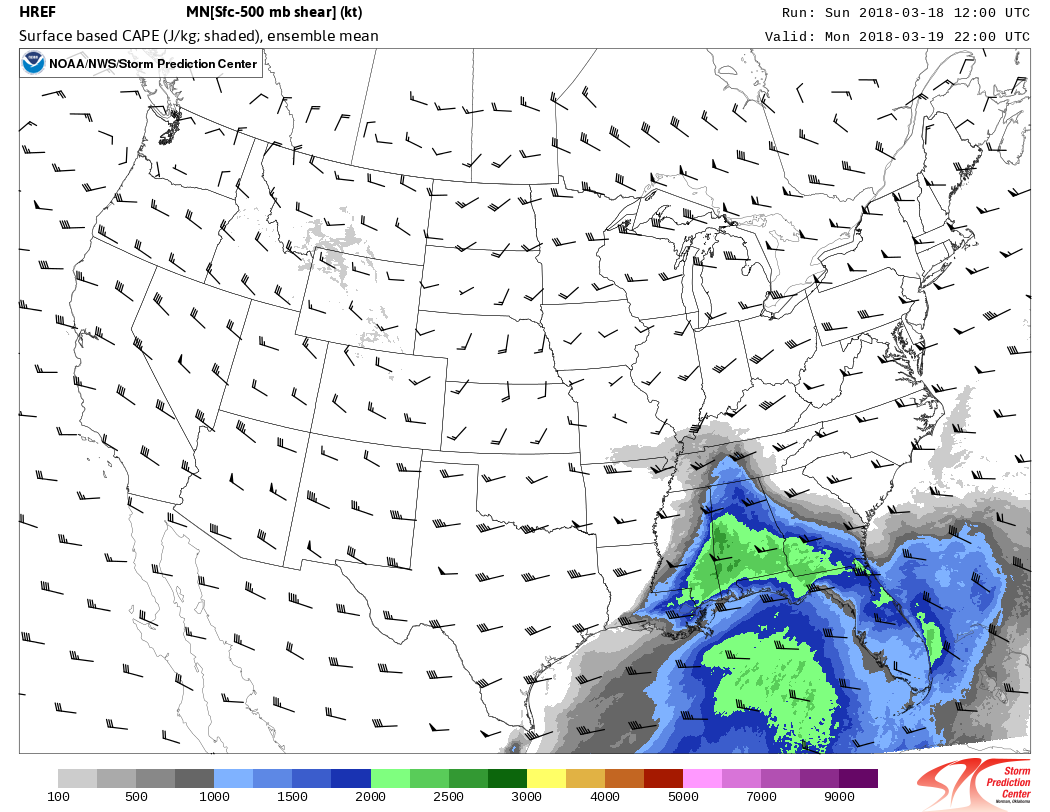 However…
The NSSL-WRF model does extend plenty of supercell food throughout all of Davidson County tomorrow, including north of I-40, so don't tune out if you're north of I-40!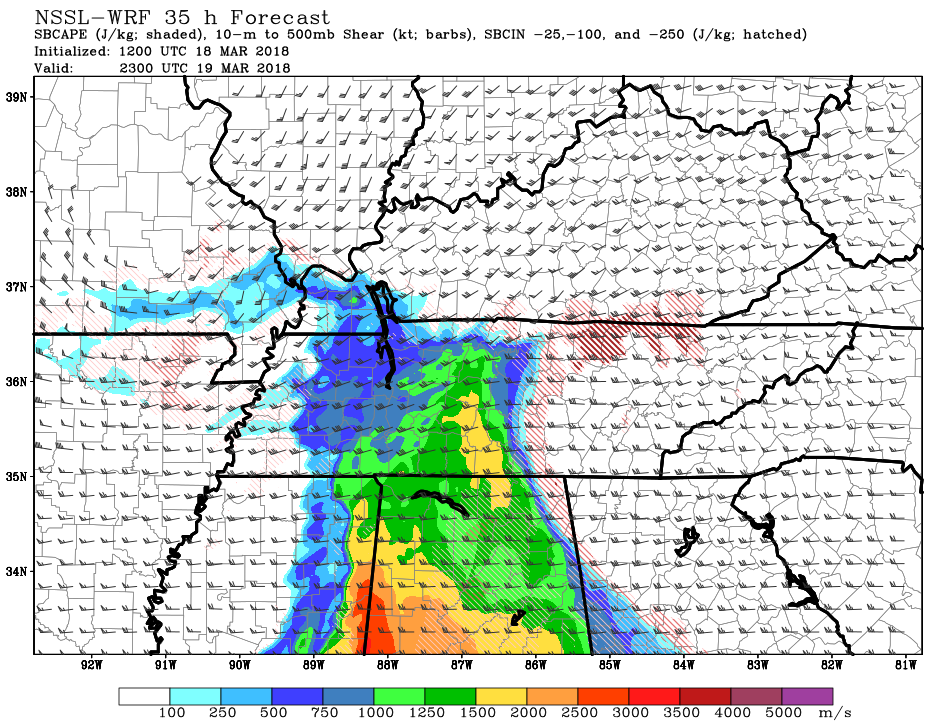 The NSSL-WRF Significant Tornado Parameter hits between 2 and 3 at 4 PM and 5 PM tomorrow.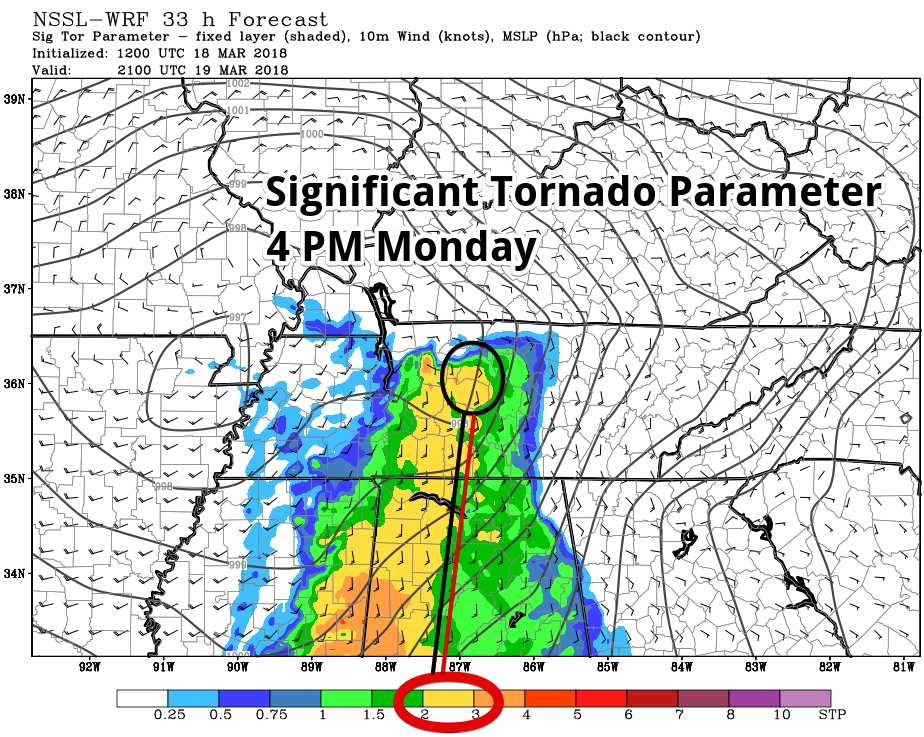 That risk extends all the way through Williamson County and all of Davidson County at 5 PM (even north of I-40), too: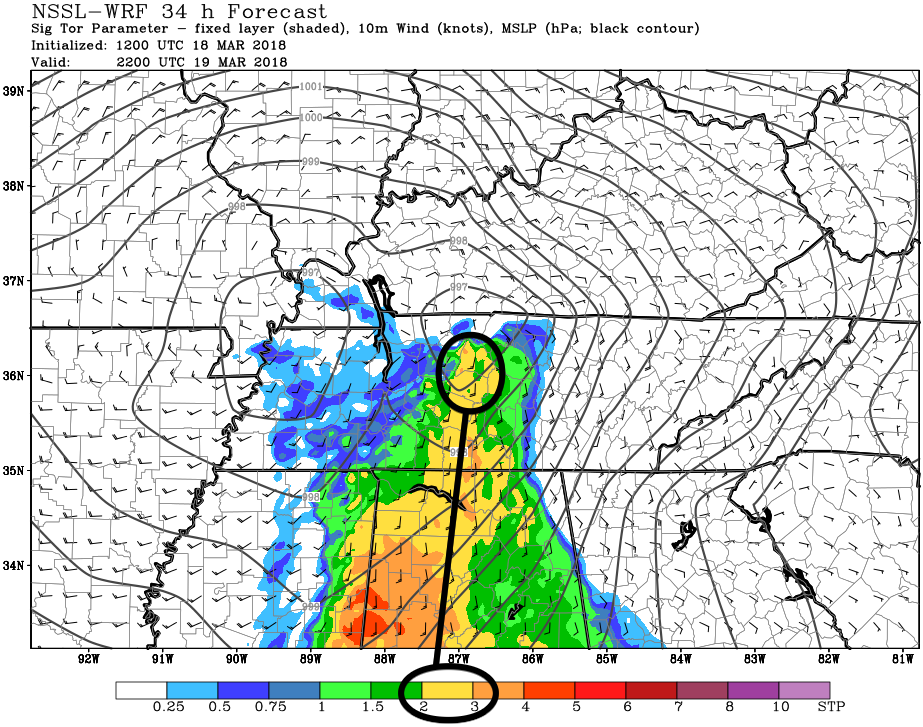 Does this mean there will definitely be a tornado? No! Is there a risk you should prep for? Yes! A Significant Tornado Parameter score of 2 to 3 is a bit of a thing.
Consider garaging loved vehicles. Shelter your pets. Review your tornado plan today. Have a way to get alerts (we like this app, made in Tennessee, by our friend in Memphis). If you are new to tornadoes or need a quick refresher, we've made this page that has the basics. We think your health and safety is worth interrupting your day to shelter from a storm, so if you end up in a warning, take action.
Those in mobile homes should not plan to ride out a storm at home. Your car is also a bad place to be. Be able to be in a safe place before the storm gets to you.
Something Encouraging
A "cap" is expected to develop early Monday afternoon. That means models think a layer of warmer air aloft will prevent storms from forming early in the afternoon.
If that cap holds on through the afternoon hours we may not see any storms at all!
The risk of us being "capped" and nothing happening is part of the forecast and why we express these forecasts in degrees of uncertainty. No one is promising you severe weather tomorrow. The message is: be prepared and pay attention. The forecast may change.
You can find updates to this space on Twitter @NashSevereWx. Not on Twitter? You can still get our Tweets here.
Snow Potential Tuesday Night
From NWS-Nashville:
Another wave of showers will enter the forecast on Tuesday as an upper low passes through the Tennessee Valley. Cooler temperatures will fall in behind this second front and we could even see a few snowflakes mix with the rain late Tuesday night.
The NAM3 model shows snow coming down Tuesday afternoon:
Impacts aren't expected. Like the snow a few weeks ago, the ground should be way too warm for anything to stick.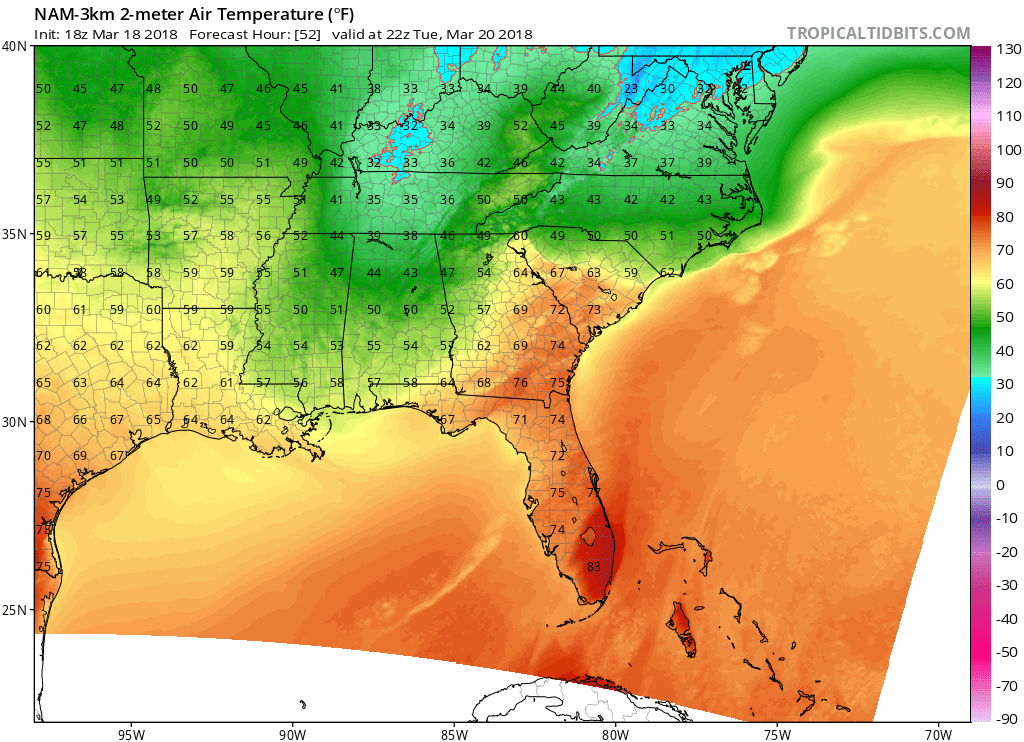 So, yeah. Not a big deal.

Be safe, y'all.
---