Partly Sunny, Clouds Still Hang Out With Us Today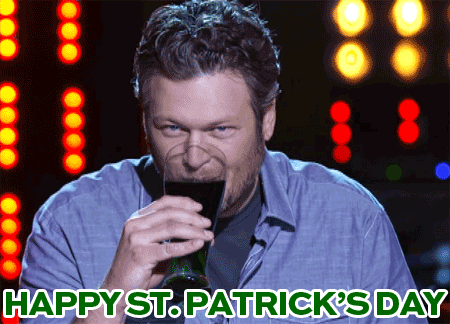 GOES East Loop This Morning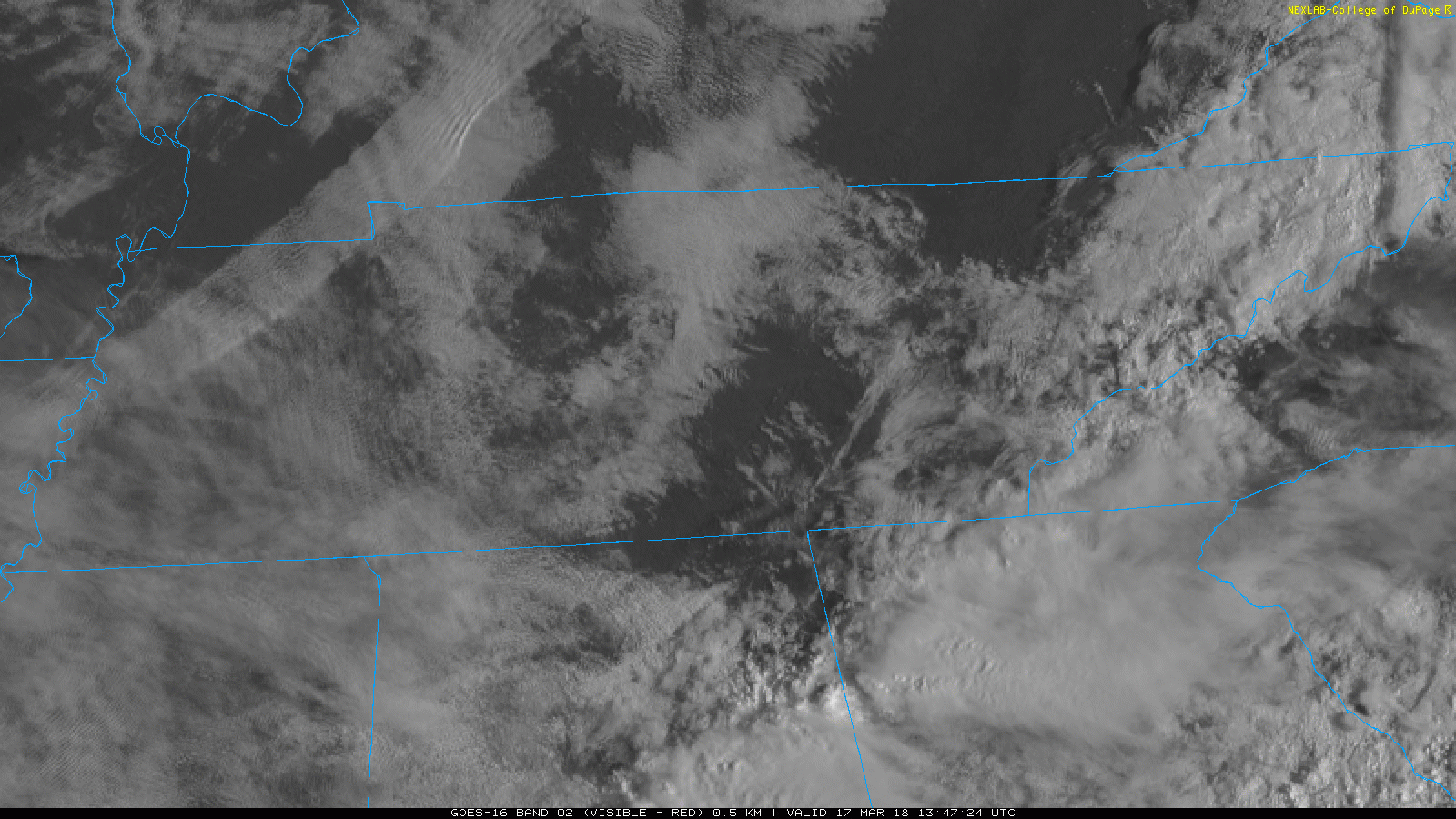 *Geek out moment*: Notice that band of clouds over Northwest Tennessee? That's out ahead of a cold front! This front will slide through the area today bringing cooler (but not terribly cold) air for tomorrow. As long as we get intermittent sunshine today, temperatures are expected to soar into the upper 70s. 
Today's HRRR Model Loop
Today's frontal passage could pop a few showers from Nashville proper to areas of east of downtown. Shouldn't be a big deal, but an umbrella can't be written off yet…especially from 3PM-7PM.
Active Period Sunday Night-Monday, Potential for Strong Storms
SPC Day 3 Convective Outlook (Slight Risk for Nashville, "2" on a 0-5 scale)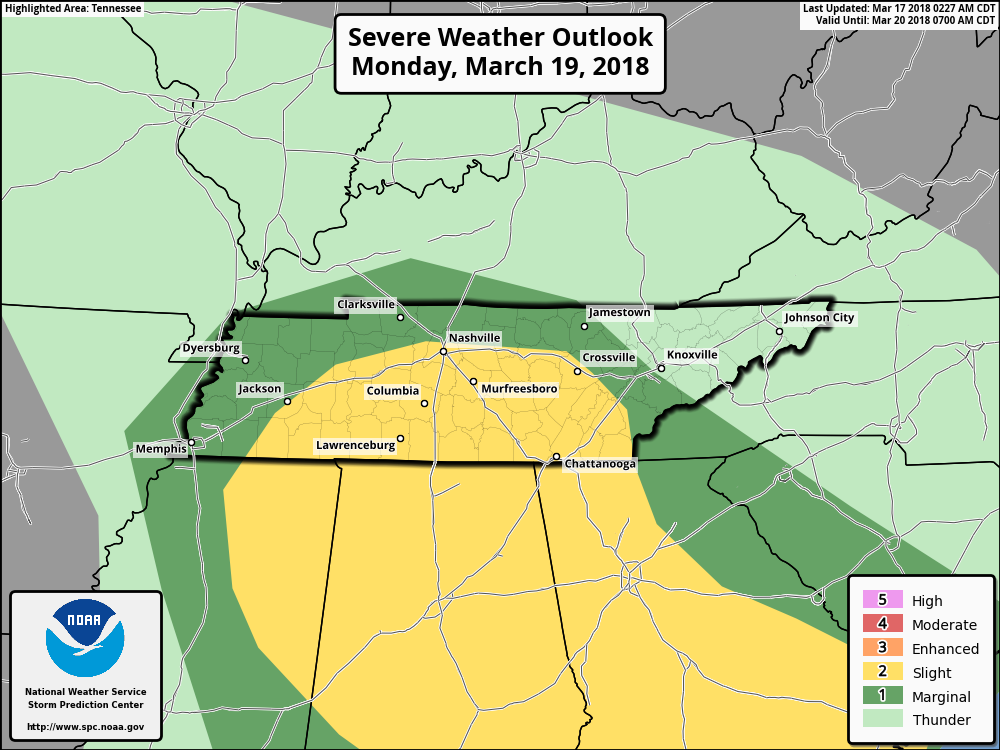 Disclaimer: the following thoughts are preliminary and subject to change. Having uncertainty and working through the uncertainty will serve up a better end-product, rather than splattering a few models runs out here and climbing aboard a "hype train".
Remember some severe weather ingredients:
Instability (CAPE)
Wind Shear
Lift (gets air to rise)
Moisture
SO…which one or all of these will Middle Tennessee have late Sunday into Monday?
GFS Model
✓ Lift
✓ Moisture
…missing two important ingredients.
NAM Model
✓ Instability
✓ Wind Shear
✓ Lift
✓ Moisture
…has everything but the kitchen sink.
and the European Model is siding more with the GFS on having only marginal ingredients for the development of severe storms.
What to Expect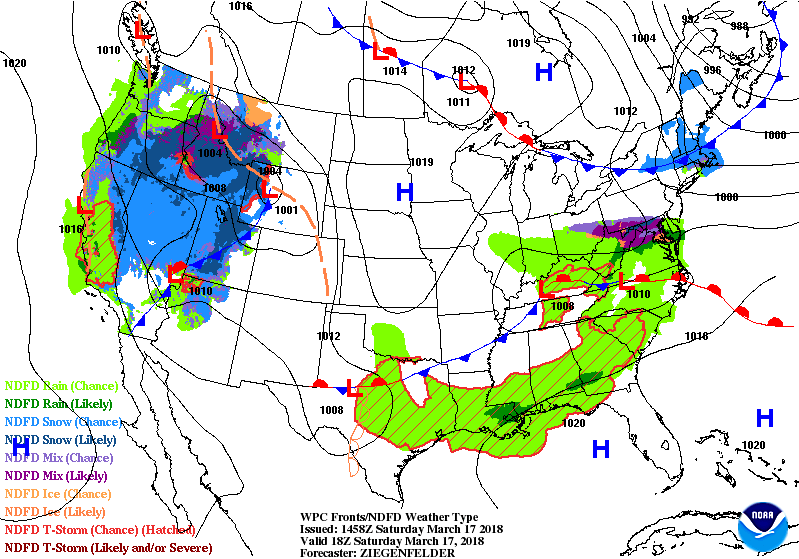 Sunday will be dry for the first half of the day. Moisture quickly spreads northeast into Middle Tennessee by the afternoon and evening hours, when showers and a storm are expected to begin. Some of the rain could even be heavy at times.
See that low pressure system moving into Oklahoma by the end of that GIF above? The position of that is CRITICAL, in terms of our risk for severe weather.
If the low tracks over us or to the south, severe weather risk remains LOW.
If the low tracks to our north and west, severe weather risk goes UP.
Also important to watch is how much the atmosphere does/does not destabilize on Monday. More rain and less sunshine would lead to a less volatile setup, and vice versa.
Storms capable of large hail and strong winds are possible late Sunday and through the day on Monday. Models are still figuring out timing on this progressive system, and we hope to know more by this time tomorrow. The Monday morning commute/lunch hour could be interesting, so stay tuned.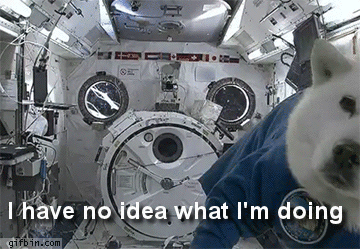 Beyond Monday, Colder and Leftover Rain
As Monday's low pressure pulls away, it will leave behind the chance for some showers and noticeably cooler air. Highs Tue-Thu will be bounce between the upper 40s and low 50s. More showers and a few storms look possible, in addition to a slight warming trend, next weekend.
---