Winter Weather Advisory for Davidson County
Williamson County is excluded from the Advisory.
So, I'm going to break this down by county.
Davidson County
The Winter Weather Advisory is for the northernmost counties in Middle Tennessee. Davidson County is included as part of the second row of those northernmost counties.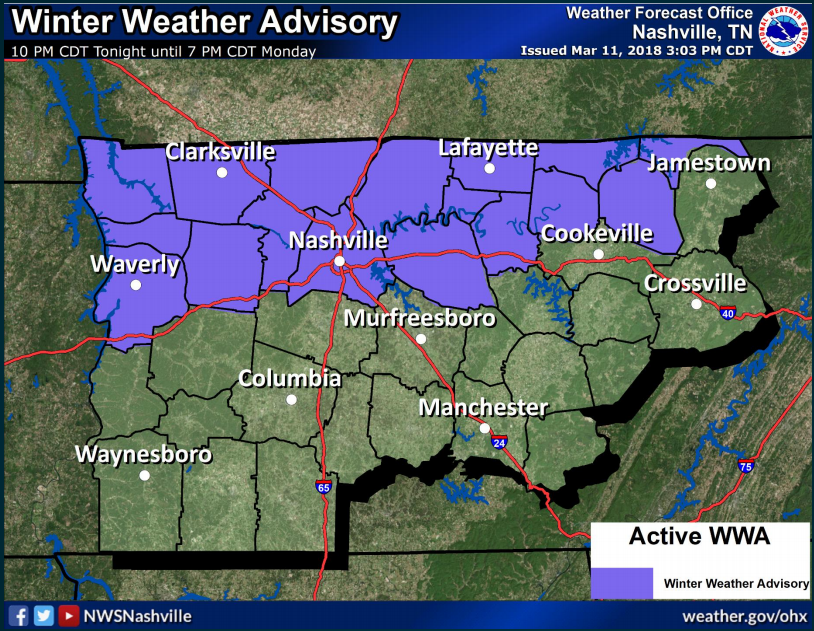 WHEN: In general, the Advisory covers Sunday at 10 PM to 7 AM Monday.
When will it start for Nashville?
NWS-Nashville's specific timing for us is "after midnight."
Temps look to be cold enough for snow in the northwest after 10 pm, in the Nashville area after midnight, and for the eastern areas shortly after.
"After midnight" for a start time is vague, likely intentionally vague. Models disagree exactly when rain will change to snow.
The NAM3 model predicts a change from rain to snow around midnight: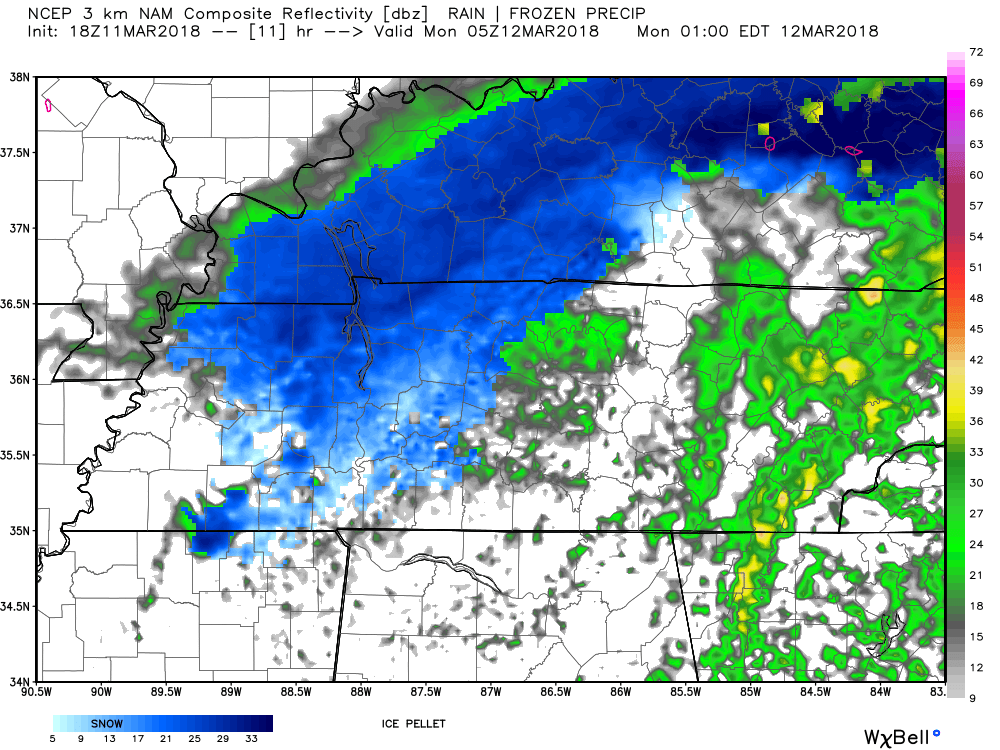 The HRRR model thinks it will start changing over to snow around 2 AM: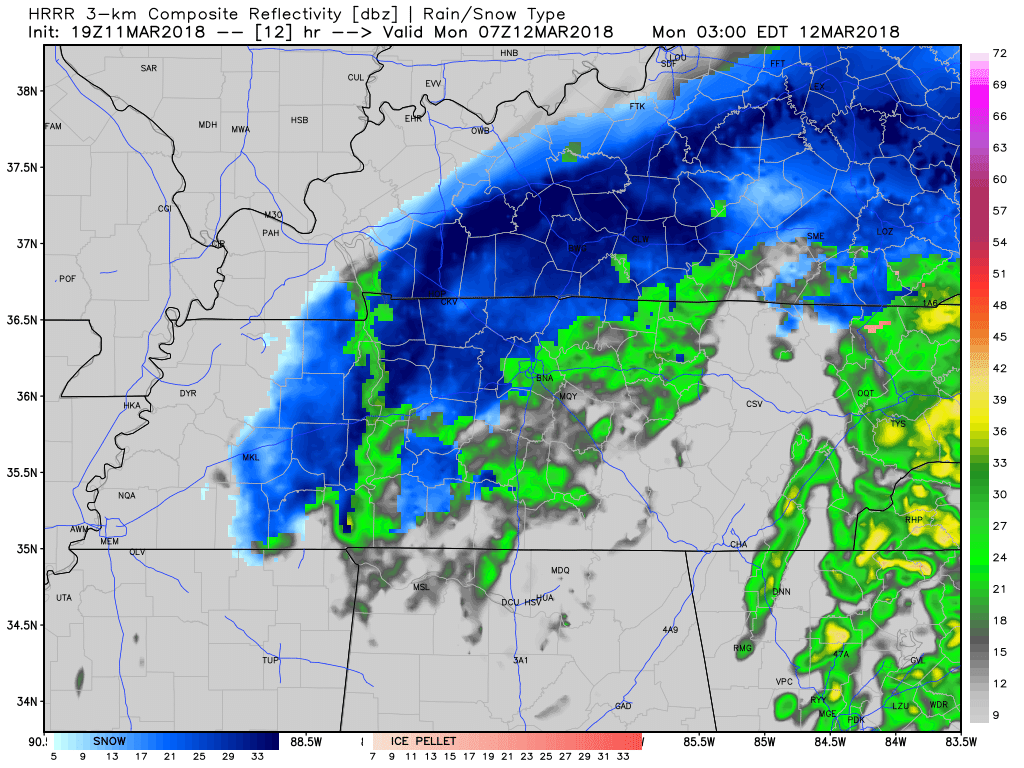 Thus, NWS-Nashville thinks: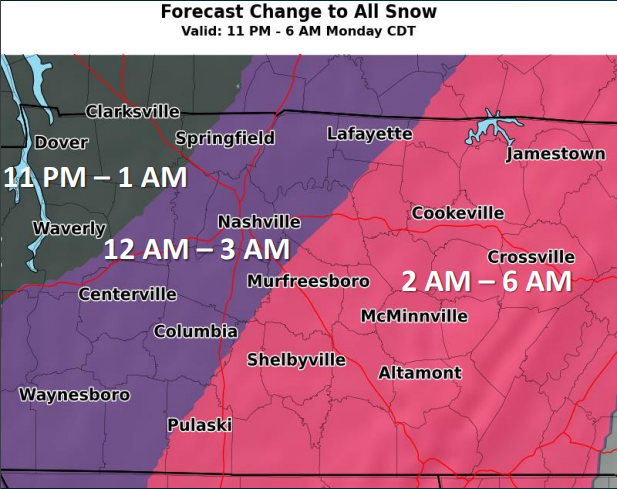 When will it end?
The NAM3 thinks snow will change back to rain around 7 AM: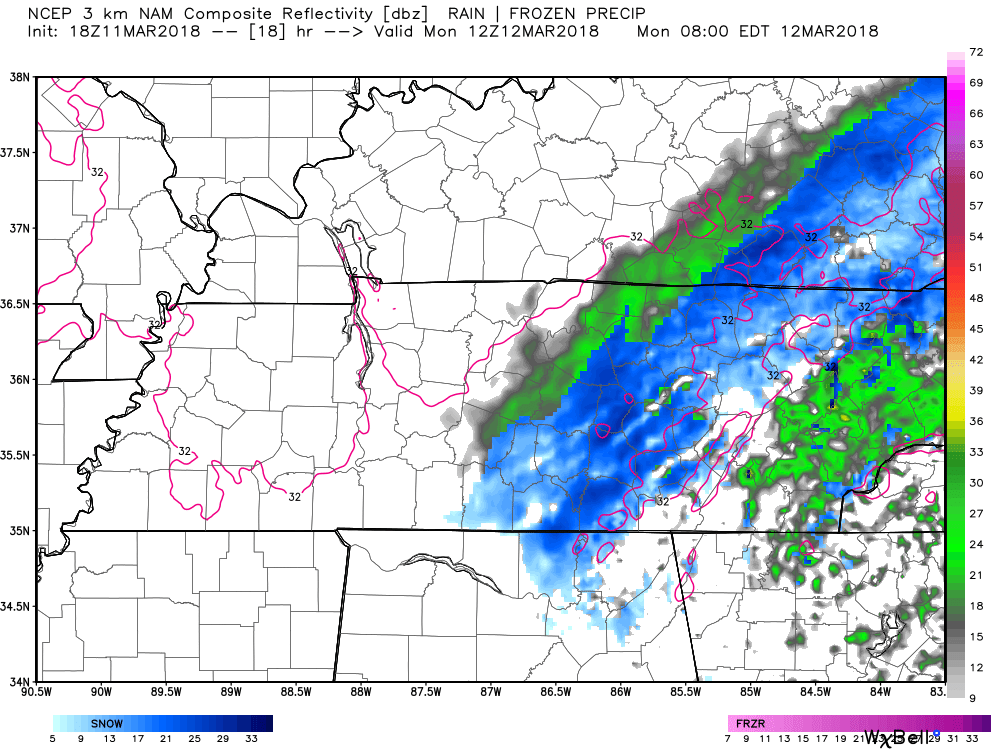 The HRRR model agrees the snow will end around 7 AM: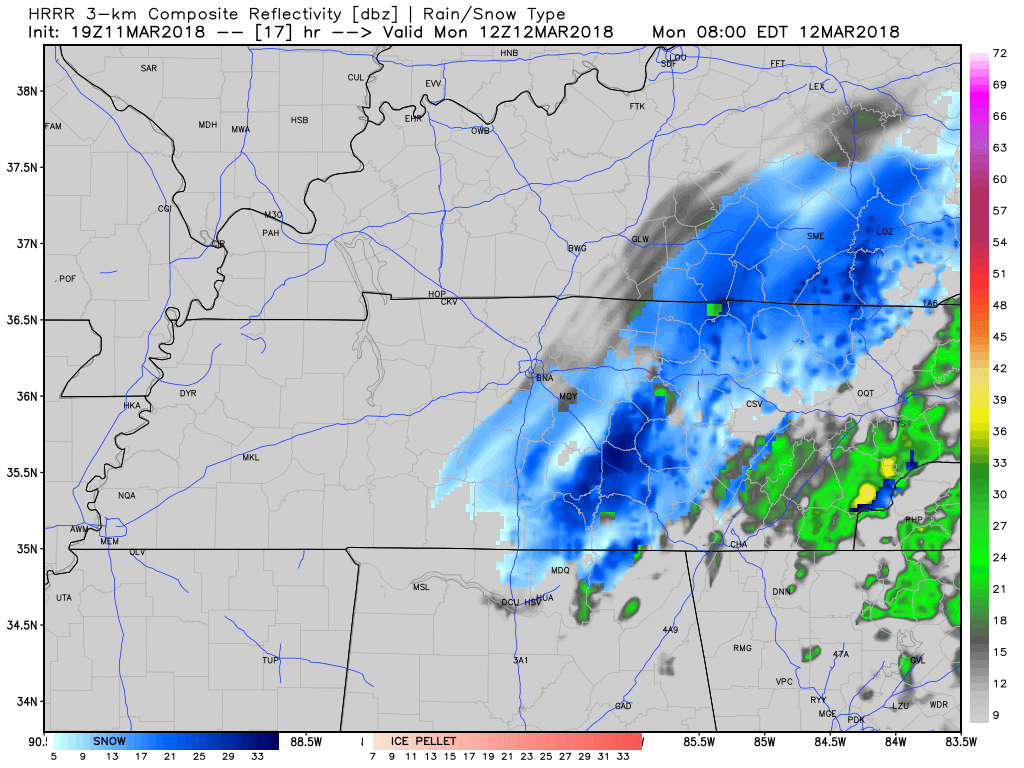 Thus NWS-Nashville has this ending time, which is in keeping with the above data: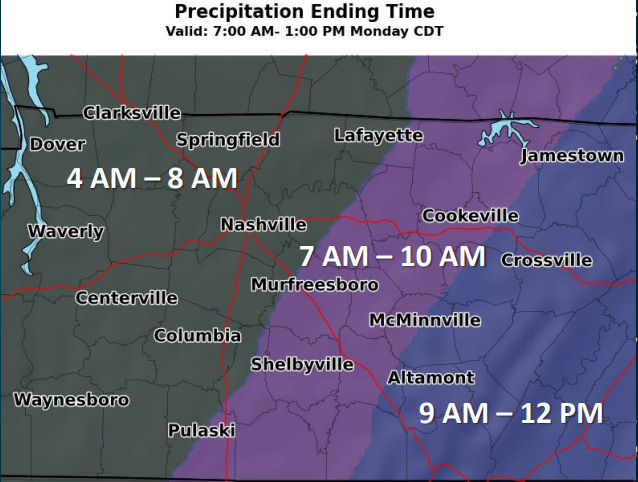 WHAT & HOW MUCH: "Snow expected. Total snow accumulations of a half inch to around an inch can be expected, with locally up to 2 inches possible."
That "around 1 inch" total is the high end of the scale and is more likely for those northwest of us. The isolated areas that may see a particularly heavy batch of snow will likely be at elevation and/or confined to the plateau. For us, the most likely result is a dusting of snow, but because of a potential for snow in Nashville up to 1″, we are included in the official Advisory.
The HRRR model predicts a wide range of accumulation in Nashville, from 0.1″ to about a half inch. Maybe a bit more for Joelton, land of woolly mammoths, ice caves, and Superman 1 villains.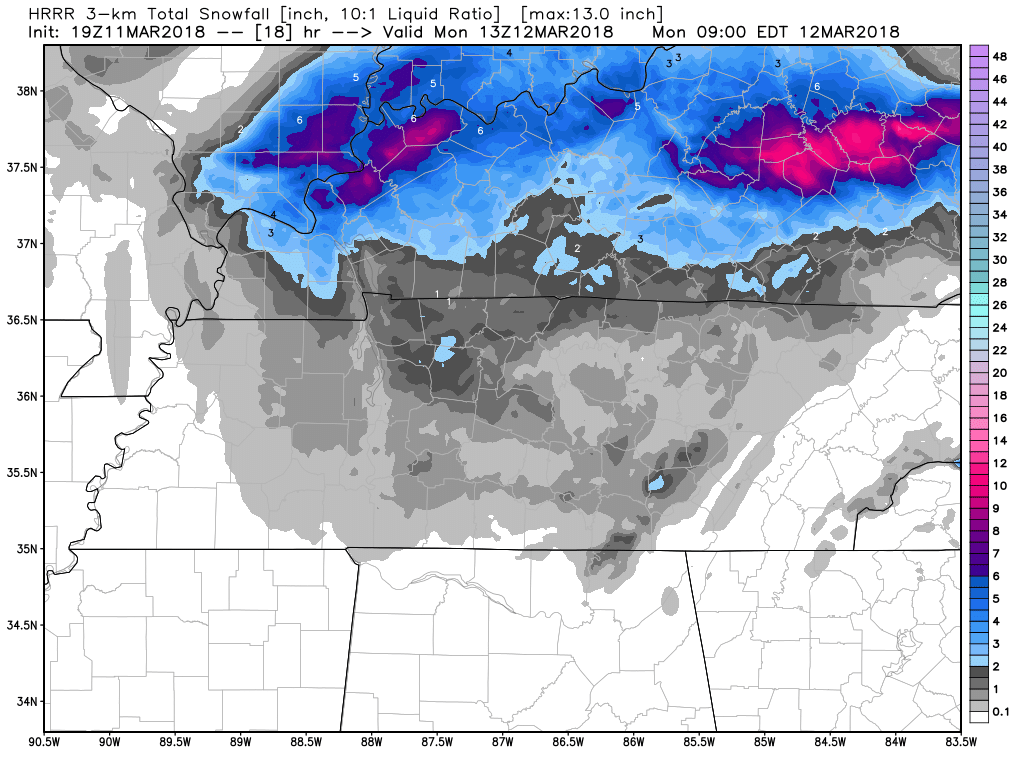 On the other end of the spectrum we have the NAM3, which, in keeping with its reputation of being super dramatic, is freaking out with 3″.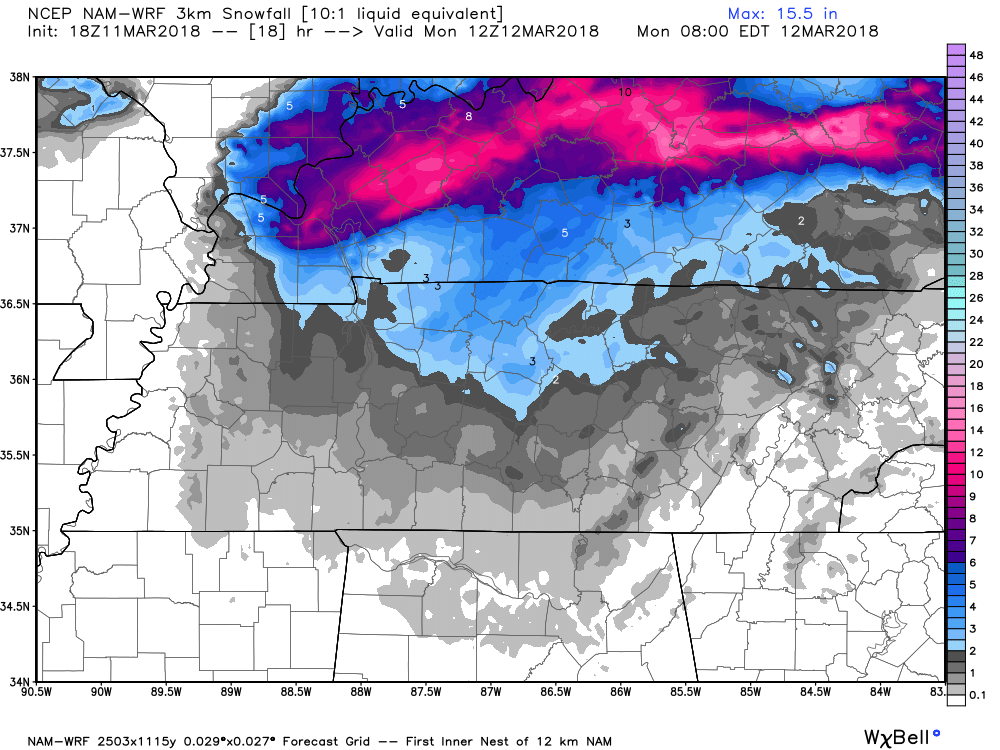 Even the Euro model is on the high side, which spits out around 1″ to 2″…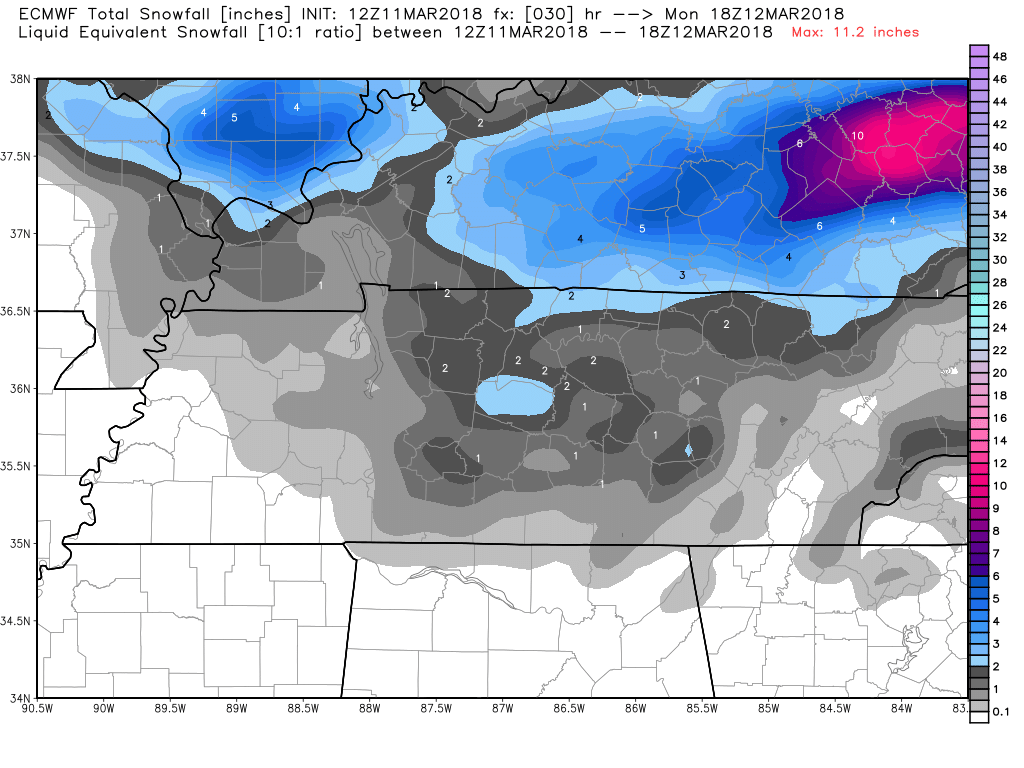 …but the GFS is more sensible, like the HRRR, with a dusting: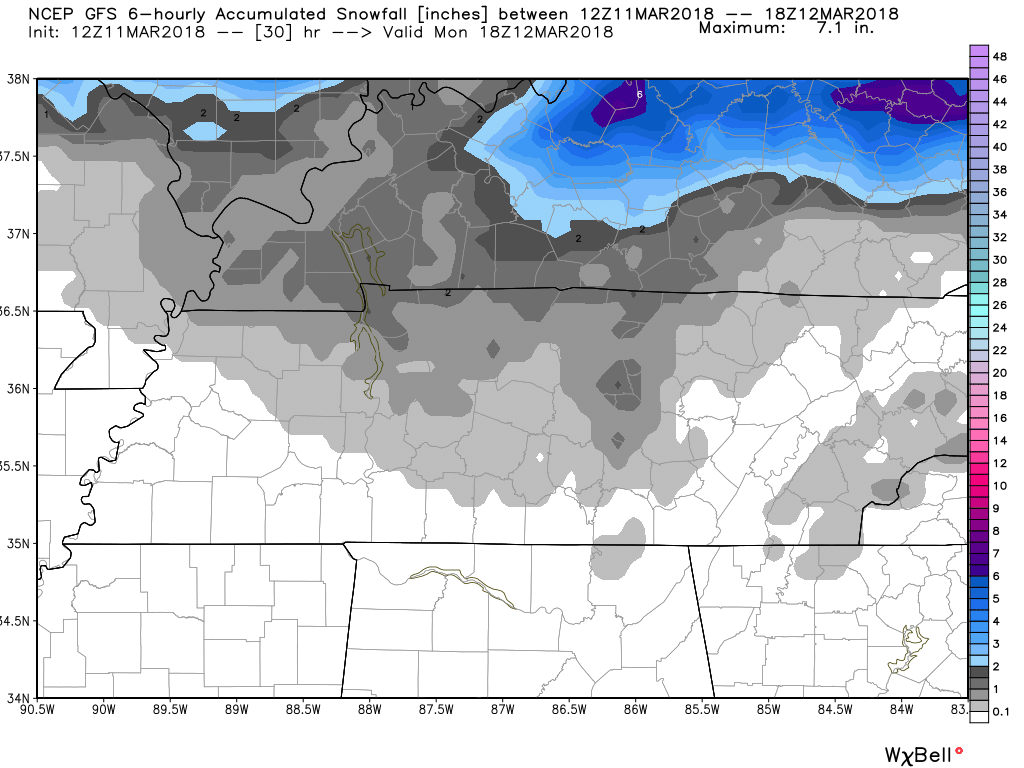 IMPACTS: Plan on slippery road conditions, including during the morning commute on Monday. Be prepared for reduced visibilities at times.
In its discussion this afternoon, NWS-Nashville wrote that:
a winter weather advisory has been issued for areas along and north of I-40 up to the Plateau for the potential for around an inch of snow, possibly areas with a bit more, and some mixed rain/snow that could impact morning travel.
Williamson County: Rain-Snow Mix Tonight with Minor Accumulations Possible
Here's the text of the Special Weather Statement from NWS-Nashville, which applies to Williamson County:
Confidence remains low for snow accumulations above a half inch south of I-40 before sunrise, however rain this evening will be transitioning to a rain snow mix overnight. This may make roads slick and hazardous, especially during the morning commute. Use caution while travelling during the morning hours and allow extra time to reach your destination. Snow chances will begin to taper off from just before sunrise in the west, and during the late morning hours in the east.
I thought it wasn't supposed to stick?
I think the NAM3 and Euro models appear to be overdoing it, and it seems NWS-Nashville agrees: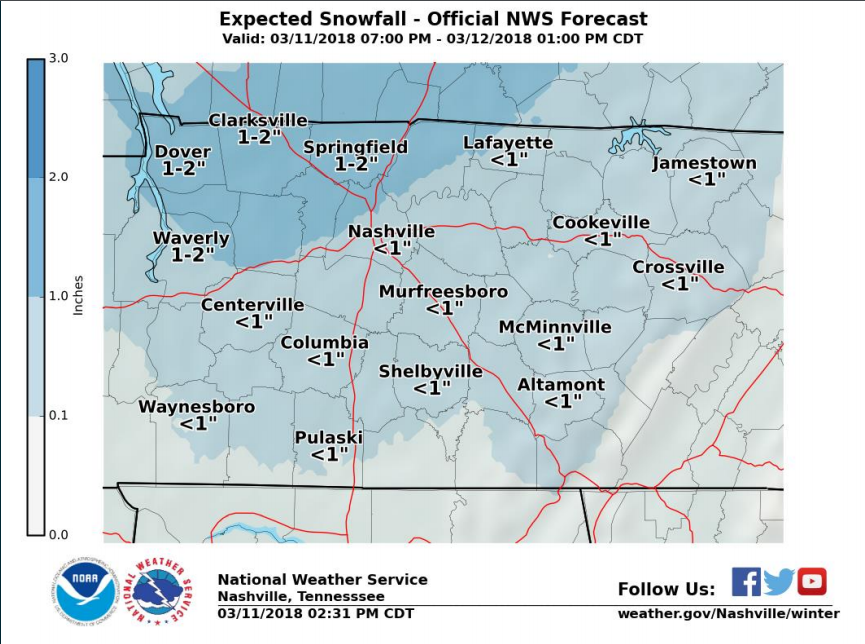 This makes the most sense to me. A dusting.
Why?
Although the air way overhead will be plenty cold for snow, I don't see any evidence in the HRRR or NAM3 model that the air here at the surface is going to get below 34°. If the dewpoint stays at freezing during the event as all models think it will, the process of evaporative cooling still should not bring us below freezing at the surface.
Also, the ground will be much warmer than the air temp, and will be inhospitable to freezing.
So, a lot of it should not stick, but there is going to be so much of it that it will be slow to melt. That's why we may see a dusting to 1″.
Remember, any impacts will be first felt at elevation and on bridges and overpasses.
Best Case vs Worst Case per NWS-Nashville
There is always uncertainty with these events. So let's draw a bracket around the possibilities.
Best Case Scenario: Little if any snowfall accumulations across Middle Tennessee as temperatures remain generally above freezing.
Worst Case Scenario: 1 to 2 inches of snowfall accumulation mainly north of I-40 and along and west of I-65, lesser amounts to the east and south as temperatures fall below freezing.
Other points from NWS-Nashville:

Whatever Happens, It Should Melt Fast
Temps at/around/above freezing around sunrise (remember with the time change it's "colder earlier") will rise quickly through the upper 30°s by 10 AM, 45° by noon, hitting 49° by mid-afternoon. Melting will be swift.
The wind will still be blowing very hard making it feel very cold Monday. Bundle up.
Updates and any changes to this forecast will continue on Twitter @NashSevereWx. So if you're reading this tonight, head over to Twitter or read the tweets here for updated information.

Next Rain Event?
Saturday, because Saturday.