Tornado fatalities were reported yesterday in Logan County, Kentucky, which is on the other side of the Tennessee border with Robertson County. Another was reported in northeast Arkansas, where someone lost their life in a mobile home.
The previous tornado fatality in the U.S. occurred in Elk City, OK, on May 16, 2017. At 283 days, yesterday ended the longest streak without a tornado death since 1950.
As I write, the sun is coming up in Montgomery County, revealing tornado damage in and around Clarksville. NWS-Nashville will survey the damage today and rate the strength of the tornado(es). Will Clinard has several damage photos on his feed. Here's one:
— Will Clinard (@WillClinard) February 25, 2018
Last night, as the squall line came into Davidson and Williamson Counties, it took a NE to SW orientation, which ran parallel to the strongest low-level winds, preventing a tornado from happening in either of our counties. For an illustration, click here.
Today
The HRRR model still thinks we may see some misty drizzly precip today, as pieces of drizzle dance north like the flames atop a fire.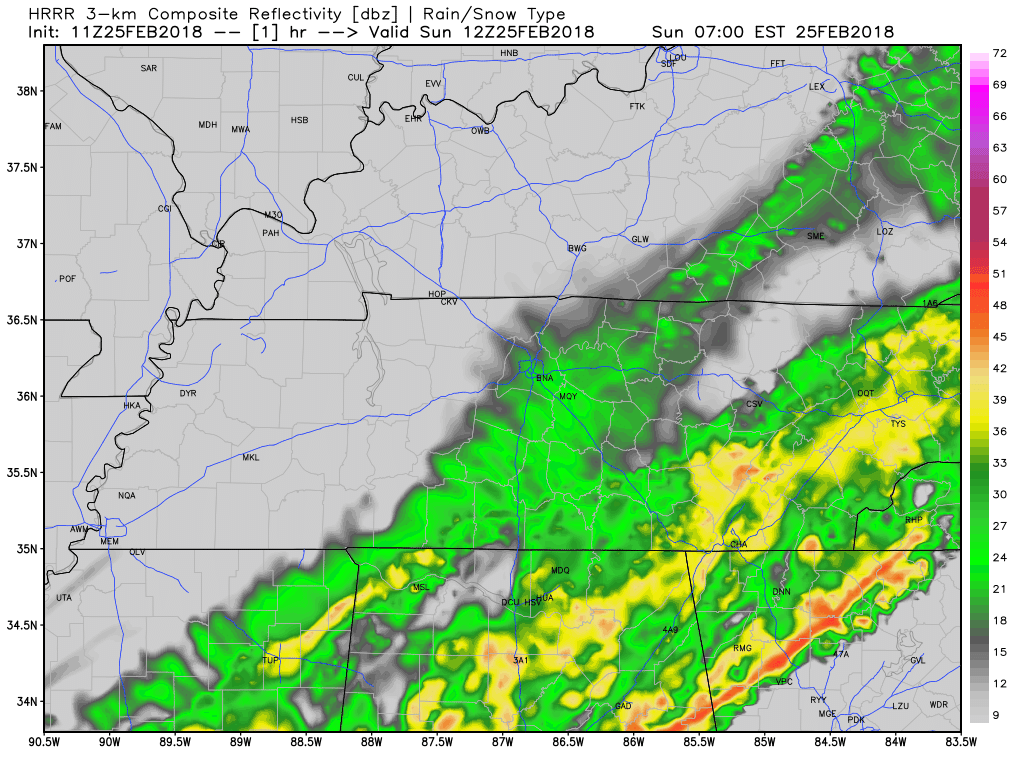 However, none of this is showing up on radar, and NWS-Nashville thinks all rain today will be east of us. So, not expecting anything else during the day.
Tonight, more rain will come out of Mississippi, and it may clip us, but most models think it'll end up only in southern Middle Tennessee. So only a small chance of a little more rain tonight, but no flooding concerns.
Quiet Monday & Tuesday

From NWS-Nashville:
…by Tuesday evening, our second system of the week will begin to move into the region and as quick as we began to see some relief, we might be right back into the mix for flooding once again.
Wednesday/Thursday Flooding and Storm Concerns
Rain is expected most of the day Wednesday, likely to rain out all outdoor activities. Rain should continue into Thursday, raining out Thursday, too.
Storms, possibly strong or severe, may develop. NWS-Nashville wrote:
A couple of things stand out in the models for Wednesday evening: we`ll already be in a weak warm sector. Dew points should already be in the upper 50s to around 60, especially near the Alabama state line. Then, both the GFS and the Euro [models] develop a secondary low pressure system and drag an additional warm frontal boundary across our southern counties. Now granted, this is Day 4 in the forecast, so things can (and probably will) change, however, wind shear sky rockets as that warm front and surface low drag across our southern counties and while surface instability isn`t great, I never like to see a boundary like this develop in an already moist environment. It can spike a severe weather threat quickly. We`ll monitor that potential over the next couple of days, but even if we don`t see severe weather, flooding may become an issue.
For now this looks like a threat to our south, but should that warm front scoot not all that far north and cover us, we may be included. My concern level right now is very low, but of course it's something we need to watch.
Like it or not, it's severe weather season now until June.
In addition to the storm potential, rainfall totaling 2″ to 3″ Wednesday and Thursday
…could lead to some localized flooding, but would definitely have an adverse affect on area rivers and streams.
Rain from Wednesday AM to Friday AM: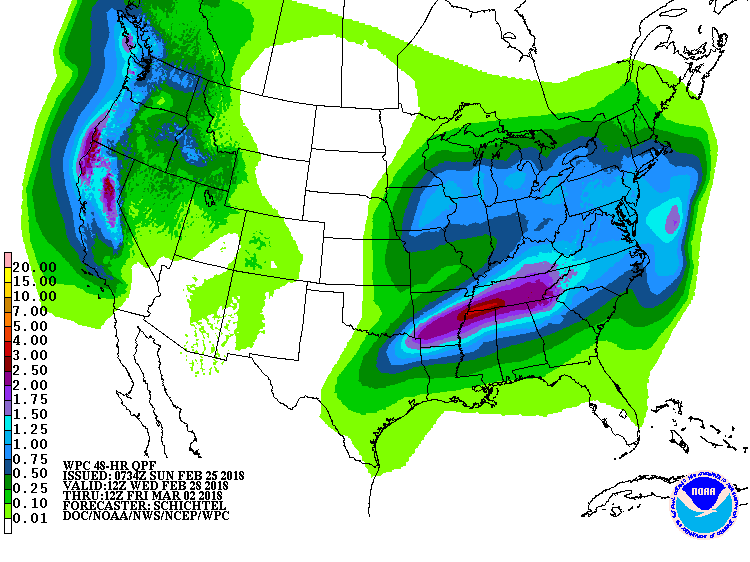 Next Weekend
North wind, cooler, and uneventful. Upper 30°s before sunrise, upper 50°s in the afternoon.
---