Flood Watch Continues Through Tomorrow Morning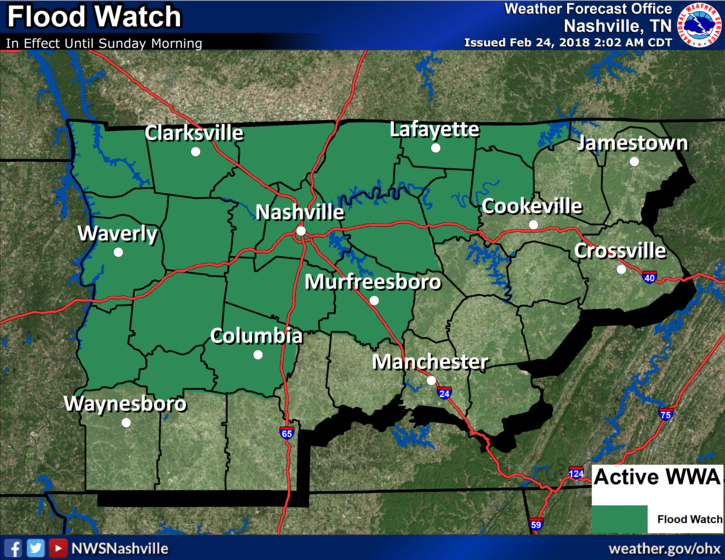 NWS Nashville: A strong low pressure system will sweep through the mid state Saturday night, with additional heavy rainfall expected. Additional rainfall amounts of 1 to 2 inches are forecast during the next 24 hours. This will fall on ground that is largely saturated, and will drain into streams and rivers that are already running high from previous heavy rainfall. Therefore, localized flash flooding and river flooding are possible during and after this next heavy rain event.
Severe Storm Potential into Tonight
Cloudy skies now with the chance of some light, scattered showers during the day. We are keeping a close eye on a storm system that posses to bring severe weather to our area late tonight.
This system seems to have a typical spring-like set up with "meh" amounts of instability (don't let the lack of instability fool you though, there is still plenty to get some bad storms) and a whole lot of shear (which leads to the damaging wind and isolated tornado threat).
Lots of variables still at play and this appears to be a night-arrival event. Consult multiple reliable sources throughout the day for the latest updates on timing and threats from this system.
Timing
Timing is one of the factors that will be constantly evolving today. The NAM/GFS/Euro all have the heaviest line of showers arriving just after midnight. On the other hand, the HRRR has the heaviest showers arriving just before midnight.
HRRR Loop Now Through 11 PM Tonight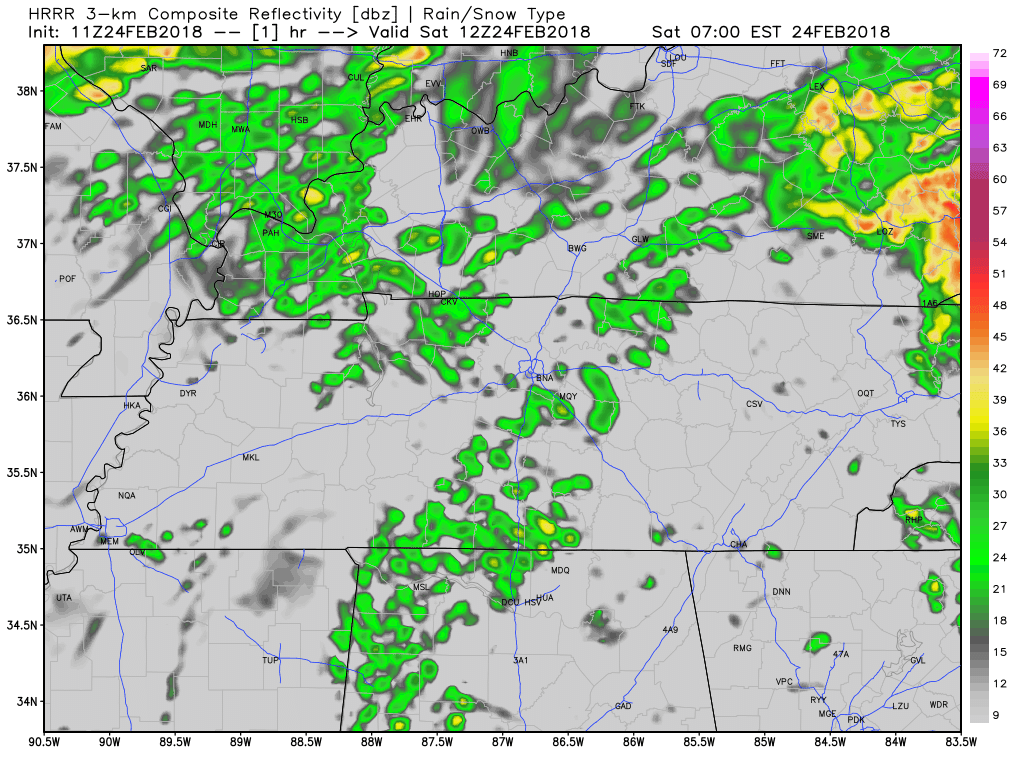 NAM3 Loop Now Through 11 AM Tomorrow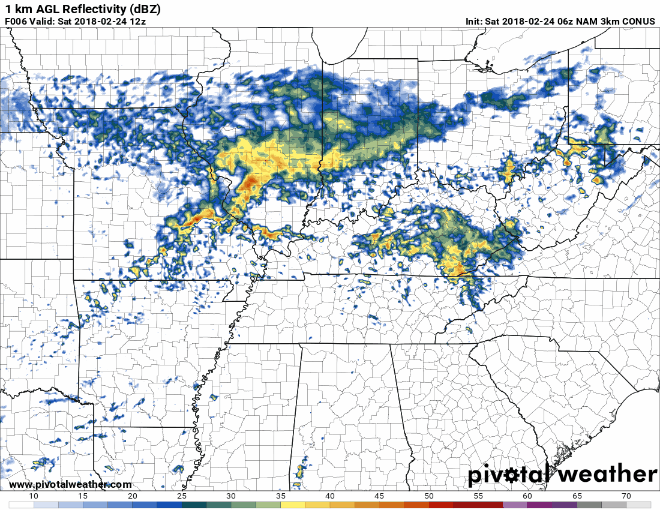 GFS Loop Noon Today Through Noon Tomorrow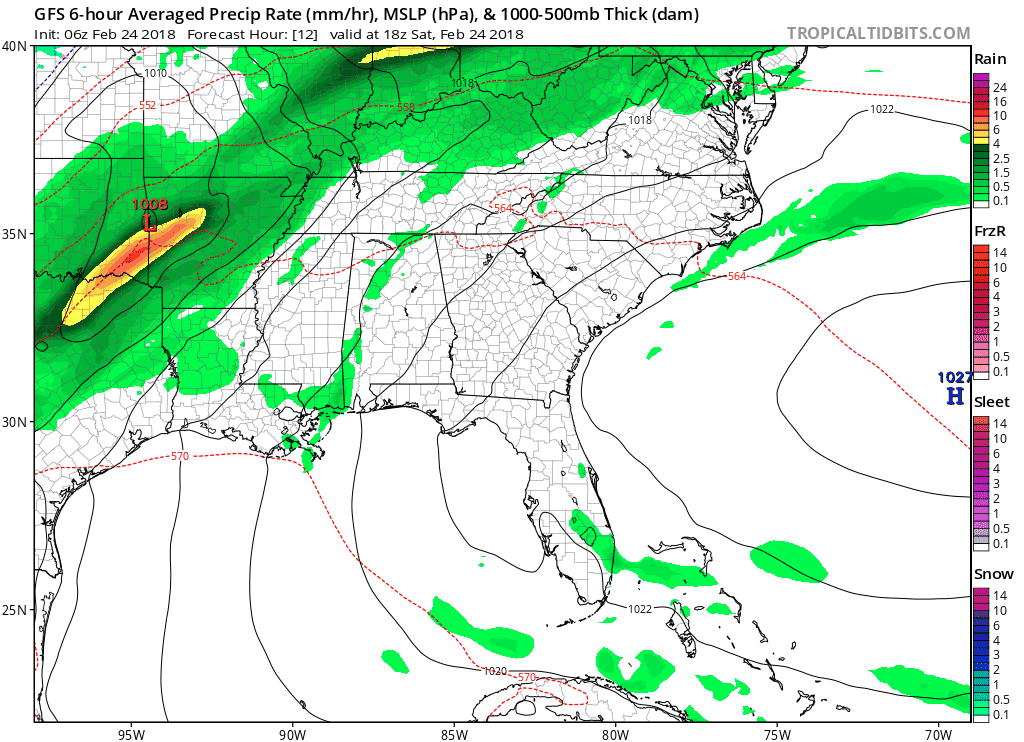 The main line of showers/storms should arrive between 10 PM and 11 PM tonight. However, showers could arrive earlier than anticipated. Be sure to stay connected through the day for updates.
Impacts
Besides the flooding concerns, we are currently included in the elevated risk (think 3 on a 0-5 scale) category from the Storm Prediction Center.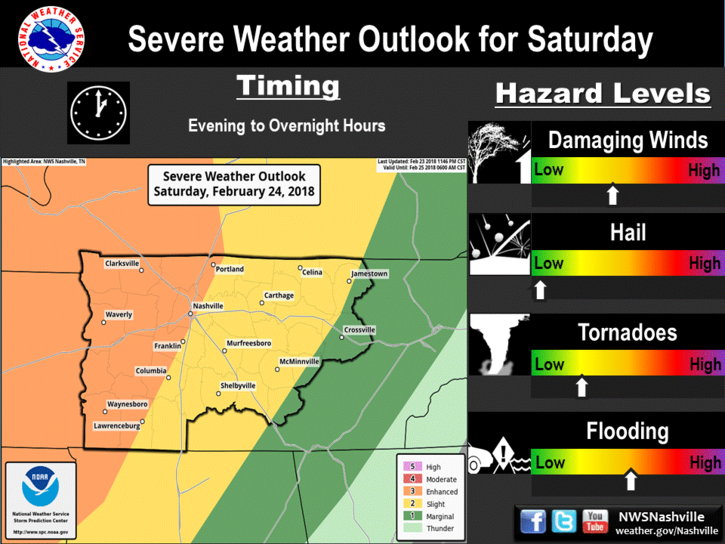 To further break down this risk, we are in the 30% probability of damaging winds and 5% probability of a tornado. There does not appear to be a hail threat for our area.
SPC Wind Outlook: 30% for our area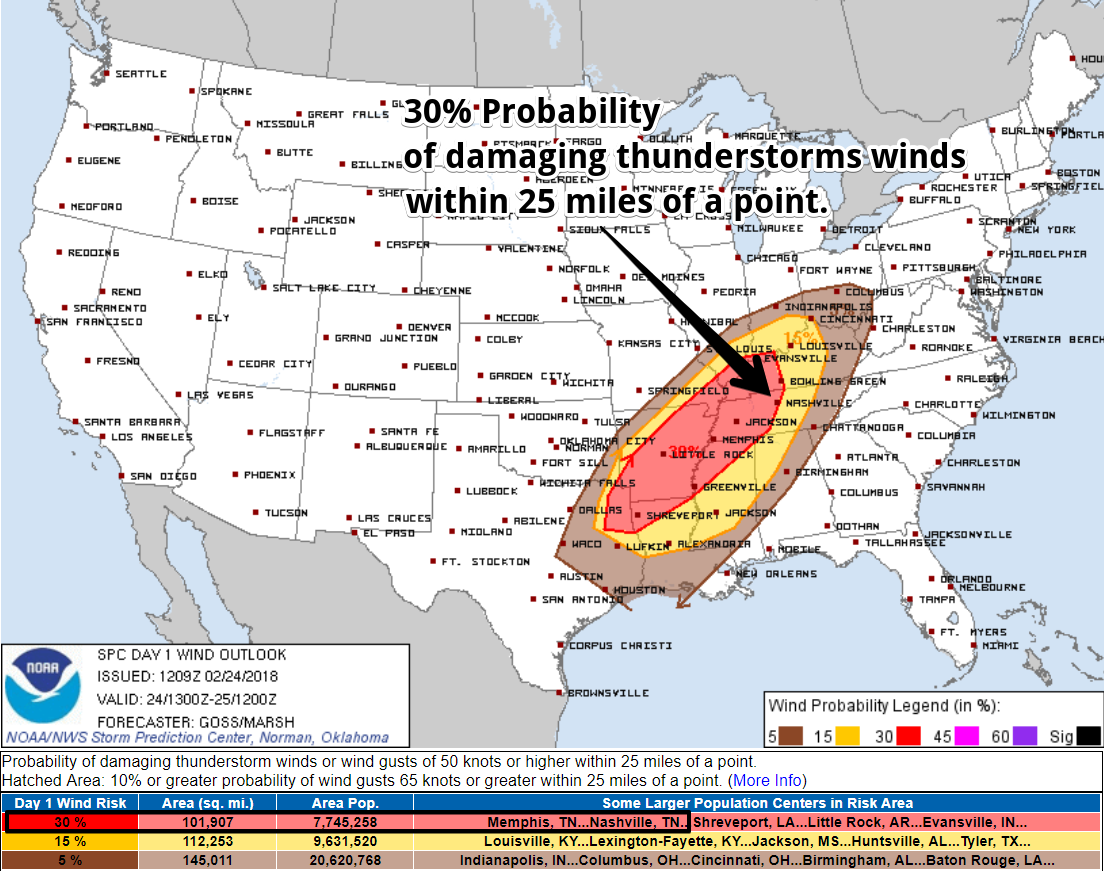 SPC Tornado Outlook: 5% for our area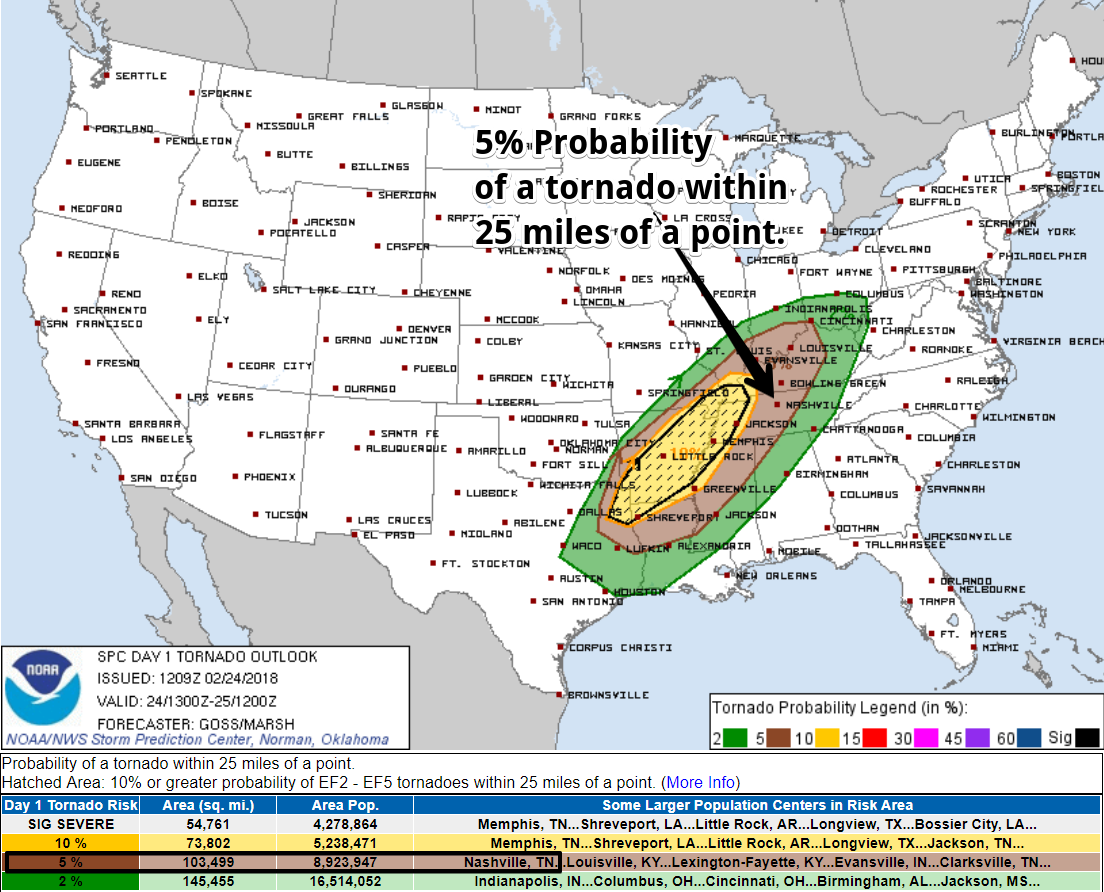 Flooding, damaging winds, and isolated tornadoes are all possible with these storms. These are dangerous threats that become even more dangerous during nighttime, when the majority of the storms are anticipated to arrive. Have multiple ways of receiving watches and warnings this afternoon, evening, and into the overnight hours. 
This is an evolving event that may have timing/threat changes through the daytime. Be sure to stay alert this afternoon/evening and know where to take cover if a warning is issued for your area.
We will be watching these storms very closely throughout the day. As always, the most up-to-date information can be found @NashSevereWx on Twitter.
Today is Severe Weather Awareness Day (SWAD 2018)!
Don't have any plans today? Well you are in luck! Our local National Weather Service Office is hosting their annual SWAD today from 9 AM to 4 PM. Come check out all of the fun activities for the family and have some weather nerd fun in the afternoon.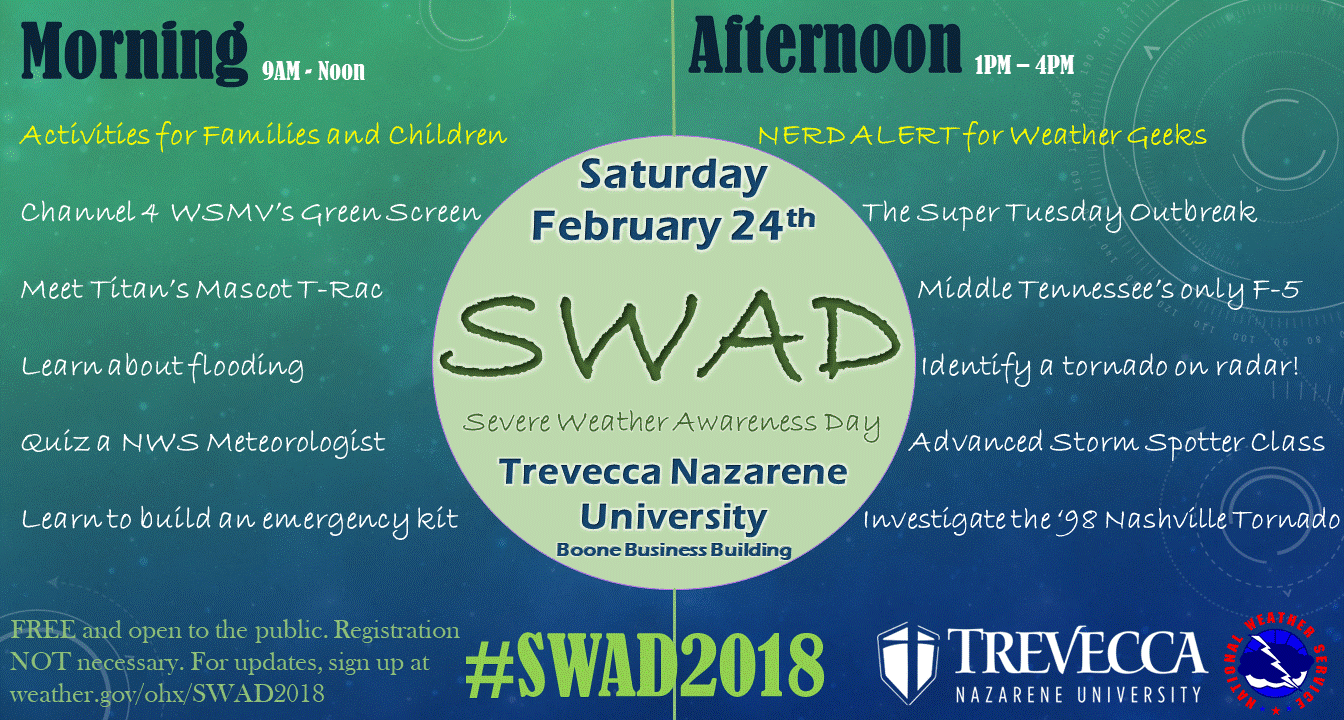 Sunday and Beyond

Showers on Sunday morning will greatly depend on when the main line of showers (discussed above) arrive. A later arrival could make for a few lingering showers into the early AM hours Sunday. Besides that, expect clearing into the afternoon.
Behind our current weather system, a high pressure will bring some sunny skies and mild temps for the first half of the week. Another rainy system will move through sometime towards the middle of the week, ushering in more average temperatures behind it.
---