A few raindrops are trying to roll in from the southwest tonight and overnight, but mostly we're dodging it, and I think it'll mostly be a non-event for us. As of 5:32 PM, the radar looked like this: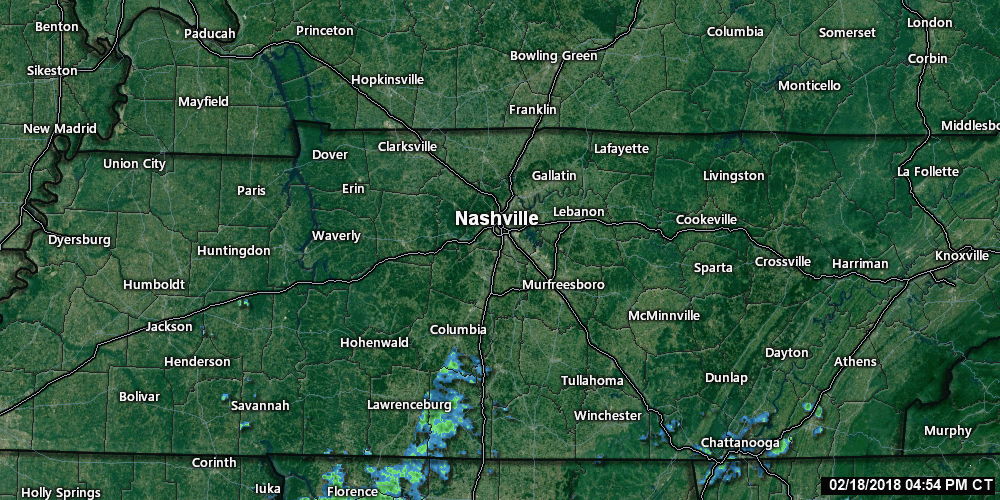 (You can track rain [and storms] on our mobile friendly web page here. Refresh to update data. This page has 5 cameras now [thanks, Patreon supporters! More on the way!], along with our tweets and #tSpotter reports.)
Spotty showers may sprinkle windshields while we sleep, but most of that looks to avoid us. HRRR model: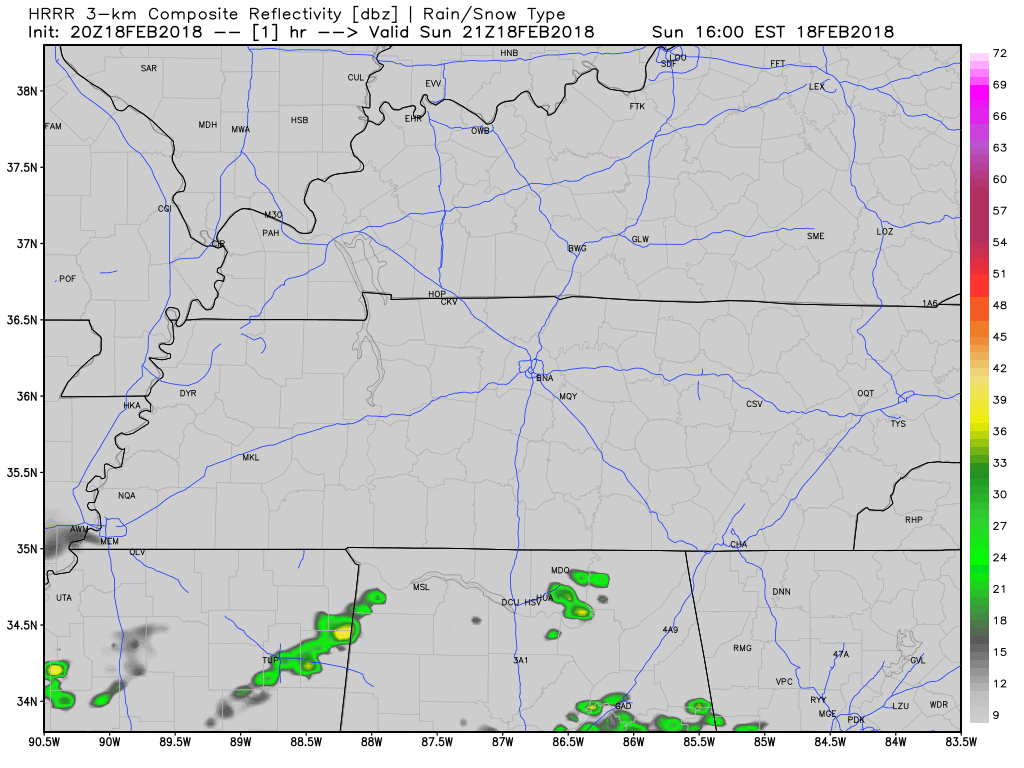 A few may see rain drops, but right now, meh.
Monday & Tuesday: Record Temps, Windy
Monday's high is 75°. If we make it, we will tie the February 19 record of 75° set in 1986.
Tuesday's high is 81° (!!!), which would break the February 20 record of 78° (set in 2014).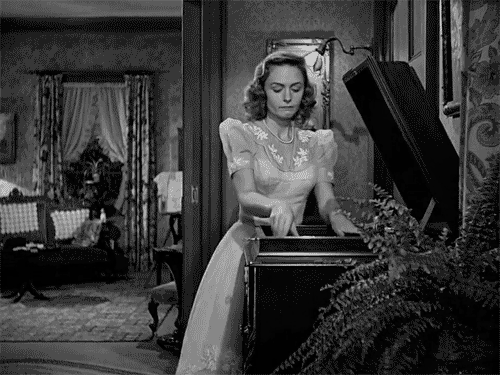 Monday's winds will be strong, blowing from the south around 16-18 MPH, gusting to 28 MPH. Tuesday's gusts should be stronger, up to 32 MPH, so a Wind Advisory may be needed.
We'll be happy for the warm temps and winds trying to dry us out, because another rainy several days begins Wednesday.
Wednesday: Will We Pay for the Warm February Days?
NWS-Nashville's afternoon's forecast discussion was written for the people. You can read it here, or behold excerpts, below:
The ground is wet. Really wet. … Several area rivers, streams and many creeks are still swollen from rains last week and yesterday.
For example:
The Cumberland River at Nashville continues to flow above action stage. The river is expected to remain above action stage for the next few days. pic.twitter.com/ImW8G7zlld

— NashSevereWx (@NashSevereWx) February 18, 2018
And we have rain coming, beginning Wednesday. It may start Wednesday morning, but most likely it'll be falling Wednesday night. The Euro model thinks we'll see over 1″ of rain between 1 PM Wednesday and 1 PM Thursday.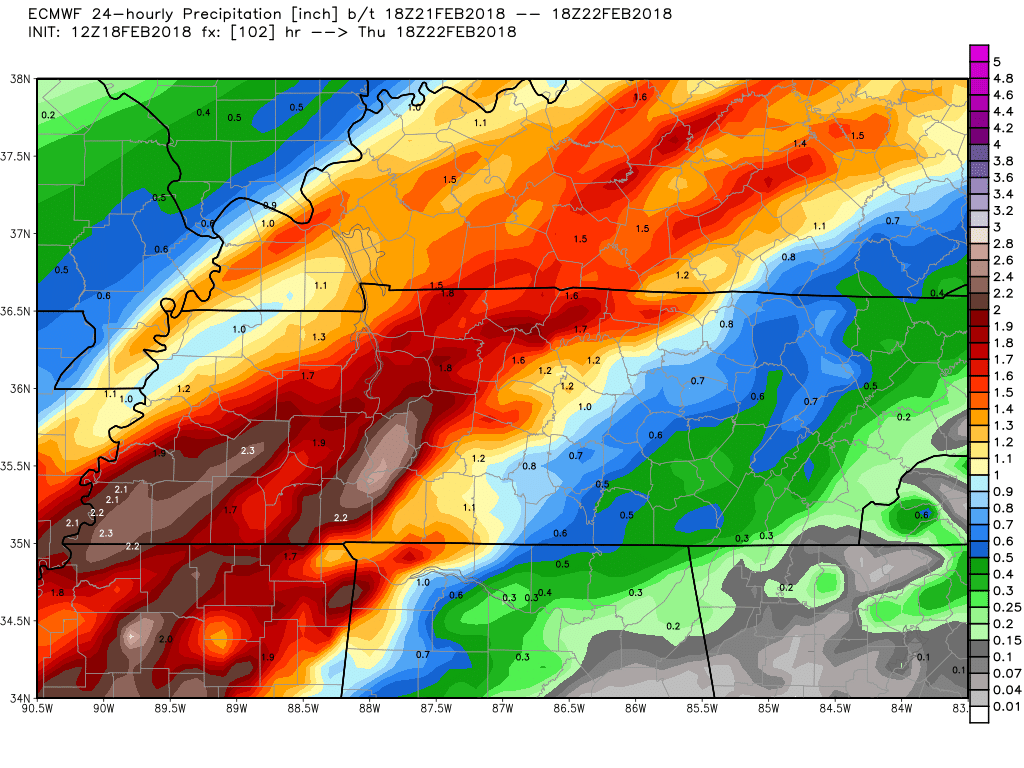 For Wednesday night through Friday night, WPC predicts about 2″.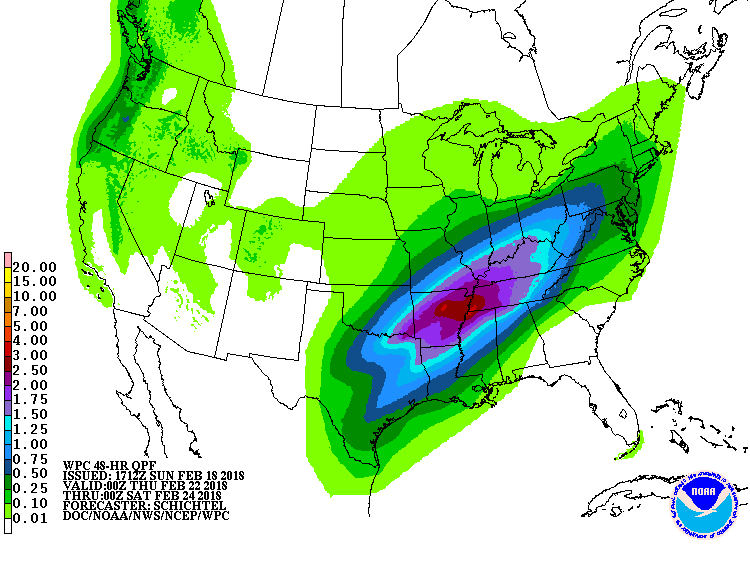 From Sunday night to next Sunday night, another 4″ to 5″.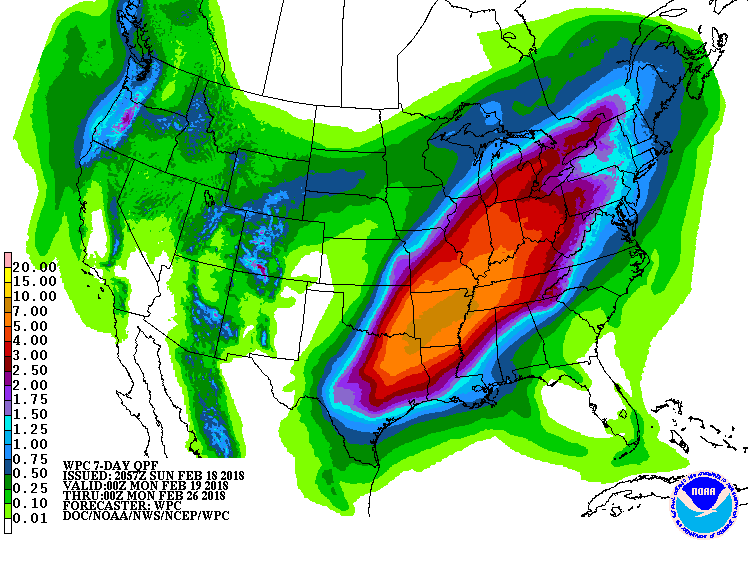 No thanks.
When will it all fall? Rain is most likely Wednesday and Thursday. Rain is possible but less likely Friday. Rain chances improve next Saturday (yes, that'd be a third consecutive wet Saturday), then decline Sunday. As I wrote this morning, expect this to continue to change as models try and figure it all out.
At least it'll be mild. 50°s, 60°s, and 70°s.
Flooding? River Flooding Maybe/Yeah, Flash Flooding Probably Not
Weather models currently don't see rainfall falling fast enough and hard enough to raise flash flood concerns, however,
Putting it all together, even if we don`t deal with any flash flooding, area rivers and streams are likely going to have a detrimental response to the rainfall this coming week.
It's not time to panic, but at the same time, be weather aware, especially if you're vulnerable to creek, stream, and river flooding.
Hear me though — I`m NOT talking about May 2010 flooding. I`m saying, stay weather aware throughout this week as there could be some minor to moderate river flooding by week`s end and some other localized flooding issues as early as Wednesday night.
We may be making a run at 1880, the wettest February on record:
So far this month, #Nashville has measured 7.59" of rain, making this the 17th wettest February on record (as of today). The wettest February ever for #Nashville was in 1880 when a whopping 12.37" of rain fell #tnwx

— NWS Nashville (@NWSNashville) February 17, 2018
Is Winter Over?
I've been fighting that conclusion because we can get snow in March. But looking at the Euro data, it seems to suggest Winter is gone and we can head straight into Spring: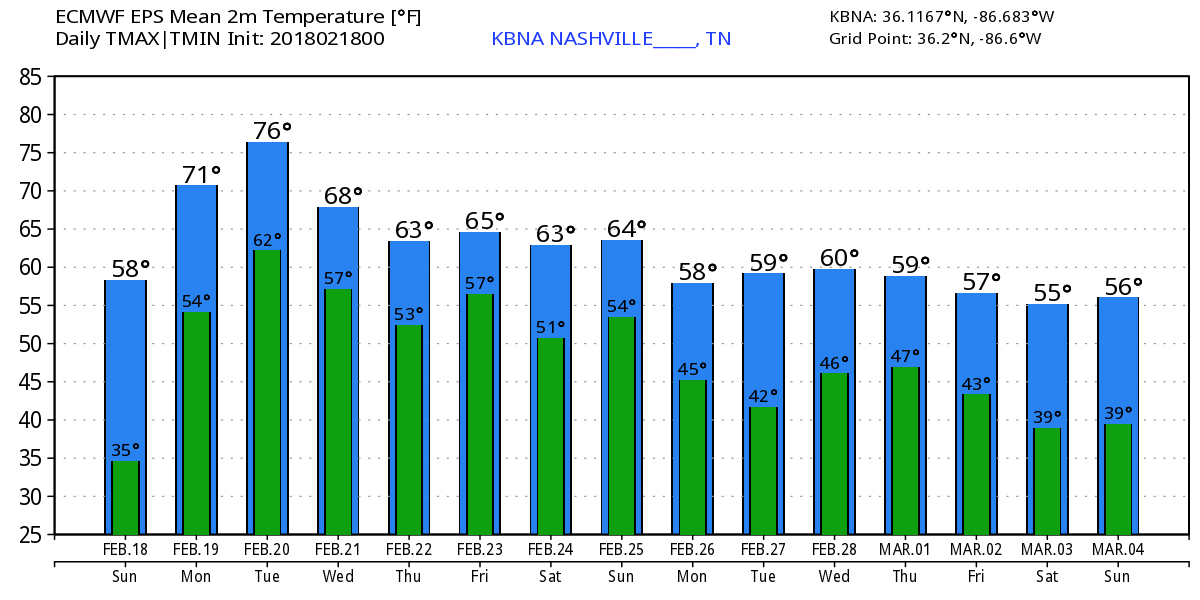 However, we're dipping below freezing at the end of the GEFS run: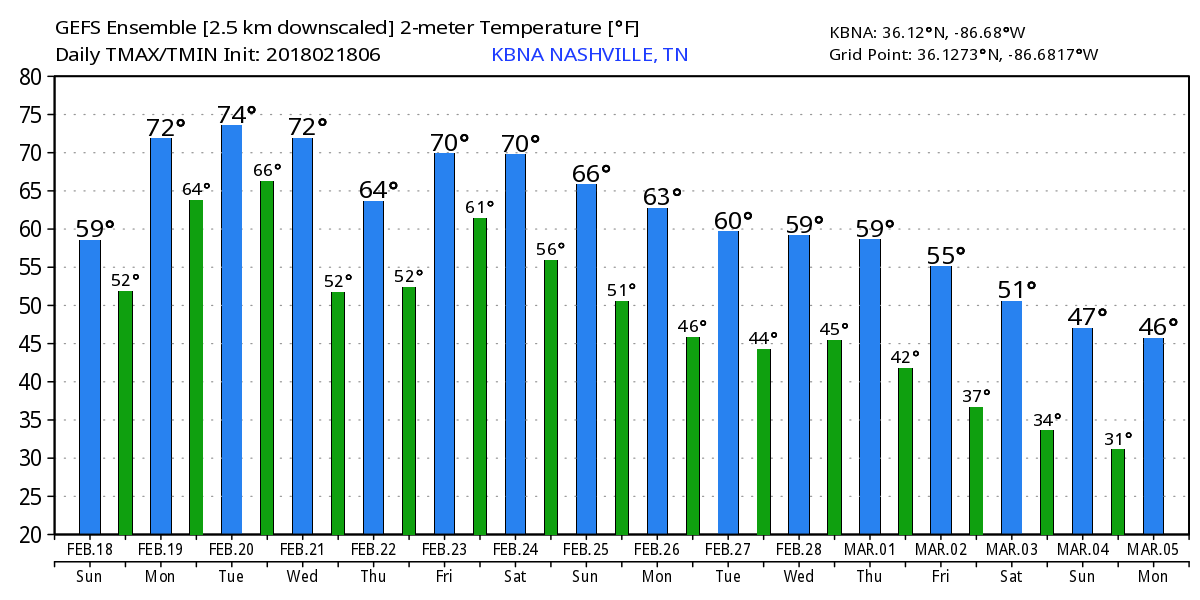 I still think it's too soon to declare Winter over.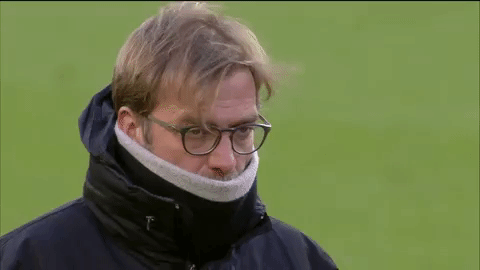 Saturday is Severe Weather Awareness Day
Thankfully, severe weather has been slow here over the past several years, even with the events we've been getting. All severe weather is local to the people impacted, so be ready if it happens to you. This year, NWS-Nashville is not only making it more family friendly, but also leaving plenty of good stuff to satisfy your inner weather curiosity.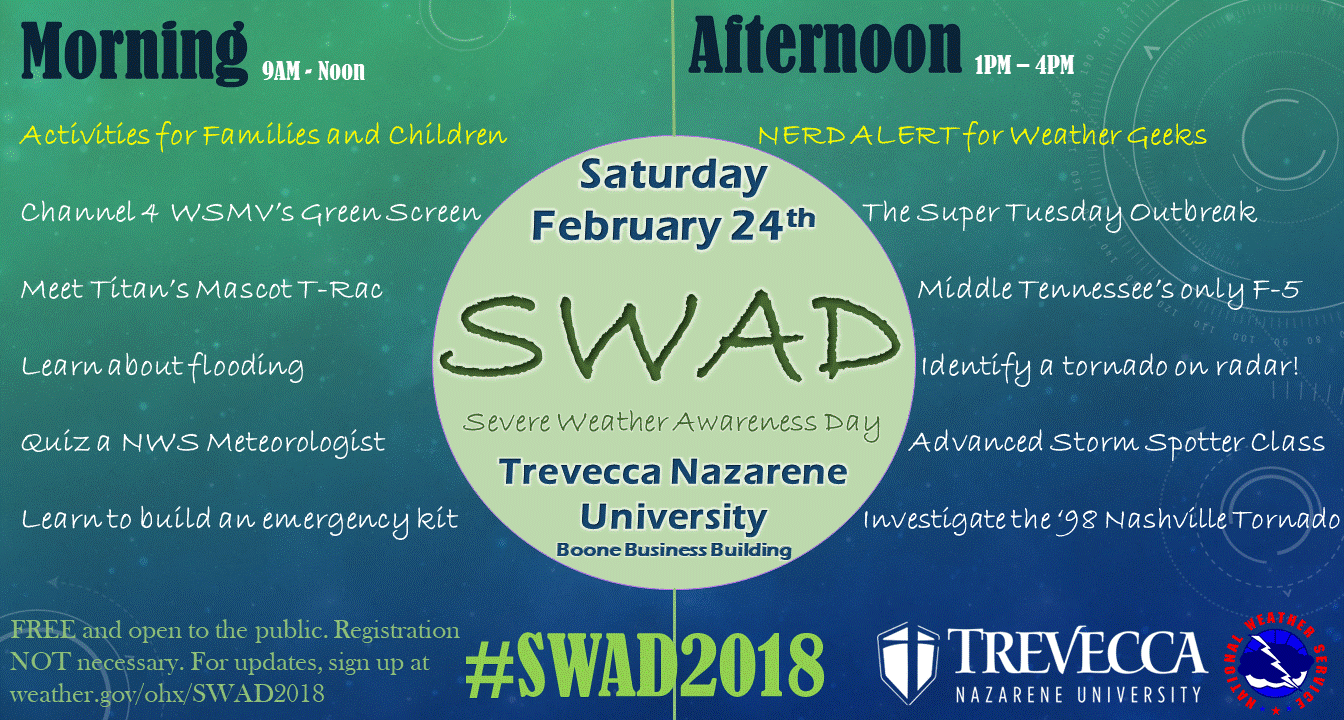 ---